EEOC offers new guidance on vaccine mandates for employees, consumers are skeptical of Pride messages, and CNN's Toobin makes his return
Also: A Bitcoin conference in Miami spreads COVID-19, Golden Corral has golden moment on Twitter, Amazon changes course on remote work, and more.
Hello, communicators:
A Bitcoin conference in Miami, Florida, has become the latest potential "superspreader event" for COVID-19, reports Gizmodo.
The event had no facemask or vaccination requirements for its 12,000 attendees and several visitors are now saying they have tested positive for COVID-19.
https://twitter.com/lawmaster/status/1403049119732703234
The lack of preventive measures is underscored by the state of Florida's lackadaisical approach to virus prevention from the beginning of the pandemic.
It's little wonder the conference is starting to look more and more like a possible super spreader event given that 1) there was no mask mandate or proof of vaccination requirement to attend; 2) some 12,000 people packed into the convention center; and 3) Florida is one of five states that never implemented a statewide face mask requirement throughout the pandemic and was among the first to throw covid-19 restrictions out the window. While part of the event was held outside, attendees still crowded into auditoriums, private house parties, and other networking events with nary a mask in sight, Bloomberg reports.
For communicators who eagerly look to the return of live events and gatherings, industry conferences and trade shows, it is a reminder to take precautions and make some effort to prevent viral spread. Otherwise, the story of your conference will be the new cases of COVID-19—and not the message you so carefully crafted for the event.
Here are today's top stories:
EEOC updates guidance on requiring vaccination for employees
The regulatory body that sets the rules for what amounts to discrimination against employees says that your employer can mandate vaccination. Federal law allows employers to require vaccination as a condition of employment and can also offer incentives to employees who get the jab.
If an employee will not get vaccinated because of a disability or a sincerely held religious belief, the agency said, he or she may be entitled to an accommodation that does not pose an "undue hardship" on the business. The agency said examples of reasonable accommodation could include asking the unvaccinated worker to wear a face mask, work at a social distance from others, get periodic coronavirus tests or be given the opportunity to work remotely.
However, the situation is murky as laws vary state by state and while federal law should trump state rules, the new guidance from the EEOC is more about what is allowed—not what is required. And some states, like Florida and Texas, are trying to write their own rules.
OHSA has also issued new guidance, which only applies to health care workers.
What you should know:
Messages about vaccine requirements still pose a thorny problem for communicators and it is the PR team's job to point out that heavy handed coercion could lead to a public showdown or even a full-blown crisis.
That's why most organizations are only offering incentives for vaccine takers, like time off or cash bonuses. Companies that encounter higher virus risk, like hospitals and airlines, have found they have more room to demand vaccination.
---
MEASURED THOUGHTS
Your organization's Pride messaging is meeting lots of skepticism, as many consumers assume the message is done for brand awareness rather than issue advocacy.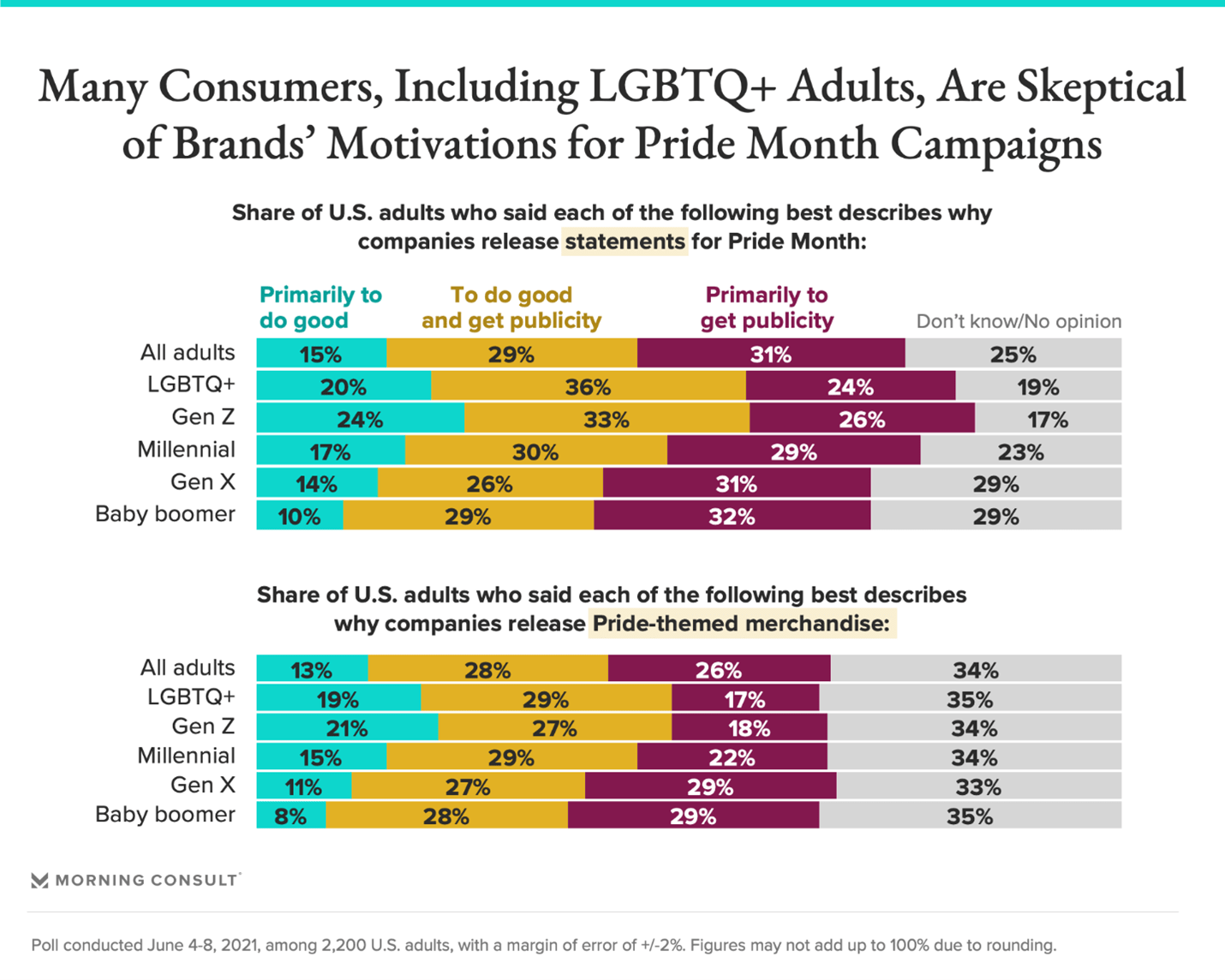 Thirty-one percent of adults think that brands use Pride messages to get publicity and 29% say the messages are for publicity and to "do good." Only 15% see the messages as primarily to do good.
The skepticism is even higher for brands offering Pride-themed merchandise, bedecked with rainbows and other LGBTQ symbols.
The report says:
"Over the past few years, there's been an explosion in Pride campaigns, but we're also seeing more and more that the LGBTQ community is holding brands responsible for how they approach their Pride campaigns," said Spencer Harvey, communications manager at GLAAD. "Visibility is great, but nowadays, it's about how your campaign is stepping up and showing that you support the community."
You can read the full report here.
Two passengers test positive for COVID-19 in first Celebrity Millenium cruise since 2020
At the end of the first voyage since the pandemic shut operations, two passengers who traveled with celebrity cruise line Millenium tested positive for COVID-19.
"Today two guests sharing a stateroom onboard Celebrity Millennium tested positive for COVID-19 while conducting the required end of cruise testing," Celebrity Millennium cruise line said in a statement on Thursday.

"The individuals are asymptomatic and currently in isolation and being monitored by our medical team. We are conducting contact tracing, expediting testing for all close contacts and closely monitoring the situation," the company added.
What it means:
The pandemic isn't over, even as vaccination rates continue to rise and case numbers plummet in the U.S. Communicators should have plans in place for when customers test positive for the virus, explaining current safety measures and contact tracing protocols.
If you are unwilling to mandate vaccination for your customers, you are open to the risk of viral spread. Prepare accordingly.
---
SOCIAL BUZZ
Golden Corral, the popular buffet restaurant chain, was trending on Twitter after an account shared a wholesome text exchange with their grandmother.
https://twitter.com/wholesumboomers/status/1403099133599232010
Users took the trending topic as a prompt to share their views and experiences with the brand, both good and bad:
I see Golden Corral is trending.
The one closest to me has awesome food & the best salad bar on the planet. I truly hope they make it through Covid. They serve lots of disabled people & seniors who otherwise would eat alone during the holidays.

— Leftward Swing🌹🌻 (@LeftwardSwing) June 11, 2021
Took the kids to a Golden Corral once. Talking to the bus person and she told me how y GC paid the server rate (1/2 min wage) to their bus people, who got no tips because customers didn't see them as servers.

I left her a $20 and never went back

— 𝕋𝕙𝕖 𝔾𝕣𝕖𝕒𝕥 𝕎𝕖𝕟𝕕𝕥 (@radiator9987) June 11, 2021
Others tried to recreate the meme:
i just wanted to go to golden corral pic.twitter.com/Oaos6u4YK7

— anthony 🦧😵‍💫 (@eyitznotanthony) June 11, 2021
It's a reminder that your viral moment on social media is often unexpected and not related to anything you've created. The most valuable part of the online conversation—consumers personal experience with the brand—is a treasure trove of data for understanding what your consumers love about you and what they wish you could do better.
Even if you don't find a clever way to engage with an online trend, social listening can offer valuable takeaways that you won't find anywhere else.
---
RAGAN'S 2021 BENCHMARK REPORT
Ragan has released its annual Communications Benchmark Report, an exclusive study from Ragan's Communications Leadership Council that analyzes the major trends in the profession over the last year.
During that time, comms pros have been called on to develop and distribute messages on new policies that affect internal and external stakeholders alike. Their role has become more essential as they helped keep their organizations focused and moving forward. They've seen their access to the C-suite increase throughout 2020, and they forged important new alliances with peers in other departments, including HR, finance and workplace wellness.
Culled from more than 750 respondents, the 32-page report is available in its entirety exclusively to members of the Communications Leadership Council.
Download your copy of the exclusive Benchmark Survey Executive Summary today and get a crucial competitive advantage that will fuel your success for 2021 and beyond.
CNN's Jeffrey Toobin attempts a comeback
The legal analyst was fired from the network, as well as his position with The New Yorker, after he was seen masturbating by colleagues on a Zoom call early on in the pandemic. Toobin was interviewed by CNN's Alisyn Camerota about the incident—and his effort to address mistakes and apologize.
"This was deeply moronic and indefensible, but that is part of the story," he said. "I have spent the seven subsequent months—miserable months in my life, I can certainly confess—trying to be a better person. I'm in therapy, trying to do some public service, working in a food bank, which I certainly am going to continue to do."
The reinstatement was hotly debated on Twitter with some noting that it felt like Toobin was offered leeway that would never have been afforded to a woman:
There is not a woman alive who could have done anything close to what Jeffrey Toobin did (not that one would) and kept her job. What a disgusting,
incestuous boys' club. So damned tired of it.

— Megyn Kelly (@megynkelly) June 10, 2021
Others expressed empathy for Toobin:
Dude I feel terribly for Toobin lol. This is painful. https://t.co/ii3AUc6Au4

— Emma Vigeland (@EmmaVigeland) June 10, 2021
And some argued that there were different rules for how an employee's mistakes were held against them, citing reporter Emma Wilder's dismissal from the Associated Press for her pro-Palestine activism online.
Toobin's back on CNN, I see.

Emily Wilder back at the AP yet?

— Kai Ryssdal (@kairyssdal) June 10, 2021
What you should know:
Offering Toobin a platform to rebuild his reputation is a calculated risk for CNN, and one that is irking many spectators. It's a reminder of the charged nature of sexual misconduct in the workplace—and the damaging effect it can have on morale, credibility and brand reputation.
As the years pass since the peak of the #Metoo conversation, leaders should consider revisiting sexual harassment and training to make sure that the internal culture of the organization is one you can be proud of.
---
COMMUNICATIONS WEEK
Ragan is delighted to add industry event and thought leadership brand Communications Week to our portfolio. You can read the full press release here.
"We are reimagining Communications Week as a year-round endeavor," says Ragan Communications CEO Diane Schwartz. "The rollout will begin next month with thought-provoking content on the future of communications on Commsweek.com, Ragan.com and PRDaily.com, culminating with a weeklong series in November that will feature conferences, networking events, workshops, webinars and more."
COMMENT