Emmy Awards go virtual, Hearst Magazines staff vote to form union, and more retailers to close for Thanksgiving
Also: Domino's Australia and New Zealand face backlash for 'Karen' campaign, Instagram account calls out brands' lack of diversity, how marketing budgets are shifting, and more.
Hello, communicators:  
Best Buy, Kohl's and Dick's Sporting Goods have joined Walmart and Target in announcing that their stores will be closed on Thanksgiving:
"This isn't a year for crowds," the retailer said. https://t.co/gFBE2tnEoO

— MSNBC (@MSNBC) July 27, 2020
More retailers should continue following suit in the weeks to come, but the retail chains that have already stepped forward have been able to grab positive media coverage and receive kudos from consumers and employees.
How are your Thanksgiving campaigns shifting? Let us know under the hashtag #DailyScoop.
Here are today's top stories: 
2020 Emmy Awards goes digital
Following the announcement of 2020 Emmy nominations, the Television Academy announced that its Sept. 20 ceremony will take place virtually, due to COVID-19. The announcement was sent via a letter to all nominees, from producers and host Jimmy Kimmel.
"As you've probably guessed, we're not going to be asking you to come to the Microsoft Theatre in downtown LA on September 20th. This year, it's still going to be TV industry's biggest night out … but we'll come to you!" the letter states. "It's still television's highest honor, and we never want to lose the significance of being nominated for, and maybe winning, an Emmy, but we're going to do in a way that is appropriate to the moment (and guarantees you a memorable night)."

The letter says producers can't ignore the current circumstances and "we also acknowledge that our world is going through a challenging moment in many ways."
This year's ceremony might look something like the Television Academy's Emmy nominations announcement:
Watch the announcement of Nominations for the 72nd Emmy Awards! https://t.co/KzpXUHSwn0

— Television Academy (@TelevisionAcad) July 28, 2020
Why it's important: If you haven't already, prepare now for virtual events, meetings, collaboration and more through the end of the year (if not into 2021). Doing so can help stakeholders adjust to changes and increase both trust and your brand reputation.
---
TACTICALLY SPEAKING
Domino's Australia and New Zealand are facing backlash after trying to "celebrate all the great Karens out there by shouting them a free pizza." The contest sought to celebrate consumers named Karen who have faced negativity because of "a vocal minority who believe rules and laws don't apply to them."
The offer immediately received criticism online, with many arguing that it "rewarded privilege" and ignored much more important issues.

"Most of the time Karens are entitled, privileged white women. If a few people actually called Karen can't handle the meme they should try handling 400 years of oppression," one person tweeted, according to Buzzfeed News.
Though the offer is still up on Domino's Australia's Facebook page, Domino's New Zealand removed the offer.
In its Facebook post, Domino's New Zealand wrote:
In New Zealand, because it lacked this important context, people interpreted this in a different way than we intended. We appreciate how this has happened and have listened – we've removed this post.

Our intention was one of inclusivity only. Our pizza brings people together and we only had this at the heart of the giveaway.

We want you to know that we are always listening and learning and when we get it wrong, we fix it.

We are sorry.
---
MEASURED THOUGHTS
ARPR recently released its data report, "Marketing in a Post-COVID World," which outlined the top six areas in which marketing pros will focus their future budgets: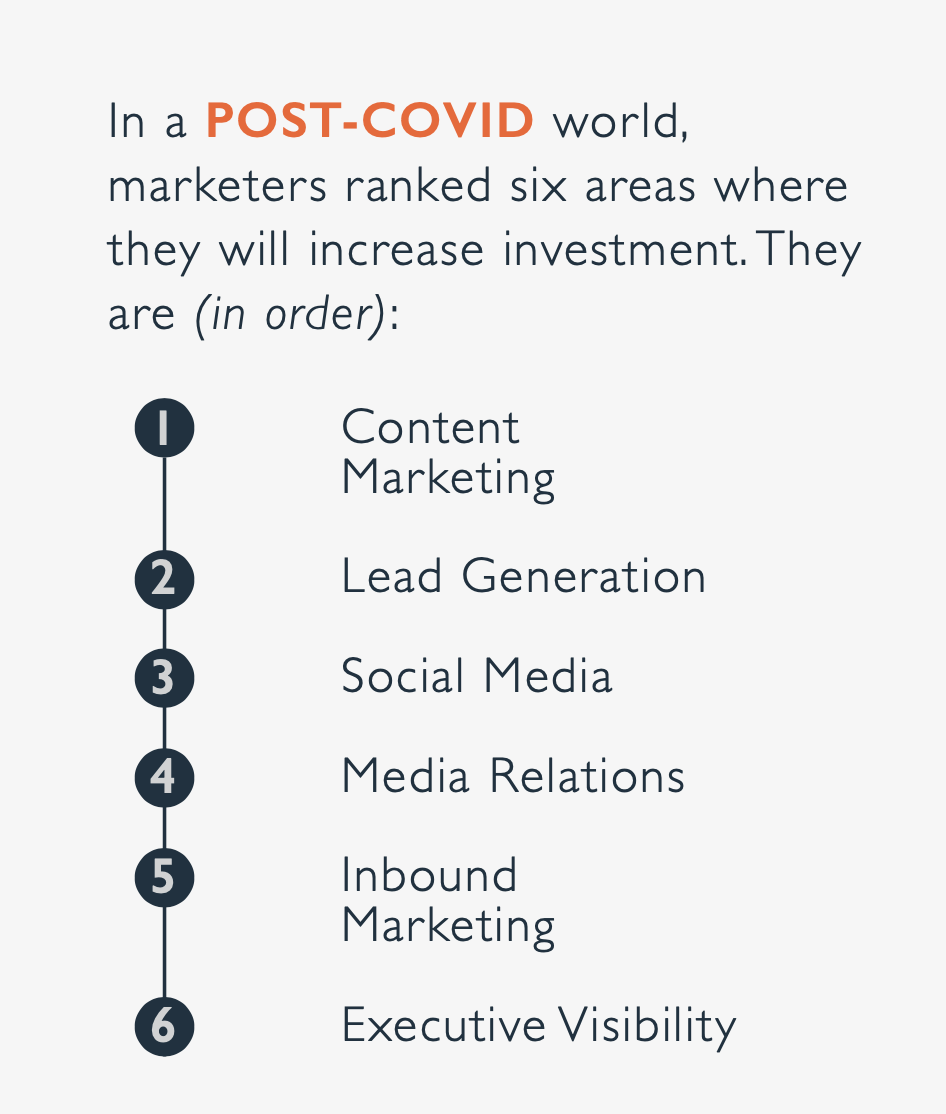 The shift in spending follows consumers' changing behaviors during COVID-19, which many analysts say will remain long after the crisis (such as more e-commerce). The good news is that 97% of tech marketers say they're able to prove the value of digital marketing to their executives: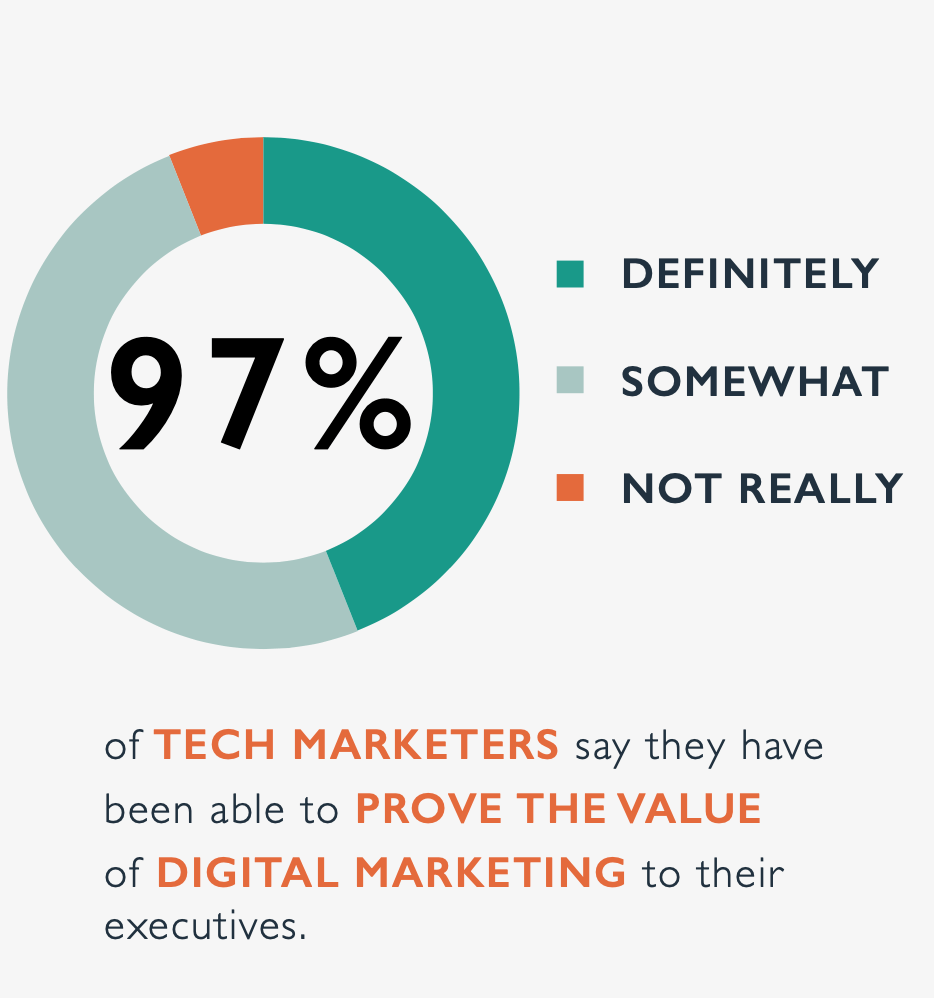 You can read the full report here.
---
CRISIS LEADERSHIP BOARD
Looking for more insight on how to address the current global crisis and lead your organization into a strong recovery?
Join Ragan's Crisis Leadership Board to network and brainstorm with peers, get the latest intelligence and research, and start to strategize for the future of your organization.
Learn more about this exclusive membership here.
Hearst Magazines employees vote to form a union
The media company's workforce voted overwhelmingly in support of a union through Writers Guild of America, East, with a final result of 241-83, which were gathered through mail-in ballots. Hearst Magazines' management, including its former president, Troy Young, opposed the effort to unionize.
It is a victory that was nine months in the making and the vote couldn't have come at a more pressing time as the company grapples with the effects of the pandemic and its own reckoning over race and a toxic workplace culture.

"Hearst is not just about a storied brand; it's about the hard work of the people who are involved with writing, editing, and producing the stories that educate and inspire and delight readers and viewers," Lowell Peterson, executive director of the Writers Guild of America, East, said, in a statement.

Why it's important: If you think that what goes on inside the walls of your organization won't make it to the outside world or end up printed in headlines, think again. Your employees are talking about your organization and its culture, so it's up to you to help executives and other leaders work together on a positive and thriving company culture.
---
TAKE OUR SURVEY
Have your storytelling efforts shifted during COVID-19 and as your organization responds to the nationwide movement for racial equality and inclusion? We want to hear how you're telling your brand's story, including what messages you're using and the content formats and channels you're focusing on to strengthen your reputation and effectively reach stakeholders.
Please take our survey here. All responses are confidential and anonymous.
Survey findings will be released at Ragan's Brand Storytelling During a Crisis Virtual Conference, Aug. 4-5. You can hear the results—and learn how to tell your brand's story to help you thrive in our "new normal"—with speakers from Con Edison, Google, Experian, Minnesota Timberwolves, Crayola, Marriott International, Girl Scouts of the USA, Cleveland Clinic and more.
---
SOCIAL BUZZ
A new Instagram account called "True Colors" is asking the question: "What if brand logos were as white as their leadership?"
The account whitens organizations' logos (presented in black and white) to represent the lack of diversity found in its executive ranks:
Though the account's first Instagram post was roughly a week ago, it's already gained more than 3,300 followers.
The effort shows how organizations are being called out for a lack of diversity within their leadership, and highlights the importance of meaningful DE&I goals within organizations, as well as social justice initiatives and statements that are externally facing.
---
WHAT YOU SAID
We asked if your productivity has increased as you work from home during COVID-19, and 25% of you said "yes." Though 27% of you are more productive, you're also overwhelmed—with nearly 32% reporting that you're burned out. Almost 16% said you're not more productive:
Has your productivity increased as you work from home during COVID-19?

Share your thoughts and experiences with us below and under #DailyScoop.

— PR Daily (@PRDaily) July 29, 2020
Is there a question you'd like us to ask in an upcoming poll? Let us know!
---
SOUNDING BOARD
Are you reading more or less news as the COVID-19 crisis continues?
Are you reading more or less news as the COVID-19 crisis continues?

Share your thoughts with us below and under #DailyScoop.

— PR Daily (@PRDaily) July 30, 2020
Share your thoughts and experiences with us below and under the #DailyScoop hashtag.
COMMENT