Facebook CMO steps down, Delta Airlines to block middle seats until 2021, and Netflix offers socially distanced 'Stranger Things' experience
Also: Signing a DE&I commitment for agency pros, a Connecticut mayor lashes out at John Oliver, wellness consumers skew towards women with higher incomes, and more.
Hello, communicators:
Katie Kern, partner at Media Frenzy Global, and Lee Deas, founder of Obviouslee, have founded a new cause called Agencies Act in Solidarity. The initiative encourages all communications professionals across agencies and firms to commit to several diversity, equity and inclusion standards, which include education efforts, increasing diversity within hiring efforts, including Black people in marketing campaigns and images, and creating a company-wide behaviorial code of conduct.
You can join the Facebook group here and sign the pledge here.
Here are today's top stories: 
Facebook's chief marketer steps down to focus on D&I
The social media platform's chief marketing officer, Antonio Lucio, announced that he's leaving Facebook effective Sept. 18 to focus on helping organizations embrace diversity, equity and inclusion initiatives. He announced his resignation in a Facebook post, writing that it's a "time for recokoning for the nation and my industry."
"This has been a very challenging year for all and an especially reflective year for me, following the passing of my mother before the lockdown," he wrote. "Given the historical inflection point we are in as a country regarding racial justice, I have decided to dedicate 100% of my time to diversity, inclusion and equity. Although these issues have been core to my personal purpose for many years and they were an important element of my work, I want to make them my sole focus."
The Wall Street Journal reported:
Mr. Lucio also said last year that he would require advertising agencies Facebook works with to assemble diverse teams with more women, people of color and people with diverse sexual orientations, echoing a previous mandate to agencies he made while at HP.
Why it's important: Don't delay changes to your organization which will enable you to achieve meaningful diversity, equity and inclusion goals. Merely committing to being better isn't enough—and organizations that don't implement meaningful measures now risk losing top talent as well as stakeholder trust. As you continue to grapple with the COVID-19 crisis, make purpose initiatives and communications a focus as well.
---
TACTICALLY SPEAKING
Netflix is giving fans of "Stranger Things" an opportunity to experience the "Upside Down" inside a fictional Hawkins, Indiana, in October with its "Drive-Into Experience":
the ǝpᴉsdn uʍop awaits this fall, DTLA…🚗 get on the list before it vanishes. https://t.co/OXO7KMYPZt pic.twitter.com/4B6FjGWMWX

— NX (@NXOnNetflix) August 20, 2020
On the event's website, Netflix wrote:
You will unlock the untold story of Hawkins in this unique format event – all from the safety of your car. In a central DTLA location, you'll dive into and explore a living, breathing story to savour some of the best moments from the Netflix series and maybe even witness some unforeseen and unusual occurrences. Sign up now to unlock the secrets that await.
The pop-up experience will take place in downtown Los Angeles and tickets start at $59 per car, which open to the public on Aug. 26 at Noon Pacific time. Each experience will take 24 cars on a tour of the show's iconic locations, including Starcourt Mall.
The hour-plus theatrical adventure will direct drivers to multiple pit stops, where they will park for extended amounts of time as scenes featuring familiar friends and foes play out around them before moving on to the next "chapter." Netflix has also taken precautions to create a safe environment amid the COVID-19 pandemic, requiring guests to drive and stay in their own cars during the show.
The effort is a great example of modifying a fan experience during COVID-19, which promotes safety and social distancing measures while also boosting PR and marketing buzz.
---
MEASURED THOUGHTS
Getty Images and YouGov have partnered to create a "Visual GPS," what it calls a "new way to think about visual storytelling." In its first global report, Getty revealed that 61% of consumers care about the health and wellbeing of their family members, and 60% consider personal health and wellbeing a top priority.
Though those results confirm the growing wellness trend, and Getty reports that mental and emotional health are priorities before physical wellness: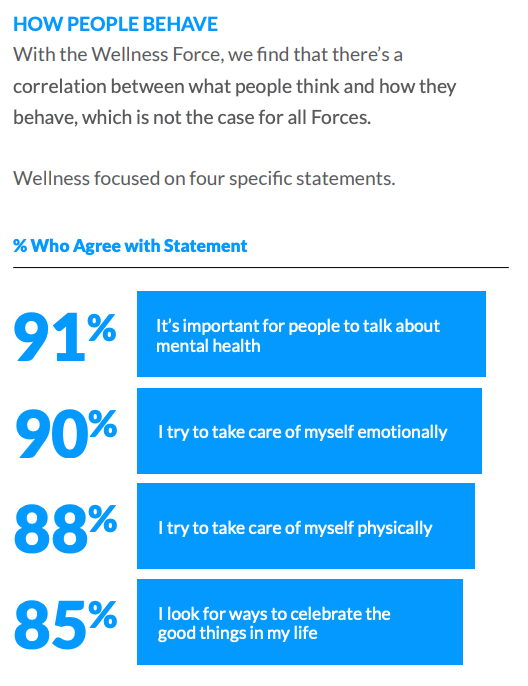 Image courtesy of Getty Images.
The report also revealed that consumers passionate about wellness are more likely to be women who have higher incomes: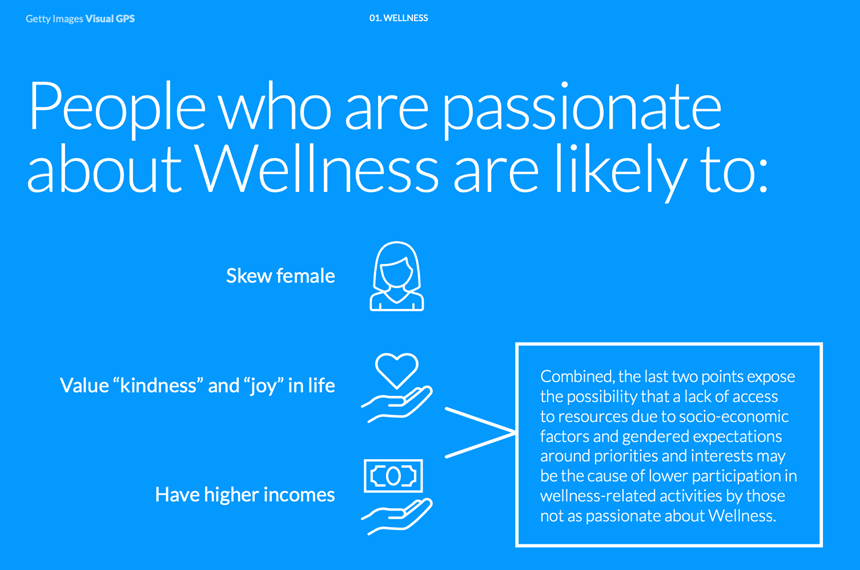 Image courtesy of Getty Images.
The insights underline the importance of understanding your target audience and tailoring content based on those insights, including your images and videos.
You can view the entire report here.
---
CRISIS LEADERSHIP BOARD
Looking for more insight on how to address the current global crisis and lead your organization into a strong recovery?
Join Ragan's Crisis Leadership Board to network and brainstorm with peers, get the latest intelligence and research, and start to strategize for the future of your organization.
Learn more about this exclusive membership here.
Delta to block middle seats into 2021
 The airline is the first to extend its practice of blocking middle seats into next year.
More distance on board makes a difference. We're extending our middle seat blocks and limiting the number of customers on board into January 2021. pic.twitter.com/Pq03YWRjGN

— Delta (@Delta) August 20, 2020
"Medical experts, including our own partners at Emory Healthcare, agree – more distance on board makes a difference," said Bill Lentsch, Chief Customer Experience Officer in a prepared statement. "We believe that taking care of our customers and employees and restoring confidence in the safety of air travel is more important right now than filling up every seat on a plane. We'll continue taking a thoughtful, layered approach ensuring customers know to expect the highest standard of care as they prepare for their holiday travels."
Delta's announcement and tweet follows similar messaging touting its safety measures during COVID-19:
We don't know who needs to hear this, but we're sanitizing our planes between every flight, every day, everywhere. pic.twitter.com/GMBXMhH8IS

— Delta (@Delta) August 18, 2020
Why it's important: As the COVID-19 crisis continues, consumer trust is a crucial commodity for your brand image now as well as your organization's future. By being the first to extend safety measures, Delta gives consumers a reason to trust its moves and company—and it's move has racked up headlines in the process.
---
DOWNLOAD OUR REPORT
Following the deaths of George Floyd, Ahmaud Arbery, Breonna Taylor and others, organizations were pushed more forcefully than ever before to take stands against systemic racism and move to support social justice initiatives. Which responses made an impact—and which responses fell flat?
Learn from 10 of the biggest brand messages in our special report, "Organizational responses to Black Lives Matter." The report offers communicators important takeaways to lead organizations and clients in the second half of 2020 and into the future.
---
TACTICALLY SPEAKING
Following a recent episode of HBO's "Last Week Tonight with John Oliver," the mayor of Danbury, Connnecticut announced it's naming the town's sewage treatment facility after the comedian. The move comes after Oliver slammed the town for its problems in regards to selecting juries.
In the segment, Oliver noted Danbury's "charming railway museum" and its "historic Hearthstone Castle."

"I know exactly three things about Danbury," he said. "USA Today ranked it the second-best city to live in in 2015, it was once the center of the American hat industry and if you're from there, you have a standing invite to come get a thrashing from John Oliver — children included — (expletive) you."
The mayor, Mark Boughton, posted the following video to Facebook:
Though lashing out is probably not what you'd advise your organization or client to do, the move has already netted the town several headlines and social media buzz.
---
WHAT YOU SAID 
We asked if you'd rather hear about organizations' successes or their failures—along with the lessons learned—and 80% of you want a mixture of both, with nearly 9% wanting to hear the winning case studies and 7% preferring for tips and best practices, instead of inspirational tales.
Would you rather hear about brands' successes, or their failings?

Share your thoughts below and under #DailyScoop. We'll share on Monday.

— PR Daily (@PRDaily) August 21, 2020
Is there a question you'd like us to ask in an upcoming poll? Let us know!
---
SOUNDING BOARD
Who should "own" an organization's culture?
Weigh in, communications pros: Who should "own" an organization's culture?

Let us know your thoughts below and under #DailyScoop.

— PR Daily (@PRDaily) August 24, 2020
Share your thoughts below and under the #DailyScoop hashtag.
COMMENT
2 Responses to "Facebook CMO steps down, Delta Airlines to block middle seats until 2021, and Netflix offers socially distanced 'Stranger Things' experience"
Ronald N. Levy

says:

When a company like Facebook is accused repeatedly, the company can lose major executives like Antonio Lucio and lose esteem among investors who worry that the accusations may lead to government regulation sharply cutting into sales and earnings. Some reports say Facebook has already lost 1,000 advertisers.

An accusation can be made against almost anyone partly because all have sinned at least through human error and partly because of what one could call "white collar sadism," the pleasure activists gets from attacking and cursing the powerful. As a result, a PR person who looks ahead now and is protective may in the future be hailed as a foresighted PR genius.

What you could call the PR Principle of Primacy is that in a public controversy, the side that gets to the public first is believed more. The side that comes second with contrary facts is believed less by a public that has been conditioned to "know better." In an accusation situation, the accuser has not only has the advantage of coming first but also seven additional advantages.

.1. The accusation being unexpected is more newsworthy, getting more space and airtime than the denial which is expected and less exciting.

.2. The accusation is made in the name of the PUBLIC—like "look how those greedy bastards are endangering the public" or "revealing your personal facts"—but your denial is made in the name of the ACCUSED and look who the judge is: the PUBLIC.

.3. Often an accuser looks like a little guy accusing a bigger guy and most people identify more with the little guy, the one with less power.

.4. The accuser has all kinds of time to prepare the accusation and polish the accusation but you my have to make the denial with no preparation at all when a journalist on the phone tells you the unexpected accusation and asks for an immediate reply, "what do you say about that?"

.5. If you reply that before you can answer, you have to get the facts, many people may suspect your not answering immediately is evidence of guilt because wouldn't you answer immediately if accused of rape or bank robbery?

.6. The accuser is free to say anything that doesn't violate the law but you may be under orders to "say nothing until you clear it with legal." You can imagine how hard it can be during a crisis to reach anyone in legal with clearance authority.

.7. The accuser may depict your whole company as guilty even though over 99.9% of your people including top managers like Antonio Lucio of Facebook knew nothing about the situation—zero—and the two or three people accused of being responsible are no longer even affiliated with the company. When children of a corporate executive like Lucio hear in school and from neighborhood kids that their father is horrible, is it any wonder that execs quit to work for fairness to minorities or a cleaner environment?

"What do you mean you did't know," an activist may challenge, "weren't you the chief marketing officer?"

Fortunately time is on your side. The PR Principle of Primacy (which sounds pretentious but is reality) means that YOU can be heard before the accusers. Your PR power—ability to influence the public by making known the truth—lets you be first. You can make known nationally what your company is doing to PROTECT THE PUBLIC, and make this known now, even before any coming accusations.

Can you feed the hungry? Yes, and a look at your annual donation list may show that you are already doing so.

Can you increase fairness to women and minorities? Yes again and you're almost surely doing that so it can pay for your spokesman to know fluently what and how. Top PR executives walk around with a corporate resume, sometimes in their heads, with facts and figures on how the organization is serving the public interest.

Can you cure cancer? Yes as by revising the donation list so you support cancer fighters at someplace like America's Memorial Sloan Kettering Cancer Center or Johns Hopkins. At MSKCC almost every week, over a dozen patients with bladder cancer come early in the morning from all over the world to world-famous urologists like Drs. Peter Scardino, Sherri Donat and Jaspreet Sandhu, then the patients go home the same day with the cancers removed. Gone! The doctors often do it by threading a tube through bodily canals without even cutting patients open.

Once your PR power makes known how your company or country is feeding the hungry and healing the sick, you are protected by not only the Principle of Primacy but by the Jungle Law of Public Relations: "The strong attack the weak, not the strong."

Your good deeds deservedly make you reputationally stronger.

Accusers tend to attack not those who do God's work by feeding and healing but who do much less for the public except for making lots of money that goes to stockholders. So you reduce the peril of being attacked when you make your company known as a public benefactor.

This can work out beautifully for you because management may, for those who protect the company, give job advancement rewards that are lavish.

What could make you appreciated later as farsighted and protective could be asking doctors at a great hospital or university now: "How could we help you to help the public?" Once you know more about the possibilities, the opportunities, you can do more to help management protect the public and help the company hold onto its customers and brilliant executives like Facebook's Antonio Lucio.
You can serve and perhaps be rewarded..

Ronald N. Levy

says:

A boiled down version of the overly long comment above: To make senior executives happy, create a PR program so they are ACCOMPLISHING more than earnings. If they go home Friday happy that the PR program may help the world importantly, they may come to work Monday and help your career importantly.

PR creates success if it not only looks good but DOES good. How top executives evaluate you may depend—even more than on "what have you done for me lately"—on "what are we doing for the public in the year ahead?" Often what got top executives their jobs was their focus on real achievement more than the appearance of achievement.