Facebook proposes name change, Southwest backtracks on vaccine mandates, and Zillow blames supply chain home-buying freeze
Also: GE, Union Pacific and others announce vaccine mandates, how Facebook's brand reputation affects user numbers, how personal storytelling offers COVID-19 messaging opportunities, and more.
Hello, communicators:
Big U.S. firms such as General Electric and Union Pacific have announced vaccine mandates for employees in response to President Biden's Dec. 8 deadline.
Other companies that have announced vaccine mandates for workers include Boeing, IBM, and Raytheon—all federal contractors that fall under Biden's rules for companies that do business with the federal government. Together with GE and Union Pacific, these companies employ about 300,000 workers.
The Wall Street Journal reported:
"Along with being our best defense against severe Covid-19 illness, vaccines are our best path forward out of the pandemic," Beth Whited, Union Pacific's human resources chief, said in a note to staff last week.
It's proof that the trend on vaccine mandates is going up—and holdouts will face more and more pressure to meet the need as the pandemic threatens to extend into a third year.
Companies that are embracing vaccine mandates aren't abandoning other efforts to encourage inoculations, either. Union Pacific is offering cash incentives to union workers and vacation time to nonunion employees to incentivize workers to get the jab.
Here are today's other top stories:
Facebook mulls name change to tout its metaverse push
The social media company is looking to rebrand to align with its future vision and ambitions.
The coming name change, which CEO Mark Zuckerberg plans to talk about at the company's annual Connect conference on October 28th, but could unveil sooner, is meant to signal the tech giant's ambition to be known for more than social media and all the ills that entail. The rebrand would likely position the blue Facebook app as one of many products under a parent company overseeing groups like Instagram, WhatsApp, Oculus, and more. A spokesperson for Facebook declined to comment for this story.
Some see the attempt to rebrand the social media company as a diversion tactic from the raft of scandals that have ensnared its brands in recent months. A Wall Street Journal series has reported on internal documents that show the company has failed to adequately address problems on its platforms—from human trafficking to teen mental health.
The proposed name change has already endured derision on Twitter:
Dear Facebook:

We've received your request to change your name. However, due to our real names policy, you will first need to fax us a copy of your court order and new driver's license….

— Ina Fried (@inafried) October 20, 2021
Is Facebook _really_ changing its name? I thought that was a joke when I first saw it…

Do they think that will solve their problems or something? 😏

— Michelle "Scare"tt 👻 (she/her) (@PRisUs) October 20, 2021
Some also noted that the move was lifted from the Big Tobacco PR playbook:
— Ryan Mac 🙃 (@RMac18) October 20, 2021
What you should know: While Facebook hopes that a name change for its parent company will follow in the steps of Google (which changed its parent name to "Alphabet"), its timing alongside current crises paints a different picture.
To complicate matters, Facebook hopes to use the new name to explain its investment in the "metaverse," a nascent concept that is still largely misunderstood by the general public. While Facebook can hardly be faulted for looking to the future, it will have plenty of time to come up with a new name later down the road. And one would think it would be worth any price to avoid comparisons to the tobacco industry.
---
SOCIAL BUZZ
CNN's John King drew attention after sharing his own health situation to express gratitude for co-workers who have been vaccinated. King has multiple sclerosis, which he shared on his network in a clip that was reposted to Twitter:
—@JohnKingCNN: "I'm going to share a secret I've never shared before: I am immunocompromised. I have multiple sclerosis. So I'm grateful you're all vaccinated…." pic.twitter.com/7vOk2CxXRP

— Oliver Darcy (@oliverdarcy) October 19, 2021
The moment of candor is a reminder of the power of storytelling and vulnerability in messaging on issues that can be contentious. For employers who are looking to encourage vaccine uptake or push a vaccine mandate, working with employees who are willing to share their personal story about how COVID-19 is affecting them and their family could be a powerful opportunity to create community and display empathy.
---
MEASURED THOUGHTS
Despite data that shows the decline of Facebook's brand reputation in recent years, starting with the Cambridge Analytica scandal and continuing to its current woes, users have not quit the platform. The numbers raise a question about the true impact of brand reputation on customers and the bottom line.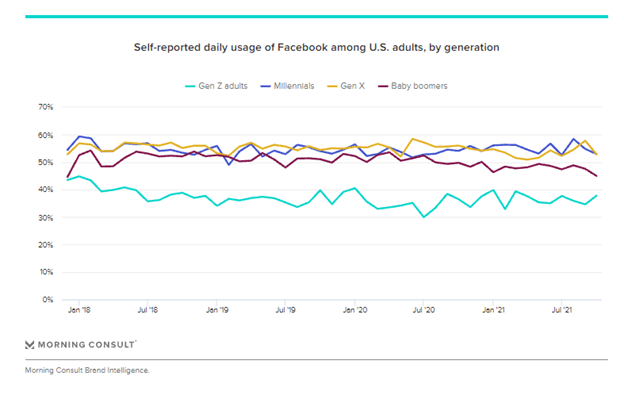 The data suggests that marketers still have plenty of incentives to advertise on and invest in Facebook, Instagram and other apps. However, the trend could require action later down the road.
But given the choice to give up one social media platform — which is exactly what an Oct. 6 survey asked 1,334 Facebook users to do — two Facebook-owned apps were the first to go. Roughly half of users said they'd give up Facebook (30 percent) or Instagram (23 percent), while smaller shares selected Twitter, Snapchat or another service.

If these trends continue, Facebook will soon be looking at a net negative favorability rating among U.S. consumers. At that point, brands will need to rethink their advertising strategy on the platform.
It's a reminder that corporate reputation and its impact play out over long time periods, and business leaders and communicators should avoid looking to short-term results to understand the full picture of a PR crisis and its ramifications.
Southwest Airlines backtracks on vaccine mandate deadline
While the airline has set a deadline of Nov. 24 for employees to report vaccine status or file a request for an exemption, the company has changed its tune about what will become of workers who miss the deadline. Instead of being put on unpaid leave, workers will be allowed to keep working.
"While we intend to grant all valid requests for accommodations, in the event a request is not granted, the company will provide adequate time for an employee to become fully vaccinated while continuing to work and adhering to safety protocols," [spokesperson Brandy King] said.
The Texas-based airline faces competing pressures from federal and state government, as Texas Gov. Greg Abbott has ordered businesses not to require employees or customers to get vaccinated against COVID-19. Southwest CEO Gary Kelly has also shared reluctance to take a hardline stance on vaccination.
NPR continued:
"We are not going to fire any employees over this," he told ABC-TV last week. "We are urging all our employees to get vaccinated. If they can't get vaccinated, we're urging them to seek an accommodation."
What you should know: Southwest's vaccine mandate message is in stark contrast with United Airlines, which has reported immense success with its efforts to require workers to get the COVID-19 vaccine. Of the Chicago-based airline's 67,000 employees, 3% have applied for an exemption and 96% have been vaccinated.
Airlines offer an important marker for vaccine messaging, as workplace limitations and industry realities have made the COVID-19 crisis particularly devastating for their business.
---
TAKE OUR SURVEY
If you're looking for benchmark data to show your bosses the next time you ask for a raise, lend us a hand—and help yourself and your peers while you're at it. Participate in Ragan's Salary & Workplace Culture Survey, a comprehensive look at salaries, benefits, culture, bonuses and other aspects of the job in a fast-moving industry.
Both internal and external communicators are encouraged to participate.
By taking part, you will receive a $150 discount to a Ragan virtual conference of your choice and be entered to win one of five $50 gift cards. All who complete the survey will receive a full report on the findings. Responses are anonymous.
Zillow blames supply chain, labor shortages for buying freeze
The online real estate company had made a big splash when it started buying homes directly from sellers as part of its Zillow Offers program. Now, the company is halting those purchases as it struggles to work through a backlog of inventory.
"We're operating within a labor- and supply-constrained economy inside a competitive real estate market, especially in the construction, renovation and closing spaces," Jeremy Wacksman, Zillow's chief operating officer, said in a statement.

"We have not been exempt from these market and capacity issues and we now have an operational backlog for renovations and closings," he added.
Why it matters: Businesses are going to have a tough time meeting customer demand in the coming months as the COVID-19 economy struggles to fix supply chain issues. Communicators should take a note from Zillow in how to transparently explain changes that—while unpleasant—are to be expected.
When possible, offer clear timelines for a resumption of your activities, and reassure current customers that they are not forgotten. At the same time, don't blame workers for the shortfall, even when labor shortages might play a major role in your current problems. Leaders should take responsibility and protect workers from the ire of frustrated customers.
COMMENT
4 Responses to "Facebook proposes name change, Southwest backtracks on vaccine mandates, and Zillow blames supply chain home-buying freeze"
Ronald N Levy

says:

Even if Facebook's name is changed, its urgent PR need will remain the same: do Participatory PR. Show how (a) Facebook PARTICIPATES in getting for the public what the public wants and HOW (b) the public can participate in getting Washington decisions about Facebook that the public needs.

PR wisdom is that PR popularity comes not from what you call yourself but from what you DO for the public and on how well you make known your public value.

Facebook has marvelous PR people but Facebook's management may be less than marvelous in making known what multibillion dollar Omnicom says is at the core of successful PR: the TRUTH.

The TRUTH is that Facebook is hugely valuable to the public which has over two BILLION Facebook users. But the truth is also that most people may rarely or never think about valuable Facebook is to them and for free! So another truth is that Facebook should communicate how it deserves love not for its name but for how well Facebook serves the public interest.

Facebook can get more love by focusing on what makes great lovers great: not what we call ourselves but what we DO.

Ronald N Levy

says:

Names make news. You and I have as much right as anyone else to guess about the future so which name–based on two numbers we know—may be more applied to Mark Zuckerberg a year from now, Genius or Schmuck?

Look at the numbers we know:

SECOND QUARTER REVENUE for Facebook (the first of the two numbers) is $29 BILLION. That's for just three months! But Facebook is threatened by Washington action of big business haters who could cost Facebook $10 billion from less revenue, more taxes or both. "They can afford it" say business haters.

MASSIVE PUBLIC GRATITUDE will go to Facebook if it announces spending (here comes the second number) ONE BILLION on a "Stand Up to Cancer" push to find a cancer vaccine at America's Memorial Sloan Kettering Cancer Center.

Common sense in Washington would be stay a mile away from legislation that could reduce Facebook's ability to try protecting the public with a cancer vaccine. So which makes more sense for Zuckerberg–save the billion and hope business haters won't succeed, or spend the billion on a huge public service program so 100 million Americans will love Facebook and some of the 100 million may PRAY for Facebook?

"Mench" is a Yiddish word for one who is highly admirable, and the public tends to oversimplify, so which designation of Zuckerberg will be more likely a year from now: Genius or Schmuck, Moron or Mench?

Kristen Williams

says:

I respectfully disagree with the above comment. FB is not nearly as valuable to the billions of users as it is harmful. While we have freedom of speech in America, most other countries where FB is available do not. Entire villages in other countries have been massacred, literally wiped out, because of this platform. A village that had no electricity and, therefore, no internet was completed annulated because a rumor about them had been passed through a neighboring community that did have such access. The challenge abroad that FB needs to address is the hundreds of countries that speak hundreds of different languages. FB does not have people that understand all of these languages and cannot then prevent such genocides.

I also think it inappropriately assumptive, and quite uninformed, to assume that the people here in our country who are "threatening" FB are "haters of big business". Many of them fear the great harm to the physical and mental well-being of some of our most vulnerable population that the platform and it's extensive, (and invasive) use of algorithms is causing. The fact that its own employees do not let their families use the platform is a huge red flag. I assume they are much more informed about the inner workings than are the "big business haters" so I tend to think their motives are worth noting and their concerns worth addressing.

And finally, as a PR professional who believes in transparency and accountability, I think focusing on profit and not social responsibility is counterproductive to the goal of gaining trust from your publics. I also find that spending money to support a popular cause with the pure intention of overshadowing the sins of your organization is cowardice and irresponsible!

I think it's time for FB to own their part in the wrongs they've committed and voluntarily start funneling money into efforts that repair the damages they have intentionally caused, all in the spirit of the mighty dollar.

Ronald N Levy

says:

Kristen Williams is correct again and again, and much of what she's right about shows why Facebook is importantly beneficial to the public.

KW: "While we have freedom of speech in America, most other counties where FB is available do not."

TRUTH: The more a country lacks freedom of speech, the more importantly beneficial it is for the public that Facebook makes it possible for the public to receive news and ideas that government powers don't allow public media to present elsewhere.

KW: "The challenge abroad that Facebook needs to address is the hundreds of countries that speak hundreds of different languages."

TRUTH: Even if Kristen Williams and her three best friends were put in charge of Facebook with power to make decisions and write the checks, REALITY is that Facebook can't hire enough censors to understand and censor all those languages, and free speech advocates may doubt whether Facebook or
anyone else SHOULD censor all those people rather than their having freedom to communicate freely via Facebook.

KW: "I also think it is uninformed to assume that people here in our country who are threatening FB are haters of big business."

TRUTH: Some people hate big business, some don't, and all of us who benefit from America's big businesses have reason to hope that haters don't damage businesses we enjoy using. Perhaps we can agree that Facebook critics don't love big business.

KW: "I think that focusing on profit and not social responsibility is counterproductive."

TRUTH: Focusing on profit is at the core of American free enterprise. Focusing on social responsibility is the core idea of communism, "from each according to his ability to each according to his need." Focusing on social benefit is admirable but sometimes people can do better for themselves than can well-intentioned companies and government agencies.

Social "benefit" is an admirable focus but the concept of social "responsibility"
may redirect responsibility from those who can most successfully bear it.