Facebook responds to antitrust lawsuits, Time announces 'pet of the year,' and Pantone selects two colors for 2021
Also: Cartoon Network racks up kudos for its anti-racism PSA, top challenges content marketers must overcome, Facebook's 'Year in Review,' and more.
Hello, communicators:
Pantone revealed its 2021 color of the year—actually, two colors, "Illuminating" and "Ultimate Gray":
Introducing the Pantone Color of the Year 2021…
Produced by @artechouse #Pantone #pantone2021 pic.twitter.com/nU8cky9OhI

— PANTONE (@pantone) December 9, 2020
PANTONE 17-5104 Ultimate Gray + PANTONE 13-0647 Illuminating, a marriage of color conveying a message of strength and hopefulness that is both enduring and uplifting.
Visit https://t.co/Tskl0gMXYB to discover more.#Pantone #pantone2021 pic.twitter.com/utJ0sceAA9

— PANTONE (@pantone) December 9, 2020
The colors signify both the uncertainty of the year that will continue into 2021, as well as opportunities and hope on the horizon. In a press release, Pantone said the combined hues are "practical and rock solid, but at the same time, warming and optimistic.
It is a story of color that encapsulates deeper feelings of thoughtfulness with the promise of something sunny and friendly.

… We need to feel that everything is going to get brighter—this is essential to the human spirit.
Here are today's top stories:
Facebook hits back on FTC lawsuits
 The Federal Trade Commission and 48 states filed two antitrust lawsuits on Wednesday against the social media platform, alleging that Facebook illegally squashed the competition with its purchases of Instagram (for $1 billion in 2012) and WhatsApp (for $19 billion in 2014).
"Personal social networking is central to the lives of millions of Americans," said Ian Conner, director of the FTC's Bureau of Competition, in a statement. "Facebook's actions to entrench and maintain its monopoly deny consumers the benefits of competition. Our aim is to roll back Facebook's anticompetitive conduct and restore competition so that innovation and free competition can thrive."
Facebook said the regulators had ignored important history.
"The most important fact in this case, which the commission does not mention in its 53-page complaint, is that it cleared these acquisitions years ago," Jennifer Newstead, Facebook's general counsel, said in a statement. "The government now wants a do-over, sending a chilling warning to American business that no sale is ever final."
Why it's important: Facebook's portfolio of social media apps and platforms has grown to more than 3 billion people, so PR and marketing pros should keep tabs on this developing lawsuit. The outcome of this investigation and legal battle will affect organizations' ability to reach and engage with audiences across demographics and geographics, along with carrying implications for internet and social media companies in the future.
---
SOCIAL BUZZ
Cartoon Network is racking up kudos on Twitter and in headlines for a recent video posted on Twitter from its show "Steven Universe," using The Crystal Gems to spread an anti-racism message:
Black inventors, heroes, and leaders are often left out of history. Ask yourself as you're learning…who is the focus? Why? Question the story ✊🏿✊🏼✊🏾✊✊🏻✊🏽💖

The Crystal Gems say BE ANTI-RACIST! Visit https://t.co/5ukinriWYO to learn more. pic.twitter.com/gNLYLO9PER

— Cartoon Network (@cartoonnetwork) December 3, 2020
The company created the public service announcement as part of its "commitment to fostering inclusion and equity," highlighting the National Black Justice Coalition, The National Bail Out collective and the NAACP Legal Defense and Education Fund as resources.
Though the video and accompanying social media content asks viewers to "question the story" when learning about history, the practice can be applied to current misinformation.
Former National Basketball League athlete Rex Chapman tweeted: "Cartoon Network for the win."
---
MEASURED THOUGHTS
Hero's Journey Content Studio surveyed content managers about their biggest challenges, revealing that 29% point to a lack of strategy as a huge stumbling block, while 27% say they have issues with receiving high-quality content to share—a challenge exacerbated by not having a strategy. Reporting and proving ROI is also a top obstacle for 10% of survey respondents.

Image courtesy of Hero's Journey.
To overcome these challenges, the agency suggests creating a content calendar and building strategies that make it easy for stakeholders to pitch in with content ideas and storytelling. You can learn more about these first steps here.
---
CRISIS LEADERSHIP NETWORK
Looking for more insight on how to address the current global crisis and lead your organization into a strong recovery?
Join Ragan's Crisis Leadership Network to connect and brainstorm with peers, get the latest intelligence and research and start to strategize for the future of your organization.
Learn more about this exclusive membership here.
Time launches 'Pet of the Year' feature
For the first time, the publication has added to its annual top lists of entertainers, athletes and more that lead to its "Person of the Year" feature with a new entrant, thanks to its partnership with Chewy: top pets. This year's No. 1 spot goes to rescue animals.
Rescue animals are TIME's 2020 Pet of the Year

Made possible by @Chewyhttps://t.co/1Kh4t33RbT

— TIME (@TIME) December 9, 2020
The American Society for the Prevention of Cruelty to Animals estimates that 3.2 million pets are adopted annually, but as consumers stayed at home, animal adoptions rose dramatically.
The ASPCA reports that animal welfare organizations across the country saw a spike in adoptions during the second half of March, with an estimated national adoption rate of 58% at the beginning of the month, jumping to 85% by the end of the month.
Why it matters: Similar to Pantone selecting two colors for its annual feature, Time's new addition to its yearly best-of lineup is—well, timely. It's also clever, playing up on a continuing trend and rolling that trend into a money-making effort through a sponsored partnership. Finally, the feature article is uplifting and hopeful. Though Time's Megan McCluskey covered many pet owners' experiences of canceled trips, disappointments and struggles with uncertainty through COVID-19, the spotlight was on the animals that are "providing these much-needed moments of levity" during the crisis. You can apply these takeaways to your content as well, especially as consumers and employees are weary of COVID-19 messages and many are seeking lighthearted stories.
---
SOCIAL BUZZ
Web Smith, founder of 2PM Inc., recently tweeted a content creation truth for many communicators:
Content creation may be one of the hardest jobs that people believe to be easy.

— Web Smith (@web) November 30, 2020
What other roles and responsibilities do you think are the hardest, yet others believe them to be easy? Share your thoughts under the #DailyScoop hashtag.
Facebook shares 2020 Year in Review
Facebook recently published its 2020 Year in Review, which included top moments of virtual connection through COVID-19, social media engagement around holidays, ways Facebook users supported small businesses, the loss of icons such as Kobe Bryant and Ruth Bader Ginsberg, cause-related efforts and more.
Here's a sample of top moments on Facebook surrounding the Black Lives Matter movement and protests for racial justice and equality, which brought more than 3.5 million U.S. Facebook users to join new groups supporting Black businesses.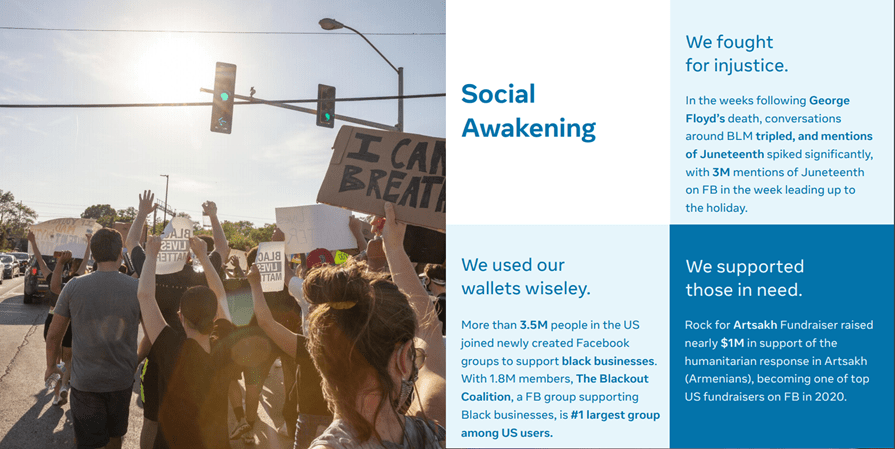 You can read the platform's entire report here.
---
TAKE OUR SURVEY
We want to know about how PR agencies are building lasting, sustainable relationships with clients, what is working and what is rubbing both parties the wrong way. That's why we're partnering with The Institute for Public Relations on a new survey to learn more about the state of the agency/client relationship.
Please take this 10-minute survey here.
---
EDITOR'S PICKS
As you're altering your holiday campaigns and searching for ways to engage consumers and employees during COVID-19, don't forget the power of gifts. These can come in the form of interactive content and holiday sweepstakes for your social media followers or thoughtful gifts given by you or your entire organization to members of your workforce, partners, influencers and more.
Check out these gift ideas:
---
SOUNDING BOARD
How much are you focusing on video content for digital and social media platforms?
How much are you focusing on video content for digital and social media platforms?

Share your thoughts with us below and under the #DailyScoop hashtag, and we'll share in tomorrow's roundup.

— PR Daily (@PRDaily) December 10, 2020
Share your thoughts below or on Twitter using the #DailyScoop hashtag. Is there a question you'd like us to ask in an upcoming poll? Let us know!
Editor's note: Ragan Communications may earn a commission through our affiliate partnerships when purchasing items in our content.
COMMENT
One Response to "Facebook responds to antitrust lawsuits, Time announces 'pet of the year,' and Pantone selects two colors for 2021"
Ronald Levy

says:

This Facebook revelation and it could happen to any of us—that the government is trying to go back on what it said years ago—calls to mind Cosby's situation: a DA admits under oath that the government promised years ago no prosecution, a clear legal agreement, if Cosby would admit something the government wanted admitted for some other case. So why not avoid a hassle and he admitted it. But we see the government saying in effect "that's what we said THEN but not what we say NOW."

So now Cosby is in jail, Facebook faces the peril of breakup, and people are tempted to believe Facebook and Cosby must have done something wrong or else why is the government accusing them?

We've heard that in America there's a legal duty to presume innocence? Don't believe it, as we can see from the Facebook and Cosby situations. But PR can help mitigate the peril of the actual common presumption: guilt.

The PR opportunity is to create corporate awareness of corporate good guy status, value to society. If the public sees your company or persona as fighting poverty or cancer or blindness or some other common peril, the public will tend to be on your side and prosecutors will be less likely to seek headlines by attacking you. They'll more likely attack someone who "saved money" on PR to earn reputation.

But if that PR effort isn't made, if you are known not for good deeds but mainly for being famous and rich, judge whether that PR deficit can lead to grief.

Smart Facebook is but it should probably have spent more on PR. Do we know of even ONE major good deed they've done for the public? They may have figured that if one is not guilty, who needs PR? Users of Edelman, Weber Shandwick and some other great PR firms are guided to save less and enjoy safety more.