GM takes flak for flip flop; Amazon faces union vote, and Telegram rockets to the top in downloads
Also: Reddit makes waves with five-second ad, Sprinklr shares brands that stood out on social, vaccine rollout stumbles on tech mistakes, and more.
Good morning, communicators:
Tom Brady won his 7th Super Bowl last night as the Tampa Bay Buccaneers defeated last year's champs, the Kansas City Chiefs, 31-9. Brady is 43 years old.
While some brands decided not to air advertisements for the big game, some were still able to generate some buzz on social media. Here's the top-rated tweet, during the game, from a brand that didn't have a Super Bowl ad, per analytics firm Sprinklr:
No commercial from us this year, after 2020 no one's forgotten that beer exists.

— Miller Lite (@MillerLite) February 7, 2021
Here are today's top stories:
General Motor's electric vehicle Super Bowl ad gets pushback
The car company had one of the better ads from a creative perspective, tapping Will Ferrell to lead a humorous adventure to Norway (he ends up in Sweden) to take on the Nordic country on electric vehicle adoption.
Norway is crushing us at EVs. That's crazy. We have to do better. Are you in? #EVerybodyIn #NoWayNorway pic.twitter.com/QH8kXRd4rp

— General Motors (@GM) February 3, 2021
The ad is part of GM's ambitious push to sell only zero-emission vehicles by 2035, a promise it made in the wake of the 2020 presidential election, along with other changes. Critics were ready to point out the abrupt turnaround form the automaker, and that the company is somewhat responsible for Norway "beating" the U.S. in the electric vehicle game.
GM itself is part of the reason why there aren't more electric vehicles on the road today. Rather than lobby for increased incentives for EV purchases—Norway's method—General Motors has spent decades lobbying for weaker emissions regulations.
Why it matters: Embracing purpose is important for companies in the current media climate, and while it is OK to change your mind, or evolve, your company will be called on the carpet for failing to acknowledge past actions that don't live up to your new "mission." If you have to do an about-face, make sure you admit past errors and be transparent about why you changed your mind.
---
TACTICALLY SPEAKING
While Reddit has enjoyed a few weeks of stardom due to the r/WallStreetBets and GameStop storylines, the company also made waves with its five-second commercial during the Super Bowl. The ad, a fleeting bit of text that was there for a minute and then gone, tied to assets online and also bet on the ability of viewers to pause or even rewind their stream of the big game to catch the full message.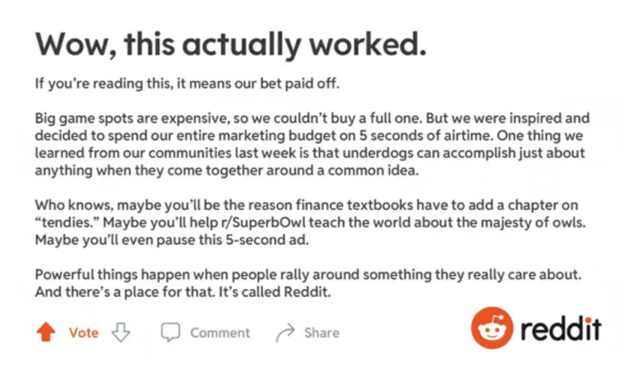 Just saw @reddit do a 5-second Super Bowl ad with just text. In a world where you can pause your TV it was clever. Of course we paused and Reddit (yes, I went there)

— Mark Suster (@msuster) February 8, 2021
Make sure your storytelling efforts adapt to the latest technology and make use of all the assets you have to offer.
---
MEASURED THOUGHTS
Which brands stood out on social media during last night's Super Bowl? Sprinklr broke down the data: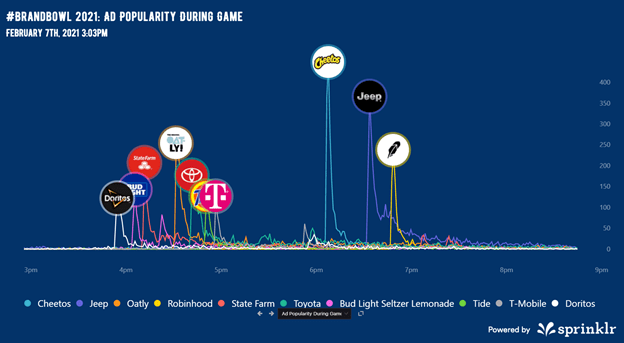 When it comes to emoji reactions to ads, humor was the leader: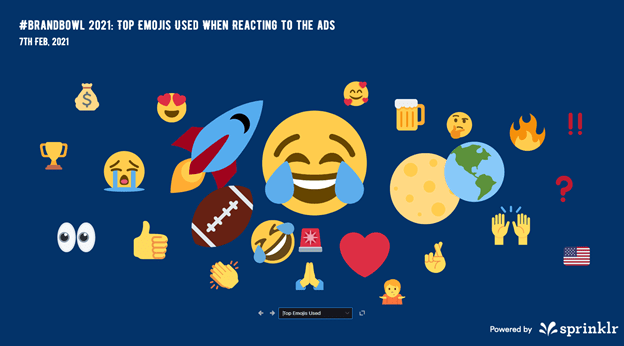 See a full breakdown of the night's winners and losers here.
---
CRISIS LEADERSHIP NETWORK
Looking for more insight on how to address the current global crisis and lead your organization into a strong recovery?
Join Ragan's Crisis Leadership Network to connect and brainstorm with peers, get the latest intelligence and research and start to strategize for the future of your organization.
Learn more about this exclusive membership here.
---
TECH SPOTLIGHT
When it comes to messaging apps, Telegram is surging, per reports of downloads in Android and Apple stores.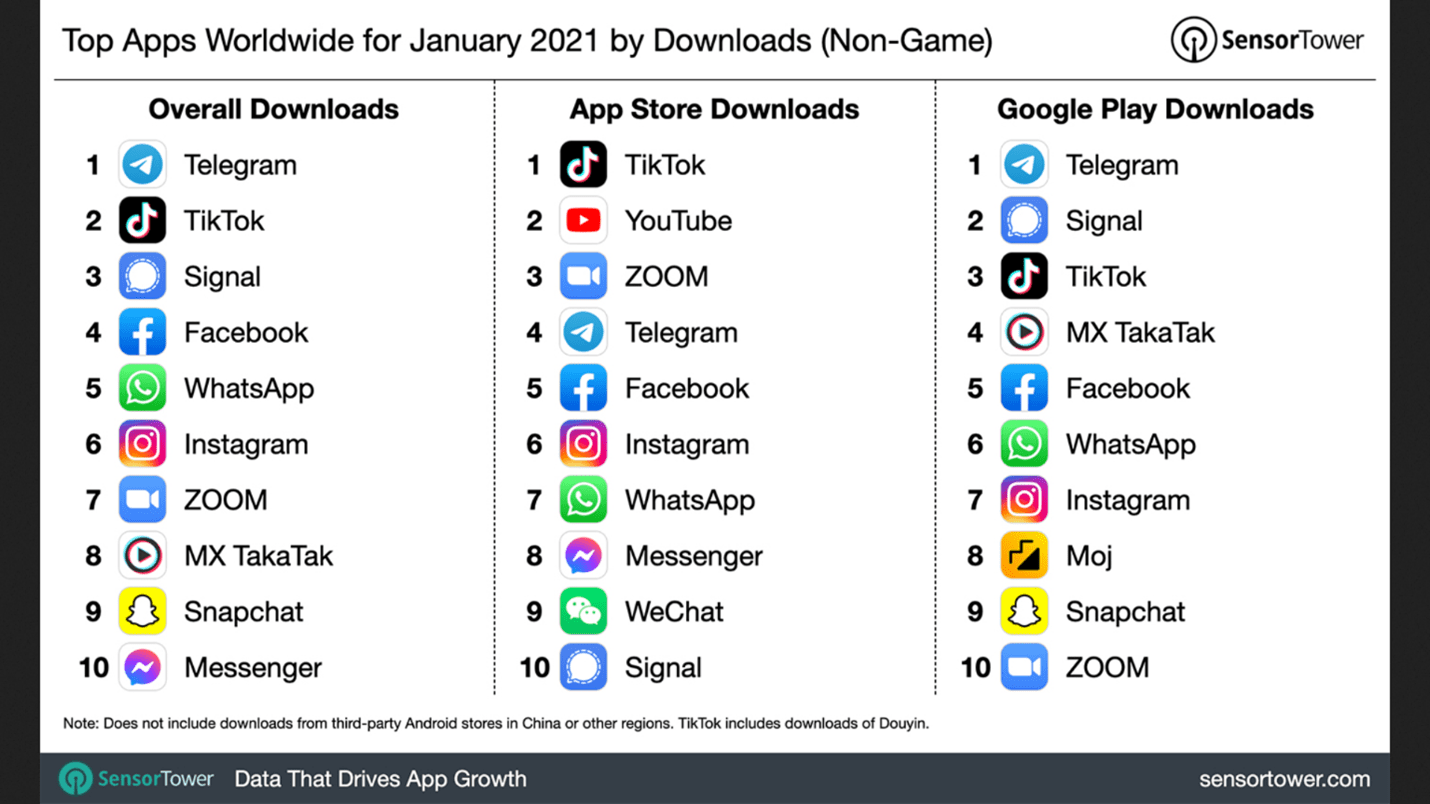 (Image via Sensor Tower)
The change comes as competitor WhatsApp has run into privacy concerns and highlights the growing trend of consumers looking for more anonymity and control over their data when communicating online.
Amazon faces union vote in Alabama
The tech company is set for a big vote in the southern state which will set the table for ongoing deliberations between workers and the online retail juggernaut. The company has come under fire during the COVID-19 pandemic for how it treats warehouse employees and complaints about the pay scale for employees at one of the wealthiest companies in the world.
"Our employees choose to work at Amazon because we offer some of the best jobs available everywhere we hire, and we encourage anyone to compare our overall pay, benefits, and workplace environment to any other company with similar jobs," Amazon spokesperson Lisa Levandowski said when Bessemer workers notified the NLRB of their intention to unionize in November.
What you should know: Watch this story carefully as Amazon navigates the response to employees asking for better working conditions and tries to shore up its brand reputation when it comes to employee relations. The outcome of this vote could have historic implications for the next decade of labor in the U.S.
---
CRISIS COMMUNICATIONS
For communicators looking to coordinate efforts around vaccine rollout, a problem has emerged for key older demographics: a lack of tech literacy.
Older Americans, who can be thwarted by lack of access to smartphone apps and other tools communicators might take for granted, are in need of clear communication about where to get their vaccine and other important updates.
The frustration about how the vaccine rollout has been managed can be heard in this piece from Salon:
This is a rant about communication, and design. This is about, wherever you live or whatever your community's current vaccine plan may be, the multitude of ways in which it almost assuredly does not make a lick of sense to an old person.

There is an adage that translates to "Nothing about us without us." The concept is simple: Don't make or do things for a population without input from that population. So I have to ask, did anybody who created any of the catastrophically useless vaccine signup websites out there ever talk to their grandmas?
Remember to get plenty of feedback on your crisis communications and try to avoid making assumptions about your audience.
---
TAKE OUR SURVEY
The start of a new year brings more opportunities for communicators across roles, organizations and industries to develop effective strategies and efforts that can strengthen their brands amid continuing crises, including the COVID-19 pandemic.
Ragan's Communications Leadership Council has created The 2021 Communications Benchmark Survey, and wants to know your challenges, successes and needs as you navigate the rapidly shifting communications landscape and respond to unprecedented crises as well as new opportunities.
Please share your insights with us. As a thank you for your time and insights, you'll receive an Executive Summary of the report, packed with proprietary research that can help you better shape communications strategies in 2021. You'll also be entered to win one of five $100 Visa gift cards.
---
WHAT YOU SAID
We asked if you were watching Super Bowl LV for the ads or the football game, and 45% of you said that you were appreciating both.
Are you watching Super Bowl LV for the game–or the ads?

Weigh in below, and we'll share the results on Monday. #DailyScoop

— PR Daily (@PRDaily) February 5, 2021
About 24% said they were watching for the brand stunts and 21% said they were keen on the matchup between the Bucs and Chiefs.
---
SOUNDING BOARD
What was your impression of this year's Super Bowl ads? Did they meet the occasion or fall flat?
How did you feel about this year's Super Bowl ads? Did they shine or fall a little flat?

Share your thoughts with our hashtag #DailyScoop.

— PR Daily (@PRDaily) February 8, 2021
Share your thoughts with our hashtag #DailyScoop or in the comments below and we will share your takeaways tomorrow.
COMMENT
2 Responses to "GM takes flak for flip flop; Amazon faces union vote, and Telegram rockets to the top in downloads"
Ronald N. Levy

says:

What we can expect at Amazon because it wins repeatedly in PR is the TRUTH.
The truth at Amazon is that:

(a) Amazon managers may gladly be more generous to all other Amazon family members without any threat of strike or other threats or bitter demands that are extreme.

(b) Amazon employees and managers alike are aware that when unions made serious threats over Amazon's intended move to Long Island City which would have meant over 25,000 jobs, many high-paying, Amazon avoided the threats and curses by moving to Virginia. When Walmart butchers voted to unionize, Walmart began buying meat from suppliers prepackaged hence no more jobs for butchers.

(c) Amazon is almost surely paying as much or more than local competitors like Walmart and Target.

(d) Amazon has almost surely (and quietly) lined up support from local influentials–preachers, medical people, political leaders, lawyers, store owners, real estate owners and brokers, bankers, even unions and many others who will be better off if Amazon stays and pays in peace.

e) Amazon surely has the PR and HR intelligence, plus consultants, to communicate convincingly these persuasive truths and more.

Ronald N. Levy

says:

GM also deserved our admiration. Like our doctors who protect our health, like our technicians who design our computers and like each of us doing our jobs, General Motors neither flipped nor flopped in advocating new and better technology.

Thank heaven for GM and all the other major companies that make our lives better and safer and cleaner by adopting new and better ways of getting the public what the public needs.

A CLEANER ENVIRONMENT is one public need that GM people, may they be blessed, are helping to achieve by pushing to sell only zero-emission vehicles. GM doesn't have to "admit past errors" just because—like each one of us—GM favored gasoline engines when that was the best choice we and GM had.

GM is lectured to "be transparent about why you changed your mind" but perhaps that's ridiculous. GM wanted the best it could produce for us in the past and wants that for our future and we should hope that they never change their mind about wanting the best for the public.