Grubhub and DoorDash support NYC delivery worker laws, income bracket predicts comfort traveling during pandemic, and Wikimedia's new CEO looks to fight disinformation
Also: Mars Wrigley promotes self-love with pink Starbursts, Twitter launches tipping feature and Volvo sets new sustainability goals backed by research.
Hello, communicators:
Mars Wigley is launching a campaign to promote self-love and well-being alongside its all-pink packages of Starburst candy. The Starburst "All Pink #DoYou Challenge" launches next week with a limited supply of kits that offer customers 30 days of prompts, inspirational messages and challenges along with surprise prizes in the form of an advent calendar-style surprise box and plenty of all pink Starbursts.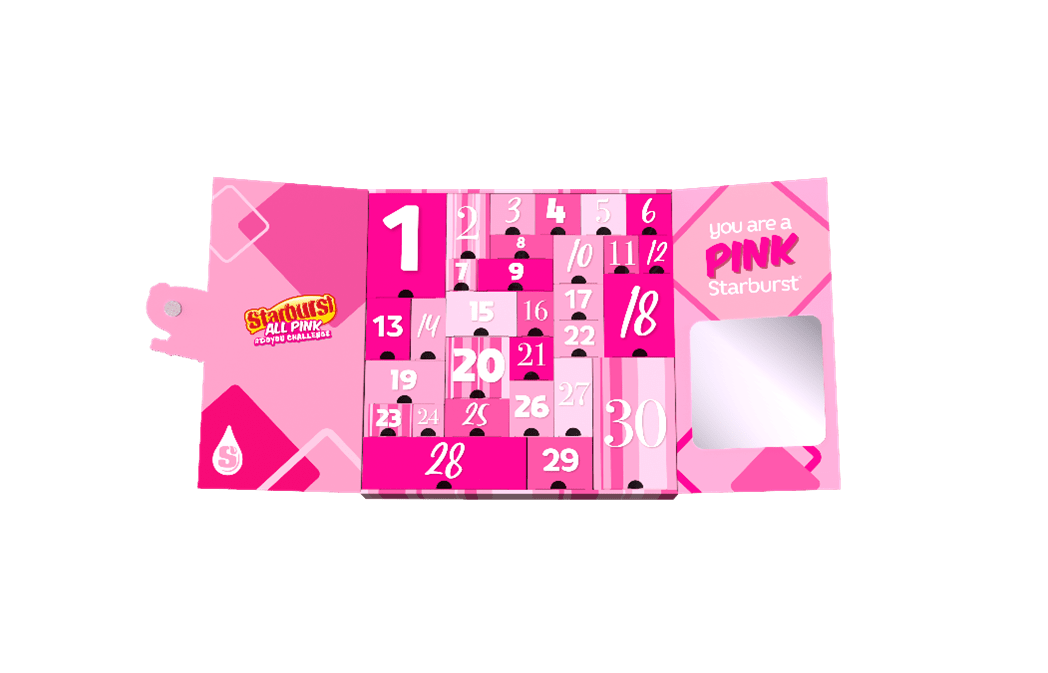 "Over the years, we've seen our fans use 'being treated like a Pink Starburst' as a synonym for feeling special, empowered, and loved," Justin Hollyn-Taub, Mars Wrigley senior director of US Fruit Snacks, said in a press release shared with PR Daily. "Starburst has long been a brand that embraces the act of self-care and self-love, and we're proud to know our beloved Pink Starburst has come to stand as a symbol for that. It is our hope that our calendars actively deliver better moments, more smiles and inspire our fans to always find a moment in their day to celebrate themselves and embody what it means to be a Pink Starburst—even beyond our 30-day challenge."
This promotion certainly isn't Mars Wrigley's first attempt at tapping into the positive role that pink starbursts play in the larger cultural consciousness as the company launched a clothing line in 2018. From a content and engagement perspective, however, the #DoYou challenge goes further by tethering brand association and brand loyalty to a cadence that it encourages consumers to sustain for a full month.
Here are today's top stories:
Grubhub and Doordash share support for NYC delivery worker protections
Food delivery apps Grubhub and DoorDash have expressed their support for new New York City legislation intended to protect app-based food delivery workers. The legislation requires delivery apps to disclose their gratuity policies and guarantee workers will receive their tips, pay workers weekly and provide them with payment options, guarantee workers access to bathrooms and more.
"We recognize the unique challenges facing delivery workers in New York City and share the goal of identifying policies that will help Dashers and workers like them," a DoorDash spokesperson said. "We will continue to work with all stakeholders, including the City Council, to identify ways to support all delivery workers in New York City without unintended consequences."

…Meanwhile, Grubhub voiced, at least publicly, stronger support for the laws. "These bills are common-sense steps to support the delivery workers who work hard every day for New York's restaurants and residents," a spokesperson for the company told Engadget. "Ensuring they receive a living wage and have access to restrooms isn't just a good idea—it's the right thing to do."
What it means:
By focusing their responses on the bathroom mandate, both Grubhub and DoorDash tactfully focus on the most human element of the legislation and frame their support around concern for workers. This focus allows DoorDash to nitpick other aspects of the legislation, such as the limits to routes, without their concern for the welfare of delivery workers being the focus of the response.
Elsewhere, both statements set a standard for how your holding statement can position your brand or organization as being on the same side as your detractors and emphasize your values.
---
MEASURED THOUGHTS
A recent study by Morning Consult found that business travelers who make more money are more comfortable traveling during the pandemic, with 71% of travelers earning an income of $100,000 or more saying they were comfortable traveling domestically compared to 67% of those who earn $50-100,000 and just 46% of those who earn $50,000 or less expressing their comfort.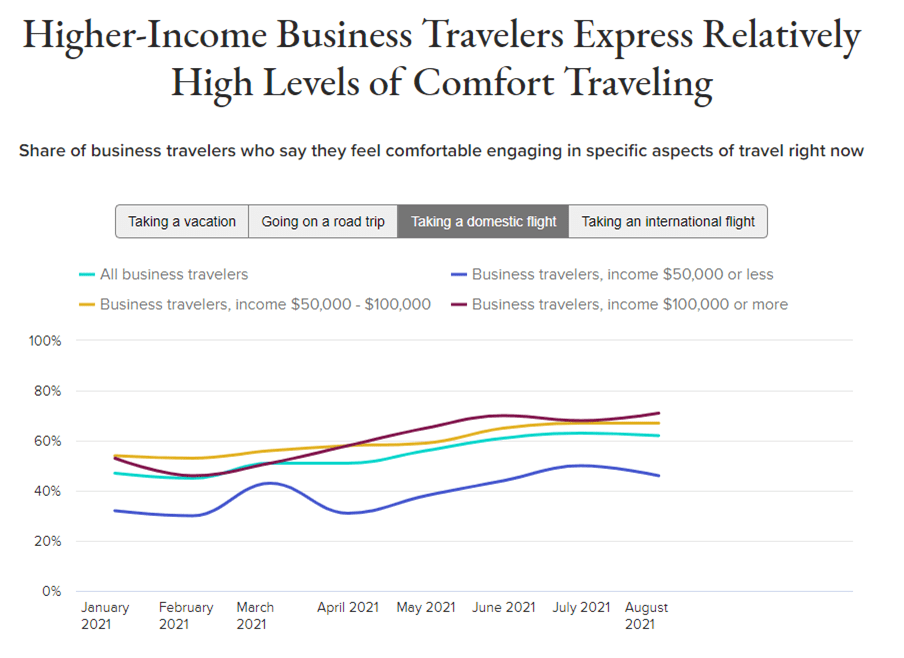 The numbers are a reminder to segment your audience as you continue to deliver important COVID-19 safety messages.
---
SOCIAL BUZZ
Twitter is expanding on a soft launch this past spring of a new tipping feature by offering a dedicated link to users' payment portals on the top of their profiles. In addition, Tips is integrated with all the popular mobile payment options such as Venmo, CashApp, Bandcamp, Patreon, GoFundMe and more. The feature also accepts cryptocurrencies, making Twitter the first social media platform to do so.
People already drop links to their payment profiles in their bios and in their Tweets. Tips makes this easier to do, offering one fixed spot, right on your profile, where you can link to your Cash App, Patreon, Venmo and other platforms where people can support you.
Whether you want to tip your favorite account because you adore their commentary, send some love to an emerging comedy creator for their hilarious Tweets, help a small business owner through a difficult time, give to an important cause—whatever you want to support (and we know you already have some ideas), Tips is here to help you do it.
By seamlessly integrating tipping into its interface, Twitter opens itself up to a new level of influencer engagement, charitable and philanthropic campaigns, crowdfunded messaging and more.
---
TACTICALLY SPEAKING
Swedish auto manufacturer Volvo shared new sustainability goals to have all of its cars leather-free by 2030 and ensure a quarter of the material used new cars consist of recyclable materials by 2025.
According to its press release:
Two-thirds of consumers consider a brand's environmental policies as a critical factor when purchasing luxury products, according to a recent study. The same percentage of buyers would like to see carbon labelling on products as a way of providing greater transparency on the environmental impact of products and materials. This means the material world is evolving and designers around the world are actively sourcing high-quality, sustainable and responsibly-sourced materials as they strive to create the luxury products of the future. These and other conclusions appear in The Rise of Conscious Design, a new report issued by Volvo Cars in collaboration with leading trend forecasting company The Future Laboratory.
"We have a vision of where we need to go in the future, with the first step to ensure we harness sustainable, natural and recycled materials," said Robin Page, head of design at Volvo Cars. "The next challenge is to change what we do with these materials, whether that's making car parts that last forever, re-enter the circular economy or go back into the earth."
Following its commitments from this past March to go fully electric by 2030, Volvo's sustainability commitments and benchmarks mirror similar trends in the automotive industry, the beauty industry and more. The company takes its commitments a step further by launching a proprietary research study that tethers its goals to consumer preferences. Its statement on those findings also goes beyond mission and values to not just explain its investment in sustainable materials but to support that explanation with how it is undergoing the research and being transparent about the challenges that lie ahead.
---
TAKE OUR SURVEY
If you're looking for benchmark data to show your bosses the next time you ask for a raise, lend us a hand—and help yourself and your peers while you're at it. Participate in Ragan's Salary & Workplace Culture Survey, a comprehensive look at salaries, benefits, culture, bonuses and other aspects of the job in a fast-moving industry.
Both internal and external communicators are encouraged to participate.
By taking part, you will receive a $150 discount to a Ragan virtual conference of your choice and be entered to win one of five $50 gift cards. All who complete the survey will receive a full report on the findings. Responses are anonymous. Enter by Sept. 17.
Take the Ragan Salary & Workplace Culture Survey now.
 Incoming Wikimedia CEO shares strategy for preventing spread of misinformation
Last week The Wikimedia Foundation announced that social entrepreuner and nonpofit veteran Maryana Iskander will become the organization's CEO in January. Ahead of beginning her new leadership role, Iskander was interviewed by The New York Times about how Wikimedia and its brands, including Wikipedia, are working to prevent the spread of misinformation on its sites.
Iskander told The New York Times:
"The lessons to learn from, not just with what we're doing but how we continue to iterate and improve, start with this idea of radical transparency. Everything on Wikipedia is cited. It's debated on our talk pages. So even when people may have different points of view, those debates are public and transparent, and in some cases really allow for the right kind of back and forth. I think that's the need in such a polarized society — you have to make space for the back and forth."

"Have the debates on talk pages on the side, but then come to an informed, documented, verifiable citable kind of conclusion on the articles. I think this is a core principle that, again, could potentially offer something to others to learn from.
She also explained how Wikimedia's task force to prevent election misinformation was different from similar efforts by social media platforms:
Many of the core attributes of this platform are very different than some of the traditional social media platforms. Another example is that the foundation put together a task force ahead of the U.S. elections, again, trying to be very proactive. [The task force supported 56,000 volunteer editors watching and monitoring key election pages.] And the fact that there were only 33 reversions on the main U.S. election page was an example of how to be very focused on key topics where misinformation poses real risks.

We have tech that alerts these editors when changes are made to any of the pages so they can go see what the changes are. If there's a risk that, actually, misinformation may be creeping in, there's an opportunity to temporarily lock a page. Nobody wants to do that unless it's absolutely necessary.
Why it matters:       
As questions over the transparency practices of digital platforms like Facebook continue to make news, Iskander's tactful explanation around how Wikimedia approaches radical transparency goes a long way toward distinguishing Wikimedia's reputation from other online sources of information. Her words on the importance of citations, meanwhile, suggest a framework for how your brand or organization can simultaneously provide a forum for conversation, remain neutral around controversial topics affecting your industry and support any corporate responses with sources and facts.
COMMENT