White House shares plans to lift international travel ban, fewer Americans get their news from social media, and L'Oréal reaches sustainability milestone
Also: OKCupid introduces pro-choice profile badge, Twitter announces new partnership program members, and Peloton turns the page with hotel expansion announcement.
Hello, communicators:
Dating app OkCupid has introduced a profile badge that marks a user as "pro-choice," allowing users to filter their compatibility searches for like-minded matches. Along with the introduction of the badge, which OkCupid launched in response to the recent Texas abortion law, the company will also donate $1 to Planned Parenthood for every user who adds the badge to their profile.
OkCupid framed the introduction of this new feature as an extension of the same choices it offers every user searching for a match and further justified its reasoning behind the campaign with proprietary data.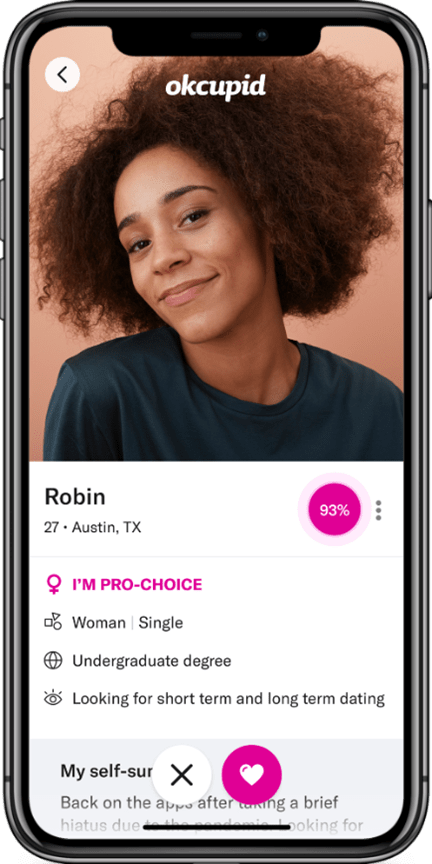 At OkCupid, we support our users' right to choose. That's why we ask thousands of questions so you can choose the type of person you want to match with, whether that means someone who's looking for something long-term or short-term, or who is pro-choice or not.

This summer, there has been an 18% increase in 'pro-choice' on user profiles in the US compared to last. In the past six months, there has been a 4% increase in users saying they do not think Planned Parenthood should be defunded by the government; today, less than 9% of OkCupid daters who answered the question said they believed the government should "defund" Planned Parenthood. Additionally, 88% of people who answered the question 'Are you pro-choice?' said 'yes' (split by gender, its 87% of men are and 89% of women).

When polling the people who this affects the most, we found similar results. On OkCupid, 87% of men and 95% of women in Texas also answered 'yes' to 'Are you pro-choice?' and mentions of 'Planned Parenthood supporter' in Texas profiles have more than doubled this summer compared to last. Clearly, daters are interested in signaling their support of abortion access and reproductive rights to potential matches, and the new 'I'm Pro-Choice' profile badge will make it that much easier.
Though its blog post does make a passing mention to the "radical Texas law," OkCupid's messaging around its new badge largely avoids framing the campaign as a political issue by connecting the abstract concept of "choice" to the company's larger mission. By offering its own, Texas-specific data points, OkCupid's messaging shifts the focus of this campaign from "doing the right thing" to "doing the right thing for our customers."
Here are today's top stories:
White House shares reasoning for lifting international travel ban
The U.S. has announced plans to lift restrictions for vaccinated travelers coming from abroad, reopening the country to thousands and ending an 18-month ban that included Europe, China, Iran, South Africa, Brazil, India and more.
As part of the new policies, foreign travelers will be required to provide proof of vaccination along with a negative COVID-19 test administered within three days of travel. Airlines will be required to collect phone numbers and email addresses as apart of a new contact tracing system.
Pressed to share what vaccines would qualify under the new rules, White House pandemic coordinator Jeffery Zients deferred on the issue to the Centers for Disease Control (CDC) while explaining the White House's reason for lifting the travel ban.
"International travel is critical to connecting families and friends, to fueling small and large businesses, to promoting the open exchange of ideas and culture," Mr. Zients said. "That's why, with science and public health as our guide, we have developed a new international air travel system that both enhances the safety of Americans here at home and enhances the safety of international air travel."
What it means:
Though Zient's message about fueling small and large businesses suggests a desire to pump some life back into the domestic tourism industry (that lost $500 billion in 2020 according to the U.S. Travel Association) the White House's official statement lacks the hard numbers that could help justify this decision. Also missing are details about what its new contact tracing program for airlines looks like and a timeline for when more details about the new protocols will be announced, which will become crucially important to those hoping to make travel plans in advance.
These absences highlight how organizations might not be ready to communicate all information around a new program or initiative at once. They also serve as a reminder that you should set expectations around when more information will become available, even if those expectations are nothing more than a promise to keep your stakeholders updated.
---
MEASURED THOUGHTS
A new study by Pew Research found that just under half (48%) of U.S. adults get news from social media "often" or "sometimes," a 5% decline from 2020. About a third (31%) say they get news regularly on Facebook, while 22%  say they regularly get news on YouTube, 13% get their news from Twitter and 11% get their news from Instagram.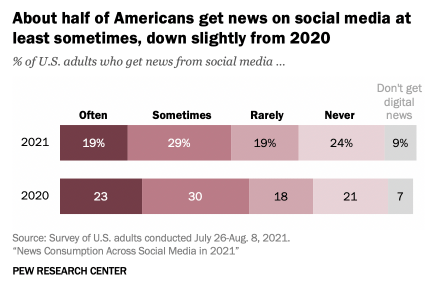 These numbers serve as a reminder that, while social media companies continue to face scrutiny for their handling of misinformation and transparency about their business practices, a sizable enough chunk of Americans still depend on them for news. Your brand or organization should maintain a regular cadence of announcements and updates on the platforms where your audiences are most active—however, a short link to a full post on your larger or brand newsroom goes a long way.
---
TACTICALLY SPEAKING
In an attempt to reset after crises earlier this year, Peloton has announced plans to introduce its products and platforms to hotels and hospitality companies around the world following the brand's acquisition of treadmill and elliptical equipment manufacturer Precor.
"This is really a B2B play for us," said Brad Olson, Peloton's chief business officer. "We've been selling Peloton bikes into hotels and resorts for years. … But this is really the culmination and one of the big elements of the deal rationale of why we purchased Precor. We know that [having] our bikes in hotels and resorts around the world presents a great opportunity for lead-generation awareness of the Peloton product and content."
While Olson intentionally omits framing Peloton's acquisition of Precor and pivot to the hospitality space around its recent crises including a software vulnerability and a treadmill recall, having hospitality partners offers the fitness brand with an added layer of support and protection should additional crises emerge in the future. Olson's words about lead-gen, meanwhile, demonstrates that the brand is looking to branch out and become more accessible to new users.
---
SOCIAL BUZZ
Twitter has announced that seven new companies will join its Twitter Official Partner Program (TOPP), an initiative launched by the social media platform in 2015 to provide brands on Twitter with additional support around using its enterprise ad tools, making data-informed decisions and more. The new partners include Bloomberg, Hootsuite, Meltwater, Talkwalker and more.
Twitter says TOPP will help brands on Twitter better understand consumer trends and preferences, collect and analyze feedback, engage with customers, provide more timely alerts around breaking news and monitoring, and create stronger content across their social channels.
"The Twitter Official Partner Program is Twitter's way of helping businesses find the best tools that will help them get more value out of Twitter — and in turn, helps us reward and recognize our closest partners for building great products with Twitter's developer platform," Lauren Jenkins, head of Twitter Official Partner Program told PR Daily in a press release.
For the first time, Twitter has also revealed how it selects companies for TOPP. The criteria includes an evaluation of the following:
Quality: Candidate must be recognized as a leading quality product
Scale: Candidate must have a strong and growing business
Relationship: Candidate must be in good standing with Twitter
Health: Candidate meets business and technical health standards
Compliance: Candidate must meet Twitter's Compliance guidelines
Jenkins' explanation around why TOPP exists highlights the benefits of any genuinely symbiotic partnership by emphasizing an equal exchange of value. Twitter's explanation of the criteria that it considers when accepting brands into this program, meanwhile, offers some transparency on how these partnerships work.
L'Oréal shares carbon neutrality milestone
L'Oréal USA has announced that it has reached carbon neutrality for Scope 1 and Scope 2 emissions, defined by the EPA as direct emissions from owned and controlled sources, for all 25 of the company's manufacturing, distribution, administrative, research and innovation sites across 12 states in the U.S. The beauty brand shared this milestone as part of its L'Oréal for the Future  initiative, in which L'Oréal USA committed to carbon neutrality by 2025.
Achieving carbon neutrality for Scope 1 and Scope 2 emissions required the brand reduce energy consumption by switching to specialized equipment including air compressors and vacuum pumps, direct renewable energy projects including the largest solar power system in Kentucky and an early commitment to solar energy in Arkansas and more.
According to its press release:
 "L'Oréal's sustainability ambition is a transformational effort that has touched every department, becoming a source of pride, inspiration and education for all our 11,000 U.S. employees," said Stéphane Rinderknech, President & CEO, L'Oréal USA. "Our brands and products are some of the most recognizable in the world, and more than 2 out every 3 products we sell in the United States are manufactured here. Our customers can be proud their products are made in facilities that use 100% renewable energy. While we are proud of these achievements, we know this is not enough to meet the moment we are in today and must push ourselves ever farther to meet the climate crisis head-on."
Why it matters:       
Well before the U.N. issued a dire climate change warning last month, the Environmental Protection Agency [EPA] announced that companies would be required to regulate their emissions beginning in 2022.  Netflix has also shared a similar plan for a zero-carbon footprint, while big tech companies announced renewable energy plans and many more industries are following suit. This massive push on ESG communications suggests that considerations around the environment and climate change are not the partisan issue they once were, and that the sheer volume of such initiatives has pushed sustainability conversations to the mainstream.
L'Oréal's efforts highlight the utility of setting benchmarks for your sustainability work, beyond appeasing regulators or holding yourself accountable, as a storytelling tactic that allows your brand or organization to sustain a long-term narrative documenting its journey and progress.
COMMENT
One Response to "White House shares plans to lift international travel ban, fewer Americans get their news from social media, and L'Oréal reaches sustainability milestone"
Ronald N Levy

says:

Writing for PR Daily, two very senior Omnicom execs—with lavish titles and one may guess lavish compensation—explained convincingly why TRUTH is at the core of successful PR programs. Now here comes the White House pandemic coordinator to say "we have developed a new international travel system that enhances the safety of Americans here at home."

Does that sound like it even MIGHT be true?

If something like that statement is obviously bullshit, like one that says someone has left a job "to pursue other opportunities," why say it? "Enhance the safety?'

What effect does it have on White House credibility? What benefit does it give anyone? Does a pandemic coordinator or any other coordinator have a moral obligation to not make the boss sound like a bullthrower?