Hertz responds to viral customer complaint, how PR pros report metrics to leadership, and Hulu pulls Astroworld documentary after backlash
Also: Toyota launches "Bookstore" holiday campaign, Ragan's 2022 benchmark survey, Square rebrands as Block, and more.
Hello, communicators:
Toyota kicked off its holiday season by debuting an ad during NBC's annual "Christmas in Rockefeller Center."  The spot about a young girl who collects used books from her community to restock a local bookstore that is ravaged by a fire shines a light on Toyota's work alongside its longstanding nonprofit partner the National Center for Families Learning (NCFL). In line with the nonprofit's mission to eradicate poverty through education, Toyota is providing NCFL with over 85,000 books nationwide.
"This year, more than ever, the holidays remind us of the importance of being with loved ones and helping give back to the community," Toyota Motor North America marketing group VP Lisa Materazzo said in a press release. "We're looking forward to sharing an uplifting message of coming together to celebrate the true meaning of the season."
Toyota's ad demonstrates how leaning into a little holiday sentimentality can also double as an opportunity to spotlight your purpose work and celebrate your nonprofit partnerships.
Here are today's top stories:
Hertz responds to viral customer complaint on Twitter
Rental car company Hertz emerged from Thanksgiving weekend in crisis mode after a law professor tweeted about her arduous saga trying to pick up her reserved car before the holiday. Customer Kate Klonic shared via tweet that she initially arrived at her Brooklyn rental pick-up location to find the store had closed at her reservation time. According to Klonic, she waited two hours before being told after multiple phone calls that she would have to pay a premium.
After another unsuccessful pickup attempt at LaGuardia airport, she finally nabbed a car in Williamsburg, Brooklyn—but shared that her ride had several problems:
I had a Very Bad experience with @Hertz over Thanksgiving.

This is what happened & the letter I wrote. We are totally fine, & our Thanksgiving ended up wonderful, but I suspect this is a fraudulent business practice, & I want to give it visibility for those who don't or can't. pic.twitter.com/cr9haMSeXd

— Kate Klonick (@Klonick) November 30, 2021
A spokesperson for Hertz confirmed to The Post what happened to Klonick.

"Hertz cares deeply about our customers, and we regret Ms. Klonick's experience, which does not reflect our standards of service," the spokesperson wrote in an email. "We have spoken with her to apologize and refunded the rate difference. We are investigating the situation to better understand what occurred so we can take any necessary corrective actions."

A Hertz spokesperson told The Post that whenever the company is unable to give a customer their car at the confirmed time, it's the company's policy "to make every reasonable effort to assist the customer, which may include providing a comparable vehicle at the same rate if available, moving a vehicle from another location in close proximity, delivering a vehicle to the customer, paying for a taxi or sourcing a vehicle from a competitor if at an airport."
What it means:
Hertz's response reinforces the company's policy, but doesn't acknowledge how the policy was not consistently followed or communicated to the employees responsible for carrying it out. Klonick's experience demonstrates the importance of including customer-facing, frontline workers in your crisis scenario training sessions. Providing them with clarity on the communication channels they can engage with to escalate issues as they arise may can ensure that an issue is mitigated and solved before it escalates to the point where a letter is shared on social media.
---
MEASURED THOUGHTS
A recently released study by Muck Rack found that a majority of PR pros (48%) still rely on traditional Excel spreadsheets for their reporting, compared with 45% using Google Sheets, 44% using PDFs and 42% using PowerPoint.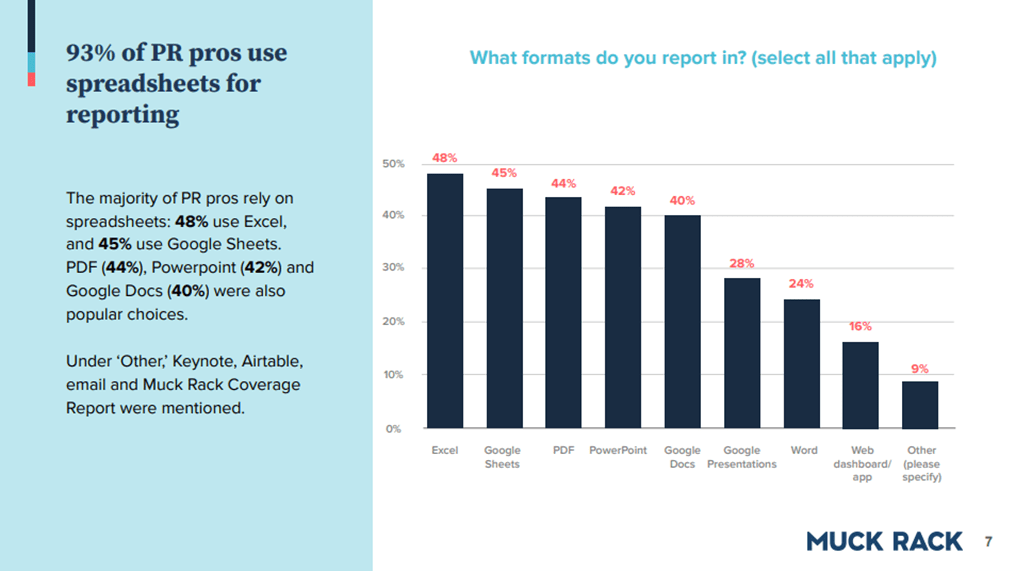 These findings emphasize the fact that many communicators are not working with easily digestible, aesthetically-minded reports and mainly rely on static spreadsheets to organize their work. While cloud-based solutions like Google Sheets allow for more collaboration and visibility across teams, they can also make it streamline the process of organizing and designing your reports before presenting them to top leaders.
Check out the full study here.
---
TAKE OUR SURVEY
If you're looking to further your understanding of your industry to navigate what's ahead in 2022, lend us a hand—and help yourself and your peers identify shared benchmarks in areas such as budgets, team structure, ESG and DE&I efforts, and more. Participate in Ragan Communications Leadership Council's 2022 Benchmark Survey, a comprehensive look at how to negotiate budgets with your executives, how to best reach deskless workers and foster culture among a hybrid workforce, and more.
Both internal and external communicators are encouraged to participate.
By taking part, you'll be entered to win one of three $100 gift cards. All who complete the survey will receive a full report on the findings. Responses are anonymous.
Survey takers will receive an executive summary of the findings.
---
TACTICALLY SPEAKING
Mobile payment company Square is changing its name to "Block," a decision reached as the company moves beyond its original credit card reader business to embrace new technologies, including blockchain. The name change was announced days after Square CEO Jack Dorsey stepped down as Twitter CEO.
Jack Dorsey's payments giant said in an announcement that the new name, effective Dec. 10, "acknowledges the company's growth" and "creates room for further growth."

"We built the Square brand for our Seller business, which is where it belongs," Dorsey, cofounder and CEO, said in a statement. "Block is a new name, but our purpose of economic empowerment remains the same. No matter how we grow or change, we will continue to build tools to help increase access to the economy."

As part of the Square rebrand, Square Crypto, a separate part of the company "dedicated to advancing Bitcoin," will change its name to Spiral.

The name Block "has many associated meanings for the company — building blocks, neighborhood blocks and their local businesses, communities coming together at block parties full of music, a blockchain, a section of code, and obstacles to overcome," Block said in a statement.
By emphasizing it's brand purpose and mission, the company is able to share how its operations will stay the same even with the name change. By including Dorsey in the messaging about its rebrand soon after his exit from Twitter, Block also reinvigorates the narrative around its CEO's commitment to the company and its new direction.
---
Announcing the PR Daily Leadership Network
PR Daily is launching the PR Daily Leadership Network, a unique membership group from Ragan Communications offering peer-to-peer advisory and team training along with a unique slate of resources and events to help public relations professionals break through the noise, increase their visibility and forge meaningful connections.
The Network provides daily insights and coverage on a range of topics including media relations, social media, measurement, Diversity, Equity & Inclusion, branding, thought leadership and crisis communications.
"The fast pace of change coupled with the demand on public relations professionals to protect and sometimes defend their company's reputation make it imperative for leaders to tap into the wisdom of other communicators and continue to learn and grow," says Diane Schwartz, CEO of Ragan Communications. "The PR Daily Leadership Network provides the answers but also encourages members to question the status quo and push for positive change."
Visit leadership.prdaily.com to learn more.
Hulu explains decision to pull documentary about Astroworld tragedy
Hulu shared a statement on why it pulled a new documentary special, "Astroworld: Concert From Hell" from its streaming platform. The special release about the multiple fatalities that occurred at rapper Travis Scott's Astroworld festival last month was widely criticized on social media for being constructed too soon without all the facts from the event—and consequences of pending litigation—sorted out.

In a statement, a Hulu spokesperson told Variety, "This was an investigative local news special from ABC13/KTRK-TV in Houston that originally aired on November 20th. This was not a Hulu documentary and has since been removed to avoid confusion."

The description of the "Concert From Hell" news special that is still on Hulu's site says: "Travis Scott's Astroworld Festival was supposed to be the concert of a lifetime. But it turned into a tragic nightmare. A minute-by-minute look at what happened in the crowd, the young victims who were killed, and what happens next."

In a widely circulated tweet about the special's release on Hulu, one commenter—who assumed the "Concert From Hell" program was produced by the Disney-controlled streamer—said, "Hulu making a documentary about Astroworld is in poor taste all around. People are still burying their loved ones. The legal cases haven't even started. Great documentaries are done when all the facts are laid out. Not enough time has passed to fully discuss this."
Why it matters:
The move is another example of how corporations have become increasingly responsive to negative reactions online. While the statement shows how transparency around a business decisions can help to mitigate confusion and anger around a misstep, crisis responses should always offer an apology where appropriate and center the lives and stories of those affected by tragic developments.
In this case, perhaps an admission that the special was a mistake, and a note to those who suffered from it, could have been a more empathetic message.
COMMENT
One Response to "Hertz responds to viral customer complaint, how PR pros report metrics to leadership, and Hulu pulls Astroworld documentary after backlash"
Ronald N Levy

says:

The admirable Toyota good deed raises an interesting question: Will a company do itself more good by helping inner city poor—or people in the wealthy suburbs? Lots of companies help colleges but how about grade
schools? Might Toyota get more goodwill, and sell more cars, by backing research to help students who need extra help–or research to help gifted students?

Will a legislator get more donations and votes by advocating for research on orphan diseases that kill relatively few people—or research on heart diseases and cancers that as of now will together kill over 40% of us?

When a politician is quoted in the media attacking a company, would we guess that the company contributed mainly to the same list of charities as most other companies? Or is a company less likely to be attacked if it budgets $50 million a year to help Dr. Anthony Fauci find new vaccines for children, and $50 million
a year to help Dr. Andrew Zelenetz find anti-cancer vaccines at Memorial Sloan Kettering Cancer Center?

Is it crass for a PR team to look at not just how much good can we do with a "good deed" project but also how much public appreciation and PR benefit can we get if we do it? Will TV worldwide show our CEO working with activists or with world-famous doctors?