Twitter CEO Jack Dorsey explains his departure, how companies can show empathy, and Lush cosmetics shuts down social media accounts
Also: TikTok launches #GivingSzn initiative for Giving Tuesday, Nissan unveils electric vehicle expansion plans, and more.
Hello, communicators:
Following Cyber Monday, today's Giving Tuesday encourages shoppers to spend whatever money they have left donating to nonprofit organizations and causes around the world. To mark the event, TikTok announced a new series of livestream fundraisers that expand on its  pledge of $7 million in direct donations to various mission-driven organizations around the world. While the donation will be made in the name of TikTok creators to nonprofits of their choice, TikTok will also donate $1 million in ad credits to support nonprofit fundraising efforts.
TikTok has dubbed the initiative #GivingSzn: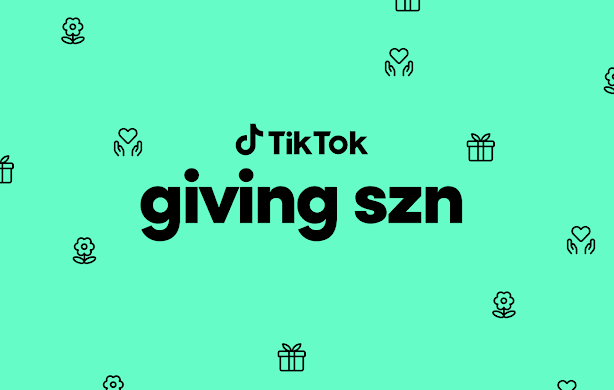 "Whether you're donating your time or support, TikTok offers many ways to give back and spread joy," the company said in a press release. "You may use our suite of donation tools to support causes and charities you care about, make a difference in your community, or just use this opportunity to spread goodwill and do good. 'Tis the #GivingSzn, after all."
TikTok's campaign demonstrates how the livestream shopping format that has taken off in 2021 can also be used for philanthropic purposes, not unlike a pledge drive on publicly-funded television and radio. It's also the latest reminder that your values and mission-driven purpose campaigns are most effective when they are led by an employee activist or influencer who can share a personal story or connection to the cause.
Here are today's top stories:
Founder Jack Dorsey resigns as Twitter CEO
Jack Dorsey has stepped down as CEO from Twitter, effective immediately, and will be replaced by Parag Agrawal in a unanimous decision from the company's board of directors. Dorsey will stay on the board until his term ends at the 2022 stockholder meeting. Dorsey emphasized that the decision was amicable in a statement that highlighted Agrawal's decade of service at Twitter, including holding the role of chief technology officer since 2017.
According to its press release:
"I've decided to leave Twitter because I believe the company is ready to move on from its founders. My trust in Parag as Twitter's CEO is deep. His work over the past 10 years has been transformational. I'm deeply grateful for his skill, heart and soul. It's his time to lead," said Dorsey.

[Bret Taylor, Twitter's incoming Independent Board Chair] noted, "Parag understands Twitter and appreciates the Company's unique potential. He has been instrumental in tackling our most important priorities, including accelerating our development velocity, and I know he'll hit the ground running to strengthen execution and deliver results. The Board has the utmost confidence in Parag."

"I want to thank the Board for their confidence in my leadership and Jack for his continued mentorship, support, and partnership," said Agrawal. "I look forward to building on everything we have accomplished under Jack's leadership and I am incredibly energized by the opportunities ahead."
Dorsey also tweeted his departure email to employees, emphasizing three reasons why he chose now to step down:
not sure anyone has heard but,

I resigned from Twitter pic.twitter.com/G5tUkSSxkl

— jack⚡️ (@jack) November 29, 2021
Why it matters:
Dorsey's departure from Twitter comes at a pivotal time for the social media platform that recently expanded into live audio, introduced its first subscription service and live shopping series, and more.
In his email to employees, Dorsey expands on the brevity of his statement in Twitter's official press release by going deeper into why he believes a company does not always benefit from being led by its founders. By leaving these details out of the press release, he allows the focus to remain on Agrawal and demonstrates how a more detailed message can be shared on other comms channels for readers looking to learn more.
---
MEASURED THOUGHTS
A recent study from Method Communications found that only 29% of Americans believe taking a public stance on a political social issue is an effective way to show empathy. Instead, 43% say that the best display of empathy from a company comes in the form of paying higher wages, while 40% cited employing a more diverse workforce as a show of empathy and 37% said the best way to express empathy was to be more accommodating with customers.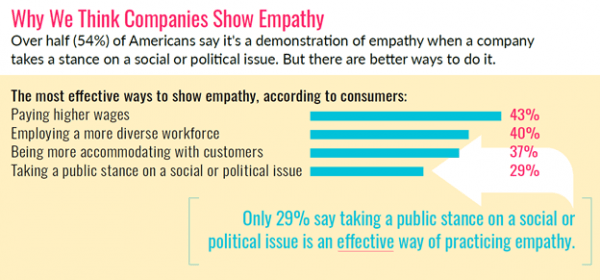 Courtesy of Method Communications
These findings emphasize the gap between gesture and action, reinforcing the idea that external consumers consider how a company treats its own people to be a greater indicator of its values than what it includes in its purpose communications.
Check out the full study here.
---
Announcing the PR Daily Leadership Network
PR Daily is launching the PR Daily Leadership Network, a unique membership group from Ragan Communications offering peer-to-peer advisory and team training along with a unique slate of resources and events to help public relations professionals break through the noise, increase their visibility and forge meaningful connections.
The Network provides daily insights and coverage on a range of topics including media relations, social media, measurement, Diversity, Equity & Inclusion, branding, thought leadership and crisis communications.
"The fast pace of change coupled with the demand on public relations professionals to protect and sometimes defend their company's reputation make it imperative for leaders to tap into the wisdom of other communicators and continue to learn and grow," says Diane Schwartz, CEO of Ragan Communications. "The PR Daily Leadership Network provides the answers but also encourages members to question the status quo and push for positive change."
Visit leadership.prdaily.com to learn more.
---
TACTICALLY SPEAKING
Nissan Motor Company announced that it will spend over $17 billion over the next five years to accelerate its electric vehicle initiatives and catch up to the progress made by its competitors. Its strategy includes plans to launch 15 electric vehicles by 2030, reduce lithium-ion battery costs by 65% over the next eight years and introduce completely solid-state batteries by March 2029.
Those commitments, Chief Executive Makoto Uchida said, would make EVs affordable to more drivers. "We will advance our effort to democratize electrification," he said in an online presentation.

"It's very important for Nissan to show where we are going next, and today's plan is a vision and direction which is talking about the future," Chief Operating Officer (COO) Ashwani Gupta said.
Uchida's focus on democratizing the electric vehicle market echoes similar pushes from American auto manufacturers including Ford and GM to make electric vehicles affordable for everyone. Nissan's specific goals and timelines, some of which are over a decade away, act as a reminder that communicating timelines far in the future can show your brand is pragmatic about the work and progress it takes to achieve those goals.
Lush shuts down Facebook, Instagram, Snapchat and TikTok accounts
Cosmetics company Lush has closed its social media accounts on Facebook, Instagram, TikTok and Snapchat in a self-described move toward "becoming anti-social." Lush explained in a press release that "our resolve has been strengthened by all the latest information from courageous whistleblowers, which clearly lays out the known harms that young people are exposed to because of the current algorithms and loose regulation of this new area of our lives."
According to its press release:
"I've spent all my life avoiding putting harmful ingredients in my products," said Lush co-founder and CEO Mark Constantine. "There is now overwhelming evidence we are being put at risk when using social media. I'm not willing to expose my customers to this harm, so it's time to take it out of the mix."
"As an inventor of bath bombs, I pour all my efforts into creating products that help people switch off, relax and pay attention to their wellbeing," said Lush CDO and product inventor Jack Constantine. "Social media platforms have become the antithesis of this aim, with algorithms designed to keep people scrolling and stop them from switching off and relaxing."
Lush has always been a social brand, finding unique ways to communicate directly with customers.  From the trailblazing catalogues of CTG back in the 90s and the hugely popular Lush Times newspapers, to the very early customer forum and our quick adoption of social media when it was first developed–Lush's goal has always been to interact with those who love our products and to listen to what they have to say to us.
We wouldn't ask our customers to meet us down a dark and dangerous alleyway – but some social media platforms are beginning to feel like places no one should be encouraged to go. Something has to change. We hope that platforms will introduce strong best practice guidelines, and we hope that international regulation will be passed into law.  But we can't wait.  We feel forced to take our own action to shield our customers from the harm and manipulation they may experience whilst trying to connect with us on social media.
What it means:
Over the past month Meta, formerly Facebook, took swift actions following its rebrand to delay its end-to-end encryption plans, shutter its facial recognition program and eliminate thousands of controversial ad targeting topics. Despite these efforts, Lush's exodus from the platform demonstrates that brands are still struggling to make peace with the revelations contained in whistleblower Frances Haugen's testimony.
Lush's statement is consistent with the brand's reputation for purpose-first communications. By framing its social media exodus in the context of Lush's larger history as a social brand, Lush accentuates the impact and reach of its decision. By putting themselves directly in the position of their customers, Lush's leadership illuminates how the brand understand the connection between the behavior of its consumers and its values. By framing the specific actions it would like to see from social media platforms and lawmakers around the company's hopes, Lush issues a call to action aligned with its relaxing, customer-first approach without taking a didactic tone.
COMMENT
One Response to "Twitter CEO Jack Dorsey explains his departure, how companies can show empathy, and Lush cosmetics shuts down social media accounts"
Ronald N Levy

says:

Jack Dorsey has often been faulted for things he said as have all U.S. presidents, many CEOs, plus political leaders left and right.

A common fallacy is that based on our constitution, government may make no law abridging freedom of speech. But today's newspapers report that Ghislaine Maxwell is on trial under American law for allegedly counseling girls to have sex with Jeffrey Epstein. If the law says she's guilty if she counseled having it but not guilty if she counseled against it, is that freedom of speech?

When a Facebook employee took thousands of pages of documents home from work, was that lawful if she hoped to serve the public interest but not if she wanted to write a book that could make millions?

Men may lose their jobs as sexual predators if they tell a woman she looks fantastic but would it be okay to say she looks awful? How about "you're very homely but I feel charitable so will you have dinner with me?"

In a Washington PR crisis when a government lawyer tells a spokesperson "don't say one goddamn word to the press until you clear it with Legal," is that restriction of speech lawful?

Jack Dorsey in 2017 completed ten days of meditation. Many in PR wish their CEOs and lawyers would meditate and then do a memo on who has freedom of speech and to speak what. If "the safe thing is to say nothing," is that having freedom of speech?

Classic PR wisdom is to look ahead to what critics may accuse you of—commonly endangering the public or being unfair to the public—and then pre-emptively do communications showing the public how the company does just the opposite: PROTECT the public's safety and INCREASE fairness to the public. This is more persuasive before accusation when you have not only freedom to speak but opportunity to get it published.

The great PR firms are often consulted, as when people call the doctor, when there is trouble. But we may live longer when we see doctors early, and more profitably when we treasure great PR firms not just less certain freedom of speech.