Louisiana exhibits preparation as Hurricane Ida arrives, social media strategy tips, and Grubhub and DoorDash respond to Chicago lawsuit
Also: Honey Baked Ham shares data on pumpkin spice trend, T-Mobile's CEO outlines cybersecurity commitments, and YouTube opens an event space.
Hello, communicators:
The Honey Baked Ham Company announced a limited run of Pumpkin Spice Glazed Turkey Breast, which will feature a sweet and crunchy glaze topping. The move was accompanied by data to show that consumers really wanted the flavoring.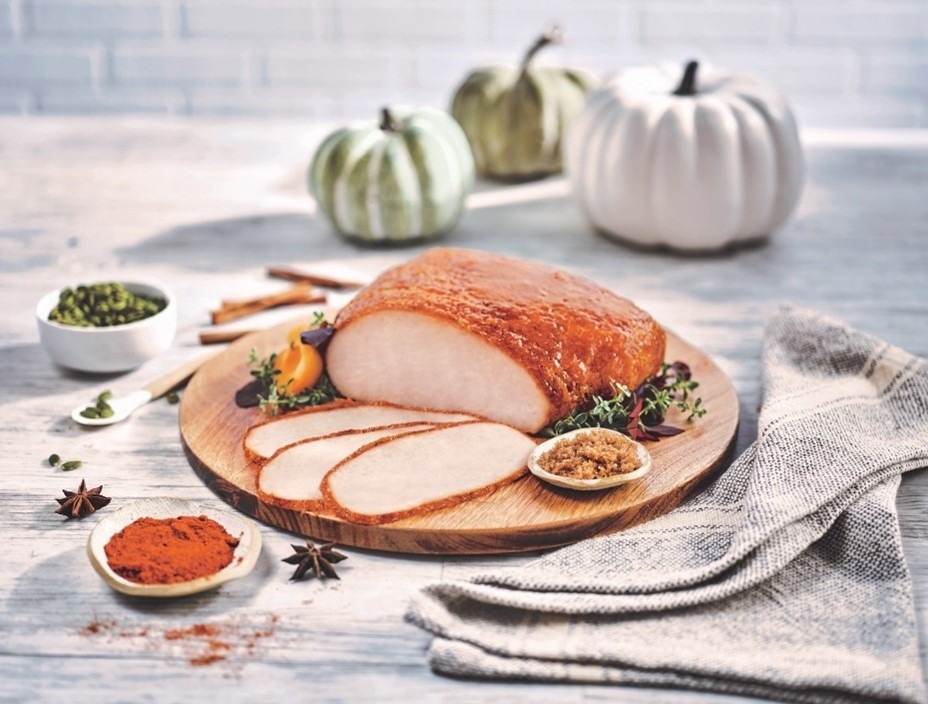 Courtesy of The Honey Baked Ham Company
"In preparation for the limited time PSG TB offering, HoneyBaked® partnered with OnePoll to understand the experiences and flavors that make up consumers' favorite seasons," the press release reads. "The results reinforced that the demand for fall flavors starts now."
According to the survey, 65% of people said pumpkin spice flavors should be available August through October and 15% want the flavor to be available all year.
"The data proves America's affinity for all things fall, especially the flavors and traditions that make it a favorite time of year," said Honey Baked Ham Company CMO Jo Ann Hero. "We added pumpkin spice to our signature glaze to bring two fall flavors together in a delicious combination creating our Pumpkin Spice Glazed Turkey Breast. Just another way for all the pumpkin spice fans to enjoy the flavor this season."
Love it or hate it, pumpkin spice season has arrived right on schedule, and The Honey Baked Ham company has the numbers to prove it. As the proliferation of pumpkin spiced-flavored food and beverage items seems to arrive a bit earlier every year, this campaign demonstrates how surveys can be used to justify even the most divisive trends.
Here are today's top stories:
Emergency comms during Hurricane Ida demonstrate lessons learned from Katrina
Hurricane Ida hit Louisiana's Gulf Coast Sunday, leaving nearly a million residents of New Orleans and the surrounding region without power. As The National Weather Service issued a flash flood emergency urging residents of specific counties to seek higher ground in all caps, New Orleans power company Entergy issued a detailed blog post detailing how power would be restored and prioritized among residents. On social media, the energy company also explained how its opt-in outage alert system works:
If severe weather is impacting your service, you can report outages via text, the free Entergy app, via phone, or online at https://t.co/YqoTOGRMyq. pic.twitter.com/u7ufhNeuVc

— Entergy (@Entergy) August 29, 2021
If you're already registered for outage texting, you can change the default setting to turn quiet time OFF via text. First, text QTIME to 36778. Then, when you receive a reply from the system, you should be able to reply Y to opt out of quiet time.

— Entergy (@Entergy) August 30, 2021
Ahead of the storm, Louisiana Gov. John Bel Edwards stressed the state's preparedness while acknowledging the somber coincidence that Ida was arriving on the 16th anniversary of Hurricane Katrina.
"It's very painful to think about another powerful storm like Hurricane Ida making landfall on that anniversary," Mr. Edwards said on Saturday. "But I also want you to know that we're not the same state that we were 16 years ago."

Kevin Gilmore, a meteorologist with the National Weather Service in New Orleans, also stressed the importance of language in emergency communications when speaking to The New York Times.

"We're not saying, 'possible' — we're saying, 'will occur,' because we want people to take this extremely seriously," Mr. Gilmore said. "I cannot stress enough how significant of a situation this is."
The Federal Emergency Management Association (FEMA), which has a reputation marred by its botched Katrina response, also emphasized the extent of its preparation for Ida's landfall.
According to its press release:
"FEMA headquarters and regional operation centers are activated around the clock," said FEMA Administrator Deanne Criswell. "We've pre-positioned equipment and supplies throughout the states to ensure resources are in place. Our federal partners join us on the ground supporting the response to this dangerous hurricane," she said. "This is the heartbeat of the federal family that has come together to support the people of Louisiana. I urge residents in the storm's path to prepare now for significant impacts."
Why it matters:
Hearkening back to past crises in your messaging can foster accountability to assure that they never happen again. Gilmore's emphasis on the power of alarming language, meanwhile, parallels how your brand voice should change to meet the appropriate tone of any given moment.
---
MEASURED THOUGHTS
A new infographic from Semrush highlights daily, weekly, monthly and quarterly steps that you can take to optimize your organization's social media strategy, including trend research, maintaining an update posting calendar, boosting well-performing posts, setting ratios for posting educational and entertaining content, and more.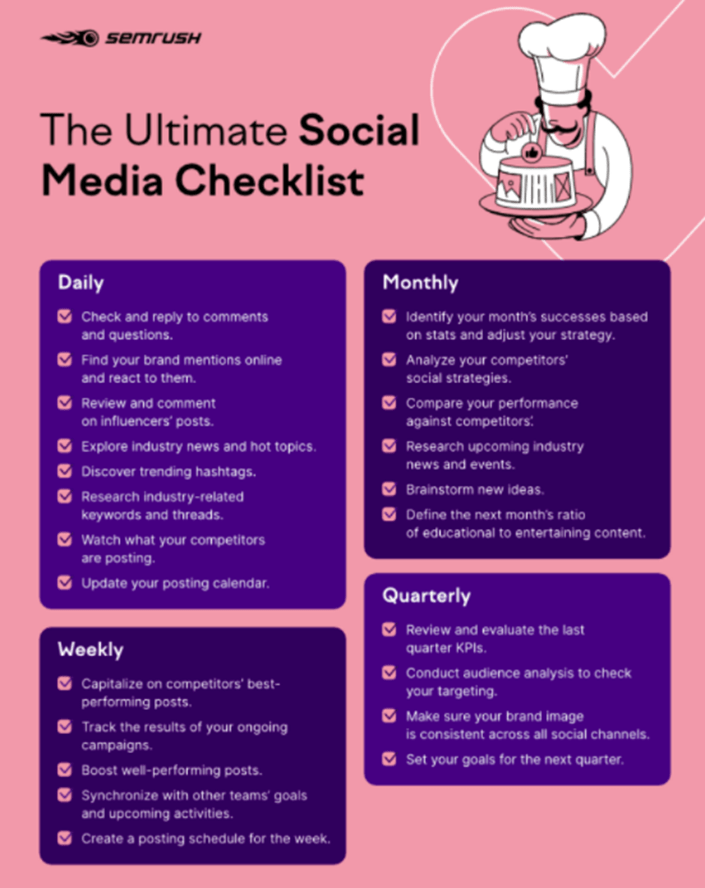 The tips emphasize how maintaining a robust social media strategy requires an iterative approach with daily tasks generating insights and data that can inform your long-term strategies.
Check out the full infographic here.
---
CRISIS COMMUNICATIONS
T-Mobile CEO Mike Sievert wants to restore faith in the company's cybersecurity efforts with a message about the mobile network's massive cyberattack earlier this month that compromised the data of more than 40 million current and prospective customers. The post acknowledges how T-Mobile fell short, details what T-Mobile currently knows and announces cybersecurity partnerships the company has built to prevent such a repeat incident.
The last two weeks have been humbling for all of us at T-Mobile as we have worked tirelessly to navigate a malicious cyberattack on our systems. Attacks like this are on the rise and bad actors work day-in and day-out to find new avenues to attack our systems and exploit them. We spend lots of time and effort to try to stay a step ahead of them, but we didn't live up to the expectations we have for ourselves to protect our customers. Knowing that we failed to prevent this exposure is one of the hardest parts of this event. On behalf of everyone at Team Magenta, I want to say we are truly sorry.

Today I'm announcing that we have entered into long-term partnerships with the industry-leading cybersecurity experts at Mandiant, and with consulting firm KPMG LLP. We know we need additional expertise to take our cybersecurity efforts to the next level—and we've brought in the help. These arrangements are part of a substantial multi-year investment to adopt best-in-class practices and transform our approach. This is all about assembling the firepower we need to improve our ability to fight back against criminals and building a future-forward strategy to protect T-Mobile and our customers.
While T-Mobile initially released a holding statement and followed with more detail on the impact of the breach, Sievert's words amount to course correction amid criticism that the company should have announced internal steps to improve cybersecurity before offering customer resources. Explaining how your company will clean its own house first can rebuild the trust that will make your customers more receptive to the help and resources you offer.
---
TAKE OUR SURVEY
If you're looking for benchmark data to take to your bosses the next time you ask for a raise or search for a new job, lend us a hand—and help yourself and your peers while you're at it. Participate in Ragan's Salary & Workplace Culture Survey, a comprehensive look at salaries, benefits, culture, bonuses and other aspects of the job in a fast-moving industry.
Both internal and external communicators are encouraged to participate.
By taking part, you will receive a $150 discount to a Ragan virtual conference of your choice and be entered to win one of five $50 gift cards. All who complete the survey will receive a full report on the findings. Responses are anonymous. Enter by Sept. 17.
Take the Ragan Salary & Workplace Culture Survey now.
---
SOCIAL BUZZ
YouTube just opened a 6,000-seat theater in Inglewood, California where it plans to host a range of live events, ranging from concerts to e-Sports competitions and business conferences:
The first event, The Hollywood Black Comedy Festival, will take place on Friday, Sept. 3, with subsequent events including concerts from Bon Iver and Devo, Elvis Costello and more. YouTube has also teased the announcement of its inaugural artist residency series along with other events catered to the YouTube community.
As the world questions the future of live events, the idea of a digital platform opening a physical space poses many questions as to how the future of buildings and spaces will be designed with virtual experiences in mind.
DoorDash and Grubhub respond to Chicago lawsuit
With many residents increasingly relying on meal delivery apps amid pandemic concern, a city of Chicago lawsuit claims that companies DoorDash and Grubhub have harmed residents and restaurants alike by charging higher fees, driving higher prices for menu items than restaurants would charge on their own, advertising delivery services for restaurants without their consent and more.
Taylor Bennett, a spokesman for DoorDash, called the suit "baseless."

"DoorDash has stood with the City of Chicago throughout the pandemic, waiving fees for restaurants, providing $500,000 in direct grants, creating strong earning opportunities, and delivering food and other necessities to communities in need," Bennett said. "This lawsuit will cost taxpayers and deliver nothing."

Grant Klinzman, a spokesman for Grubhub, said the company was disappointed by Lightfoot's decision to file the suit. "Every single allegation is categorically wrong and we will aggressively defend our business practices," he said. "We look forward to responding in court and are confident we will prevail."
Doordash expanded its defense with a blog post:
The suit also makes a variety of claims about the prices consumers agree to pay when they place an order on DoorDash—all of which are false. The fact is that customers know exactly how much they're going to pay for their order before they check out. Restaurants are responsible for setting their own menu prices on DoorDash, which we disclose on menu pages, and customers see exactly how much they will pay for each item they order. Similarly, customers know exactly how much they pay in the fees that help us operate our business. DoorDash discloses all fees to customers before check-out, including service fees and small order fees (if applicable).
What it means:
As pandemic-era purchase habits have radically altered the way that people consume food and content alike, every company faces added scrutiny to explain how its policies and procedures have not shifted to take advantage of customers during a time of vulnerability. In their respective responses to Chicago's lawsuit, both DoorDash and Grubhub do this by vigorously denying the lawsuit's claims and present their defenses as a united front. DoorDash's statement to AP also goes the extra mile by alluding to the company's charitable and philanthropic community outreach, while its blog post addresses each allegation of the lawsuit point-for-point.
By only including the details and specifics of the company's defense on a blog post in its brand newsroom, DoorDash's multiple touchpoint approach to publishing crisis statements highlights the importance of sharing your information and resources on the proper channels at the proper time.
COMMENT
One Response to "Louisiana exhibits preparation as Hurricane Ida arrives, social media strategy tips, and Grubhub and DoorDash respond to Chicago lawsuit"
Ronald N Levy

says:

"Baseless" is lawyer lingo as is the term "we will prevail." It would be better to say "baloney!" and to add "we and our customers will win this!"

The media coverage creates an opportunity to score points so DoorDash could add that "for our millions of customers we protect both their health and their money!"