Macy's Thanksgiving Day parade goes virtual, Facebook launches climate change hub and Lego promises to eliminate plastic packaging
Also: Paul Rudd gives a PSA on wearing masks, Deloitte issues a visual breakdown of its performance, Amazon launches designer stores, and more.
Hello, communicators:
New York Governor Andrew Cuomo tweeted a video PSA from actor and "certified young person" Paul Rudd touting masks:
Certified young person Paul Rudd wants you to wear a mask. Listen up: pic.twitter.com/GTks5NUBmR

— Andrew Cuomo (@NYGovCuomo) September 14, 2020
In the video, Rudd says:
So fam: Let's real talk. Masks? They're totally beast! So, slide that into your DMs and Twitch it. Vibe check: Yaas queens, like ourselves, we want to go to bars, drink, hook up, do our TikToks. …Yo. Listen, hypebeasts. Masks protect you and your dank squad, because caring about other people is the new not caring about other people.
The clever move showcases the power of humor. Though Rudd says that he "shouldn't have to make it fun" to wear a mask, the fact that it's funny is what is making people share it—and why it's racked up more than 2.9 million views in less than 24 hours. (The same video shared by First We Feast racked up an additional 2.2 million views so far).
There's another lesson to glean from this effort. When you try to adopt younger generations' slang—especially when it doesn't fit your brand voice—you sound just as ridiculous as Rudd. From brands however, consumers don't find it funny.
Here are today's top stories: 
Macy's Thanksgiving Day parade turns virtual
The retailer and announced that its historic holiday parade will be broadcast instead of held in person.
The #MacysParade will go on! We won't be marching, but we're reimagining it into a televised-only spectacle where all your fave balloons, floats & Santa Claus *safely* make their way to you. Tune in to @NBC 9AM Thanksgiving Day & check here for updates: https://t.co/1Bo9XZMmsM pic.twitter.com/n1XgeNdRKu

— Macy's (@Macys) September 14, 2020
In a press release, Macy's wrote:
For the first time in its more than 90-year history, the annual Macy's Parade will be modified to safely bring the magic to more than 50 million viewers nationwide on Thanksgiving Day, while maintaining all of the spectacle and wonder of this cherished holiday tradition. This year the celebration will shift to a television only special presentation, showcasing the Macy's Parade's signature mix of giant character helium balloons, fantastic floats, street performers, clowns and heralding the arrival of the holiday season with the one-and-only Santa Claus.
Macy's also said it's taking precautions including social distancing, face coverings and specialty vehicles to hold its huge character balloons. These efforts, combined with cutting the parade's participants by 75%, will help it maintain CDC guidelines during COVID-19.
Why it's important: As we continue to navigate through COVID-19 and beyond, communicators must remain flexible, while also sharing as much information as possible in a timely manner with their stakeholders. Prepare ahead and have back-up plans, but also be willing to zig and zag at a moment's notice—and show your audience how they can do the same.
TACTICALLY SPEAKING
Amazon launched "Luxury Stores," which aims to make designer products easily accessible to consumers who are purchasing more online and through their phones.
In a press release, Amazon wrote:
Available in the Amazon app by invitation only, Luxury Stores combines the convenience customers have come to know and love from Amazon with innovative technology like "View in 360." This interactive feature will begin rolling out with select garments at launch, allowing customers to explore styles in 360-degree detail to better visualize fit, and making shopping for luxury easier and more engaging. With collections sold directly from the participating brands as a 'store within a store' experience, brands independently make decisions regarding their inventory, selection, and pricing – and Amazon offers the merchandising tools for brands to create and personalize content in each of their unique brand voices. By seamlessly tying content and commerce together, both fashion and beauty brands can engage and entertain customers through immersive storytelling, including enhanced, auto-play imagery and in-motion graphics.
Amazon launched its new feature with Oscar de la Renta, promising additional designers in the future. Luxury Stores are only available to selected Amazon Prime members in the United States, as well, making it easier for Amazon to target customers and entice purchases through exclusivity.
---
MEASURED THOUGHTS

Deloitte recently released its 2020 Global Impact Report:
Leaning into the lessons of our 175-year history to propel us forward, Deloitte has an opportunity to not just help repair the world, but also help reshape a better world—and a track record that says we can make it a reality. Learn more: https://t.co/i1rmkyKE3t pic.twitter.com/ZTfdYmT6tX

— Deloitte (@Deloitte) September 15, 2020
In it, Deloitte visually outlined its efforts and investment with its workforce, especially in regards to increasing diversity and inclusion, as well as its response to COVID-19, overall revenue numbers and its sustainability commitments, such as the following: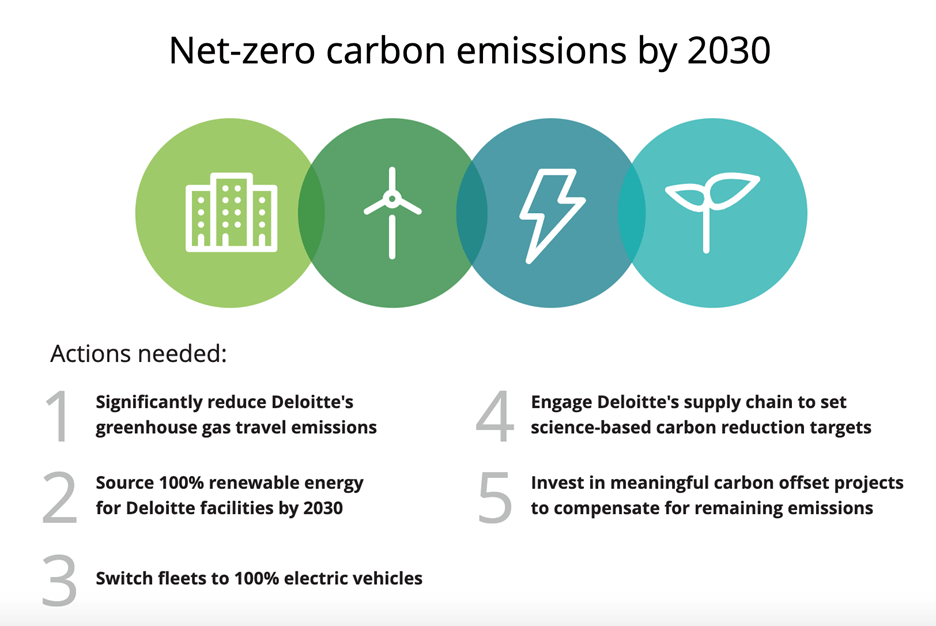 You can view the entire report here. It's a great example of breaking down complex figures into an easy-to-understand and interactive set of snapshots, with accompanying stories to push emotions.
---
CRISIS LEADERSHIP NETWORK
Looking for more insight on how to address the current global crisis and lead your organization into a strong recovery?
Join Ragan's Crisis Leadership Network to network and brainstorm with peers, get the latest intelligence and research and start to strategize for the future of your organization.
Learn more about this exclusive membership here. 
Facebook launches climate change hub
The social media network announced it's launching a "Climate Science Information Center," which will showcase resources from leading climate organizations and experts, news, data and figures from the Intergovernmental Panel on Climate Change and actions people can take to combat the effects of climate change. The hub is available to users in thee United States, United Kingdom, France and Germany, with additional countries being added soon.
The announcement also enabled Facebook to tout its own commitment to reach net zero carbon emissions as well as underline its focus on misinformation.
In its press release, Facebook wrote:
Facebook's global operations will achieve net zero carbon emissions and be 100% supported by renewable energy this year. But getting our own house in order is only the start.

… We're committed to tackling climate misinformation. We partner with more than 70 independent fact-checking organizations globally, covering more than 60 languages. These fact-checkers can and do rate climate science content. As with all types of claims debunked by our fact-checkers, we reduce the distribution of these posts in News Feed and apply a warning label on top of these posts both on Facebook and Instagram so people understand that the content has been rated false.
Why it's important: Facebook announced its climate change hub after struggling to handle misinformation across its platform about the current wildfires on the west coast of the U.S., but with "Climate Week" quickly approaching, additional organizations will probably tout their sustainability promises and efforts.
---
TAKE OUR POP QUIZ 
Embracing inclusive language is at the heart of effective diversity and inclusion efforts, but do you have blind spots when it comes to which words and phrases you should or shouldn't include?
Test your inclusive language knowledge in Ragan's D&I Pop Quiz. Sponsored by Yammer and Workplace from Facebook, your answers to this quick five-question test might surprise you.
As thanks for taking it, you'll get $100 off registration to The Communicator's Role in Diversity, Equity & Inclusion virtual conference, Sept. 17-18. Results will be shared at the event, and your answers will be confidential and anonymized.
---
TACTICALLY SPEAKING  
Lego announced that it's phasing out plastic packaging and turning to sustainable materials by 2025:
We will begin testing paper bags in our boxes, that can go in the recycling bin when you're done playing ♻️ #RebuildTheWorld

Recycling is just one aspect of LEGO Sustainability, discover more here: https://t.co/Om0lWe6vAR pic.twitter.com/nkT38WjSQI

— LEGO (@LEGO_Group) September 15, 2020
In a blog post about its sustainably commitment, Lego outlined its current packaging efforts in a simple and straightforward manner, with visuals to make it interesting: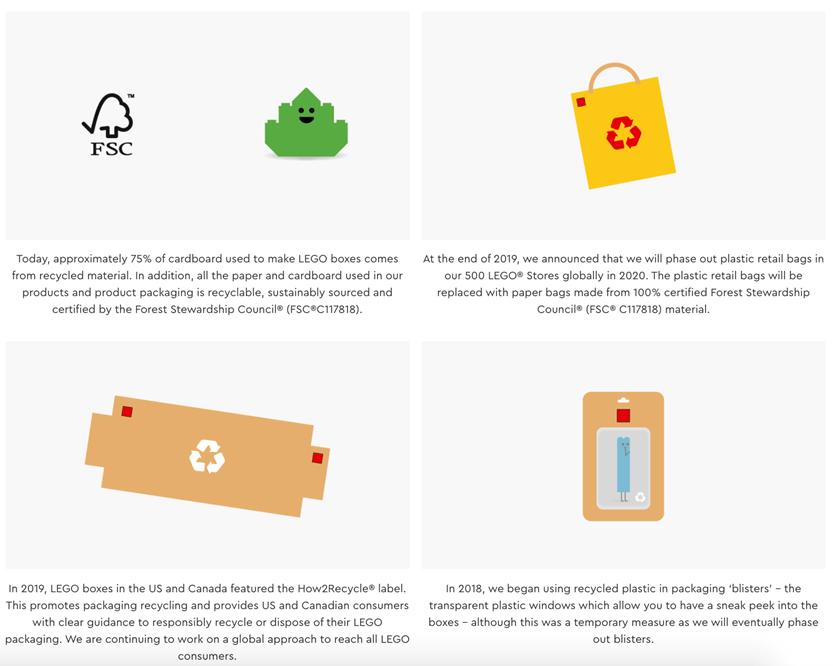 You can take a page from Lego's recycled-paper playbook and outline your efforts and accomplishments, along with your goals, using language and an outline that's simple as well as easy to skim. Doing so can increase readership and message retention.
---
WHAT YOU SAID 
We asked if your social media strategies have changed to accommodate shifting consumer and employee behaviors, and 45% of you have changed your content and messages, while 30% have completely overhauled your strategies:
As consumer and employee behaviors have changed during COVID-19, have your social media strategies changed as well?

Share with us your insights and experiences below and we'll share in tomorrow's #DailyScoop.

— PR Daily (@PRDaily) September 14, 2020
Is there a question you'd like us to ask in an upcoming poll? Let us know!
COMMENT