McKinsey apologizes for role in opioid crisis, Redbox launches streaming service, and Google's Year in Search
Also: Universal Orlando Resorts pokes fun at an old tweet, Home Depot's quest to reunite toy with toddler goes viral, Twitter users ridicule Apple's AirPods Max, and more.
Hello, communicators:
Universal Orlando Resort is racking up engagement and kudos on Twitter for a tweet poking fun at a message from January that proclaimed 2020 would be a "wild ride":
This did not age well. https://t.co/nAOhYtn5KN

— Universal Orlando Resort (@UniversalORL) December 7, 2020
After the tweet went viral, Universal's social media team followed up with another clever tweet that included the link to purchase theme park tickets.
Wow, this blew up. We don't have SoundCloud, but we do have theme park tickets to check out: https://t.co/McWiNpYQSq

— Universal Orlando Resort (@UniversalORL) December 8, 2020
The tweet's success shows the power of embracing humor, especially if you can laugh at yourself. It's also a reminder to show off your human side to potential customers and increase brand loyalty.
Here are today's top stories:
McKinsey & Co. apologies for Purdue Pharma work
The agency has issued what The New York Times called a "rare apology" for its role in the opioid crisis, through its work with client Purdue Pharma. Last month, Purdue pleaded guilty to three criminal charges and admitted that it gave physicans kickbacks to write more OxyContin prescriptions.
Two senior partners at McKinsey discussed whether to purge records related to Purdue, according to documents recently filed in connection with the drugmaker's bankruptcy proceedings. McKinsey rarely acknowledges mistakes and has never before accepted responsibility for helping Purdue sell more opioids, even as hundreds of thousands of people were abusing the highly addictive painkiller. The firm said that it had stopped advising clients worldwide on the opioid business and that it was cooperating with "opioid-related investigations."
McKinsey's statement read, in part:
We recognize that we did not adequately acknowledge the epidemic unfolding in our communities or the terrible impact of opioid misuse and addiction on millions of families across the country. That is why last year we stopped doing any work on opioid-specific business, anywhere in the world.

… We recognize that we have a responsibility to take into account the broader context and implications of the work that we do. Our work for Purdue fell short of that standard.
Why it's important: Apologies are an important aspect of crisis response, but they won't do your reputation management efforts any good if it's a corporate non-apology, or a mea culpa that's not followed up by meaningful action and accountability. McKinsey took the important first step in taking responsibility for its role, but the agency's work is just beginning. Now, it'll have to prove that its review of its work with Purdue and overall client roster produces lasting change.
---
TACTICALLY SPEAKING
After finding a Woody doll from "Toy Story" in the parking lot, employees at a Home Depot in New Hampshire staged the toy in various positions throughout the store, making it appear that Woody was mixing paint and driving forklifts.
Employee Sarah Huberdeau then posted the photos on Facebook, where they went viral:
Boston CBS affiliate WBZ-TV reported:
Huberdeau told WBZ-TV, "It was just great. I mean the reason for doing this was that Woody would find his home and that's kind of what happened. The associates would come over and say, 'I'm going to take Woody for a minute and then come back with a new picture.' It was so much fun."
The effort worked, and Woody was reunited with his owner, Desmond:
The posts are a great example of the power of employee advocacy when done right. Brainstorm ways you can empower your employees to share their stories across social media. By doing so, you can inspire your team to go above and beyond for your customers and embrace your organization's values—as well as showing off employees' personalities.
---
MEASURED THOUGHTS
Google published its "Year in Search" report, and said "the world searched 'why' more than ever" in its video compilation on YouTube, narrated by musician Kofi Lost:
The search giant also compiled the Google Trends data into visual snapshots of top queries and popular topics, so the report feels more like an interactive Pinterest board or Instagram Story than it does a static whitepaper: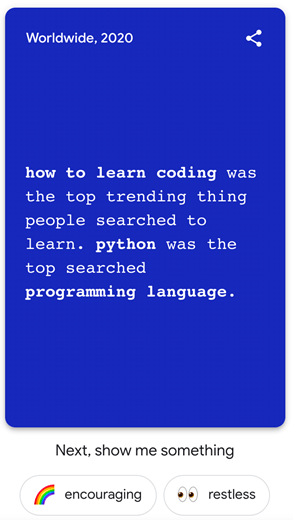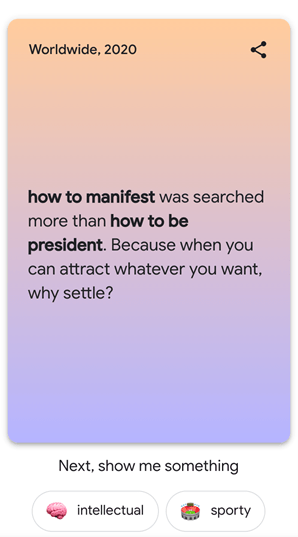 Along with searches on "how to manifest" and "how to learn coding," Google reported that allyship queries were more common in 2020 than people wondering how to become an influencer. It's another data point highlighting the importance of purpose-led communications, as consumers seek to support causes as well as purchase from brands that fit their values: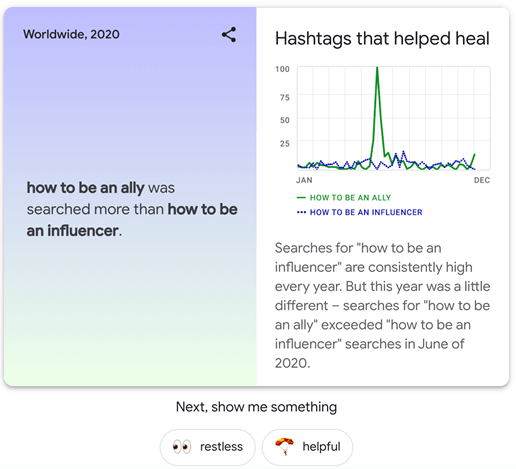 You can view more of this year's top Google search trends here.
---
CRISIS LEADERSHIP NETWORK
Looking for more insight on how to address the current global crisis and lead your organization into a strong recovery?
Join Ragan's Crisis Leadership Network to connect and brainstorm with peers, get the latest intelligence and research and start to strategize for the future of your organization.
Learn more about this exclusive membership here.
Redbox launches streaming service
The company announced its new service, "Redbox Free On Demand," which offers consumers a rotating list of films each week that are "curated to the tastes of Redbox audiences." The service is free to consumers and supported by ads.
Though the move might come as a surprise to some, Redbox has been making strides in digital-first content.
It launched Free Live TV, a streaming offering in the mold of larger free services like Pluto and Xumo, earlier this year. Its 89 channels include Cheddar, Tastemade, Bloomberg TV, Reelz and several of brands from the Condé Nast stable. The company also has started Redbox Entertainment, a division for new content acquisition and production, and has a presence in the growing premium VOD and transactional on-demand sectors.
Chris Yates, general manager for Redbox On Demand, said in a press release:
Today's audiences are fueling an unprecedented demand for premium quality on-demand content that is free with advertising. We expect to see continued growth in AVOD, making Free on Demand a significant addition to our free streaming platform.
 Why it matters: You don't have to enter the streaming wars to embrace consumers' call for digital- and mobile-first content. Take a page from Redbox's playbook and look at what your audience analytics and insights tell you. From there, tailor your content and campaigns to meet target audiences where they are, delivering information and solutions in short, snackable and visually appealing ways.
---
SOCIAL BUZZ
 Apple just revealed its new headphones product, the "AirPods Max," which it says delivers "the magic of AirPods in a stunning over-ear design."
However, the headphones start at $549, prompting the announcement to trend on Twitter as social media users ridiculed the product. Twitter users, including Steve Kovach, CNBC's technology editor, snarked over the price as others made fun of Apple's carrying case, which many said looked like lingerie:
"Sorry, I can't hear you. My AirPods Max automatically mute poor people." pic.twitter.com/SwDsPKNTKe

— Steve Kovach (@stevekovach) December 8, 2020
$549 for the #AirpodsMax I better be able to hear my loved ones in the afterlife. pic.twitter.com/gdOiECt8Fp

— Javas McCall (@JavasinChicago) December 8, 2020
Who designed this AirPods Max case? I can't be the only one who thinks it looks like robot boobs 🤔 pic.twitter.com/6anqi7jiHY

— RPG Jess (@RpgJess) December 9, 2020
Does it come in 34D? #AirPodsMax pic.twitter.com/3QBhbreS44

— Alex (@AlexDiPalma) December 8, 2020
---
TAKE OUR SURVEY
We want to know about how PR agencies are building lasting, sustainable relationships with clients, what is working and what is rubbing both parties the wrong way. That's why we're partnering with The Institute for Public Relations on a new survey to learn more about the state of the agency/client relationship.
Please take this 10-minute survey here.
---
EDITOR'S PICKS
As you're altering your holiday campaigns and searching for ways to engage consumers and employees during COVID-19, don't forget the power of gifts. These can come in the form of interactive content and holiday sweepstakes for your social media followers or thoughtful gifts given by you or your entire organization to members of your workforce, partners, influencers and more.
Check out these gift ideas:
---
WHAT YOU SAID
We asked if you're focusing on more inclusive content and messaging for your digital media efforts, and nearly 69% of you say it's a priority, while almost 19% of you say that while it's not a focus, you want to include it in your efforts:
Are you working on ways to write more inclusively/create more inclusive content for your digital media campaigns?

Share what you're doing below, and we'll dish in tomorrow's #DailyScoop.

— PR Daily (@PRDaily) December 8, 2020
Share your thoughts below or on Twitter using the #DailyScoop hashtag. Is there a question you'd like us to ask in an upcoming poll? Let us know!
Editor's note: Ragan Communications may earn a commission through our affiliate partnerships when purchasing items in our content.
COMMENT