Miami Heat and Twitch denouce athlete's anti-Semitic slur, Society of Editors backtracks its response to Prince Harry and Meghan, and Lego's 2020 sales hits five-year peak
Also: T-Mobile asks users to opt-out of data collection, 42% of women say COVID-19 stops them from asking for raises or promotions, Nike announces new executives after crisis, and more.
Hello, communicators:
T-Mobile recently updated its privacy policy and will automatically collect data from consumers to deliver targeted advertisements unless its users opt out of the practice.
"[S]tarting April 26, 2021, T‑Mobile will begin a new program that uses some data we have about you, including information we learn from your web and device usage data (like the apps installed on your device) and interactions with our products and services for our own and 3rd party advertising, unless you tell us not to," T-Mobile said in a privacy notice. "When we share this information with third parties, it is not tied to your name or information that directly identifies you."

For directions on how to opt out of the expanded data sharing, see the first section of the T-Mobile privacy notice. There's also an opt-out link here.
Though T-Mobile said the data it collects will remain anonymous, headlines are quickly racking up about the privacy policy change. Consider how you're communicating data-collection and privacy practices, so you can avoid potentially negative media coverage.
Here are today's top stories:
 Miami Heat and Twitch condemn NBA player over anti-Semitic slur
 The National Basketball League's Miami Heat announced that player Meyers Leonard was stepping back from the team "indefinitely" as the NBA conducts an investigation into the athlete. The announcement comes after Leonard used an anti-Semitic slur on a Twitch stream while playing the video game "Call of Duty."
— Miami HEAT (@MiamiHEAT) March 10, 2021
Mike Bass, spokesman for the NBA, also said the league "condemns all forms of hate speech":
NBA spokesman Mike Bass statement on Meyers Leonard, who said an anti-Semitic slur on a video game stream: "We just became aware of the video and are in the process of gathering more information. The NBA unequivocally condemns all forms of hate speech."

— Shams Charania (@ShamsCharania) March 9, 2021
Twitch also banned Leonard following the incident.
"We do not allow the use of hateful slurs on Twitch," a company statement reads, per Jacob Wolf of Dot Esports. "The safety of our community is our top priority, and per our guidelines we reserve the right to suspend any account for conduct that we determine to be inappropriate, harmful or puts our community at risk."
Leonard issued an apology on Instagram, saying although he "didn't know what the word meant at the time," he was "just wrong" and promised to "do better":
View this post on Instagram
Why it's important: Whether working with employees, content creators or influencer partners, prepare crisis plans in advance so you can respond to crises such as Leonard's now viral Twitch stream. Vetting external partners and training your employees in social media policies and anti-racism can help you avoid blowouts, too.
---
TACTICALLY SPEAKING
Lego reported its fastest sales growth in five years in 2020, driven by consummers staying at home and its efforts to support e-commerce. 
Net income rose 19% to 9.9 billion kroner ($1.6 billion), the company, which is based in western Denmark, said on Wednesday. Sales gained 13% to 43.7 billion kroner, the most Lego has ever brought in during a single year.

Under Chief Executive Officer Niels B. Christiansen, Lego has invested heavily in online platforms and products that couple its colorful building blocks with digitized elements. But the company also said it added about 25% to its branded physical stores last year, bringing its global presence to 678 stores.
[Christiansen] told the BBC that every 2.77 seconds "someone uploads a Lego creation to our digital platforms that they have created and want to share. The Lego community is based on the brick, but this shows there is no limit to where we can take this."

While the Lego brick will always be at the heart of the business, he said: "Today's children are growing up in a digital world and they effortlessly blend online and physical play."
Consider how shifting consumer behaviors, especially online shopping and digital-first content, have affected your organization. Then, build long-term strategies and plans that take advantage of these trends, as they will remain after the COVID-19 crisis.
---
CRISIS LEADERSHIP NETWORK
Looking for more insight on how to address the current global crisis and lead your organization into a strong recovery?
Join Ragan's Crisis Leadership Network to connect and brainstorm with peers, get the latest intelligence and research and start to strategize for the future of your organization.
Learn more about this exclusive membership here.
---
MEASURED THOUGHTS
Fishbowl released a recent report on the gender pay gap during the COVID-19 pandemic, revealing that roughly 42% of women said changes due to the crisis have stopped them from asking for a promotion or raise. In comparison, nearly 32% of men reported feeling the same.
PR and marketing pros, along with HR and accounting experts, reported the highest percentages of employees who did not ask for a larger salary or promotion due to the COVID-19 crisis.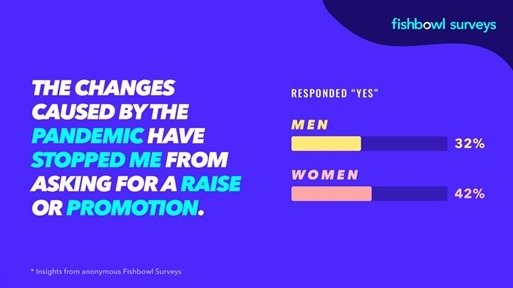 You can read the entire report here.
Society of Editors walks back response to Prince Harry and Meghan's interview
The U.K.-based organization hit back following the recent interview that Prince Harry and Meghan Markle had with Oprah, in which the Duke and Duchess of Sussex alleged that racism drove negative headlines and bigoted press coverage.
In an article titled, "UK media not bigoted: SoE responds to Sussexes' claims of racism," Ian Murray, the Society of Editors' executive director, said:
It is not acceptable for the Duke and Duchess to make such claims without providing any supporting evidence. If it is simply the case the Sussexes feel that the press by questioning their actions and commenting on their roles when working as Royals funded by the taxpayer were being racist then they are mistaken.
Backlash was swift, with readers and social media users sharing images of front page press such as The Daily Mail that supported the Sussexes' claims. Many journalists weighed in, too.
Shona Ghosh, U.K. senior tech editor for Insider, said the organization was "completely deluded" about racism within the news media industry:
As one of the ~6% minority journalists in the UK: yep, UK media is, at times, racist and the SoE is being completely deluded about it.

— Shona Ghosh (@shonaghosh) March 8, 2021
Megha Mohan, gender and identify correspondent for the BBC, tweeted statistics from the National Council for the Training of Journalists that contrasted with the Society of Editors' statement:
94% of UK journalists are white and 80% of editors went to a fee paying school according to the NCTJ. https://t.co/Ht4A4VN1RM

— Megha Mohan (@meghamohan) March 8, 2021
The Society of Editors also retweeted a post from PressGazette, ignoring the subsequent tweet that linked to an article calling for a "reflection in the industry" and pointing out that nearly all of Society of Editors' 3,000 replies (at time of publishing) disagreed with the organization's statement:
"The UK media is not bigoted and will not be swayed from its vital role holding the rich and powerful to account following the attack on the press by the Duke and Duchess of Sussex": Robust statement from @EditorsUK following Meghan and Harry's interview https://t.co/pa1sa3KRie

— Press Gazette (@pressgazette) March 8, 2021
On Wednesday, however, the Society of Editors issued the following "statement of clarification":
The Society of Editors has a proud history of campaigning for freedom of speech and the vital work that journalists do in a democracy to hold power to account. Our statement on Meghan and Harry was made in that spirit but did not reflect what we all know: that there is a lot of work to be done in the media to improve diversity and inclusion. We will reflect on the reaction our statement prompted and work towards being part of the solution.
 Why it matters: Similar to the apology given by the Indianapolis Museum of Art at Newfields following a job post that was quickly decried as racist, the Society of Editor's initial response to the interview—and its subsequent clarification—reveals a lack of understanding when it comes to diversity, equity and inclusion. If you're not willing to take stock of your organization's or industry's role in systemic racism—however unintentional they might be and despite the accompanying discomfort of facing uncomfortable truths—then you shouldn't make statements defending your actions, nor claim to be "part of the solution."
---
EXECUTIVE COMMUNICATIONS
Nike announced executive changes following the resignation of its vice president, Ann Hebert, after a crisis that Quartz called "a nepotism scandal" that has the organization "scrambling to rebuild trust with sneakerheads."
[Hebert's] resignation came last week, just days after Bloomberg Businessweek published a story uncovering the sneaker resale business run by her 19-year-old son, Joe, raising questions of nepotism and unfairness around limited sneaker launches. During the virtual meeting, which Complex reviewed a recording of, the CEO spoke to the waning trust of Nike fans.

"There's no value more core to who we are than the trust our consumers put into us and our brand and our products," Donahoe said. "And the fact of the matter is, this incident has sparked questions in some of our consumers about whether they can trust us, particularly around launch product."
Despite the announcement being prefaced with a note that the latest changes will "continue the momentum of the company's Consumer Direct Acceleration," attention has been placed on Hebert's replacement. The now-empty VP/GM of North America position is set to be taken over by Sarah Mensah.

Mensah most recently was the VP/GM of Nike's Asia Pacific and Latin America region operations and served as the Senior Vice President and Chief Operating Officer for the NBA's Portland Trailblazers before joining Nike. Amy Montagne will be stepping in to become the VP/GM of the APLA region with the shake-up.
The move highlights the important role of executives when building, maintaining or repairing trust with your stakeholders.
---
CONFERENCE ALERT
Social media and digital content is helping organizations across industries reach and engage with consumer and employee audiences looking to connect despite staying apart during COVID-19. The digital media landscape—and people's behaviors—are rapidly shifting, and yesterday's strategies won't stand out to those searching for brands to take a stand and promote DE&I initiatives, measure their efforts, produce valuable content, and more.
Learn how to break out online at Ragan's Social Media & Digital Commmunications Virtual Conference on Tuesday, March 16.
Learn powerful insights and secrets from speakers at Dropbox, Chip and Joanna Gaines' Magnolia, BET Networks, the Cleveland Cavaliers, AARP, Ketchum, LinkedIn, Oklahoma Aquarium, NAACP, Canon Europe, The Martin Agency and more.
Attendees will learn how to produce compelling social media posts and digital content across TikTok, Twitter, YouTube, Instagram, Facebook, Clubhouse and intranet channels—and glean inspiration on incorporating digital media strategies such as SEO, email marketing, paid ads and employee ambassadorship to make your efforts soar.
---
WHAT YOU SAID
We asked if you use slang terms and phrases in your communications campaigns, and roughly 71% of you incorporate them only where and when necessary to reach audiences. Nearly 18% use them regularly, while almost 11% stay away, deeming the terms unprofessional.
Do you use slang terms and phrases within your PR, marketing and social media campaigns?

Weigh in below and we'll share your responses in tomorrow's #DailyScoop.

— PR Daily (@PRDaily) March 9, 2021
Is there question you'd like to see asked? Please let us know under the #DailyScoop hashtag!
---
SOUNDING BOARD
What drives you nuts, PR and communications pros?
What drives you nuts, PR and communications pros?

Vent away with a GIF that captures the challenge you wish to permanently banish. We'll share the top answers in tomorrow's #DailyScoop! pic.twitter.com/lmaRL65yTB

— PR Daily (@PRDaily) March 10, 2021
Weigh in below and share your frustrations and challenges through a GIF Twitter under the hashtag #DailyScoop. We'll share top responses in tomorrow's roundup.
COMMENT