Microsoft eyes TikTok purchase, Men's Wearhouse to declare bankruptcy, and Nordstrom partners with influencers on COVID-19 message
Also: the NFL offers sneak peak on re-opening, the top brand responses to the BLM movement, 56% of consumers will edit social media posts to avoid 'travel shaming,' and more.
Hello, communicators:
Nature's Way Alive shared a quote to serve as your Monday motivation:
#MondayMotivation #Quote pic.twitter.com/ZNapWHn3Nc

— Alive! (@feelaliveuk) August 3, 2020
Though comparing yourselves to others in your industry can be helpful, don't let it distract you from your goals and objectives.
Here are today's top stories: 
Microsoft looks to buy TikTok
The tech company announced it would "move quickly to pursue discussions" of purchasing the social media app from ByteDance, TikTok's parent company, with a goal to complete the talks by Sept. 15. The deal would enable Microsoft to own and operate TikTok in the United States, Australia, New Zealand and Canada.
Microsoft to continue discussions on potential TikTok purchase in the United States. https://t.co/mCDeeVPzyX

— Microsoft (@Microsoft) August 2, 2020
In a blog post, Microsoft wrote:
This new structure would build on the experience TikTok users currently love, while adding world-class security, privacy, and digital safety protections. The operating model for the service would be built to ensure transparency to users as well as appropriate security oversight by governments in these countries.

Among other measures, Microsoft would ensure that all private data of TikTok's American users is transferred to and remains in the United States. To the extent that any such data is currently stored or backed-up outside the United States, Microsoft would ensure that this data is deleted from servers outside the country after it is transferred.
Why it's important: If Microsoft can acquire TikTok, it would be "the deal of the decade," according to Bloomberg's Tim Culpan. Aside from being a power move from the company that already owns LinkedIn, the acquisition could resolve privacy concerns over users' data, as well as signal potential marketing opportunities with the app.
Communicators should watch for updates and continue to hone their social media video content, regardless of the platform used.
---
TACTICALLY SPEAKING
Nordstrom recently worked with Instagram influencers such as Wendy Nguyen to showcase the retail chain's COVID-19 safety measures and encourage consumers to visit its physical locations:
"In times of uncertainty, people are going to find the people that they trust the most to provide validation for the things that they've loved doing in the past," said Krishna Subramanian, a founder of the influencer marketing firm Captiv8. He oversaw the Nordstrom campaign and said that other companies are also planning influencer campaigns focused on store safety.
As you execute your re-opening campaigns, consider including both employee ambassadors and social media influencers, who can validate your safety efforts and boost consumer trust.
---
MEASURED THOUGHTS
In Ketchum's recent report titled, Brand Reckoning 2020: How COVID-19 is Transforming Traveler Behavior, Loyalty and Values, the agency reported that 76% of consumers are preparing to travel more in 2021, after continue to stay at home during the pandemic. Most consumers (87%) say their comfort will largely depend on fellow travelers, rather than organizations' responses.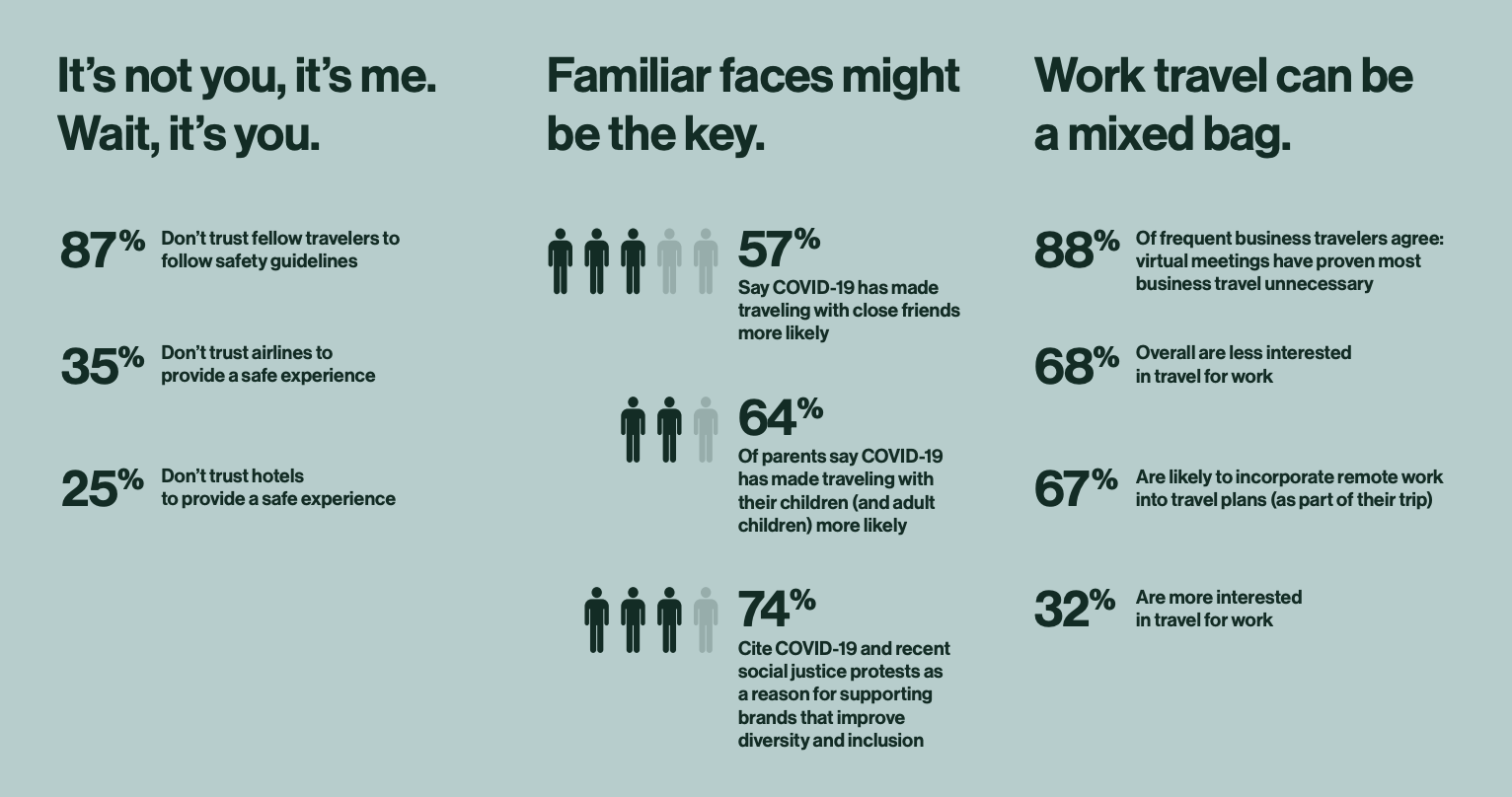 Concerns about traveling during and after COVID-19 have affected social media content, too, with 56% of consumers preparing to censor their social media posts to avoid "travel shaming":

You can read the entire report here.
---
CRISIS LEADERSHIP BOARD
Looking for more insight on how to address the current global crisis and lead your organization into a strong recovery?
Join Ragan's Crisis Leadership Board to network and brainstorm with peers, get the latest intelligence and research and start to strategize for the future of your organization.
Learn more about this exclusive membership here.
Lord and Taylor, Men's Wearhouse file for bankruptcy
The oldest department store in the United States (and the first to announce a female president) has filed for bankruptcy to "overcome the unprecedented strain the COVID-19 pandemic has placed" on it.
In an open letter, the company wrote:
Our heritage and loyal customer base is the firm foundation for everything we do, even as we look for ways to evolve.

… This strategy is part of our fierce commitment to preserve a nearly 200-year-old brand that has served local communities and loyal customers for generations.
However, The New York Times reported that the retail chain had been struggling for several years and under a few different owners.
Tailored Brands, the parent company of both JoS. A. Bank and Men's Wearhouse, also filed for Chapter 11 bankruptcy protection on Sunday. The filing affects the company's roughly 18,000 employees across 1,400 locations.
COVID-19 has changed a lot but it hasn't changed our passion or commitment to our customers and teams. pic.twitter.com/2qAG5QU36I

— Men's Wearhouse (@menswearhouse) August 3, 2020
It had already announced plans in July to eliminate 20 percent of its corporate jobs and close up to 500 stores, and on Sunday said that it planned to use the restructuring process to slash its debt by at least $630 million.

"Our enduring commitment to help customers look and feel their best will allow us to overcome the challenges of Covid-19," Dinesh Lathi, chief executive of Tailored Brands, said in a statement accompanying the filing in United States Bankruptcy Court for the Southern District of Texas.
Why it's important: It's crucial to adjust to consumers' changing behaviors by moving to digital-first content strategies and business models. This includes tailoring your offerings for e-commerce as well as creating content for a mobile-first crowd, even as they stay at home throughout COVID-19. These shifting preferences will remain after the pandemic is over, so tweak your business model and communications campaigns now to stay in the game.
---
SPECIAL REPORT
Following the deaths of George Floyd, Ahmaud Arbery, Breonna Taylor and others, organizations were pushed more forcefully than ever before to take stands against systemic racism and move to support social justice initiatives. Which responses made an impact—and which responses fell flat?
Learn from 10 of the biggest brand messages in our special report, "Organizational responses to Black Lives Matter." The report offers communicators important takeaways to lead organizations and clients in the second half of 2020 and into the future.
---
SOCIAL BUZZ
The National Football League's Denver Broncos recently tweeted a video that gave fans a sneak peek into the team's training camp meeting, in which they reviewed their COVID-19 precautions and plans:
Things are going to look different — they already do.

But we're committed to doing our part to be as safe as possible.

Inside the team's opening training camp meeting reviewing COVID-19 precautions 👇 pic.twitter.com/ClUBdbvIAC

— Denver Broncos (@Broncos) August 3, 2020
As you continue to work on re-opening plans, invite your stakeholders along for the ride. Show them behind the scenes and outline what you're doing to keep your employees and consumers safe.
---
WHAT YOU SAID 
We asked if you're reading more or less news as COVID-19 stretches on, and more than 37% of you are staying informed by checking your newsfeeds more frequently, while almost 24% of you are reading less, because it's too overwhelming. Nearly 22% are reading headlines and stories as necessary, while some 18% of you are getting your news through digests and the top stories of the day.
Are you reading more or less news as the COVID-19 crisis continues?

Share your thoughts with us below and under #DailyScoop.

— PR Daily (@PRDaily) July 30, 2020
Is there a question you'd like us to ask in an upcoming poll? Let us know!
---
SOUNDING BOARD
While many organizations continue to struggle as the COVID-19 crisis continues, others are successfully focusing on new revenue models and digital formats.
Is your comms budget bouncing back?
While many organizations continue to struggle as the COVID-19 crisis continues, others are successfully focusing on new revenue models and digital formats.

Is your comms budget bouncing back? Weigh in below and under #DailyScoop.

— PR Daily (@PRDaily) August 3, 2020
Share your thoughts and experiences with us below and under the #DailyScoop hashtag.
COMMENT
One Response to "Microsoft eyes TikTok purchase, Men's Wearhouse to declare bankruptcy, and Nordstrom partners with influencers on COVID-19 message"
Ronald N. Levy

says:

This superb Ketchum research is good for both new business and for getting renewal of old business since the more a PR firm knows about a field, the better work the firm is likely to do.

Less obviously the research is also great for helping Ketchum get massive media coverage for clients. It's because skeleton editorial staffs have nowhere near the time needed to compile information like this, so editors welcome story ideas based on research and expert knowledge of public attitudes and desires.