New Yorker suspends reporter for exposing himself on Zoom, CVS to hire 15,000 employees and 64% of consumers to holiday shop online during COVID-19
 Also: HBO donates to Connecticut organizations after humorous 'feud' is settled, Disney+ adds content warning for racist depictions, Skittles offers socially distant costume, and more.
Hello, communicators:       
 Danbury, Connecticut's recent sense of humor brought fundraising and media coverage.
Thank you, Danbury! We're so happy we were able to come together and sort our shit out! pic.twitter.com/wZ7jjTYp7M

— Last Week Tonight (@LastWeekTonight) October 19, 2020
HBO's "Last Week Tonight with John Oliver" tweeted a meeting between the late-night host and the mayor of Danbury, Connecticut, who agreed to follow through with his snarky comment about naming the town's sewage treatment plan after Oliver. The comments came after Oliver poked fun at the town, but the host later promised to donate $55,000 to local nonprofit organizations, including Connecticut Food Bank, if the mayor followed through on his threat.
The success story highlights the power of a sense of humor, when opportunities for buzz and donations are on the line.
Here are today's top stories:
The New Yorker suspends reporter for exposing himself on Zoom
The publication announced that it suspended Jeffrey Toobin after the reporter was seen touching himself during an election simulation with other New Yorker employees. Toobin said it was a mistake, and he didn't realize his colleagues could see him.
Asked Monday afternoon about reports that he had exposed himself, Mr. Toobin said in a statement: "I made an embarrassingly stupid mistake, believing I was off-camera. I apologize to my wife, family, friends and co-workers."

"I thought I had muted the Zoom video," he added. "I thought no one on the Zoom call could see me."
Along with the New Yorker's suspension, CNN said it gave Toobin time off to handle the crisis. (Toobin is a prominent legal analyst for the network.)
Toobin's Conde Nast email has been disabled and he has not tweeted since October 13. He did, however, appear on CNN, where he is the network's chief legal analyst, on Saturday. "Jeff Toobin has asked for some time off while he deals with a personal issue, which we have granted," CNN said in a statement.

The New Yorker editor David Remnick wrote in an email to all New Yorker staffers: "Dear All, As you may have read in various news reports today, one of our writers, Jeff Toobin, was suspended after an incident on a Zoom call last week. Please be assured that we take such matters seriously and that we are looking into it. Best, David."
Why it's important: We've all made mistakes on video-conferencing calls, and many of us are probably used to the phrases, "Sorry, I was on mute" or, "Can you see my screen?" This screwup has been the focus of plenty of Twitter snark and articles such as "Here's how to avoid accidentally showing your genitals to your colleagues on Zoom" by Gizmodo's Tom McKay.
Though many are making jokes, the incident is serious—and will become an even bigger crisis if Toobin's actions were intentional.
---
TACTICALLY SPEAKING
Disney+ has added a content advisory for its classic films and shows that contain racist depictions, including "Peter Pan" and "Dumbo." The message reads, in part:
These stereotypes were wrong then and are wrong now. Rather than remove this content, we want to acknowledge its harmful impact, learn from it and spark conversation to create a more inclusive future together.
The advisory also encourages viewers to visit a new website called "Stories Matter," in which Disney outlines several racist depictions in older films along with why they're wrong, organizations with which Disney has partnered, and other efforts the company is making to support racial equality.
The website opens with this video:
Disney is already getting kudos for its advisory and the website, which doesn't sweep the racist depictions under the rug, but rather, meets them head-on with education and the company's next steps to building more diverse and inclusive programming.
---
MEASURED THOUGHTS
Deloitte's 2020 Holiday Retail Survey revealed that more consumers than ever before are shopping online to prepare for the holidays during COVID-19.
Deloitte listed several factors pushing consumers toward e-commerce options, including avoiding crowds (65%), 24-hour availability (58%) and price-comparison options (53%):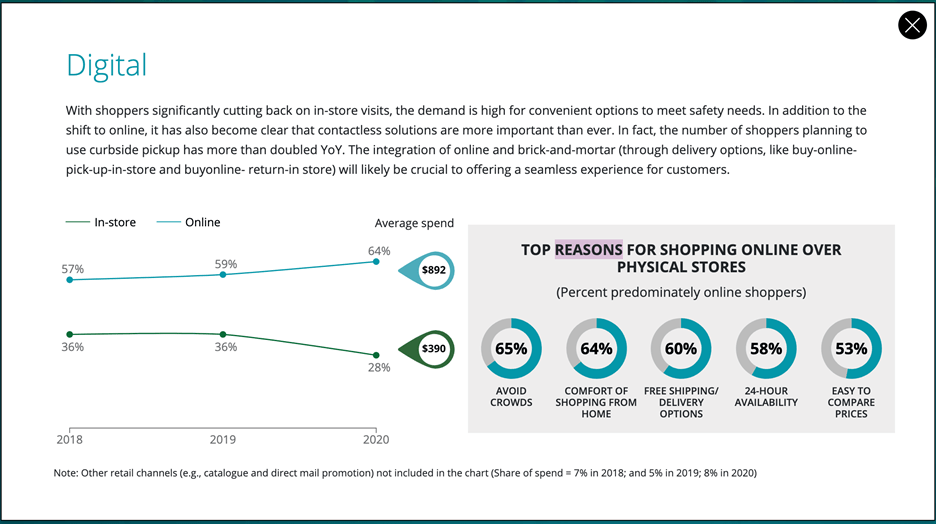 You can read the entire report here.
---
CRISIS LEADERSHIP NETWORK
Looking for more insight on how to address the current global crisis and lead your organization into a strong recovery?
Join Ragan's Crisis Leadership Network to network and brainstorm with peers, get the latest intelligence and research and start to strategize for the future of your organization.
Learn more about this exclusive membership here.
CVS is hiring 15,000 employees to respond to COVID-19
The drug store chain's hiring efforts are in addition to the 50,000 employees it previously brought on to help it meet consumer demands with COVID-19 and flu season. Many of the positions are currently temporary, but could become permanent. Some of the positions also come with flexible working arrangements.
The chain said Monday that more than 10,000 of the positions will be a mix of full-time and part-time positions for licensed pharmacy technicians. In addition to their normal duties, CVS (CVS) said that they can "help fill the urgent need to safely and quickly scale distribution" of a COVID-19 vaccine once it becomes available.
Why it's important: Whether you're hiring to meet increased demand, announcing layoffs to keep your organization afloat, or aiming to keep your employees motivated and secure in your business decisions during COVID-19, communicate with them early, often and transparently as possible. The more closed-door conversations about business transformations and realignments you have, the more you should bump up your employee engagement and ensure executives are interacting in order to build trust.
---
CATCH UP WITH OUR REPORT
More than half (57%) of social media managers say they plan to leave their current position within two years, according to a new survey from the Institute for Public Relations, Ragan Communications and the University of Florida. Though these managers are ambitious, the career path to social media leadership roles remains unclear.
The report sheds light on social media pros' career trajectory as well as the challenging lack of resources and employee burnout that's on the rise. Check out the findings here.
To learn more about how to prepare for the future of social media and more, join us at Ragan's Future of Communications Conference, Nov. 10-11.  You'll learn from PR, social media, marketing and internal communications experts about the top trends and what's on the horizon for the industry.
---
TACTICALLY SPEAKING
Skittles is giving consumers the chance to win a "socially-distanced costume" this Halloween:
#SWEEPSTAKES Enter for a chance to become the ZOMBIE this #Halloween by rocking this socially distanced costume! Enter at https://t.co/PwU8vBIjqc pic.twitter.com/VJYuAOoOtD

— LIME SKITTLES (@Skittles) October 19, 2020
The costume also contains a "Zombie Mode" button that "releases the smell of rotten zombie to keep even the creepiest ghoul more than 6 feet away," according to a press release. You can enter the sweepstakes here.
The effort is a clever way to promote its limited-edition Halloween "Zombie Skittles" within the confines of COVID-19 and canceled holiday plans.
---
EDITOR'S PICKS
Working from home can be convenient in many ways (goodbye, morning and evening commutes), but not having the office lunchroom or go-to grub spot can throw off your routine. Some of us are snacking more than ever, as others struggle to make lunch and fit in another video call along with a full plate of responsibilities.
Consider these lunchtime options:
---
WHAT YOU SAID
We asked how much you're relying on SEO as you adapt to changing consumer behaviors, and 39% of you said you're leaning on the strategy more now, while 35% are using it the same amount as before the COVID-19 crisis. Though 13% of you want to increase your SEO strategies, 13% of you are implementing it less:
Are you relying on SEO more or less as we adapt to our "new normal?"

Weigh in below and we'll share in tomorrow's #DailyScoop.

— PR Daily (@PRDaily) October 19, 2020
Is there a question you'd like us to ask in an upcoming poll? Let us know!
---
SOUNDING BOARD
How much are you integrating influencer marketing campaigns or strategies as you plan for the next year?
How much are you integrating influencer marketing campaigns or strategies as you plan for the next year?

Share your thoughts with us below and we'll share in tomorrow's #DailyScoop.

— PR Daily (@PRDaily) October 20, 2020
Share your thoughts with us below and under the #DailyScoop hashtag on Twitter.
Editor's note: Ragan Communications may earn a commission through our affiliate partnerships when purchasing items in our content.
COMMENT
One Response to "New Yorker suspends reporter for exposing himself on Zoom, CVS to hire 15,000 employees and 64% of consumers to holiday shop online during COVID-19"
Ronald N. Levy

says:

Did CNN make a PR mistake ridiculously worse than Toobin's?

Toobin's mistake of exposing himself when he thought the camera was off—that mistake damaged only himself and anyone upset by the sight of his organ. (And how upset can that make normal people?) But if CNN employed Toobin because he's a superb journalist and legal analyst, did CNN's split with Toobin damage CNN's viewers?

PR wisdom is to always keep in mind who and what matters most. If the happiness of viewers should matter more to CNN than the sight of Toobin's organ, judge who—Toobin or CNN—is more of a schmuck.

If Toobin attracted viewers who were good for CNN audience ratings and ad revenue, judge whether splitting with Toobin hurt not only viewers but also CNN.

Does anyone benefit? If not, did CNN hurt viewers and hurt CNN without anyone gaining any benefit?

Crisis PR! Join Ragan's Crisis PR Network and learn from associating with experts what CNN should have learned long ago from associating with viewership ratings!