NFL silent on details of workplace harassment investigation, Americans are skeptical of brands taking a stand, and Microsoft's sustainability push
Also: Chipotle brings annual 'Boorito' event to the metaverse, Rent the Runway celebrates IPO, NCAA pledges action after investigation reveals gender inequality, and more.
Hello, communicators:
This year, Chipotle's 21st annual "Boorito" fan event will have a presence on Roblox, a virtual platform that allows users to create avatars which can go on adventures together, play games and enjoy branded experiences. In addition to claiming a free burrito on Roblox, Chipotle fans can also access new virtual Chipotle Halloween costumes, play through a Chipotle Boorito maze and more.
"As a digital innovator, we are always experimenting on new platforms to meet our guests where they are," Chipotle CMO Chris Brandt said in a press release. "Roblox's popularity has boomed over the past year, and we know our fans will be excited to celebrate the next evolution of Boorito in the metaverse."
Chipotle's campaign highlights the trend of brands taking previously in-person experiences online by entering into brand activations via metaverse platforms including Roblox and Fortnite. Amid reports that Mark Zuckerberg will rebrand Facebook with a new name that reflects the company's aspirations to build a metaverse of its own, communicators would be wise to partner with marketing and explore how these virtual environments can allow brands to engage audiences in new ways that blend e-commerce, social media and gamified play.
Here are today's top stories:
NFL defends decision to withhold details of workplace harassment investigation
NFL commissioner Roger Goodell said that the league will not release more information on its investigation into the Washington Football Team's workplace.
Goodell's comments come after two former employees of the team delivered a letter to owners this past Tuesday that urged the league to release information on the investigation.
"We feel that this is the appropriate way to do it," Goodell said at the end of the first day of a two-day meeting of team owners. "We summarized the findings of Beth [Wilkinson, the attorney who led the investigation] and made it very clear that the workplace environment of the Washington Football Team was not what we expected in the NFL and then held them accountable. But more importantly, steps were put in place to make sure that it does not happen again."

Goodell said he believes the NFL has held Daniel Snyder, the team's owner, properly accountable. He stressed that the league considers it important to protect witnesses who sought "security and privacy and anonymity" to participate in Wilkinson's investigation.

"That not only affects the investigation that you're going through," Goodell said. "But it affects future investigations and the credibility of that. So when you make a promise to protect the anonymity to make sure that we get the right information, you need to stand by that. And so we're very conscious of making sure that we're protecting those that came forward. They were incredibly brave, incredibly open, and we respect the pain that they probably went through all over again to come forward."
However, critics say they are not asking for privacy, but transparency.
The Post continued:
Lisa Banks, an attorney representing former team employees, responded to Goodell's comments on Twitter. "I represent 40 former employees of the WFT who participated in the investigation. Goodell's statement is false," she wrote, before adding: "My clients did not ask the NFL for 'protection' when they participated in the investigation. They asked for transparency and accountability — and received neither."
 Why it matters:
Goodell's statement on the actions taken to hold owner Dan Snyder accountable does not say how nor reveal the specific steps that were put in place.
Goodell's defensive message about privacy is undermined  by the employees themselves. This illustrates how the people at the center of a crisis should always be consulted before they are included in any communications. Failure to do so increases the likelihood that those people will object to your characterization of their perspective, resulting in more headlines and headaches.
---
MEASURED THOUGHTS
In a recent Method Communications study, 66% of Americans said that they are skeptical when brands speak up about social or political issues. Among the skeptics, 41% think speaking up is just done for media attention, while 32% just speak out on something when it is popular. Just 29% said that taking a stance on a social or political issue is an effective way for brands to show empathy.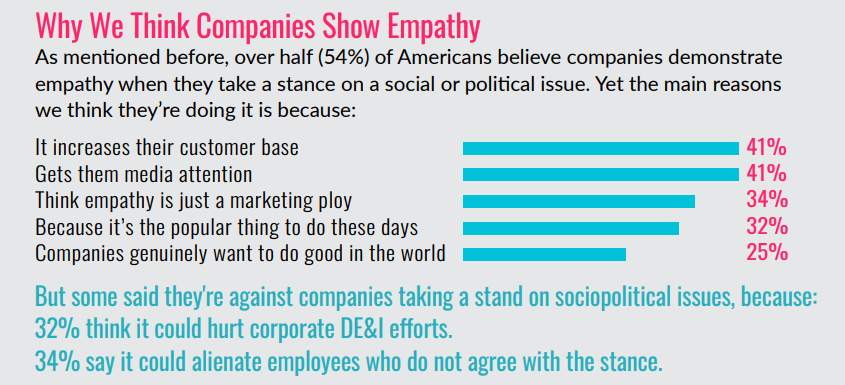 Courtesy of Method Communications
These numbers emphasize the danger that can come with crafting external messaging or marketing campaigns that evangelize your brand's stance on social or political issues. Though there's nothing wrong with taking action on matters that tie back to your brand values and purpose, being intentional about how you share the story of those actions may mean waiting until the work is done, or the results are demonstrable, before sharing your efforts with external audiences.
Check out the full report here.
---
TACTICALLY SPEAKING
As secondhand fashion site Rent the Runway announced its IPO, co-founder and CEO Jennifer Hyman shared how her company restructured to meet the challenges of operating during a pandemic and how the company is focusing on its future.
"Women did not have to return to the office to return to Rent the Runway," Hyman said. "And so as women do return to an office, even if it's just a few days a week, or return to a party, that's just continued upside for the business."

"It's about renting a coat to walk around your neighborhood, or wearing clothes to lounge around your house … and then going out to dinner with a friend," Hyman said in a phone interview. "As we've expanded those assortments, we've seen [customers] engage with us more days of the year." "If anything, this pandemic pushed us even more as consumers into sharing models and into valuing experiences over ownership," Hyman said in an interview on CNBC's "Squawk Box." "We've seen that in our customer base."
"I'm so proud of this milestone day," Ms. Hyman, now the company's chief executive, said in an interview on Wednesday. "We've gone from a single dress and a single situation to building a full closet in the cloud that women can access for every occasion."

Ms. Hyman said that the company also planned to expand into new categories. "We're open to home goods, to shoes, to luxury, to kids and I think there's a world in the future where men aren't even off the table anymore," she said on Wednesday.
The story from Rent the Runway is a reminder for brand storytellers not to elide the downturns in their past when sharing their journey to success. Great stories always have conflict, and being able to openly share your fears when facing your darkest moments can create a narrative that resonates with audiences.
---
CRISIS COMMUNICATONS
The NCAA is looking to make changces following an independent report that determined the association spends more on male athletes than female athletes. The report, which was conducted by a law firm hired by the association to investigate questions of gender disparity in its business practices, reveals that the NCAA spent about $4,285 per participant for men's Division I team sports and national championships. By contrast, the association spent about $2,588 for women's—a difference of $1,697 per athlete.
According to its press release:
The report identified important recommendations, which we will prioritize and sequence so they can be implemented for impactful change. These changes may require altering budgets and business models while evaluating the balance between resources devoted to championships that produce revenue and resources for those that do not.

We have directed the NCAA president to continue engaging the appropriate governance groups in all three divisions to evaluate the recommendations, identify next steps and provide timely input for how issues outlined in the report can be addressed.

We expect efforts to address gender equity across all sports to continue with diligence and a strong commitment to fairness so the NCAA can fully meet its commitment to provide positive championship experiences for all college athletes.
By acknowledging a willingness to change its budget and business models, the NCAA's statement demonstrates that it is committed to reform at an institutional and infrastructural level. Its promise to identify next steps and provide timely input, meanwhile, demonstrates how you can communicate expectations for continuing work even when you don't have a full timeline established.
---
TAKE OUR SURVEY
If you're looking for benchmark data to show your bosses the next time you ask for a raise, lend us a hand—and help yourself and your peers while you're at it. Participate in Ragan's Salary & Workplace Culture Survey, a comprehensive look at salaries, benefits, culture, bonuses and other aspects of the job in a fast-moving industry.
Both internal and external communicators are encouraged to participate.
By taking part, you will receive a $150 discount to a Ragan virtual conference of your choice and be entered to win one of five $50 gift cards. All who complete the survey will receive a full report on the findings. Responses are anonymous.
Microsoft unveils plans to make data centers more sustainable
Microsoft is sharing commitments to make its data centers more sustainable by conserving water and power, including plans to cut the water its data centers use by 95% in 2024 and eventually eliminate water use altogether.
The company which has seen huge growth in its cloud services division says that these commitments, along with other promises cut the carbon footprint of data center design and construction, will allow the company to expand its number of data centers while also designing and maintaining them to support local ecosystems.
The company shared an infographic that summarizes its efforts and explains how data center sustainability translates to environmental change: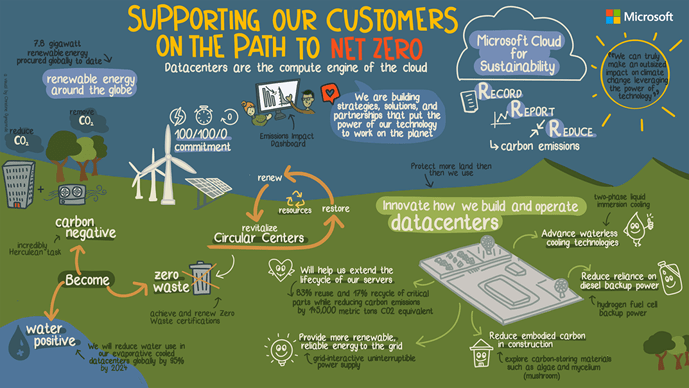 Microsoft also announced the public preview of Microsoft Cloud for Sustainability, which the company says "will allow organizations to more effectively record, report and reduce their carbon emissions on a path to net zero. It's hard to improve or change what you can't measure."
The Microsoft cloud is the trusted cloud for everyday digital experiences at work and at home – from critical applications for life and safety services, education institutions and governments to advancing scientific research surrounding the world's most pressing challenges – like climate change. Underpinning the cloud are physical datacenters, networking and fiber connected to the world's energy grids. Customers already benefit from the cloud's ability to provide massive efficiency that reduces the collective carbon footprint required to support the world's compute needs. Even so, the increasing demand for cloud leads to increasing demand for datacenters, which require power, land and water to operate.

We – and the cloud industry – face an important challenge as a result: scaling our computing power to progress digital economies, research and inclusive economic opportunities – while also helping to preserve the only planet we have.
Why it matters:
Microsoft's messaging around the importance of data center sustainability highlights how sustainability communications are no longer confined to quarterly reports and earnings calls. Instead, Microsoft's messaging goes beyond its many benchmarks to educate audiences about the challenges facing the industry.
The infographic is also an example of how to  convey an incredibly dense and technical concept to general audiences. This approach emphasizes the merits of explaining your work in a medium that makes the ideas easier to digest before tethering them to a wider call to action.
COMMENT