NHL's Coyotes criticized for drafting bully, Charles Schwab and Boeing announce layoffs, and TikTok partners with Shopify on e-commerce tools
Also: Coca-Cola to remove iconic San Francisco billboard, 31% of content marketing awards finalists use 'tangential' topics, Jack in the Box offers chicken-scented face masks, and more.
Hello, communicators:
San Francisco is losing its 83-year-old Coca-Cola billboard as the beverage giant focuses on digital marketing strategies.
The Verge's Nick Statt tweeted:
San Francisco is so expensive that Coca-Cola is paying $100,000 to remove its iconic billboard sign, saying it costs to much to continue leasing the space. It's been there since 1937. https://t.co/KrT4egSZVV

— Nick Statt (@nickstatt) October 27, 2020
Dora Wong, a spokesperson for Coca-Cola North America, told the San Francisco Chronicle:
While we, like many San Franciscans, will miss seeing the sign, we made the difficult decision to not renew the lease as part of our efforts to focus on other digital media platforms that support the growth of our overall beverage portfolio.
The city's district supervisor for the billboard's area, Matt Haney, issued an update through a Twitter thread and is suggesting Coke display the billboard instead of destroy it. 
Here are today's top stories:
Arizona Coyotes criticized over draft pick's checkered past
The National Hockey League team faced backlash after selecting Mitchell Miller as its first pick in the fourth round of the league's draft earlier this month. Mitchell has "admitted to bullying an African American classmate with developmental disabilities," the Arizona Republic reported.
The selection came a month after Arizona Coyote's president and chief executive, Xavier Gutierrez, was chosen to join NHL's Executive Inclusion Council—a group focusing on DE&I efforts and fighting racial inequality.
The team won't comment on the selection, aside from a statement from Gutierrez, reported via Arizona Republic:
Our fundamental mission is to ensure a safe environment—whether in schools, in our community, in hockey rinks, or in the workplace—to be free of bullying and racism. When we first learned of Mitchell's story, it would have been easy for us to dismiss him—many teams did. Instead, we felt it was our responsibility to be a part of the solution in a real way—not just saying and doing the right things ourselves but ensuring that others are too," the statement said.

Given our priorities on diversity and inclusion, we believe that we are in the best position to guide Mitchell into becoming a leader for this cause and preventing bullying and racism now and in the future. As an organization, we have made our expectations very clear to him. We are willing to work with Mitchell and put in the time, effort, and energy and provide him with the necessary resources and platform to confront bullying and racism. This isn't a story about excuses or justifications. It's a story about reflection, growth, and community impact. A true leader finds ways for every person to contribute to the solution. We all need to be a part of the solution.
CBS Sports reported that Mitchell has never personally apologized to his former classmate and only published a statement through the Coyotes recently saying he was "extremely sorry" and seeks "to be a leader for this cause and help end bullying and racism."
Why it's important: Though Gutierrez said the Coyotes will "put in the time, effort and energy" to help Mitchell make amends, the selection stands at odds with the both the team's and the NHL's statements about the importance of diversity and racial equality. By giving Mitchell "the necessary resources and platform," the Coyotes send a clear message that athletic ability trumps diversity, equity and inclusion.
Whether through hiring, executive actions or community partnerships, don't let your actions undermine your values or DE&I commitments. Once you've crossed the line, your words will ring hollow and your reputation will be tarnished.
---
TACTICALLY SPEAKING
Jack in the Box recently offered limited-edition chicken-scented face masks to fans in Reno, Nevada, as well as Monterey and Salinas, California:
PSA: Get your FREE Chicken Scented Face Mask at https://t.co/Q4cHRhJqQn now, while supplies last! It's chicken-y, like the new plant-based Unchicken Sandwich™ only available in Reno, NV, and Monterey/Salinas, CA! pic.twitter.com/U9mV81potU

— Jack in the Box (@JackBox) October 23, 2020
The fast food chain's free masks were gone quickly, leaving Jack in the Box to tease "future chicken-y surprises":
My #ChickenScentedFaceMask flew the coop and we're all out! In the meantime, be on the lookout for some future chicken-y surprises! 👀🐔😷

— Jack in the Box (@JackBox) October 23, 2020
Wacky PR and marketing stunts such as this can cater to content-hungry consumers as well as reporters looking for interest and levity amid the presidential election and countless COVID-19 articles. Consider how you can make a splash by offering something silly and fun, but don't make light of serious crises as you do so.
---
MEASURED THOUGHTS
Fractl recently highlighted the power of tangential content—that which doesn't directly relate to an organization's products or services—to drive media relations efforts.
It revealed that 31% of the 2020 Content Marketing Institute's Awards finalists used tangential content to earn media coverage. Studies and reports are the most popular type of content, with nearly 35% of the finalists leaning on the format: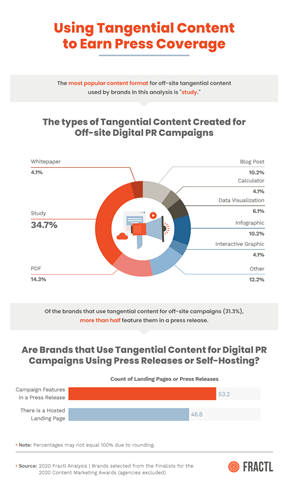 If you're struggling to envision topics that could relate to your organization without simply promoting your offerings, Fractl offered a list tailored to several brand niches: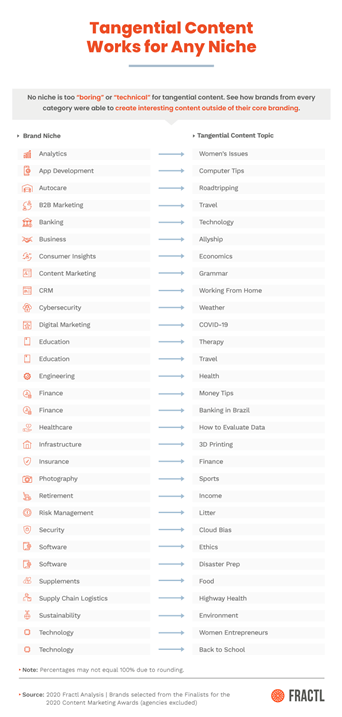 You can read the entire report here.
---
CRISIS LEADERSHIP NETWORK
Looking for more insight on how to address the current global crisis and lead your organization into a strong recovery?
Join Ragan's Crisis Leadership Network to network and brainstorm with peers, get the latest intelligence and research and start to strategize for the future of your organization.
Learn more about this exclusive membership here.
Charles Schwab cuts 1,000 jobs and Boeing braces for layoffs
Following its merger with TD Ameritrade, Charles Schwab announced it was laying off roughly 1,000 employees—3% of its combined, post-merger workforce—but didn't expect further job cuts this year.
In a combined press release and open letter to employees, Charles Schwab wrote:
These reductions are part of our efforts to reduce overlapping or redundant roles across the two firms, but the combined firm will continue to hire in strategic areas critical to support our growing client base. Employees whose roles are impacted by today's changes will have early access to all newly opened positions and be treated as internal candidates for the more than 1,000 currently open positions at Schwab through their 60-day notice period.
Boeing is preparing for a different workforce strategy as it announces additional layoffs to extend through 2021. In total, the company will cut roughly 30,000 employees' jobs, with 19,000 employees exiting the company this year.
"As we align to market realities, our business units and functions are carefully making staffing decisions to prioritize natural attrition and stability in order to limit the impact on our people and our company," [Boeing's chief executive, David Calhoun] said in a staff note.
Why it matters: As more organizations across industries adjust and readjust their business continuity strategies and realignments during COVID-19, the spotlight is on internal and employee communications. Share with your employees as often and transparently as you can, clear and compassionate messages that can help reassure or inform your employees about what's coming.
---
CATCH UP WITH OUR REPORT
More than half (57%) of social media managers say they plan to leave their current position within two years, according to a new survey from the Institute for Public Relations, Ragan Communications and the University of Florida. Though these managers are ambitious, the career path to social media leadership roles remains unclear.
The report sheds light on social media pros' career trajectory as well as the challenging lack of resources and employee burnout that's on the rise. Check out the findings here.
To learn more about how to prepare for the future of social media and more, join us at Ragan's Future of Communications Conference, Nov. 10-11.  You'll learn from PR, social media, marketing and internal communications experts about the top trends and what's on the horizon for the industry.
---
SOCIAL BUZZ
TikTok has partnered with e-commerce platform Shopify, connecting the social media app's more than 500 million users to the e-commerce company's more than 1 million merchants.
We just launched our sales channel on @Shopify! Create video ads, track results, and manage your orders all from within Shopify. It's like a hat trick, except a bag trick. 👇

— TikTok For Business (@TikTokBusiness) October 27, 2020
We're excited to be teaming up with @Shopify and helping more than one million merchants reach new audiences on TikTok! Learn more here https://t.co/emxwYiTuQV

— TikTok_Comms (@tiktok_comms) October 27, 2020
These ad tools allow merchants to create native, shareable content that turns their products into In-Feed video ads that will resonate with the TikTok community. Merchants will be able to target their audiences across gender, age, user behavior, and video category, and then track the campaign's performance over time. The campaigns' costs will vary, based on the merchant's own business objectives and how much they want to spend.
---
EDITOR'S PICKS

Whether your WFH setup is an office space or a spot at your kitchen table, candles are an inexpensive and easy way to provide ambiance and make your space cozy. Doing so can help decrease stress and increase concentration, so you can better respond to crises and engage with your consumers and employees.
Consider these candles:
---
WHAT YOU SAID
We asked if your routines and habits have shifted to digital formats, or if you still use paper and pen for notes and to-do lists, and more than 75% of you use a hybrid, with 13% putting all your work in the cloud, and nearly 12% staying old school with paper copies:
Many PR and marketing strategies have shifted to a digital-first focus, but what about your day-to-day processes such as note taking and to-do lists, communicators? Are you more digital or analog?

Share your thoughts with us and we'll dish in tomorrow's #DailyScoop.

— PR Daily (@PRDaily) October 27, 2020
Is there a question you'd like us to ask in an upcoming poll? Let us know!
---
SOUNDING BOARD
With the growing trend of consumers purchasing online, are more of your marketing campaigns including e-commerce strategies?
With the growing trend of consumers purchasing online, are more of your marketing campaigns including e-commerce strategies?

Share with us below and we'll reveal in tomorrow's #DailyScoop.

— PR Daily (@PRDaily) October 28, 2020
Share your thoughts below and under the hashtag #DailyScoop, and we'll share the top replies in tomorrow's roundup.
Editor's note: Ragan Communications may earn a commission through our affiliate partnerships when purchasing items in our content.
COMMENT