Ocean Spray skates into viral TikTok trend, Microsoft and Wells Fargo defend DE&I commitments, and Petco stops selling 'shock' collars
Also: Kraft asks consumers to 'send noods,' Netflix faces charges in Texas for promoting 'Cuties,' many think cyberattacks will be more common during COVID-19, and more.
Hello, communicators:
Kraft Macaroni & Cheese launched a saucy campaign, encouraging consumers to send one another "noods":
Sending hot and steamy noods lets people know you care. Tweet us using #SendNoods and #Giveaway for the chance to send noods.

No purchase necessary. 18+ 10/6 – 10/11 while supplies last. Rules @ https://t.co/v3FCaSGdaK pic.twitter.com/YH1Z6awdeW

— Kraft Macaroni & Cheese (@kraftmacncheese) October 6, 2020
Consumers are sharing their requests under the #SendNoods hashtag for a chance to win a prize, as well, giving the campaign more momentum as it makes headlines and social media conversation.
Here are today's top stories:
Ocean Spray skates into viral TikTok trend
The company gifted popular TikTok creator Nathan Apodaca a cranberry-red truck filled with bottles of its Cran-Raspberry juice after his video went viral.
The Sept. 25 video, which racked up more than 4.3 miillion views in less than 24 hours on TikTok alone, features Apodaca riding on a longboard to work, drinking a bottle of Ocean Spray and jamming to Fleetwood Mac's "Dreams":
Mick Fleetwood joined TikTok to post his own version of the viral video, with the caption, "Dreams and Cranberry just hits different." It's garnered more than 1.6 million views so far.
On Oct. 6, Ocean Spray's chief executive, Tom Hayes, also joined the social media app and posted another version of the video, which has racked up more than 1.6 million views at time of publishing:
@tomhayes603

Did we just become best friends? @mickfleetwood @420doggface208
Apodaca posted a video thanking Ocean Spray for the gifts, which grabbed roughly 9.7 million views:
Twitter user Thanasi P. shared the effect that the viral video had on both the 1977 Fleetwood Mac hit and on Ocean Spray:
This video went viral on TikTok.
– 25 million views and counting.
– Ocean spray sales are though the roof.
– Fleetwood Mac's song is in the top 10 after 40 years.
– Ocean spray bought him a car. #PowerOfSocialMedia #SocialMedia #dogface208 #420dogface208 #viral pic.twitter.com/VfBHMHF3Fg

— Thanasi P. (@thanasiii) October 7, 2020
Why it's important: Amid the many news headlines of the last few months, many consumers are seeking positive and uplifting content and interactions as a respite. Ocean Spray's response was savvy, making headlines with the gesture of thanks, with many social media users commending Hayes for recording a version. You can also connect with your brand advocates and ambassadors by listening to social media conversations and reaching out with responses and kudos.
---
TACTICALLY SPEAKING
Petco announced its stopping the sale of electronic "shock" collars for pets:
We're saying NO to Shock Collars and YES to positive reinforcement dog training. Join our movement by signing our petition at https://t.co/2v7TqzYreH. #StopTheShock pic.twitter.com/j9RdV0Iyab

— Petco (@Petco) October 6, 2020
The move comes as part of a broader corporate transformation of Petco, which is seeking to establish itself as a health and wellness brand. The company on Tuesday announced it would rebrand in 2021 as "Petco, The Health + Wellness Co."

"Shock collars are not consistent with our mission of improving lives," Petco CEO Ron Coughlin told CNN Business in an interview.
Along with ending shock collar sales, Petco announced in a press release that its rebranding will include more than 40 new in-store veterinarian hospitals, a pet insurance plan called "Vital Care," and a redesign of its website and app that focuses on "digital-first health and wellness resources."
Petco will also offer a digital "Right Food Finder" tool that matches products to pets' nutritional needs and promised to remove "artificial colors, preservatives and flavors" from its aquatic life and small animal food by 2021. The company implemented this standard for dog and cat foods in 2019.
---
MEASURED THOUGHTS
Willis Towers Watson's 2020 Cyber Risk Outlook Survey revealed that 86% of respondents think the frequency of cyberattacks will increase because of COVID-19, with 54% thinking the attacks' severity will rise: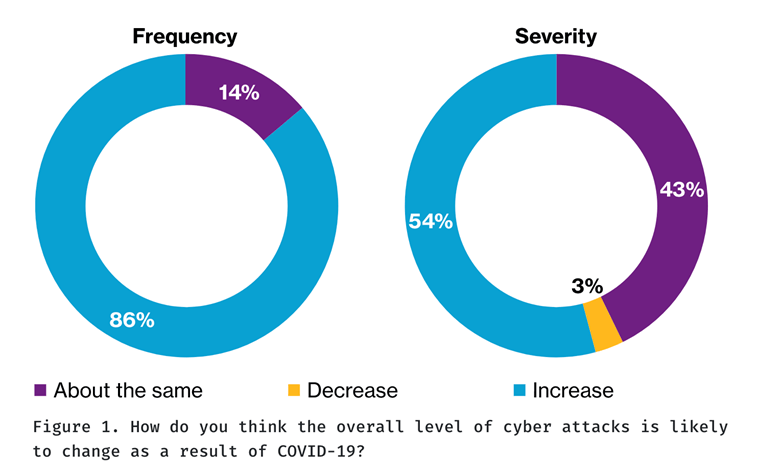 Image courtesy of Williis Towers Watson.
 More people are preparing for the effects of a cyber attack, as well. Thirty-three percent of respondents said they felt a cyber crisis costing $10 billion or more will likely happen within the next five years, as compared with the 13% who thought so before COVID-19: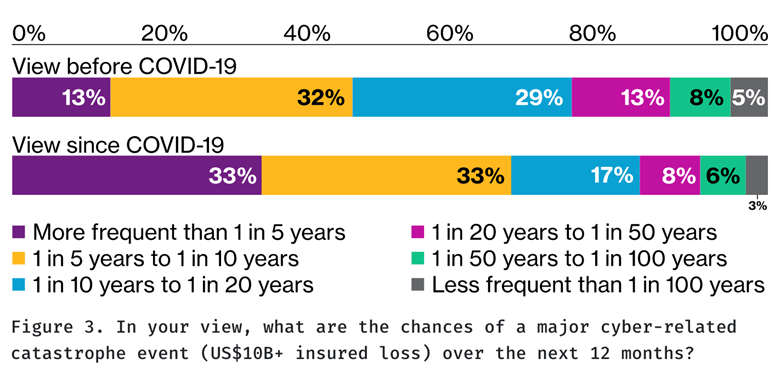 Image courtesy of Williis Towers Watson.
Regardless of where your thoughts and expectations fit with those of the survey respondents, it's a good time to do an audit of your cybersecurity practices. That includes revisiting your crisis strategy, consulting with your security and IT teams to learn about changes in the landscape and potential threats, and training both employees and leadership on cybersecurity best practices.
You can read the entire report here.
---
CRISIS LEADERSHIP NETWORK
Looking for more insight on how to address the current global crisis and lead your organization into a strong recovery?
Join Ragan's Crisis Leadership Network to network and brainstorm with peers, get the latest intelligence and research and start to strategize for the future of your organization.
Learn more about this exclusive membership here.
Microsoft and Wells Fargo defend DE&I commitments after Labor Department query 
The companies have released statements about their diversity and inclusion comments made in June, including their promises to double the number of Black managers and leaders within their respective workforces by 2025, following queries from the U.S. Department of Labor on whether those promises violate federal laws.
The move follows an executive order from the Trump administration banning government contractors like Microsoft from offering certain types of racial sensitivity and other kinds of diversity training.

"It looks like the administration is beginning a concerted strategy to tamp down on organizational (diversity, equity and inclusion) efforts," said Joelle Emerson, founder and chief executive officer of diversity and inclusion strategy firm Paradigm.
In a blog post, Microsoft's corporate vice president and general counsel, Dev Stahlkopf, wrote:
We believe it is a core part of our mission to make our company, our community and our country a place where people of diverse views and backgrounds are welcomed and can thrive. We know that as a company and a country we have more work to do to expand opportunity. We look forward to helping the OFCCP understand the legality of our programs as we work towards a shared goal of promoting diversity in full conformity with federal law.
The Wall Street Journal reported:
A Wells Fargo spokesman said the bank "is committed to and taking action to become a more diverse and inclusive company. Numerous efforts are under way to implement changes at all levels of the company, and we are confident that they comply with U.S. employment laws."
 Why it's important: When you create DE&I goals and initiatives, involve your entire organization. Doing so can help you set meaningful commitments to which you can be held accountable, as well as incorporate valuable feedback from your workforce and help both communicators and your legal team prepare for potential crises, such as a federal investigation or inquiry.
---
DOWNLOAD OUR REPORT 
Though 70% of communicators are not looking beyond 2020 in terms of strategic planning, they also don't expect our current state of crisis to ease up by the end of the year. Operating in a constant state of crisis and rapidly responding to events throughout the world are top challenges for communicators, our recent report, Ragan Survey of Internal Communicators, revealed.
The survey sheds light on top challenges, with insights including top issues, what the "return to the office" looks like, which departments internal communicators will collaborate with the most and more.
To learn more about how to rise to the challenges facing organizations across industries, join us at Ragan's Internal Communications & Employee Experience Virtual Conference on Oct. 14. You'll learn from internal and employee communications experts from National DCP, Deloitte, Charles Schwab, American Psychological Association and more.
---
TACTICALLY SPEAKING
Netflix is facing a criminal lawsuit from Tyler county in Texas for promoting material in the film "Cuties" that "depicts lewd exhibition of the public area of a clothed or partially clothed child," Reuters reported.
Matt Schaefer, a Texas representative, tweeted a picture of the document:
Netflix, Inc. indicted by grand jury in Tyler Co., Tx for promoting material in Cuties film which depicts lewd exhibition of pubic area of a clothed or partially clothed child who was younger than 18 yrs of age which appeals to the prurient interest in sex #Cuties #txlege pic.twitter.com/UJ1hY8XJ2l

— Matt Schaefer (@RepMattSchaefer) October 6, 2020
Netflix gave a short statement defending the film.
Reuters reported:
"Cuties is a social commentary against the sexualization of young children. This charge is without merit and we stand by the film," Netflix said in a statement.
The critically acclaimed film, originally titled "Mignonnes," won its creator, Maïmouna Doucouré, the Best Director reward at Sundance Film Festival. However, Netflix received backlash for its promo images for the film, which it called "inappropriate artwork." Criticism has continued as the film has attracted additional headlines—as well as both supporters and critics.
---
EDITOR'S PICKS 
Gift baskets are a staple for the holidays as organizations, agencies and consultants send both employees and clients their gratitude for working partnerships. Though that tradition might change throughout the holidays during COVID-19, there are many options to make your "thank you" stand out.
Check out these gift basket options:
---
WHAT YOU SAID
We asked if how often you're measuring and reporting on your PR and communications efforts during COVID-19, and nearly 47% of you said you're measuring more. Though almost 27% are measuring less, roughly 17% are keeping the same momentum going for insights and analytics efforts:
Are you measuring and reporting on your PR and communications efforts more or less during COVID-19?

Weigh in below and we'll share in tomorrow's #DailyScoop.

— PR Daily (@PRDaily) October 6, 2020
Is there a question you'd like us to ask in an upcoming poll? Let us know!
---
SOUNDING BOARD
What's your biggest productivity buster as you work from home?
What's your biggest productivity buster as you work from home?

Share with us what snaps you out of your groove–and how you overcome it–below. We'll dish the results in tomorrow's #DailyScoop!

— PR Daily (@PRDaily) October 7, 2020
Share what distracts you and how you overcome it below and under the hashtag #DailyScoop. We'll share in tomorrow's roundup.
Editor's note: Ragan Communications may earn a commission through our affiliate partnerships when purchasing items in our content.
COMMENT
One Response to "Ocean Spray skates into viral TikTok trend, Microsoft and Wells Fargo defend DE&I commitments, and Petco stops selling 'shock' collars"
Ronald N. Levy

says:

The shock collars should be sold to PR firms for use on client executives who "speak their minds" when they should know it may be a mindless way to make themselves feel good while making public esteem bad.

There should be GC (or General Counsel) shock collars for lawyers who at the start of a crisis order PR to "say absolutely nothing" until cleared by legal. Savvy journalists my have fun with this by asking "isn't it a fact" that management broke six of the Ten Commandments in one day? See how the story comes out if you say "I can't comment on that until we complete our investigation."

(May you not hear it if there's a c-suite roar, "how could PR be so dense?")

Collar is the slang police word for an arrest but activist demonstrators are forcing dedicated police to put needed policing into arrested development. We may see demands that cops should question suspected criminals remotely or at least while standing six feet away.