Pfizer CEO suggests annual COVID booster shots, the average American workweek lengthens, and Facebook pauses Instagram for Kids project
Also: Panera offers parents free java for National Coffee Day, Ford announces plans to bolster electric vehicle supply chain, TikTok hits a billion monthly users, and more.
Hello, communicators:
To mark National Coffee Day, restaurant chain Panera Bread is offering free coffee to parents and caregivers. Framing the promotion as a tease for its monthly unlimited coffee subscription, parents and caregivers need only identify themselves as such to a cashier on Sept. 29 and they will receive a complimentary caffeinated beverage.
Panera says that the promotion is rooted in its own recent survey in which 50% of parents or caregivers said that it takes them more than one cup of coffee to get through the day. Along with the free coffee promotion, Panera is also offering a gallon-sized jug that the company says is perfect for lugging around "from school drop-off and weekly errands to soccer practice and play rehearsal and more."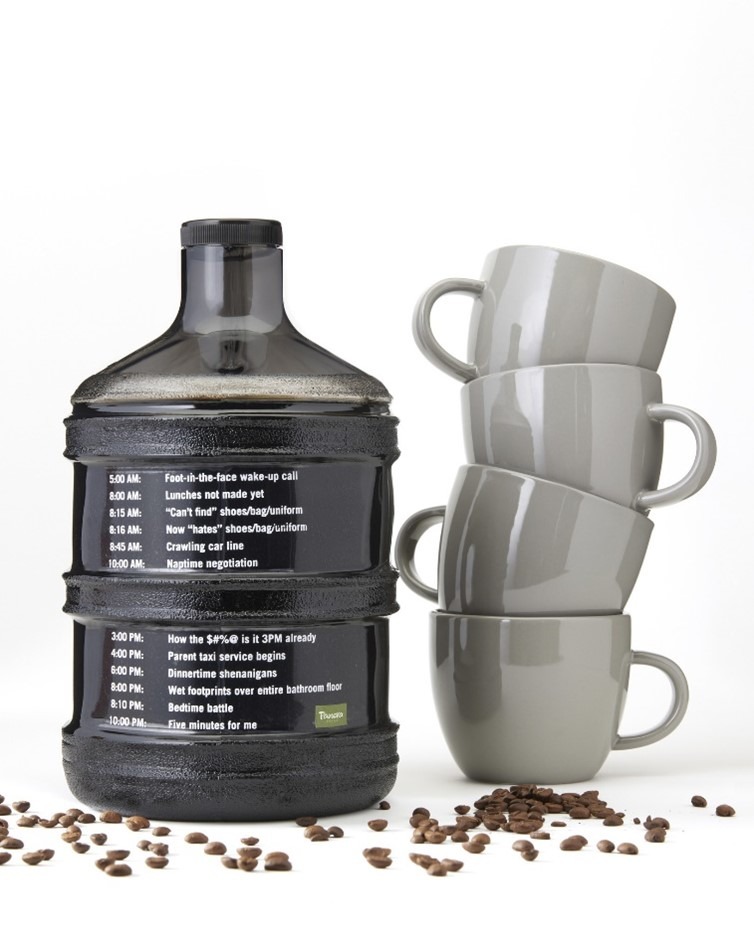 "Whether you are toddler parents, tween parents, teenage parents, older parents, foster parents, tired parents, stressed parents or happy parents, you've had the realization that it's going to take more than one cup of coffee to get you through certain days," Eduardo Luz, Panera's chief brand and concept officer said in a press release. "We are excited to celebrate parents this National Coffee Day by giving them something they can really appreciate: unlimited coffee from Panera."
Panera's plug for its coffee subscription serves as a reminder that your promotions are stronger when focused on the needs of real people—and the power of proprietary insights in identifying opportunities.
Pfizer CEO suggests potential need for annual COVID-19 vaccines
Within days of the CDC sharing its guidelines for COVID-19 booster shot eligibility, Pfizer CEO Albert Bourla says that he expects life will return to normal for most people within the next year. In order for that to happen, Bourla also suggested that annual vaccine booster shots might be needed.
Returning to normal life will have caveats, he said: "I don't think that this means that the variants will not continue coming, and I don't think that this means that we should be able to live our lives without having vaccinations," Bourla said. "But that, again, remains to be seen."

"The most likely scenario for me is that, because the virus is spread all over the world, that it will continue seeing new variants that are coming out," Bourla said. "Also we will have vaccines that will last at least a year, and I think the most likely scenario is annual vaccination, but we don't know really, we need to wait and see the data."

Bourla's prediction about when normal life will resume is in keeping with that of Moderna CEO Stéphane Bancel. "As of today, in a year, I assume," Bancel told the Swiss newspaper Neue Zuercher Zeitung, according to Reuters on Thursday, when asked for his estimate of a return to normal life.
Why it matters:       
Bourla acknowledges that his own words are premature because the data does not yet offer a clear recommendation on booster shot cadence, bringing to mind an instance earlier this year when he apologized to Dr. Fauci for not providing advance notice that Pfizer was seeking authorization for a booster COVID-19 vaccine from federal health authorities. That gaffe came after Bourla suggested a third dose could be necessary during a panel conversation.
This statement is different because it follows a big announcement from the CDC, serving as a reminder that the timing of your executive communications matters. Moreover, your messaging is more effective when it coincides with relevant news and announcements by partner organizations and regulatory bodies. While having data to support your executive's words is important, being transparent about what you do and don't know in a given moment can still be effective, provided your leadership understands how their words act as breadcrumbs as part of a larger, long-term narrative that is being managed by you and your partners.
---
MEASURED THOUGHTS
A new study by Microsoft found the average American workweek is 10% longer since the pandemic started.
"Remote work obviously eliminates in-person communication; however, we found that people did not simply replace in-person interactions with video and/or voice calls," the study found.
"In fact, we found that shifting to firm-wide remote work caused an overall decrease in observed synchronous communication such as scheduled meetings and audio/video calls. By contrast, we found that remote work caused employees to communicate more through media that are more asynchronous—sending more emails and many more IMs. Media richness theory, media synchronicity theory and previous empirical studies all suggest that these communication media choices may make it more difficult for workers to convey and/or converge on the meaning of complex information."
Microsoft's study also found that "people may be spending more time logged on because they are distracted with other obligations while working from home and so are less productive," reports Axios. "This contributes to burnout because the lines between work life and home life are increasingly blurred, experts say."
---
SOCIAL BUZZ
TikTok says that it has surpassed one billion monthly users, a milestone that chief operating officer Vanessa Pappas celebrated on the platform:
At TikTok, our mission is to inspire creativity and bring joy. Today, we're celebrating that mission and our global TikTok community. More than 1 billion people around the world now come to TikTok every month to be entertained as they learn, laugh, or discover something new. We're honored to be a home for our immensely diverse community of families, small businesses, and creators who transform into our favorite stars.

TikTok has become a beloved part of life for people around the world because of the creativity and authenticity of our creators. Our global community is remarkable in its ability to reach millions of people, across generations. From music, food, beauty and fashion to art, causes, and everything in between, culture truly starts on TikTok.

Whether you're in Singapore, São Paolo, Stockholm, or Seattle, we celebrate YOU – the creators who inspire us, the artists who launch chart-breaking albums, the brands who help us discover and connect with products we love, the communities who lift us up, and all the people who keep us laughing and dancing.
Thank you for making this journey so special.
TikTok's milestone highlights just how much short-form video has grown in popularity during the pandemic, even as competitors launched products like Instagram Reels and YouTube shorts. TikTok's statement on the milestone also highlights how your brand or organization can position itself for success by not only celebrating your wider community as an extension of your brand values, but by providing that community with the platform and resources to share their own values, too.
---
TACTICALLY SPEAKING
Ford Motor Company executive chairman Bill Ford is framing the manufacturer's new $11 billion manufacturing plant as part of Ford's larger commitment to electric vehicle manufacturing, including developing a domestic supply chain for batteries and bringing down the price of electric vehicles.
"We need to, as a country, decide—do we want to have a domestic battery industry? And that's something that's kind of starting tomorrow," Ford said in an interview conducted Monday, before the company publicly announced its new manufacturing plants. "We'll be importing a lot of these batteries initially, but then they stay within our country and start to be remade into American batteries, if you will."

"That does require us to completely remake our company in many, many ways. And we're in the process of doing that," said Ford, who is the great-grandson of Henry Ford. "My great-grandfather was the ultimate sort of disruptor," Ford said. "And I think if he looked at what we're announcing … he might just say, what took you so long? And he'd be right."
From Ford touting its electric pickup truck as being designed for the everyman to Mercedes-Benz sharing its plans to go fully electric, the future of electric vehicles crosses many demographics. Ford takes its everyman image further by tying its electric vehicle plans to American infrastructure and innovation, along with an added emphasis on family legacy.
---
TAKE OUR SURVEY
If you're looking for benchmark data to show your bosses the next time you ask for a raise, lend us a hand—and help yourself and your peers while you're at it. Participate in Ragan's Salary & Workplace Culture Survey, a comprehensive look at salaries, benefits, culture, bonuses and other aspects of the job in a fast-moving industry.
Both internal and external communicators are encouraged to participate.
By taking part, you will receive a $150 discount to a Ragan virtual conference of your choice and be entered to win one of five $50 gift cards. All who complete the survey will receive a full report on the findings. Responses are anonymous.
Facebook to pause Instagram Kids project
Facebook says that it will pause its planned Instagram Kids project to work more closely with parents and policymakers on the project in order to demonstrate its value.  The announcement follows criticism from 44 states that asked Facebook to cease developing the project, and a request from Democratic lawmakers for more detail about the project.
In a blog post on the company website, head of Instagram Adam Mosseri also acknowledged a recent investigative series by The Wall Street Journal (WSJ) reporting that the company knew Instagram could lead to mental health issues for teen girls.
While we stand by the need to develop this experience, we've decided to pause this project. This will give us time to work with parents, experts, policymakers and regulators, to listen to their concerns, and to demonstrate the value and importance of this project for younger teens online today.

Recent reporting from the WSJ on our research into teen's experiences on Instagram has raised a lot of questions for people. To be clear, I don't agree with how the Journal has reported on our research. My colleague Pratiti goes into this more here. We do research like this so we can make Instagram better. That means our insights often shed light on problems, but they inspire new ideas and changes to Instagram. Examples include our industry leading anti-bullying work such as Restrict, Hidden Words, and Limits, and our recent changes to make Instagram accounts private by default for those under 16.

Research also informs our work on issues like negative body image. We announced last week that we're exploring two new ideas: encouraging people to look at other topics if they're dwelling on content that might contribute to negative social comparison, and a feature tentatively called "Take a Break," where people could put their account on pause and take a moment to consider whether the time they're spending is meaningful.

I have three children and their safety is the most important thing in my life. I hear the concerns with this project, and we're announcing these steps today so we can get it right.
 What it means:
While critics of Facebook's policies further knocked the social media company for its delayed response to the Wall Street Journal series, this blog post gets several elements of a crisis response right. Those examples begin with Mosseri extending an olive branch to the project's most vocal critics and setting a precedent to work with them, though the extent of those partnerships remains vague.
Mosseri's frequent use of hyperlinks to support its efforts include the decision to refute the WSJ series' claims with a link to a longer rebuttal, demonstrating it understands that an abundance of defensiveness in your messaging can obscure your core message about moving forward. The post also links to several initiatives that show the company has been working to address bullying and toxicity on Instagram for some time, although it fails to explain the extent to which those efforts are "industry leading" with hard results.
By ending on a note about his children, Mosseri also effectively demonstrates that he has a personal investment in protecting the experience that kids have on the platform.
COMMENT
One Response to "Pfizer CEO suggests annual COVID booster shots, the average American workweek lengthens, and Facebook pauses Instagram for Kids project"
Ronald N Levy

says:

Pointing out the need "to completely remake" the company, Ford says Henry might have asked: "What took you so long?" Notice how that question may apply to PR.

THE SITUATION NOW is that the PR program is made mainly to communicate goodness—how good the company and products are.

THE COMING SITUATION—as online media make consumers more aware and as publicity-seeking political leaders become more accusatory of big business and threatening—is that we may "completely remake" PR to have a new objective: not just to communicate how good we are but to focus on how good we can BE and should be.

Like should PR mainly communicate our antipollution and other health protection efforts or should we lead in taking a fresh look at how CAN we protect public health?

Today we communicate how we donate perhaps millions a year to hundreds of good causes but should we donate perhaps a billion—an actual whole billion—over the next ten years so we not only look generous but achieve tremendously? Could a PR-inspired expenditure pay off for clients so our great PR firms double or triple in billings?

Richard Edelman and some Omnicom bigwigs have helped lead the way in companies recognizing that reputation is not so much gained through communication as through ACTION that communication makes known. Edelman's father Dan, when he walked out of Carl Byoir & Associates with the Toni account, a split that led to many similar ones in PR, showed that a PR leader's ACTION could do more for the public and more for a client than could communication alone.

The Covid pandemic has focused public attention on the public's health and focused attention by great PR firms to the question of can we remake PR so we have the nerve to propose PR programs that focus on SERVING the public more hugely rather than on mainly communicating to the public how we serve now?

Covid vaccines are here. Cancer vaccines and heart disease vaccines could be coming. Great medical teams at Johns Hopkins, Cleveland Clinic, Stanford, Memorial Sloan Kettering Cancer Center and elsewhere are close to breakthroughs if there are breakthroughs in research budgets. Google shows under "cancer vaccines" that at least one limited-use cancer vaccine already has FDA approval. Several times each year top research teams make worldwide news of progress.

Heart and cancer vaccines could mean millions of lives saved. For many companies—like Amazon, Apple, Facebook, Google and Microsoft that could easily lose tens of billions in coming years because of Washington—successful new vaccines could also mean reduction or cessation of political accusations from Washington. For the great PR firms, new PR budgets may be not just millions but for a whole decade perhaps actually a whole billion.

The public's need is there as is the corporate opportunity to benefit. PR firm leaders with the nerve of Dan Edelman could make it happen. Nervy old Henry Ford might ask: "What took you so long?"