Facebook defends plans for kid-centered Instagram, YouTube viewers increasingly consume videos about everyday tasks, and NBC drops Golden Globes
Also: AAA seeks to calm consumer fears over gas shortage, Twitter tip jar posts home addresses, and Patagonia's CEO shares strategies for activism campaigns.
Hello, communicators:
The Hollywood Foreign Press (HFPA) and its Golden Globes awards mark the latest high-profile example of what happens when an organization takes too long to enact reform and improve diversity, equity and inclusion.
Following reports from earlier this year that the HFPA did not have one Black member in 20 years, last week the HFPA proposed new policies intended to diversify its membership and practice more inclusive nomination practices. Netflix and Amazon Studios added pressure, claiming they would not work with the HFPA until "more meaningful changes are made."
Now NBC has announced that it won't air the Golden Globes award show, joining Netflix and Amazon in demanding results.
"'We continue to believe that the HFPA is committed to meaningful reform. However, change of this magnitude takes time and work, and we feel strongly that the HFPA needs time to do it right. As such, NBC will not air the 2022 Golden Globes,' NBC said in a statement on Monday," reports CNN.  "The network added that assuming the organization 'executes on its plan, we are hopeful we will be in a position to air the show in January 2023.'"
What steps are you taking to hold your brand or organization's high-profile partners accountable for their reputational failings? When distancing yourself from a problematic partner, craft messaging that firmly explains your decision and urges action, but leaves a door open for the relationship to resume.
Facebook pushes back on criticism of planned Instagram for children
State prosecutors for 44 states and jurisdictions have called on Facebook to stop working on a version of Instagram for kid users, citing multiple concerns that include mental and emotional well-being, vulnerability to online predators and cyberbullying. In a letter to Facebook CEO Mark Zuckerberg, the prosecutors cited Facebook's poor record of protecting children online and reinforced federal children's privacy rules, which require companies to seek parental permission before collecting data for kids under 13. Instagram currently has a minimum age requirement of 13.
"Without a doubt, this is a dangerous idea that risks the safety of our children and puts them directly in harm's way," Letitia James, New York's attorney general, said in a statement. "There are too many concerns to let Facebook move forward with this ill-conceived idea, which is why we are calling on the company to abandon its launch of Instagram Kids."

…"As every parent knows, kids are already online," Andy Stone, a Facebook spokesman, said in a statement. "We want to improve this situation by delivering experiences that give parents visibility and control over what their kids are doing."
Why it matters:
Facebook's response to state prosecutors serves as a reminder to craft crisis responses that acknowledge the specific concerns of your detractors without dismissing them.  After acknowledging the concerns, align with your detractors by emphasizing that your brand or organization shares the same concerns—and assure them that you will take actions to address each concern in detail.
---
MEASURED THOUGHTS
A report by YouTube found that U.S. viewers increasingly relied on the video platform to connect with creators performing everyday tasks. Average daily views of videos with "cook with me" in the title have increased by over 100% since March 15, compared to their average views for the rest of the year. Average daily views of videos with "#withme" in the title have increased by 600% since March 15 compared to their average views for the rest of the year.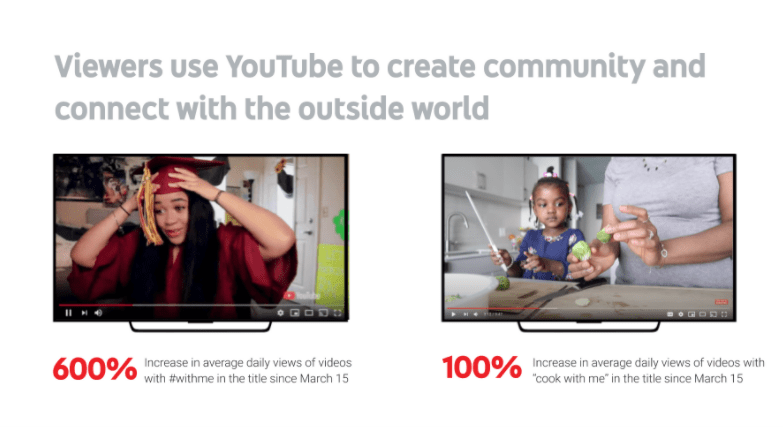 In this time of displacement and remoteness, providing resources to your stakeholders doesn't have to take the form of services that are directly tied to your brand's core business. Offer stakeholders a sense of connection by spotlighting employees, influencers and other personalities in your brand orbit who can foster connection just by being themselves.
Create content that is designed to encourage stakeholder behaviors beyond immediate engagement by promoting tasks and resources that more broadly tie into your mission and values.
Read the full report from YouTube here.
---
SOCIAL BUZZ
Twitter has launched a tip jar feature that allows users to send money to support other users whose posts they enjoy. However, a record of the tips, which are facilitated using PayPal, can sometimes reveal the sender's home address.
Security researcher Rachel Tobac has noticed that tipping someone via the Tip Jar might reveal your home address to that person, which is a potentially dangerous privacy problem (not to mention that it's completely unnecessary in most cases).

It doesn't happen in all instances. Tip Jar lets you choose a payment provider before you "tip" a Twitter user, and if you choose PayPal, the receiver will see your home address when they receive the tip.

Twitter product lead Kayvon Beykpour has acknowledged the issue, saying that it's a problem on PayPal's side. "We can't control the revealing of the address on PayPal's side but we will add a warning for people giving tips via PayPal so that they are aware of this," he tweeted.
With monetization opportunities comes privacy concerns. Remember to ask your software and platform partners about any potential privacy blind spots from the outset to ensure that your messaging about the launch of the partnership or feature complies with industry privacy standards and that the rollout goes smoothly.
---
RAGAN'S 2021 BENCHMARK REPORT
Ragan has released its annual Communications Benchmark Report, an exclusive study from Ragan's Communications Leadership Council that analyzes the major trends in the profession over the last year.
During that time, comms pros have been called on to develop and distribute messages on new policies that affect internal and external stakeholders alike. Their role has become more essential as they helped keep their organizations focused and moving forward. They've seen their access to the C-suite increase throughout 2020, and they forged important new alliances with peers in other departments, including HR, finance and workplace wellness.
Culled from more than 750 respondents, the 32-page report is available in its entirety exclusively to members of the Communications Leadership Council.
Download your copy of the exclusive Benchmark Survey Executive Summary today and get a crucial competitive advantage that will fuel your success for 2021 and beyond.
---
TACTICALLY SPEAKING
Patagonia CEO Ryan Gellert detailed his company's approach to corporate activism in a feature with The Los Angeles Times. The clothing brand, best known for its outdoor wear, has garnered a reputation for calculated risks by taking activist stances on many pressing issues pertaining to the environment, social justice and more.
Gellert explained that Patagonia's activist stances are not monetized, but undertaken based on a deep understanding of the brand's audience and its values:
The retailer figured out a key lesson early: For all the corporate hand-wringing about losing customers, boycott threats are often limited to just that.

Even the free publicity of a backlash can be advantageous, brand strategists say.https://t.co/TBH8omXCna pic.twitter.com/wY9RHqbVUc

— Los Angeles Times (@latimes) May 10, 2021
He also dismissed concerns of a brand boycott impacting Patagonia's bottom line:
Some called for a boycott and told the retailer to stay out of politics. "You've decided to get woke so now you can go broke. So I guess it's #boycottpatagonia time," read one tweet.

Going broke doesn't appear to be much of a risk at the moment.https://t.co/TBH8omXCna pic.twitter.com/jJIqls9XsE

— Los Angeles Times (@latimes) May 10, 2021
A calculated risk only pays off for your brand or organization if it is calculated properly. Partner with your marketing team to conduct research on stakeholder sentiment and behavior before sharing any external values messaging to ensure that the messaging will engage more people than it will repel.
---
COMMUNICATIONS WEEK
Ragan is delighted to add industry event and thought leadership brand Communications Week to our portfolio. You can read the full press release here.
"We are reimagining Communications Week as a year-round endeavor," says Ragan Communications CEO Diane Schwartz. "The rollout will begin next month with thought-provoking content on the future of communications on Commsweek.com, Ragan.com and PRDaily.com, culminating with a weeklong series in November that will feature conferences, networking events, workshops, webinars and more."
The flagship event for 2021 will take place Nov. 15-19. Stay tuned for updates on the many opportunities and offerings that will help communicators connect, learn and celebrate their achievements later this year.
AAA seeks to calm fears following pipeline hack that threatens U.S. fuel supply
Last week the Colonial Pipeline, which carries 45% of fuel supplies for the Eastern U.S., took its systems offline following a ransomware attack. As a result, The Department of Transportation has issued an emergency declaration for 17 states and D.C. that eases restrictions on tanker trucks transporting fuel. In response, the American Automobile Association [AAA] warned drivers that increased gasoline prices could continue well into the summer—but urged them not to panic.
"AAA forecasts gas prices to climb this week in reaction to the shutdown of the Colonial Pipeline," AAA said in a statement. "The longer the pipeline is offline, the larger the impact on the east coast."

On Monday afternoon the [pipeline] company said it was aiming to have all of its operations back online by the end of the week. The company issued another statement Monday evening saying one of its mainlines was open again, but on a limited basis and under manual operation.
But April Engram with AAA [says] not to panic yet. When it comes to fuel, "We have an ample supply in the U.S. at the moment." She adds, "Drivers in our Western and Central New York region, they should not feel the need to panic."

But if this goes on too long, we could see summer prices soar. "Hopefully, the pipeline is remedied soon," she says. AAA did say we're also transitioning to 'summer blend' fuel which is more expensive than 'winter blend' fuel, also adding to the uptick we're seeing here and across the US.
Why it matters:
AAA's response serves as a reminder that an artful crisis response walks the line between calming stakeholder concerns and holding partner organizations accountable. When a crisis befalls your industry, craft messaging that is forthcoming with your stakeholders about how it impacts them while publicly putting pressure on the organization directly responsible for mitigating the crisis to act swiftly.
Whenever possible, use your brand or organization's expertise in the space to provide insights that lay bare any impacts the crisis will have in the long run.
---
CONFERENCE ALERT
Communicators are in a unique position to collaborate with other DE&I leaders to foster unity, build a stronger internal and external brand reputation, maximize innovation and improve the bottom line. The days of brands comfortably remaining silent are gone as employees and customers are demanding impactful change.
Join us at Ragan's Diversity, Equity and Inclusion conference on May 19 and glean timely strategies to educate, engage and uplift your employees and customers in the wake of unparalleled uncertainty, political upheaval and a new mandate for social justice change.
Learn powerful insights and approaches from speakers at organizations including Ben & Jerry's, Reebok, Warner Music Group, E.W. Scripps, NielsenIQ, Facebook and more.
---
SOUNDING BOARD
Has your company or organization ever responded publicly to problematic partners when their behavior reflected negatively on your brand or your industry?
Has your company or organization ever responded publicly to problematic partners when their behavior reflected negatively on your brand or your industry? As a reminder, your responses are completely anonymous. #DailyScoop

— PR Daily (@PRDaily) May 11, 2021
As a reminder, your answers are entirely anonymous. We'll share the results in tomorrow's roundup.
COMMENT
One Response to "Facebook defends plans for kid-centered Instagram, YouTube viewers increasingly consume videos about everyday tasks, and NBC drops Golden Globes"
Ronald Levy

says:

Good intentions can lead to bad results when politicians want to impose corporate restrictions to reduce freedom of communication.

What used to be called flirting is now said to show that the flirter is a "sexual predator." Trump's claims of a rigged election are what many would call baloney (or worse). But if an "omerta" rule is slapped on even mild flirting, and if those left or right of Trump are barred from freedom to communicate via Facebook and Twitter, does that deprive women and the public of freedom to know what Romeos, Trumpers and anti-Trumpers would like to say?

Freedom of speech benefits not only those who speak but those in the public who might want to listen. Since no one can stop kids from communicating on the street, in schoolyards and on the telephone—in each case a venue parents can't monitor—might it be the opposite of beneficial to prevent kids from communicating online where parents could be enabled to monitor in real time and later?

When politicians say they want to reduce freedom of kids to communicate, should we be surprised at future proposals to ban communications (as from PR sources!) that some politicians don't approve?

What Facebook, Amazon, Google, Microsoft and other large companies should focus on is the question of "What good are you?" How is the public better off because you're there? How would the public be worse off if Washington emasculated a big percentage of your income in order to serve what some politicians consider the public interest?

Federal law bans trading on inside information but not on outside possibilities so should endangered big guys—Facebook, Google and the others—either come up with more impressive answers to "What good are you" or else risk
that publicity-seeking politicians may show these companies the hard way that they should have given the public a more persuasive answer?

A giant good deed–like funding a ten-year, $100 million hunt for a cancer vaccine by Johns Hopkins, Stanford or Memorial Sloan Kettering Cancer Center—is like life insurance except that instead of paying in the event of death, it's the kind of life insurance that can reduce the peril of corporate death or injury. Would the American public, knowing that one in every four of us today is likely to die of cancer, STRENUOUSLY oppose any government action harming Facebook, Google or another giant spending $100 million over the next ten years to find a cancer vaccine and protect our lives?

Why spend so much money? Because protecting the public against cancer protects the protecting company against political opportunists who'll seek popularity by restricting the freedom of a company that is less loved. Almost any major injury by Washington could cost a major company a billion or several billion but it doesn't have to happen.

Common sense might be to say not Corporate Social "Responsibility" but Corporate Social "Opportunity"—the opportunity to try protecting the public against cancer because this would also protect the company against a corporate peril, Stage III or IV Political Tumor that can be metastatic and agonizingly painful and expensive.

Fortunately, a public good deed that's big enough can be like a corporate vaccination that's good enough to immunize against billion dollar Washington woe.