How web links expire over time, USDA explains program to forgive minority farmers' debt, and Ford's electric truck push
Also: Big Milk goes over the edge, Amazon responds to alleged hate crime, and Twitter readies subscription service.
Hello, communicators:
The national milk processors' organization, MilkPEP, has debuted a new slogan and campaign that aims to reposition milk as "the original sports drink" with an edgy new tone that MilkPEP CEO Yin Woon Rani says has "more swagger and attitude" compared to past campaigns.
"The messaging aims to tap into at least a few macrotrends—consumers are taking better care of themselves since the pandemic and gravitating toward food and drinks with fewer additives and cleaner labels," reports Adweek. "New data shows, for instance, that milk has 13 nutrients that fuel athletic performance and only three ingredients total (milk, vitamins A and D), as opposed to sports drinks' multiple-ingredient recipes with added sugar, flavors and color."
Enlisting pro climber Kai Lightner to scale a climbing wall atop a 30-story building, MilkPEP is making its case as an extreme beverage:
The campaign serves as a reminder that consumer data trends can anchor any bold image refresh or rebrand by arming your advertising teams with context that keeps your efforts from appearing opportunistic or seeming to pander to changing audiences.
US Department of Agriculture explains debt forgiveness for minority farmers
The US Department of Agriculture (USDA) has restarted a debt and loan forgiveness program for minority farmers as part of a federal stimulus package that had been delayed for several months. The $4 billion program, which should provide debt relief to up to 13,000 farmers, aims to remedy what civil rights leaders have considered to be centuries of mistreatment toward farmers of color by the federal government.
In a statement, [Agriculture Secretary Tom] Vilsack repeated his commitment to "ending discrimination wherever it exists at USDA and working like never before to gain the trust and confidence of America's farmers and ranchers."

Vilsack directs those who perceive the USDA relief program as reverse racism to read a book by Natalie Baszile called "We Are Each Other's Harvest."

"There's a very specific chapter about the steps that were taken by USDA over the last 100 years, policies were implemented that specifically twisted in a way that disadvantaged socially disadvantaged producers," Vilsack said. "There's no better example of that than the covid relief efforts. Billions of dollars went to White farmers, because the system is structured in a way that gives them significant advantages."
What it means:
Vilsack named past injustices, acknowledging the history or racial discrimination and cites an established expert source to build credibility on this important issue. The comms effort is a reminder that your messaging around a contentious position or decision can land softer when you address the concerns of your detractors with educational resources.
---
MEASURED THOUGHTS
A study by Harvard Law School has found that many important hyperlinks are lost on the web over time, a phenomenon known as "link rot."
Using The New York Times as an example of a wider phenomenon (because of the publication's reputation for its archiving practices) the study looked at over 550,000 articles containing over 2.2 million links to external websites and found that 6% of links from 2018 were "dead," while 72% of links from 1998 were inaccessible.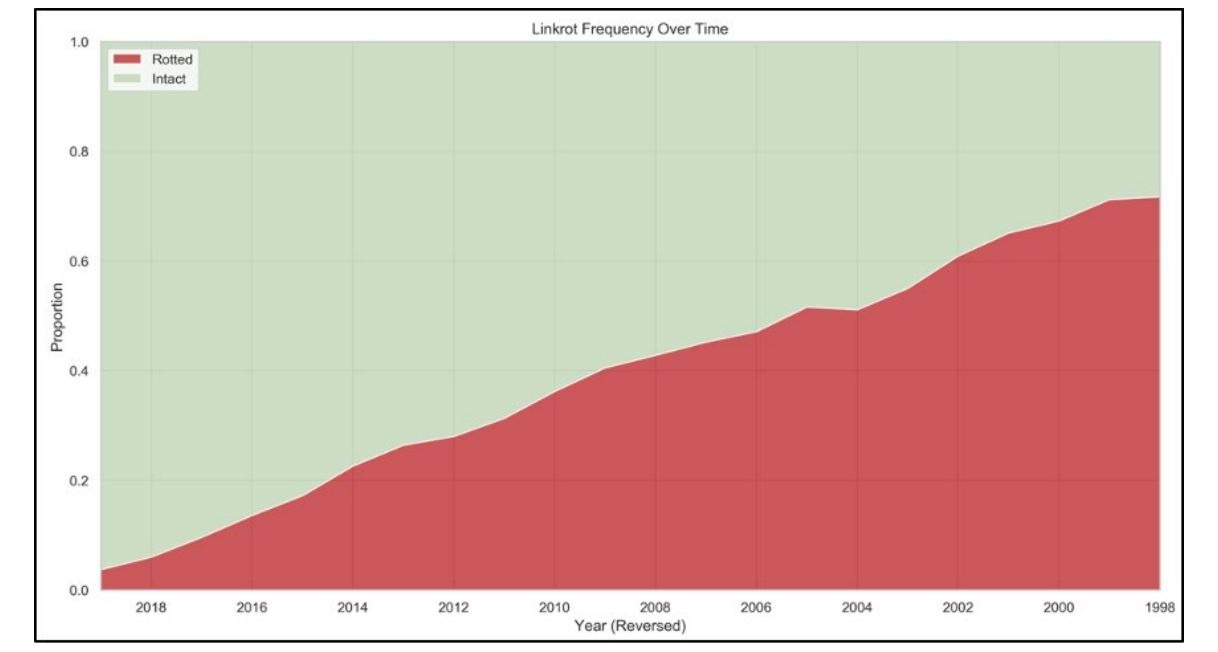 Courtesy of Harvard Law School
These numbers are important for communicators to consider because each dead link means a loss of context that could affect the way your company or organization is represented in a story. Partner with audience development experts to perform consistent audits of your media coverage with particular attention to the stories that generate the most referrals and leads for your company or organization. Reach out to outlets if any major media referral sources suddenly vanish, identify where the dead links are within a story and respectfully ask them to swap the link out with a fresh one.
---
CRISIS COMMUNICATIONS
Amazon has shut down its Connecticut construction site for a new fulfillment center after seven nooses were discovered on property until more safety precautions can be put in place. The company and its development partners are also offering a $100,000 reward for information related to the culprit.
"We continue to be deeply disturbed by the incidents at this construction site," Brad Griggs, an Amazon representative, said at a news conference on Thursday with Black elected officials and members of the N.A.A.C.P. "Hate, racism and discrimination have no place in our society and certainly are not tolerated in any Amazon workplace."

Scot Esdaile, the president of the Connecticut State Conference of the N.A.A.C.P., said that the group had met with law enforcement officials and community leaders and that "we still haven't felt that the situation has been dealt with adequately."
Remember to let internal stakeholders know you have their back during incidents of hate or violence through strength in numbers. Show solidarity by issuing joint statements with partner advocacy organizations that are doing work to combat the issue your company is responding to. Provide a platform for your partners to give pushback and hold local officials accountable when the local response is insufficient.
---
RAGAN'S 2021 BENCHMARK REPORT
Ragan has released its annual Communications Benchmark Report, an exclusive study from Ragan's Communications Leadership Council that analyzes the major trends in the profession over the last year.
During that time, comms pros have been called on to develop and distribute messages on new policies that affect internal and external stakeholders alike. Their role has become more essential as they helped keep their organizations focused and moving forward. They've seen their access to the C-suite increase throughout 2020, and they forged important new alliances with peers in other departments, including HR, finance and workplace wellness.
Culled from more than 750 respondents, the 32-page report is available in its entirety exclusively to members of the Communications Leadership Council.
Download your copy of the exclusive Benchmark Survey Executive Summary today and get a crucial competitive advantage that will fuel your success for 2021 and beyond.
---
SOCIAL BUZZ
Twitter is building a paid subscription service model currently known as Twitter Blue that will offer users a suite of tools including the ability to organize saved tweets into searchable collections and the ability to delete tweets within a certain period after posting them.
The project was discovered by developer Jane Manchun Wong:
Twitter is calling their upcoming Subscription Service "Twitter Blue", priced at $2.99/month for now, including paid features like:

Undo Tweets: https://t.co/CrqnzIPcOH

Collections: https://t.co/qfFfAXHp1o pic.twitter.com/yyMStpCkpr

— Jane Manchun Wong (@wongmjane) May 15, 2021
This program launch follows a survey that Twitter sent out to users last year:
😮 Here's a list of features Twitter may be considering for its paid / subscription service

Which would you be willing to pay for? pic.twitter.com/w8vYumrpx3

— Matt Navarra (@MattNavarra) July 31, 2020
The development of Twitter Blue serves as a reminder about how subscriptions and memberships can help your company obtain first-party data from customers and audiences.
---
COMMUNICATIONS WEEK
Ragan is delighted to add industry event and thought leadership brand Communications Week to our portfolio. You can read the full press release here.
"We are reimagining Communications Week as a year-round endeavor," says Ragan Communications CEO Diane Schwartz. "The rollout will begin next month with thought-provoking content on the future of communications on Commsweek.com, Ragan.com and PRDaily.com, culminating with a weeklong series in November that will feature conferences, networking events, workshops, webinars and more."
The flagship event for 2021 will take place Nov. 15-19. Stay tuned for updates on the many opportunities and offerings that will help communicators connect, learn and celebrate their achievements later this year.
Ford CEO touts pickup truck as an electric vehicle for everyone
Ford has received 45,000 preorders for its 2022 F-150 Lightning electric pickup truck in the first two days of reservations being open. The Lightning follows Tesla's 2019 introduction of its Cybertruck, which has yet to go into production.  Ford sold 556,145 gas-powered F-150 trucks in 2020.
"I am looking at this vehicle as a test for adoption for electric vehicles," [Ford CEO Jim] Farley told reporters at the vehicle's unveiling. "We should all watch very carefully how this does in the market."
Farley expanded on the company's hopes for the Lightning in an interview with The Verge, touting the company's interest in electric vehicles as a way to pass savings onto its customers:
Look, Ford was the only major car company to support the Paris accord and the California standards, when it was not popular in Washington, DC. And we absolutely think that to make this move to e-mobility, customers are very rational, they do the math. If electric vehicles are cheaper for them to own and operate, that will be one more thing that makes them more compelling. So we think it's a pretty important initiative for the new administration. The key is going to be to balance a lot of other things beyond just moving to electric vehicles and zero emission, and that is labor in the US.
He also explained that Ford's foray into electric vehicles was based on customer data:
[W]e did a survey recently and asked customers who were intending to buy a pickup truck: if you were going to buy an electric pickup truck, who would you buy it from? Who would you expect to do a good job to come to the market? Ford was by far the most preferred brand. Unlike sedans, where Tesla was a preferred brand. We were way above Tesla [in trucks], because of our history, and we know this customer.
Why it matters:
Farley's shift, from discussing Ford's reputation as an environmentally-minded manufacturer to focus on the low cost to customers, is a reminder that not all stakeholders share the same sustainability concerns as the EPA. Survey customers to find out what they care about before deciding how to position your corporate initiatives. Armed with that data, craft messaging that explains your intentions and satisfies the multiple pieces of specific stakeholder feedback beyond what might be trending in your industry at large.
---
CONFERENCE ALERT
Communicators face a crossroads this year as they anticipate markets recovering and workplaces reopening. Their work crafting a flexible crisis plan and mindful messaging that ensures your brand or organization is ready to handle any future unforeseen situation smoothly will be essential.
Join us at Ragan's Crisis Communications Conference on June 10  to learn timely strategies to help you reimagine your approach to crisis communications, mobilize internal and external stakeholders to be your megaphone and foster goodwill—and make fresh plans for unforeseen obstacles that may arise.
Learn powerful insights and approaches from speakers at organizations including Carnival Cruise Line, KFC, IBM, Amtrak, Mastercard and more.
---
WHAT YOU SAID
On Friday, we asked how long of a break you were taking for Memorial Day. While most of you (73%) are just taking a long weekend off, 15% are not taking any break at all and 12% of you are taking half of this week off. No respondents said they were out for the whole week.
How long of a break are you taking for Memorial Day, PR pros and communicators? #DailyScoop

— PR Daily (@PRDaily) May 21, 2021
Is there a question you'd like to see asked? Let us know by tagging #DailyScoop!
---
SOUNDING BOARD
How is your company addressing the first anniversary of George Floyd's murder, PR pros and communicators?
How is your company addressing the first anniversary of George Floyd's murder, PR pros and communicators? #DailyScoop

— PR Daily (@PRDaily) May 24, 2021
Let us know how you're commemorating the anniversary, internally and externally, in the comments below. We'll share the results in tomorrow's roundup.
COMMENT