REI to sell HQ campus, Tribune Publishing closes five newsrooms, and Facebook warns users who share COVID-19 content
Also: Matthew McConaughey's interview with Dr. Anthony Fauci on Instagram, WFH engagement drops for women and Black employees, Steinmart files for bankruptcy, and more.
Hello, communicators:
On Thursday, Matthew McConaughey interviewed Dr. Anthony Fauci on Instagram Live, where he asked Fauci to clarify common COVID-19 truths and myths:
McConaughey rapidly fired questions at the 79-year-old doctor on everything from how concerned people should be about getting the virus from touching a door knob (not as much as sharing close physical space with someone who is infected, Fauci says) to whether Advil makes symptoms worse (it doesn't).
The video has nearly 677,000 views at time of publishing, showcasing the importance of spreading information through various content formats and channels.
Here are today's top stories: 
REI to sell its campus as Tribune Publishing permanently closes offices
REI was planning to open its headquarters in Bellevue, Washington this summer, but is now looking to sell the custom-built eight-acre corporate campus as it adjusts for the future of its workplace.
The Wall Street Journal reported:
The cooperative said on Wednesday it was trying to find a buyer for the property before ever moving in. Instead of a single headquarters, REI will open a number of smaller offices and allow employees to work remotely, the company said. Employees have been working from home since March.

… "The dramatic events of 2020 have challenged us to re-examine and rethink every aspect of our business and many of the assumptions of the past," REI CEO Eric Artz said in a statement. "That includes where and how we work."
Tribune Publishing closed the New York-based newsroom of The Daily News, along with its offices for the Orlando Sentinel in Florida, The Morning Call in Allentown, Pennsylvania, The Capital Gazette in Annapolis, Maryland, and The Carroll County Times in Westminster, Maryland.
[The Daily News] will continue to be published. The company made no promises about a future physical location. "As we progress through the pandemic and as needs change, we will reconsider our need for physical offices," said a Tribune Publishing spokesman, Max Reinsdorf.
It's no surprise to see Tribune cut real estate costs. During the company's earnings call last week, CFO Mike Lavey said 'reducing our real estate footprint' was among the priorities to 'sustain ourselves for the long term.' Gannett CEO Mike Reed made similar remarks in its earnings call last week, noting that the company planned 'to sell $100 million to $125 million of property by the end of 2021.' And McClatchy put up for sale the Lexington-Herald Leader newsroom which had an interested buyer earlier this summer.
Why it's important: For many organizations, working remotely is here to stay—at least in some capacity. As many continue to grapple with reducing overhead costs and finding ways to boost revenue during COVID-19, the success many have had working from home will pave the way for the future of work. Start preparing now for a hybrid or dispersed workforce.
---
SOCIAL BUZZ
Facebook is rolling out a feature that will show a warning message before you share articles about COVID-19 to your timeline. The message will contain the article's source as well as the date it was first shared, so users can gain additional context before you spread information—and possibly reconsider, if what you're sharing is out of date or coming from an disreputable source.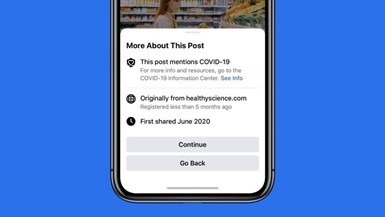 John Hegeman, Facebook's vice president of Feed and Stories, wrote in the company's newsroom:
The notification will help people understand the recency and source of the content before they share it. It will also direct people to our COVID-19 Information Center to ensure people have access to credible information about COVID-19 from global health authorities. Along those lines, we want to ensure we don't slow the spread of information from credible health authorities, so content posted by government health authorities and recognized global health organizations, like the World Health Organization, will not have this notification.
You can help your employees and other stakeholders become more savvy consumers of information by helping them consider where the information they read comes from as well as how old the information is. Sharing that advice can help cut down the spread of misinformation and fake news.
---
MEASURED THOUGHTS
Nielsen released a special edition of its Total Audience Report, which focuses on work-from-home behaviors. In it, Nielsen reported that two-thirds of its survey respondents are new to working remotely, and overall, they're engaged with their current roles and are finding it easier to strike a work/life balance.
However, that engagement drops more when looking at women and Black respondents, highlighting the importance of personalizing both messages and approaches when interacting with audiences form different backgrounds.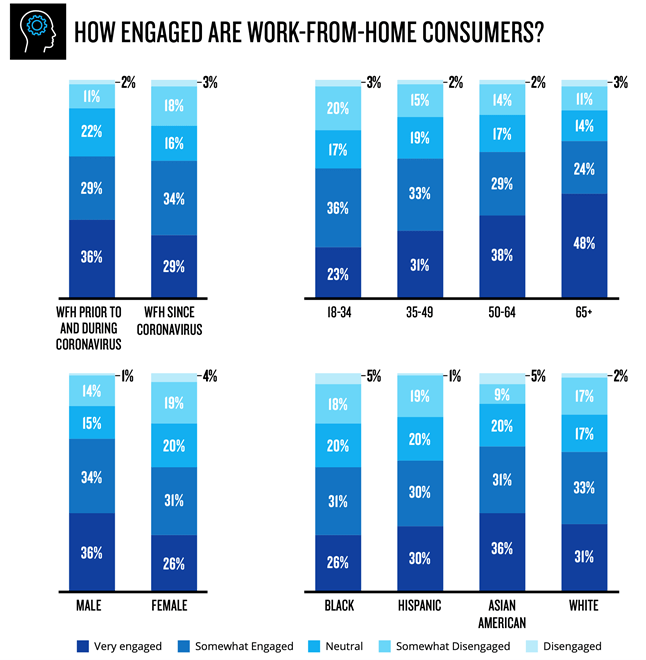 There are a multitude of ways to reach and engage both consumers and employees as they work from home, too. For example, 53% listen to audio content including podcasts at least once per week, with 23% tuning in daily. Social media continues to dominate attention spans as well, with 64% checking into social media platforms during work hours at least once a week.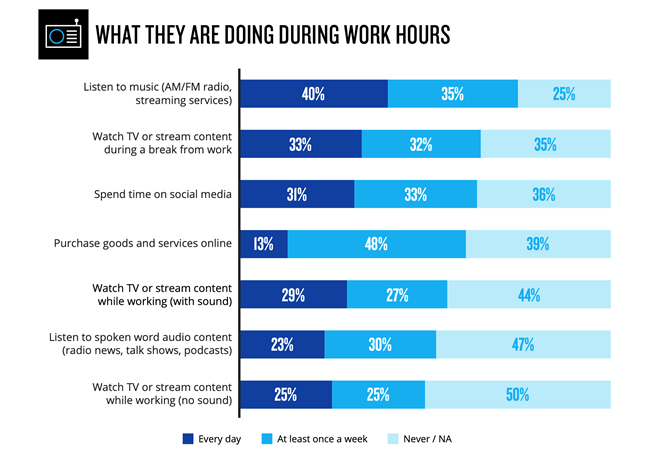 You can view the entire report here.
---
CRISIS LEADERSHIP BOARD
Looking for more insight on how to address the current global crisis and lead your organization into a strong recovery?
Join Ragan's Crisis Leadership Board to network and brainstorm with peers, get the latest intelligence and research, and start to strategize for the future of your organization.
Learn more about this exclusive membership here.
Steinmart files for bankruptcy
The department store chain has been in business for 112 years, but on Wednesday filed for Chapter 11 bankruptcy and announced it will close most of its 280 stores. The announcement will affect the company's almost 8,000 employees, many of whom were furloughed when COVID-19 caused Steinmart to temporarily close.
"The combined effects of a challenging retail environment coupled with the impact of the coronavirus pandemic have caused significant financial distress on our business," CEO Hunt Hawkins said in a statement announcing. "The company lacks sufficient liquidity to continue operating in the ordinary course of business."

… "Please know that this was an extremely difficult decision, and is deeply disappointing for all of us at Stein Mart," Hawkins said in a statement. "We have loved serving our communities over the years and are so grateful to our loyal customers who chose to shop our stores."
Why it's important: Now more than ever, organiziations must shift their efforts to accommodate changing consumer behaviors with digital-first campaigns and initiatives. Department store chains, including Steinmart, struggled before the COVID-19 crisis hit. CBS News reported that roughly 24 retail chains have filed for bankruptcy so far this year (already exceeding the numbers for 2019). If you haven't already evaluated your campaigns and offerings, do so before it's too late.
---
DOWNLOAD OUR REPORT
Following the deaths of George Floyd, Ahmaud Arbery, Breonna Taylor and others, organizations were pushed more forcefully than ever before to take stands against systemic racism and move to support social justice initiatives. Which responses made an impact—and which responses fell flat?
Learn from 10 of the biggest brand messages in our special report, "Organizational responses to Black Lives Matter." The report offers communicators important takeaways to lead organizations and clients in the second half of 2020 and into the future.
---
TACTICALLY SPEAKING
To honor National Tattoo Removal Day, Removery is launching its INK-nitiative program, which offers the free removal of hateful and racist tattoos. For each person who pays to have their tattoo removed, the company will offer a free removal service to those who have a hate tattoo as well as the removal of any tattoo for those previously or currently incarcerated, survivors of domestic abuse or human trafficking, or former gang members.
In a press release, Removery's chief executive, Tom Weber, said:
Removery is a place of inclusion and empowerment, and we are committed to eradicating sources of discrimination, injustice, and hate. Through INK-nitiative, we provide an important tool for people who want to make real change in their lives, inspire others, and confidently walk the path of positive self-reinvention.
The initiative is a great example of a CSR offering that can strengthen brand reputation as well as boost sales.
---
WHAT YOU SAID
We asked if pets are welcome into your work-from-home setup and in the office, and nearly 60% of you said they're only allowed in your remote office, while 15% said you can enjoy their company both working from home and at your organization's workplace. Almost 8% said your pets aren't welcome in either office setting.
Are your pets welcome into your WFH space? How about when you return to the office?

Weigh in below and share photos if your pets with us! We'll share tomorrow. #DailyScoop

— PR Daily (@PRDaily) August 13, 2020
Laura Bedrossian, vice president of social strategy at Hot Paper Lantern, and Colleen O'Connor, chief of staff at Crenshaw Communications, said their furry friends help out with video calls:
Sid is currently on his lunch break (a lobster pillow followed by two "White Paws"). He often patrols the WFH space by keeping an eye on the outside. He's also very good at FaceTime and making sure we go on lunch break walks! pic.twitter.com/E1WDe4Ak36

— Laura Bedrossian (@LauraBedrossian) August 13, 2020
She's not much of a help but always supervising daily #zoom calls! pic.twitter.com/enwFYUQD9z

— Colleen O'Connor (@ColleenO_PR) August 13, 2020
Other communications pros showed off their four-legged work-from-home pals (which include rodent colleagues):
I responded, "Only in WFH space." To be fair, though, I've always worked remotely (from home office) so my furbabies know nothing else. 😊🐾 #DailyScoop pic.twitter.com/XyUPOqJJPH

— Tressa Robbins, MPRCA ✨ (@tressalynne) August 13, 2020
Laziest coworkers ever pic.twitter.com/qGJBWxGMaB

— Danelle W (@danellew) August 13, 2020
I have three rodent coworkers! Nutmeg, Frankie and Charlie! pic.twitter.com/vOHZDy3SWv

— erin 🌸 (@nightbassdealer) August 13, 2020
Pre-COVID visit. pic.twitter.com/2Qvz9WLxD7

— Elle (@ElleALove) August 13, 2020
Is there a question you'd like us to ask in an upcoming poll? Let us know!
---
SOUNDING BOARD
What do you use most often to collaborate with your colleagues as you work from home?
What do you use most often to collaborate with your colleagues as you work from home?

Share your insights and experiences with us, and we'll share on Monday! #DailyScoop

— PR Daily (@PRDaily) August 14, 2020
Share your experiences with us below and under the #DailyScoop hashtag, and we'll share on Monday. Have a great weekend!
COMMENT