Richards Group founder resigns after racist remarks, Uber criticized for sending political app notifications and Barnes & Noble suffers security breach
Also: Google offers song suggestions when you hum or whistle a tune, Coca-Cola is axing Tab, executive confidence has plummeted during COVID-19, and more.
Hello, communicators:       
You can now hum, sing or whistle a tune to Google, and its new feature will list suggested song matches:
Google's senior product manager of Google Search, Krishna Kumar, wrote in a blog post:
So how does it work? An easy way to explain it is that a song's melody is like its fingerprint: They each have their own unique identity. We've built machine learning models that can match your hum, whistle or singing to the right "fingerprint."
The effort is a great example of using artificial intelligence to boost the user experience. Consider ways you can use AI and other technologies (such as augmented reality) to tailor your content, website and campaigns to your audiences' behaviors and needs.
Here are today's top stories: 
Richards Group founder resigns following racist remarks
On Thursday, Stan Richards stepped down from the agency he created following racist remarks that spurred many organizations to sever ties. In addition to Richards resignation, the agency will implement six diversity, equity and inclusion initiatives, which include creating a new DE&I role that influences decisions, commiting to "specific representation" across its disciplines and leadership, auditing its policies to ensure they're inclusive and equitable, bias training for all employees, a review of its work to ensure it's "culturally relevant" and a commitment to tracking its process on the efforts.
"If this was a publicly held company, I'd be fired for the comments I made. But we're not public, so I am firing myself," Richards said in a written statement today. "Our employees, first and foremost, deserve that. I made a mistake. The biggest mistake of my life. One I will never be able to adequately explain or take back. All I can say is that I was wrong."

Richards also issued an apology video to the Moody College of Communication at the University of Texas, "whose Stan Richards School of Advertising and Public Relations is named for him," AdAge reported.
Why it's important: The Salvation Army cut ties with the beleaguered agency on Thursday as well, joining Motel 6, Home Depot and Keurig Dr Pepper. Additional clients could follow in upcoming days and weeks. Everyone makes mistakes, but the fallout over Richards remarks shows how quickly years of trust can be wiped out following certain missteps—and no amount of DE&I commitments can undo the damage.
---
TACTICALLY SPEAKING
The Coca-Cola Co. is ditching Tab, its popular diet drink that debuted in 1963 and took off in the '70s. The beverage declined in popularity with the launch of Diet Coke. Tab is also one of many product lines Coke is giving the heave-ho as it slims its portfolio amid the COVID-19 crisis and as consumers' behaviors shift.
The Wall Street Journal reported:
Coca-Cola said last month that it planned to slash its 500 brands by more than half, accelerating an ongoing culling effort in response to the coronavirus pandemic. The project is part of a restructuring that includes layoffs and a revamped marketing strategy. Already this year, the company has closed its Odwalla juice and smoothie business and has begun winding down its Zico coconut water.

… "We love our brands, make no mistake," said Cath Coetzer, head of Coca-Cola's innovation and marketing operations. "We want to make sure that we create space for new."
If you haven't yet conducted an audit of your offerings and how they stack up with an eye toward the future, now is the time.
---
MEASURED THOUGHTS
Deloitte just released its 2021 Global Marketing Trends report, which revealed that more than half of respondents (57%) altered their digital platforms to better meet consumer needs, while 49% increased virtual event and workshop offerings and 67% boosted their social media presences: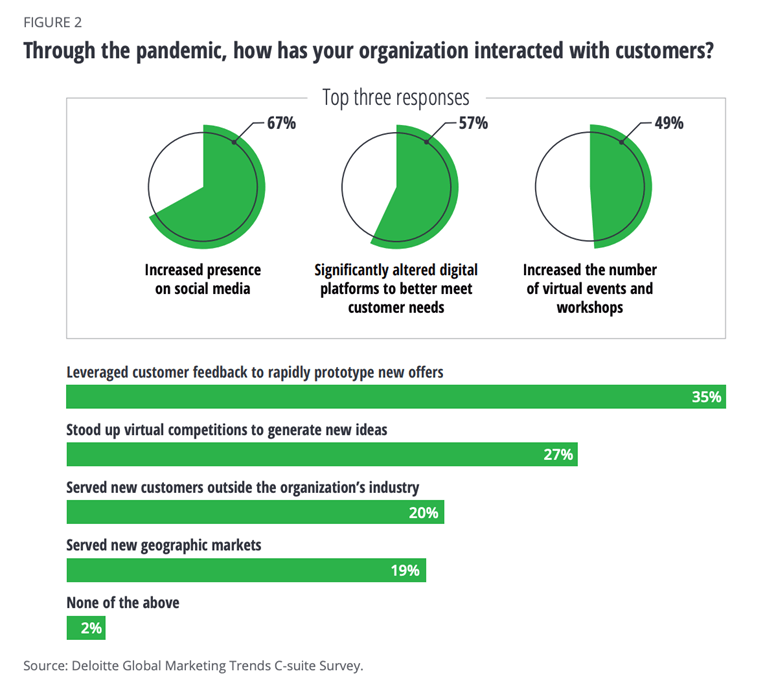 Though organizations are adjusting to meet and serve both consumers and employees during COVID-19, executives' confidence in their ability to influence peers and make strategic impacts have plummeted, with chief executives' confidence dropping 20% during COVID-19, and chief information officers reporting a 24% decrease in confidence.
You can read the entire report here.
---
CRISIS LEADERSHIP NETWORK
Looking for more insight on how to address the current global crisis and lead your organization into a strong recovery?
Join Ragan's Crisis Leadership Network to network and brainstorm with peers, get the latest intelligence and research and start to strategize for the future of your organization.
Learn more about this exclusive membership here. 
Uber criticized for political app notifications
The ride-hailing company received backlash recently for its latest messages urging riders to vote for Proposition 22, a proposal in California from Uber, Lyft, DoorDash and other organizations that would exempt them from the state law requiring workers to be considered employees.
True to its reputation, Uber seems to be taking a particularly aggressive stance. Earlier this month, users in California had to "confirm" they'd seen a message before calling a ride, which told them wait times and prices would rise if Prop 22 wasn't passed (the text was later changed to "continue to ride" to avoid confusion). Now, Uber's app is sending users in California push notifications with the message that "Prop 22 will save lives."
Users have taken to Twitter to complain about the push notifications, which many have pointed out breaks Apple's App Store rules.
Thanks @Uber for the unwanted push notification political ad! @Apple Dev. Agreement clearly says "4.5.3 Do not use Apple Services to spam, phish, or send unsolicited messages to customers, including …Push Notifications, etc… or you will be removed from the Developer Program." pic.twitter.com/Bu8Li32hev

— Jan Hemstad (@janhemstad) October 14, 2020
Why it's important: If you follow in Uber's footsteps and take an aggressive approach to your campaign, be prepared for blowback and make sure your team is ready to receive complaints. Also, don't underestimate your customers. As a PR pro, you should get ahead of the narrative and ensure your organization's voice is heard (where appropriate). However, attempts to spin the narrative in your favor will quickly be called out by a savvy digital-first audience and then spread throughout social media platforms.
---
CATCH UP WITH OUR REPORT
More than half (57%) of social media managers say they plan to leave their current position within two years, according to a new survey from the Institute for Public Relations, Ragan Communications and the University of Florida. Though these managers are ambitious, the career path to social media leadership roles remains unclear.
The report sheds light on social media pros' career trajectory as well as the challenging lack of resources and employee burnout that's on the rise. Check out the findings here.
To learn more about how to prepare for the future of social media and more, join us at Ragan's Future of Communications Conference, Nov. 10-11.  You'll learn from PR, social media, marketing and internal communications experts about the top trends and what's on the horizon for the industry.
---
CRISIS COMMUNICATIONS
Barnes & Noble announced a security breach exposed consumers' information, including email addresses—though the bookstore chain says payment information was kept private. 
The company sent an email notifying customers of the data breach, which they were aware of since Oct. 10. The bookstore chain clarified customers' financial information, such as payment card information, was not among the exposed data, said the report.

"While we do not know if any personal information was exposed as a result of the attack, we do retain in the impacted systems your billing and shipping addresses, your email address and your telephone number if you have supplied these," reads the email from Barnes & Noble.
The data breach might correspond to Barnes & Noble's Nook e-reader outage:
We are continuing to experience a systems failure that is interrupting NOOK content. We are working urgently to get all NOOK services back to full operation. Unfortunately it has taken longer than anticipated, and we sincerely apologize for this inconvenience and frustration. 1/2

— B&N Customer Care (@BN_care) October 14, 2020
(2/2) Please be assured that there is no compromise of customer payment details which are encrypted and tokenized. We expect NOOK to be fully operational shortly and will post an update once systems are restored. Thank you for your patience.

— B&N Customer Care (@BN_care) October 14, 2020
The breach can serve as a reminder to buckle down on your cybersecurity efforts, especially as more campaigns, meetings, and more are taking place virtually.
---
EDITOR'S PICKS
As the 2020 United States presidential election nears, many organizations are encouraging their employees and consumers to vote. Some, such as National Basketball teams and their arenas, are offering space for voter registration. There's a plethora of ways for you to register, volunteer and encourage others to cast their votes.
Consider these items:
---
WHAT YOU SAID
We asked if you're preparing for Black Friday or shifting your strategies, and nearly 67% of you are skipping it this year, while 22% are focusing on purpose-driven initiatives instead of holiday promotions. For roughly 11% of you, it's full steam ahead:
Are you preparing for Black Friday sales and content, or are you shifting your strategies this year?

Share your thoughts under the #DailyScoop hashtag, and we'll share in tomorrow's roundup.

— PR Daily (@PRDaily) October 15, 2020
Is there a question you'd like us to ask in an upcoming poll? Let us know!
---
SOUNDING BOARD
What songs best describe a career in PR or communications?
What songs best describe a career in PR or communications?

Share your favorites with us below, and we'll share in Monday's #DailyScoop.

— PR Daily (@PRDaily) October 16, 2020
Share your favorites with us below and under the #DailyScoop hashtag on Twitter, and we'll share in Monday's roundup.
Editor's note: Ragan Communications may earn a commission through our affiliate partnerships when purchasing items in our content.
COMMENT
One Response to "Richards Group founder resigns after racist remarks, Uber criticized for sending political app notifications and Barnes & Noble suffers security breach"
Ronald N. Levy

says:

The agency might have kept accounts by (a) forming WITH THE CLIENTS a "Fight for Fairness" team to help Blacks, (b) donating 50% of the coming year's profit to "Fight for Fairnesss" causes (so clients who stay are helping the causes), and (c) teaming with a top national Black group to win "Fight for Fairness" legislation in Washington and in each state.

This would give clients a LOT more goodwill with key publics than is earned by leaving the agency instead of being aroused to stand up and fight for fairness.

People of all colors care more abut "what are we going to get" than about who's leaving the agency. Launching a fight for fairness could mean GETTING more by Blacks and by agency clients highly appreciated because they fight for fairness.

Successful PR is not just about appearances but reality. Fight for Fairness could have meant a better reality for Blacks and better realty for the clients. That's what could keep clients in-house: creating reality!