Robinhood pays fine for misleading customers, Pride media coverage nearly doubles, and Ford explains production cuts
Also: Budweiser buys free beer for July 4, NYC tells residents to power down during heatwave, and Miami Beach cancels fireworks.
Hello, communicators:
Last month, Budweiser agreed to buy a round of beer for all American adults if 70% of the U.S. had received their first Covid-19 vaccine dose by July 4. Though the country has fallen short of this goal, Budweiser wants to buy you a beer on Independence Day anyway.
And the company has enlisted Bill Pullman, who played the president in the 1996 blockbuster film "Independence Day," with a timely update on his iconic monologue from the movie:
"When we teamed up with White House to encourage Americans to get vaccinated, we recommitted to using our unique capabilities and deep connection to consumers to lead the safe and strong recovery of our country and economy," Michel Doukeris, CEO of Anheuser-Busch, said in a press release. "As people get back together with friends and family for Independence Day, we are celebrating the progress we've made together the best way we know how – over a beer – and are delivering on our promise of beer for America. There is no more iconic brand than Budweiser which is also stepping up to mark this extra special 4th of July holiday with an ad that reflects the very best of the American spirit."
While Anheuser-Busch's campaign is a fun and creative way to tether its brand message to the holiday, the initial campaign's focus on COVID-19 vaccination education and awareness is somewhat lost as the question of post-pandemic independence still lingers amid a current national vaccination rate of about 55%. It's a reminder to be cautious in crafting messaging around celebrations or a "return to normal" during this time of lingering uncertainty.
Robinhood touts 'improvements' in blog post after record fine
Stock-trading app Robinhood has been fined $70 million by the Financial Industry Regulatory Authority (FINRA), which says that the financial app gave customers false and misleading information. News of the fine arrived days before Robinhood planned to go public.
Robinhood has been accused of several operational issues by regulators before and has already paid millions in fines, including $65 million to the Securities and Exchange Commission (SEC) for misleading customers.
According to FINRA's press release:
FINRA found in its investigation that, despite Robinhood's self-described mission to "de-mystify finance for all," during certain periods since September 2016, the firm has negligently communicated false and misleading information to its customers. The false and misleading information concerned a variety of critical issues, including whether customers could place trades on margin, how much cash was in customers' accounts, how much buying power or "negative buying power" customers had, the risk of loss customers faced in certain options transactions, and whether customers faced margin calls.
Jacqueline Ortiz Ramsay, a spokeswoman for Robinhood, said in a statement, "We are glad to put this matter behind us and look forward to continuing to focus on our customers and democratizing finance for all."
On its blog, Robinhood was ready to turn the page:
Robinhood wrote in a blog post:
We've made significant improvements to the way we supervise our technology and our engineering infrastructure.

For example, we've taken steps to address the root causes of the March 2020 outages, reduce the risk of future outages, and increase the resilience of relevant systems, including by increasing system redundancy, better distributing load on Robinhood's systems, and deploying a risk-based testing system.

We've added customer disclosures with respect to the use of margin, and have been correcting buying power displays, cash balances (including negative cash balances), historical performance figures, and customer communications regarding the risk of loss in debit spread transactions. We have also provided customers with additional educational resources.
What it Means:
Robinhood's curt official statement about the fine fails to address any specific points of concern from FINRA and other regulators, nor does it express empathy for the customer who took his own life over issues with trades on the app. While such sentiment might be buried in past statements or blog posts, the company's official statement serves as a reminder not assume that your stakeholders will go elsewhere for more information.
While directing stakeholders to a blog post or landing page can be a useful strategy for conveying your long-form communications, your initial statement should also include elements of all your key messages, along with a breadcrumb trail directing stakeholders to your other resources.
---
MEASURED THOUGHTS
New data shared by PR intelligence company Signal AI shows that media coverage in Pride Month has nearly doubled over the past year with 7,000 pieces of coverage in the month of June 2021 compared to almost 4,000 pieces in June 2020.
Signal AI's reports also suggest that organizations with a poor track record on LGBTQ issues took a hit. "One of the biggest stories this month focused on UEFA banning the use of rainbow colors to highlight the Allianz Arena in Munich, which was hosting the group stage tie between Germany and Hungary," Signal AI told PR Daily.  "As a result of this, UEFA's sentiment score became negative for the first time in a month. As of 25 May, it was over 0.60 in terms of positive sentiment, by 20 June it had dropped to -0.20 in terms of negative sentiment.  Their score bounced back to some small positivity with the announcement they had published their own logo with rainbow colors."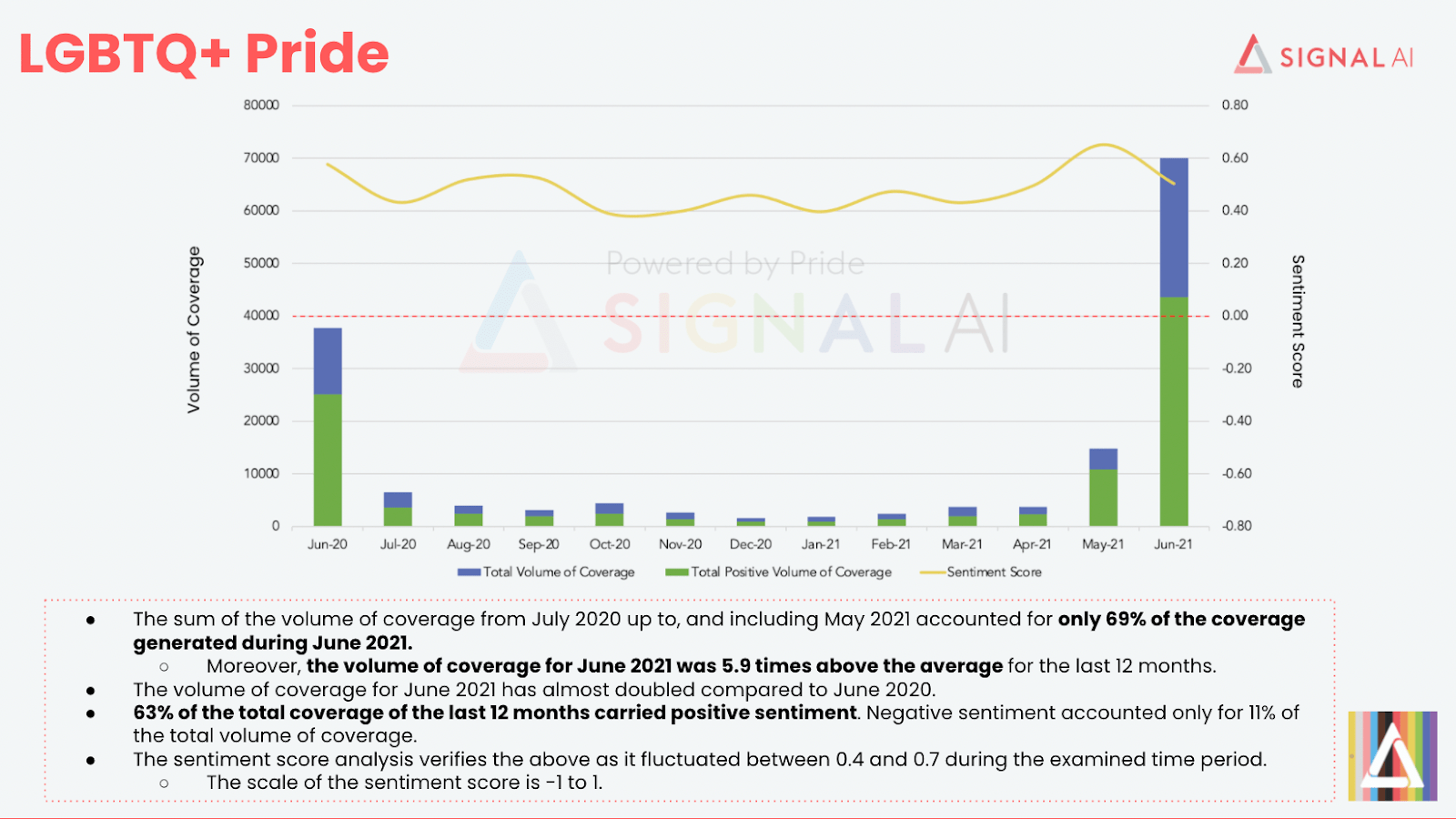 Though Pride Month might have ended, these numbers serve as a reminder that your company's public stances on purpose issues pertaining to inclusion can take a measurable toll on stakeholder sentiment.
---
SOCIAL BUZZ
After four days in a row of high temperatures, New York City declared a heat emergency yesterday that included a smartphone notification urging residents to reduce their power use to avoid the risk of a brown out:
NYC friends: today we are expected to hit a peak of 12,300+ MWs of electricity use. This is MASSIVE and higher than the peaks that caused the 2019 outages. Charge your phones, check in with your neighbors, and be on high alert that a blackout is possible.

— Steve Fox (@smfox) June 30, 2021
ConEd: We're ready for the hot weather, don't worry about it

NYC OEM: HOLY SHIT EVERYBODY WE'RE ALL GONNA DIE pic.twitter.com/MXgOs1l64q

— Jason Rabinowitz (@AirlineFlyer) June 30, 2021
Energy company Con Edison also issued a series of warnings to the city while also sharing how its teams were helping keep those without power cool:
We have reduced voltage by 8 percent to certain neighborhoods in northern and southeast Brooklyn to conserve energy while company crews repair equipment. Click the link for more info https://t.co/sIyOPUsamp #safetyfirst pic.twitter.com/JqhM0Qx3rn

— Con Edison (@ConEdison) July 1, 2021
We will be distributing dry ice today, June 30, 2021 at 274 Nassau Ave. near the corner of Morgan Avenue in Greenpoint, Brooklyn to customers who have lost power due to the intense heat wave.
Click the link for more info: https://t.co/xxEEARLBgU#safetyfirst #dryice pic.twitter.com/RGTIucBruE

— Con Edison (@ConEdison) June 30, 2021
Twitter users didn't hear or respond to the dry ice squad, however, instead questioning why so much power remained allocated for Times Square while residents had to suffer in sweat:
NYC: "Don't use that microwave!!!"

Also NYC: pic.twitter.com/mTx337TjZG

— Phil Stamper (@stampepk) June 30, 2021
honestly nyc just turn off Times Square I need AC!!! pic.twitter.com/LytgCKH14R

— tortilla (@ChelleMase) June 30, 2021
It's a reminder that even with the best storytelling efforts, PR pros must be prepared to field negative comments and criticism on social media.
---
TACTICALLY SPEAKING
The City of Miami Beach has announced that it is cancelling this year's July 4 celebrations out of respect for the victims and families of the condo that collapsed in neighboring Surfside, Florida.
"There really is almost a blanket of grief all across South Florida," Miami Beach Mayor Dan Gelber said in an interview Wednesday with NPR's Morning Edition. "Everybody sort of knows somebody who was in there or has as a friend of a friend or a relative of a friend. So we're watching the grieving and the uncertainty. We just felt that this is not a time to be celebrating. It's a time to really be standing with these family members who are hoping against hope right now."
This statement of empathy and solidarity from Mayor Gelber serves as a reminder that your brand engagement with national holidays, events and cultural celebrations should always read the room. Take the pulse of employee and local community sentiment before launching a larger campaign to make sure the stakeholders who affect your business the most feel good about your efforts.
---
RAGAN'S DISNEY CHARACTER CONTEST  
Which Disney character best resembles your work life? Are you like Moana, who chooses not to blindly follow tradition and instead live independently? Maybe you're more like Belle, whose voracious appetite for reading is overshadowed by other people's assumptions about her? Or Raya, trying to save the world alone before realizing she needs the help of others?
Ragan has announced a reader contest to find out who your Disney double is (yes, Star Wars and Marvel characters count). One winner will be selected to win a free night at Walt Disney World's Swan & Dolphin Resort during our upcoming Social Media Conference for PR, Marketing and Communications Professionals Sept. 9-10.
E-mail us at submissions@ragan.com with your name, title, Disney character, and photo of yourself (optional) by July 12.
The winner will be announced the week of July 19 on PR Daily, where we will run all the entries we receive. We could all use a little levity in our day, so share away!
---
RAGAN'S 2021 BENCHMARK REPORT
Ragan has released its annual Communications Benchmark Report, an exclusive study from Ragan's Communications Leadership Council that analyzes the major trends in the profession over the last year.
During that time, comms pros have been called on to develop and distribute messages on new policies that affect internal and external stakeholders alike. Their role has become more essential as they helped keep their organizations focused and moving forward. They've seen their access to the C-suite increase throughout 2020, and they forged important new alliances with peers in other departments, including HR, finance and workplace wellness.
Culled from more than 750 respondents, the 32-page report is available in its entirety exclusively to members of the Communications Leadership Council.
Download your copy of the exclusive Benchmark Survey Executive Summary today and get a crucial competitive advantage that will fuel your success for 2021 and beyond.
Ford explains production cuts amid semiconductor chip shortage
Ford Motor Co. has announced additional production cuts at eight North American factories due to a global semiconductor chip shortage that has affected automakers, technology manufacturers and more industries. John Savona, Ford's vice president of manufacturing and labor affairs, first announced the cuts in a letter to employees that explained how the company was managing the issue externally.
"While we continue to manufacture new vehicles, we're prioritizing building our customers' vehicles that were assembled without certain parts due to the industry-wide semiconductor shortage," [Savona wrote.] "This is in line with our commitment to get our customers their vehicles as soon as possible and consistent with our forecasted supply."
Kelli Felker, Ford global manufacturing and labor communications manager, acknowledged the content of the letter obtained by the Free Press and immediately released a media statement with the fact set.
Why it matters:
Ford's message to employees ahead of the press announcement exemplifies the rise of mixternal communications and acknowledges the reality that any internal messaging that impacts larger groups of external stakeholders will soon go public anyway. Take note of the speed with which Felker was ready to offer a media statement as another exmaple of the order of operations to follow when sharing news about corporate restructuring and operations.
Reaching out to employees first sends the message that you consider their livelihood and experience above all else, while mentioning customers in your internal messaging deftly underscores larger brand commitments that quickly radiate outward and translate to external goodwill when the announcement goes public.
---
WHAT YOU SAID
Yesterday, we asked how you were holding up mid-week before the holiday weekend.
Several of you felt overextended and overworked:
— Heather Haywood, APR (@HeatherAHaywood) June 30, 2021
— Tressa Robbins, MPRCA ✨ (@tressalynne) June 30, 2021
Many other felt exhausted and unproductive:
— Irina Karelina (@tellmeyourfable) June 30, 2021
— Jennifer Hashem (@JenniferHashtag) June 30, 2021
— Zoe Robinson (@stevenszoe1980) June 30, 2021
Suffice to say, you've certainly earned that holiday weekend!
Ragan and PR Daily will be closed for the long weekend, so we will be back on July 6 with another Daily Scoop. See you then!
COMMENT
One Response to "Robinhood pays fine for misleading customers, Pride media coverage nearly doubles, and Ford explains production cuts"
Ronald N Levy

says:

The Budweiser "buy a round of beer" idea is terrific, good not only for enhancing the product association with happiness but less obviously it's protective. A politician may be less likely to think about attacking a company that has bought millions of Americans a beer. Other targets may be more vulnerable and able to make an accuser look like a hero.

Also it's good for dealer relations because wherever one must go to get the free beer, whether stores or bars or restaurants, it will mean extra traffic–VISIBLE traffic–for the dispenser and extra goodwill toward Bud for making that traffic happen.

Google shows Bud's PR firm to be Allison+Partners which is not the most famous but we can see online that they have 500 employees and an
impresssive list of major accounts, some of them known to be PR-savvy.

One can feel a little sorry for Fleishman Hillard which may have helped Bud even more than advertising did to grow from a much smaller size. But FH has also grown hugely, partly from the repeated triumphs for Bud and probably even more for being one of the no-bullshit-ever PR firms, even when that's what management want to hear or say. So when clients need a PR firm with maximum credibility among the media and in Washington, FH is repeatedly is on a short list of finalists.

They can afford to buy their own beer.