Salesforce ties exec pay to ESG, YouTube the top live video platform in US, and Zuckerberg announces employee moniker 'metamates'
Also: Virgin Galactic announces public sales of tickets to space and more.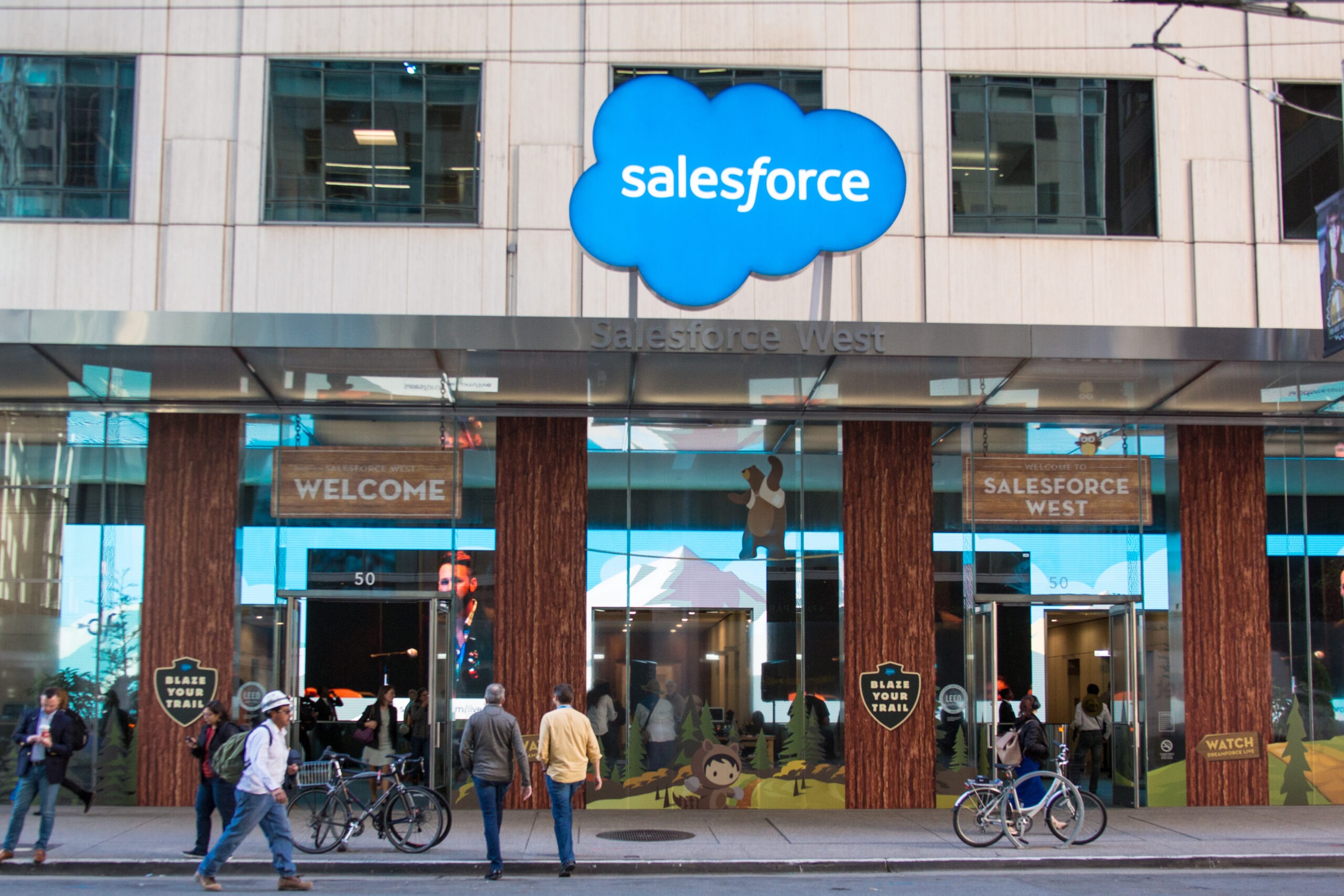 Hello, communicators:
Have an extra $150,000 burning a hole in your bank account? Great—you've got enough for the down payment on a ticket to space.
Virgin Galactic is opening ticket sales for its space tourism program to the public for the first time starting today. The total price of a single ticket will run you a total of $450,000, including the deposit, but if you're looking for a late Valentine's Day present, the company offers package deals for couples as well.
Our purpose at @VirginGalactic is to connect the world to the love, wonder and awe created by space travel. Explore our evolution at https://t.co/5UalYT7Hjb. pic.twitter.com/LMakGOaUjj

— Virgin Galactic (@virgingalactic) February 15, 2022
The Virgin Galactic website says the total experience includes spaceflight training and a "bespoke Under Armour spacesuit and boots."
Here are today's other top stories:
Salesforce to tie executive pay to ESG performance
Software giant Salesforce announced last week it will join the likes of McDonald's, BP and Apple in tying top leaders' salaries to the progress of the company's environmental, social and governance (ESG) goals.
In the Salesforce 2022 Annual Equality Update, Lori Castillo Martinez—the company's chief equity officer—wrote that more than 50% of the organization's employees identify as being from "underrepresented groups," adding that representation is a part of Saleforce's ESG goals.
From Salesforce's newest ESG page:
Going forward, a portion of executive variable pay for Executive Vice President and above will be determined by four ESG measures. For this fiscal year, the measures will focus on equality and sustainability.
Castillo Martinez says the equality measures will focus on increasing representation of women and racial minorities among Salesforce employees, while the sustainability measures will involve reducing air travel emissions and working with more suppliers that Salesforce identifies as practicing sustainability.
Why it matters: Linking the pay of top executives to progress on ESG and diversity, equity and inclusion (DE&I) measures is an increasingly popular way for organizations to demonstrate accountability to their commitments on positive social change. When messaging and outreach isn't enough, putting a dollar amount on the line is an effective way to prove your ESG agenda isn't just talk.
---
MEASURED THOUGHTS
Data from a 2021 survey of U.S. social video content users shows the most popular platform for viewing live content is YouTube, followed closely by Facebook.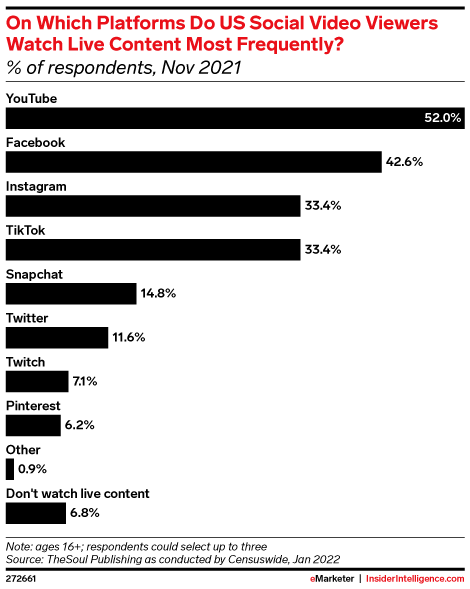 Instagram and TikTok tied for third place as a destination for live video viewers, per the report from eMarketer. Among younger viewers (ages 16-24), however, TikTok takes the live content crown.
Check out more from the Insider Intelligence chart here.
---
TAKE OUR SURVEY
We want to know about your career as a social media professional.
How big is your team? Are you valued at your organization?
If you're interested in helping benchmark the career path potential of social media professionals and shedding light on how social media is internally managed, viewed and evaluated, take our survey. The Social Media Career Survey is a follow-up to a 2020 report by the Institute for Public Relations, Ragan Communications and the University of Florida.
Whether you're in charge of company social media or involved in social media for a client, we welcome your participation.
Respondents will receive a full report on the findings, which will also be shared on PR Daily.   Responses will remain confidential.
Zuckerberg announces new Meta values, "cultural operating system"
Meta CEO Mark Zuckerberg shared his latest memo to employees on his Facebook page this week, citing the need to show people around the world "what it's like working at Meta and what makes us different from other companies."
In the note, Zuckerberg reveals six updated company values, including the phrase, "Meta, Metamates, Me," which has been met with some confusion (and some mockery) on social media:
– last value, and I am not making this up: "Meta, metamates, me"

A slide shows this text in bold all caps next to Zuck talking

I am told Zuck said this without laughing and explained it had to do with a story about ships and shipmates

— Alex Heath (@alexeheath) February 15, 2022
Facebook is changing "employees" to "Metamates" and "Newsfeed" to "feed."

Anytime a company makes a lot of trivial or meaningless changes is a 🚩🚩🚩

— Edwin Dorsey (@StockJabber) February 15, 2022
i try to not mock company branding too much — i work for techcrunch, which sounds like a cereal joke from the Silicon Valley show — but metamates is Not Good

— alex (@alex) February 15, 2022
The other five company values include:
Move fast
Focus on long-term impact
Build awesome things
Live in the future
Be direct and respect your colleagues
What it means: People are looking for real change from companies. The new employee moniker "metamate" and its use in the "Meta, metamates, me" phrase suggests that workers should think first of the company, then their colleagues, then themselves. It's a nice thought in theory, borrowed from the U.S. Navy's phrase "ship, shipmates, self" as a marker of service to the greater whole, but in a time where employees are able to choose exactly where they want to work, emphasizing workers' responsibility or demanding loyalty to a company that has seen its fair share of scandal and missteps could backfire.
---
Announcing the PR Daily Leadership Network
PR Daily has launched the PR Daily Leadership Network, a unique membership group from Ragan Communications offering peer-to-peer advisory and team training along with a unique slate of resources and events to help public relations professionals break through the noise, increase their visibility and forge meaningful connections.
The Network provides daily insights and coverage on a range of topics including media relations, social media, measurement, Diversity, Equity & Inclusion, branding, thought leadership and crisis communications.
"The fast pace of change coupled with the demand on public relations professionals to protect and sometimes defend their company's reputation make it imperative for leaders to tap into the wisdom of other communicators and continue to learn and grow," says Diane Schwartz, CEO of Ragan Communications. "The PR Daily Leadership Network provides the answers but also encourages members to question the status quo and push for positive change."
Visit leadership.prdaily.com to learn more.
COMMENT