Sony Music forgives artist debt, Americans prefer Pride statements over products, and McDonald's responds to data breach
Also: Westminster Kennel Club Dog Show sponsor Purina educates dog lovers, Biogen deflects data questions onto FDA, and Adult Swim engages with fan creators.
Hello, communicators:
The 2021 Westminster Kennel Club Dog Show took place this past weekend, with Wasabi the Pekingese winning best in show:
The Pekingese wins #BestInShow! Wow! #Wasabi #WestminsterDogShow2021 #WestminsterDogShow2021 pic.twitter.com/A23nqBW7Ky

— m pappas (@soxfanmap) June 14, 2021
🏆🏆 BIG CONGRATS to Wasabi the Pekingese 🏆🏆 the 2021 Best in Show champion at the Westminster Kennel Club Dog Show – and a Pro Plan fed dog. We're proud to fuel Wasabi to his victory. 🎉🎉 #WKCDogShow #ProPlanDog pic.twitter.com/XR8Z4Zw1f3

— Pro Plan (@ProPlan) June 14, 2021
In addition to crafting GIFs for the winner, sponsor Purina Pro Plan also created sharable GIFs to educate its followers about the breeds competing while promoting its product:
Last but certainly not least – Terrier Group. The word "terrier" comes from the Latin word terra (ground), as these determined and brave dogs must be small enough and agile enough to "go to ground" to pursue their quarry (rats, foxes, and other vermin). #WKCDogShow #WKCPartner pic.twitter.com/Qemhm1HPHQ

— Pro Plan (@ProPlan) June 14, 2021
Next up – Working Group! Dogs in this Group are quick to learn, these intelligent, capable animals make solid companions. Purina Pro Plan offers specialized nutrition that can meet the needs of large & giant breeds like those found in the Working Group. #WKCPartner #WKCDogShow pic.twitter.com/1SKi8q0GrA

— Pro Plan (@ProPlan) June 14, 2021
Always Advancing. Never Compromising. Purina Pro Plan is the #1 Brand Chosen by Champions. #WKCDogShow #FueledByProPlan https://t.co/ea6x2KVO99 pic.twitter.com/bTm41akMCC

— Pro Plan (@ProPlan) June 10, 2021
The dog food brand also partnered with The Westminster Dog Show and the nonprofit organization Red Rover, which runs a campaign called The Purple Leash Project aimed at making domestic violence shelters more pet friendly:
Keeping pets and people together is something we're very passionate about, and we're very fortunate to be working with RedRover on this wonderful project. Be sure to tune in as the action continues this evening with Best in Show at 7:30 PM ET on FOX! #WKCDogShow

— Purina (@Purina) June 13, 2021
Purina Pro Plan's strong social media game serves as a reminder that your promotional messaging becomes a lot easier for audiences to chew on when it is accompanied by educational content that makes audiences feel smart and/or content that educates your audiences about a nonprofit that reflects the shared values of those in your industry.
Sony Music bolsters reputation with effort to forgive recording artist debt  
Sony Music has sent a letter to thousands of artists about its "Artists Forward" program, a new policy for the label where it will no longer deduct unrecouped balances, like recording advances, from royalty payments for artists signed prior to the year 2000.
Music Business Worldwide reports:
[Sony] says it focuses on "prioritizing transparency with creators in all aspects of their development".

The letter confirms: "As part of our continuing focus on developing new financial opportunities for creators, we will no longer apply existing unrecouped balances to artist and participant earnings generated on or after January 1, 2021 for eligible artists and participants globally who signed to SME prior to the year 2000 and have not received an advance from the year 2000 forward.

"Through this program, we are not modifying existing contracts, but choosing to pay through on existing unrecouped balances to increase the ability of those who qualify to receive more money from uses of their music."
Why it matters:
As streaming has upended the business model for record labels and musicians, Sony's initiative follows industry calls to enact policies that reflect the best interests of working artists. The letter to artists—though an internal document—is has become an externally visible record that sets the tone for the Sony Music brand in the new streaming era.
---
MEASURED THOUGHTS
A study by Morning Consult found that 36% American adults consider a statement about Pride Month to be the most favorable element of a brand's Pride campaign, slightly higher than those who liked brands launching supportive Pride initiatives (34%), donating to LGBTQ+ organizations (33%), showing LGBTQ+ people in ads or partnering with LGBTQ+ celebrities (32%), or released Pride-themed merchandise (29%).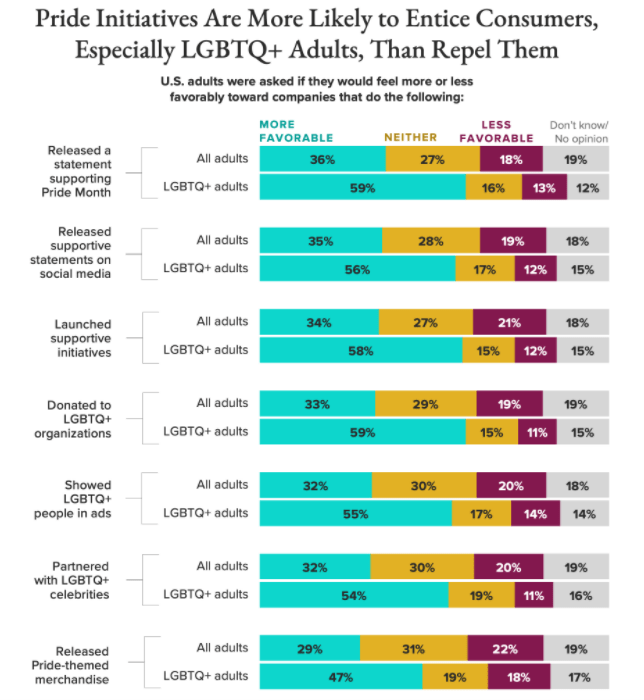 Courtesy of Morning Consult
Your organization's statements of purpose might be all the only piece of your message that some external stakeholders engage with. This makes it crucial for you to include details about the other important work you are doing (initiatives, donations, etc…) in those statements. Consider the low favorability of Pride-themed merchandise as an indicator that audiences are becoming hip to gestures of "rainbow-washing" and avoid mistaking such merchandise for actionable purpose work.
---
CRISIS COMMUNICATIONS
Pharmaceutical manufacturer Biogen's chief medical officer Maha Radhakrishnan and head of global product strategy Chirfi Guindo have explained the controversial expedited approval process of its new Alzheimer's drug Aduhelm by the Federal Drug Administration [FDA], attempting to deflect questions about the timeline for its next trials onto the FDA and questions on the drug's high price onto unspecified experts in an interview with Axios.
A: Why didn't Biogen do this trial in 2019, when you were parsing through the data again?

MR: That's a good question. But I do want to go back a minute to the amount of information, the substantial volume of evidence that we submitted to the FDA as part of our filing package. We submitted data on eight clinical programs … so based on the negotiations we've had with the regulators, we are about to embark on a path where we will actually look to validate and verify the data that we have seen in our clinical program.

A: Why does Biogen believe Aduhelm's $56,000 list price is fair, especially considering this hasn't been proven to work? This could potentially balloon Medicare spending.

CG: We've consulted with experts, health economists, clinicians, as well as payers and policy leaders, because we take this responsibility very seriously. We were guided by the value that Aduhelm has and will have going forward. The second principle is the commitment that we have to continue to research and develop innovative medicines in, not only Alzheimer's but also other areas of neuroscience. These are all areas that are very risky. And then lastly, we are committed to working with the payers, working with public policymakers, to ensure that Aduhelm is affordable for patients. That is really what is most important to patients: affordability, and then the sustainability of the whole system.
Biogen's interview with Axios is an example of how not to respond when pressed with questions that you don't have the answer to. Avoid deflecting responsibility onto regulators lest you undermine your authority as an industry leader. While it's OK to admit you don't have all the answers, be prepared with a timeline of next steps and set realistic expectations for when you will have more information. If you are citing experts to support a controversial position or decision, then cite them specifically using actual names, quotes, statistics and figures.
---
RAGAN'S 2021 BENCHMARK REPORT
Ragan has released its annual Communications Benchmark Report, an exclusive study from Ragan's Communications Leadership Council that analyzes the major trends in the profession over the last year.
During that time, comms pros have been called on to develop and distribute messages on new policies that affect internal and external stakeholders alike. Their role has become more essential as they helped keep their organizations focused and moving forward. They've seen their access to the C-suite increase throughout 2020, and they forged important new alliances with peers in other departments, including HR, finance and workplace wellness.
Culled from more than 750 respondents, the 32-page report is available in its entirety exclusively to members of the Communications Leadership Council.
Download your copy of the exclusive Benchmark Survey Executive Summary today and get a crucial competitive advantage that will fuel your success for 2021 and beyond.
---
SOCIAL BUZZ
Cartoon Network's evening program block Adult Swim has caught on to a viral TikTok trend where users create their own version of the network's "bumpers" during commercial breaks, short transitions featuring the Adult Swim logo along with a silly or inspirational message that signal when a new show is about to start:
#AdultSwim has over 790 million views on the app at the time of publication. Users are capturing scenic shots of seemingly mundane tasks, only to reveal the logo in an unexpected place.

TikTok user @kevboyperry hit over 900,000 likes with his use of cashew nuts to make the logo. While @bloodlobster's use of CDs in a professional-style shot gained her over 1.8 million likes in just a day.

"She understood the assignment," Adult Swim's official account commented on the video.

Adult Swim has uploaded its own heartfelt response to the clips on TikTok. Like the trend, the video used scenic shots with text on-screen reading: "We've been talking to you like this for a long time. It's nice to see you talking back to us. Let's keep it going."

Michael Cahill, vice president of on-air and social media for Adult Swim, told Newsweek: "We've been creating bumps on our air for over a decade. To see people having as much fun with them as we have over the years is incredible."
While not every brand is fortunate enough to have an iconic logo or recurring content piece that audiences will take viral decades later, Adult Swim's responses to fans serves as a reminder that your successes on social media will be driven by conversation (note their phrasing of the viral videos as "talking back to us.") Design a scalable social communications plan that rewards creators who engage with your brand by responding to them, resharing their work and generally making them feel special.
Consider taking the fans with strong numbers and engagement on as paid influencers should their approach align aesthetically and ideologically with your brand voice and goals.
---
COMMUNICATIONS WEEK
Ragan is delighted to add industry event and thought leadership brand Communications Week to our portfolio. You can read the full press release here.
"We are reimagining Communications Week as a year-round endeavor," says Ragan Communications CEO Diane Schwartz. "The rollout will begin next month with thought-provoking content on the future of communications on Commsweek.com, Ragan.com and PRDaily.com, culminating with a weeklong series in November that will feature conferences, networking events, workshops, webinars and more."
The flagship event for 2021 will take place Nov. 15-19. Stay tuned for updates on the many opportunities and offerings that will help communicators connect, learn and celebrate their achievements later this year.
McDonald's responds to data breach with nature of leaks and next steps
McDonald's has announced that hackers stole employee and franchisee data from its systems in the U.S., South Korea and Taiwan, marking the latest in a string of recent data breaches that also hit the Colonial Pipeline and JBS, the world's largest meat packing company. McDonald's said that it has detected unauthorized behavior on its internal security system and hired an external agency to investigate. The company said that no customer data was compromised in the U.S..
The Wall Street Journal reports:
McDonald's said that it has increased investment in cybersecurity defenses in recent years, and that those tools helped it respond to the recent attack. The company said it cut off hackers' access to data soon after the breach was identified.

"McDonald's will leverage the findings from the investigation as well as input from security resources to identify ways to further enhance our existing security measures," the company said.
What it means:
McDonald's proactive response to media outlets regarding its own hack stands in stark relief with recent incidents like the Colonial Pipeline hack, which actually required the TSA to get involved and require pipeline companies to have a designated cybersecurity person on staff.
McDonald's readiness was evident in how the company had a response ready for every question, serving as a reminder that if you work in an industry that collects sensitive information (be it on customers, infrastructure or both) you should construct issue maps, scenario-specific crisis plans and trainings that include protocols for external communication before regulators are even pressured to get involved.
---
SOUNDING BOARD
Have you crafted a messaging strategy in the event of a cybersecurity attack, PR pros and communicators?
Have you crafted a messaging strategy in the event of a cybersecurity attack, PR pros and communicators? #DailyScoop

— PR Daily (@PRDaily) June 14, 2021
Is there a question you'd like to see asked? Let us know by tagging #DailyScoop!
COMMENT
One Response to "Sony Music forgives artist debt, Americans prefer Pride statements over products, and McDonald's responds to data breach"
Ronald N Levy

says:

Instead of bumbling about relying on experts and such which isn't as convincing as possible, Biogen would have done better to heed the advice of the two costly Omnicom writers who recently counseled (and free) in PR Daily on winning in such controversies.

What often wins but may not be done nearly enough is to rely for communications power on the TRUTH. In Biogen's case the truth is that the remedy is a hell of a lot lower in cost than the ailment—LESS cost economically, LESS cost socially, LESS cost than the emotional toll of Alzheimer's on the patient and the family. These are motivating reasons to buy.

In an accusation situation like this where the question is in effect an accusation that the price may be too high, if PR responds that it's not too high because unnamed experts have counseled on pricing, millions of people may be left with doubts.

What's predictable, when one side says the price is too high and the other side says it isn't, is that the public judges MAYBE it's too high. But if PR answers with backup that the product is a BARGAIN because it may save way more than it costs, many people are more inclined to judge that the price is fair. Importantly, many people are more likely to use the product because "I read it in the paper" or "saw on TV" that the product is a bargain.

Retailers and product managers know, and PR people should recognize, that consumers buy not only because they need the product or like the product but because they think it seems like a bargain. Also the TRUTH in accusation situations is that better than just denial is statement of the positive opposite.
This Biogen situation is a good lesson in how (a) truth is protective as the Omnicom savants counsel, and (b) the "positive opposite" is often true and more persuasive.

Who was terrific at this but is no longer with a PR firm was Kym White.
She was high in Ogilvy, then at the very top of the mountain running an
800-person health PR department at Edelman. Today she's SVP (or some similar title) at the parent of CVS and an insurance company so she's in the odd position that one of her companies, CVS, will sell Biogen's drug but her other company the big insurance firm will be among those who pay for it!

She repeatedly urged her account group leaders to always try shooting for more than one objective as with double-duty releases. If a release is on product efficacy, try to include something on how the product can be not only
good for health but good for economy or the environment or something else.