Sponsors offer support for Naomi Osaka, how internet access poses questions for PR messaging, and the FDA defends untested Alzheimer's drug
Also: Burger King trolls Chick-fil-A for Pride, Apple unveils sharable health data, and Carnival requires passenger vaccinations.
Hello, communicators:
Many brands are leaning into Pride Month with thoughtful campaigns that provide value to the LGBTQ+ community, from resources for curated Pride travel itineraries to making donations to organizations like the Human Rights Campaign (HRC) that are working to combat restrictive anti-transgender legislation. Now, Burger King has announced that it will donate to the HRC for every one of its new chicken sandwiches sold:
the #ChKing says LGBTQ+ rights!

during #pride month (even on Sundays 👀) your chicken sandwich craving can do good! we are making a donation* to @HRC for every Ch'King sold 🏳️‍🌈

— Burger King (@BurgerKing) June 4, 2021
The eyeball emoji also takes a subtle dig at competitor Chick-fil-A, which is closed on Sundays and whose CEO has donated to political campaigns against the marriage equality for LGBTQ couples, among other actions.
Burger King's timely trolling of Chick-fil-A offers an artful example of how brand communicators can support a serious issue and emphasize corporate purpose while staying true to your brand voice.
Sponsors stand behind Naomi Osaka after dropping out of French Open
Since the No. 2 ranked women's tennis player in the world Naomi Osaka dropped out of the French Open last week citing bouts of depression and anxiety over media interviews, several sponsors have released statements of support for Osaka's decision and applauded her for prioritizing her mental health.
 "Our thoughts are with Naomi," Nike said in a statement. "We support her and recognize her courage in sharing her own mental health experience." Sweetgreen tweeted that its partnership with Osaka "is rooted in wellness in all its forms." And Mastercard tweeted: "Naomi Osaka's decision reminds us all how important it is to prioritize personal health and well-being."
Why it matters:
The overwhelming sponsor support for Osaka's decision highlights the importance of authenticity from your spokespeople, who are capable of championing positions around larger cultural conversations that your brand or company may not have an informed enough perspective to engage with on its own.
In addition to onboarding influencers and brand ambassadors who will live your brand values, consider working with those whose values reflect a position that your brand wants to take but may not know how.
---
MEASURED THOUGHTS
Was your morning disrupted when an outage at cloud services provider Fastly caused multiple major websites to go down including Amazon, CNN and more? Internet access is an issue that poses big issues for some Americans.
According to a study by Pew Research, 30% of Americans report internet connectivity issues, a number that's even higher among adults under age 49 (33%) and those with some college education (31%).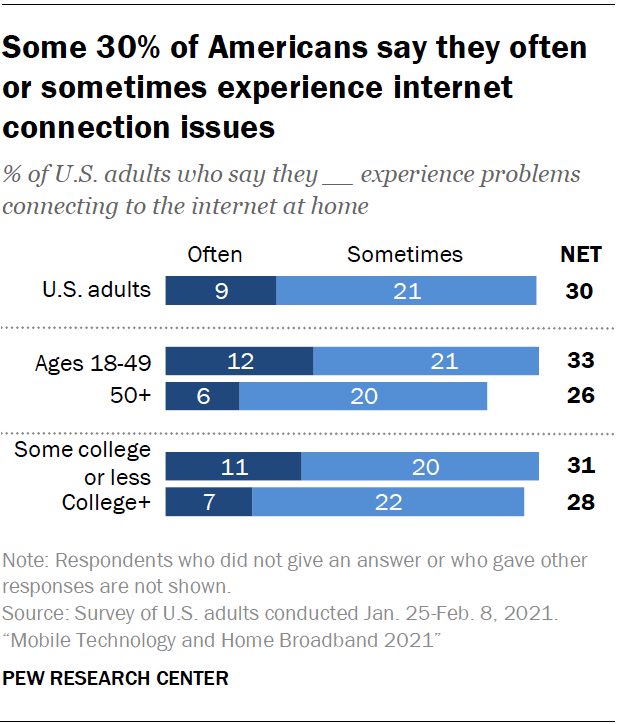 The fickle nature of internet access reveals how wide the digital experience gap truly is in the U.S, serving as a reminder that there is a disparity between online experiences for many. Keep this in mind as your messaging strategies evolve to embrace increasingly digital future and hybrid experiences.
---
TACTICALLY SPEAKING
Carnival Cruise Line has confirmed plans to resume sailing in July with a requirement that all passengers are vaccinated at least 14 days prior to sailing.
According to its press release:
"We appreciate the progress and support for our U.S. restart from the CDC and other key federal agencies; however, the current CDC requirements for cruising with a guest base that is unvaccinated will make it very difficult to deliver the experience our guests expect, especially given the large number of families with younger children who sail with us.  As a result, our alternative is to operate our ships from the U.S. during the month of July with vaccinated guests," said Christine Duffy, president of Carnival Cruise Line.
Carnival's announcement came days after Royal Caribbean announced that vaccines would be optional, which led to much handwringing on social media. Meanwhile, Carnival teased the arrival of its new ship, the Mardi Gras, by taking its audiences on a literal journey as the ship made its way to port:
24 hours to go until Mardi Gras is home in Port Canaveral! #ChooseFun #CarnivalMardiGras pic.twitter.com/zZDF9ohXQA

— Carnival Cruise Line (@CarnivalCruise) June 3, 2021
Look who's here! Mardi Gras making a beautiful sunrise entrance to her new home in Port Canaveral 😍#ChooseFun #CarnivalMardiGras pic.twitter.com/mhGqnTJk0w

— Carnival Cruise Line (@CarnivalCruise) June 4, 2021
MARDI GRAS. 🛳

That's all. That's the tweet. pic.twitter.com/mIW7O1mOZP

— Carnival Cruise Line (@CarnivalCruise) June 4, 2021
Carnival taking a beat before announcing its vaccine policy serves as a reminder that being first to make a decision in your industry isn't always best. Sometimes providing value to your stakeholders means  biding your time to wait and see how your competitors respond to new business realities and market forces.
---
RAGAN'S 2021 BENCHMARK REPORT
Ragan has released its annual Communications Benchmark Report, an exclusive study from Ragan's Communications Leadership Council that analyzes the major trends in the profession over the last year.
During that time, comms pros have been called on to develop and distribute messages on new policies that affect internal and external stakeholders alike. Their role has become more essential as they helped keep their organizations focused and moving forward. They've seen their access to the C-suite increase throughout 2020, and they forged important new alliances with peers in other departments, including HR, finance and workplace wellness.
Culled from more than 750 respondents, the 32-page report is available in its entirety exclusively to members of the Communications Leadership Council.
Download your copy of the exclusive Benchmark Survey Executive Summary today and get a crucial competitive advantage that will fuel your success for 2021 and beyond.
---
SOCIAL BUZZ
Apple has unveiled a handful of updates to its operating systems as part of its annual Worldwide Developer Conference including increased privacy controls, the ability to share music and streaming video over FaceTime and more. Included in the announcement is a feature allowing families and loved ones to share data from the iOS Heath app for the first time, with permission, including overall heart rate and mobility data that will send alerts if the feature detects any unusual activity such as a high heart rate or sudden change in mobility.
As part of the announcement, Apple stressed the need for increased communication around health and safety that has only become more pressing over the past 18 months.
"Many people around the world are caring for someone, and we want to provide a secure and private way for users to have a trusted partner on their health journey," Apple chief operating officer Jeff Williams said in a statement.
Apple's simultaneous push for privacy amid its launch of new features that promote the sharing of information serve as a reminder that your communication tools can offer new experiences without compromising stakeholder data and privacy concerns.
---
COMMUNICATIONS WEEK
Ragan is delighted to add industry event and thought leadership brand Communications Week to our portfolio. You can read the full press release here.
"We are reimagining Communications Week as a year-round endeavor," says Ragan Communications CEO Diane Schwartz. "The rollout will begin next month with thought-provoking content on the future of communications on Commsweek.com, Ragan.com and PRDaily.com, culminating with a weeklong series in November that will feature conferences, networking events, workshops, webinars and more."
The flagship event for 2021 will take place Nov. 15-19. Stay tuned for updates on the many opportunities and offerings that will help communicators connect, learn and celebrate their achievements later this year.
FDA and Biogen respond to concerns about newly approved Alzheimer's drug
The Federal Drug Administration (FDA) has announced that it approved the first new Alzheimer's drug in over two decades for patient use despite opposition from the agency's independent advisory committee and multiple Alzheimer's experts citing concerns about the drug's effectiveness. In statements regarding the uncertainties, the FDA and manufacturer Biogen justified the uncertainty of the data by citing the urgent need for Alzheimer's patients to combat mental deterioration.
"The data included in the applicant's submission were highly complex and left residual uncertainties regarding clinical benefit," the F.D.A.'s director of the Center for Drug Evaluation and Research, Dr. Patrizia Cavazzoni, wrote on the agency's website. But, she said, the agency had decided to approve the drug through a program called accelerated approval, which is designed "to provide earlier access to potentially valuable therapies for patients with serious diseases where there is an unmet need, and where there is an expectation of clinical benefit despite some residual uncertainty regarding that benefit."

Michel Vounatsos, Biogen's chief executive, hailed the approval and said in a statement, "We are committed to sharing our future insights about Aduhelm with the scientific community as we collect more data from the real-world use of this treatment."
What it means:
The FDA and Biogen's acknowledgment that their data doesn't justify their decision serves as a reminder that there is still a tremendous knowledge gap for communicators that is evident when they craft language about measurement and analytics. Remember that your data is only as valuable as it is accurate.
When making a case with numbers, emphasize the methodology of your study, including sample size, confidence interval and more. If those numbers don't draw the conclusion that you have reached, be sure to give a specific timeline outlining the next steps for research that will support or refute your conclusion and explain your willingness to change positions pending further insights.
---
CONFERENCE ALERT
Communicators face a crossroads this year as they anticipate markets recovering and workplaces reopening. Their work crafting a flexible crisis plan and mindful messaging that ensures your brand or organization is ready to handle any future unforeseen situation smoothly will be essential.
Join us at Ragan's Crisis Communications Conference on June 10  to learn timely strategies to help you reimagine your approach to crisis communications, mobilize internal and external stakeholders to be your megaphone and foster goodwill—and make fresh plans for unforeseen obstacles that may arise.
Learn powerful insights and approaches from speakers at organizations including Carnival Cruise Line, KFC, IBM, Amtrak, Mastercard and more.
---
WHAT YOU SAID
Yesterday we asked what your return to the office timeline looked like. A third (33%) of you said you will be staying remote, while 31% of you said you are already back in the office. Meanwhile, 28% said that you will return to the office after Labor Day and 8% expect to be back sometime this summer.
https://twitter.com/PRDaily/status/1401877764601532419
Is there a question you'd like to see asked? Let us know by tagging #DailyScoop!
COMMENT