Spider-Man draws audiences back to the movies, Gen Z leans into social justice on Instagram, and Broadway shuts down amid omicron surge
Also: TikTok launches ghost kitchens to deliver viral dishes, Facebook notifies users of unlawful surveillance, and more.
Hello, communicators:
TikTok is launching TikTok Kitchen, a service that will create TikTok-branded delivery-only restaurants across the U.S. offering dishes created from the most viral food posts on its platform. TikTok Kitchen will launch with 300 restaurants in March, with plans to expand to over 1,000 restaurants by the end of 2022.
TikTok said that this effort was primarily a campaign to bring TikTok food to fans and not a full-on venture into the restaurant business, emphasizing that creators will receive credit for dishes within each menu and be featured prominently.
"Proceeds from TikTok Kitchen sales will go to both support the creators who inspired the menu item and to encourage and assist other creators to express themselves on the platform in keeping with TikTok's mission to inspire creativity and bring joy to its users," the company told Bloomberg.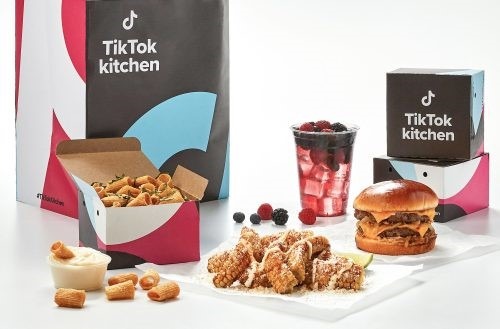 Courtesy of TikTok Kitchen/Virtual Dining Concepts
The new partnership is just the latest example of how online trends are shaping real world consumer habits. As the restaurant industry continues to struggle to bounce back from COVID-19, and questions linger about the future of in-person dining, the TikTok restaurant news could be a signal that the future of food will be driven by online conversations and connections.
The announcement is also a reminder for companies to explain how the economic windfall of their success will be shared across stakeholders. Consumers are more interested than ever in how workers are compensated for their labor—and a company that is seen to pocket profits rather than reward innovators and partners will lose business opportunities.
Here are today's top stories:
Film industry celebrates Spider-Man's big weekend          
"Spider-Man: No Way Home" took in $260 million domestically in its opening weekend, becoming the second highest movie opening ever at the domestic box office. Sony Pictures, which released the film in partnership with Disney's Marvel Studios, framed the record weekend as a sign that movie theaters were on the rebound.
Tom Rothman, Chairman and CEO of Sony Pictures' Motion Picture Group beamed this morning, "This weekend's historic Spider-Man: No Way Home results, from all over the world and in the face of many challenges, reaffirm the unmatched cultural impact that exclusive theatrical films can have when they are made and marketed with vision and resolve. All of us at Sony Pictures, are deeply grateful to the fabulous talent, both in front of and behind the camera, that produced such a landmark film. Thanks to their brilliant work, this Christmas everyone can enjoy the big screen gift of 2021's mightiest Super Hero —your friendly neighborhood Spider-Man."
Others in the industry shared Rothman's optimism.
"We can legitimately say that we're in recovery mode," Mark Zoradi, chief executive of Cinemark, one of North America's largest multiplex chains, said by phone. He added, "This is a major shot in the arm. I think it's going to propel a satisfying Christmas season." Cinemark, which, like other chains, has implemented wide-ranging safety protocols, said on Friday that "No Way Home" delivered the company's biggest opening-night gross ever.

IMAX's chief executive, Richard L. Gelfond, called "No Way Home" ticket sales "an emphatic reminder of the unique power of the theatrical experience." IMAX had its best weekend since 2019.
Why it matters:
After efforts to rebound from two years of dark screens and poor returns at the box office that included a star-studded campaign to lure fans back to cinemas and AMC selling its popcorn outside of movie theaters, these positive comments demonstrate how a company can use its big wins to offer hope for its wider industry.
Rothman's words about intentional marketing with "vision and resolve" speak to how a message of optimism—even in the face of omicron fears—can resonate with a broad audience.
---
MEASURED THOUGHTS
Instagram's 2022 Predictive Trends report found that 52% of Gen Z audiences followed social justice accounts on social media in 2021. Among them, 37% said they will donate more money to social justice causes in 2022 than they did in 2021 while 32% plan to follow more social justice accounts next year.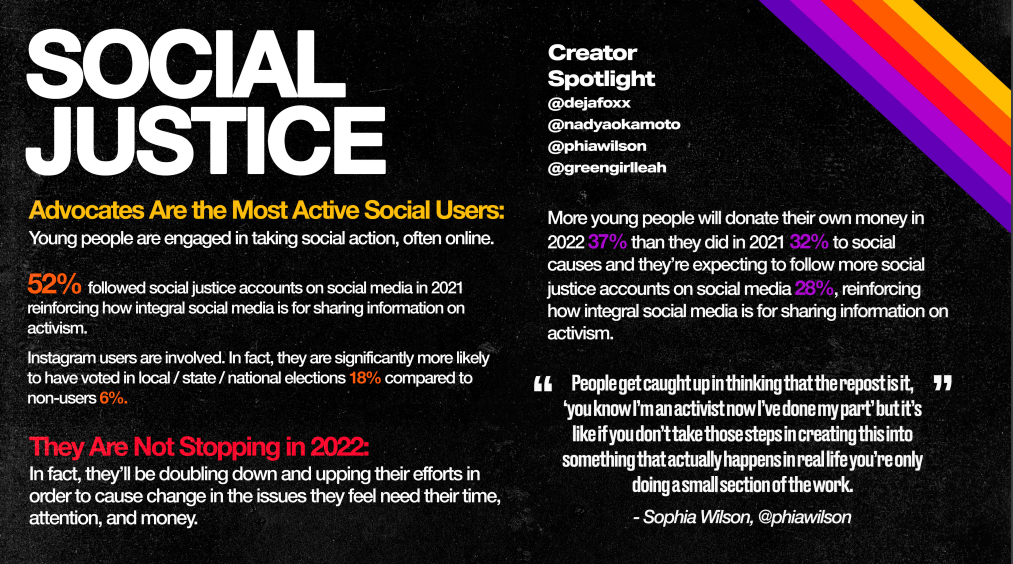 These numbers suggest that Gen Z is increasingly engaging with purpose and values messaging on Instagram. They make a convincing case for your organization and its partners to invest more in cause marketing on the platform.
Check out the full report here.
---
TAKE OUR SURVEY
If you're looking to further your understanding of your industry to navigate what's ahead in 2022, lend us a hand—and help yourself and your peers identify shared benchmarks in areas such as budgets, team structure, ESG and DE&I efforts, and more. Participate in Ragan Communications Leadership Council's 2022 Benchmark Survey, a comprehensive look at how to negotiate budgets with your executives, how to best reach deskless workers and foster culture among a hybrid workforce, and more.
Both internal and external communicators are encouraged to participate.
By taking part, you'll be entered to win one of three $100 gift cards. All who complete the survey will receive a full report on the findings. Responses are anonymous.
Survey takers will receive an executive summary of the findings.
---
CRISIS COMMUNICATIONS
Facebook reports it notified nearly 50,000 users across over 100 countries that they may have been targeted by surveillance companies working for government agencies or private clients.
The platform's parent company, Meta, discovered these incidents after a months-long investigation into companies that practice what it calls "surveillance-for-hire" and claimed it would remove about 1,500 fake accounts and send those companies cease-and-desist letters.
"The surveillance industry is much bigger than just one company, and it's much bigger than just malware-for-hire," said Nathaniel Gleicher, head of security policy for Meta and a co-author of Thursday's report. "The targeting we see is indiscriminate. They're targeting journalists. They're targeting politicians. They're targeting human rights defenders. They're also targeting ordinary citizens."

"The scrutiny and the pressure on NSO Group is welcome," said David Agranovich, director of threat disruption for Meta and a co-author of the threat report. "But it can't just be one and done. Part of the reason why we're including all of these cases in our threat report, and while we are leaning so heavily into making people understand that this is an industry that is bigger than just one company … is in hopes that it inspires more pressure, more action and broader impact across the entirety of the surveillance-for-hire industry."
Meta's immediate notifications to those affected demonstrates a proactive approach to protecting users on its platform that builds on its previous decision to eliminate controversial ad targeting topics and sustains its long march toward repairing user trust. By focusing on revealing a dense and often misunderstood aspect of user privacy, Gleicher and Agranovich establish themselves as industry leaders on an important subject, while also address the immediate concerns of Facebook users.
---
Announcing the PR Daily Leadership Network
PR Daily is launching the PR Daily Leadership Network, a unique membership group from Ragan Communications offering peer-to-peer advisory and team training along with a unique slate of resources and events to help public relations professionals break through the noise, increase their visibility and forge meaningful connections.
The Network provides daily insights and coverage on a range of topics including media relations, social media, measurement, Diversity, Equity & Inclusion, branding, thought leadership and crisis communications.
"The fast pace of change coupled with the demand on public relations professionals to protect and sometimes defend their company's reputation make it imperative for leaders to tap into the wisdom of other communicators and continue to learn and grow," says Diane Schwartz, CEO of Ragan Communications. "The PR Daily Leadership Network provides the answers but also encourages members to question the status quo and push for positive change."
Visit leadership.prdaily.com to learn more.
Broadway sees rising cancelations amid surging COVID-19 infections
Several Broadway productions, including "Dear Evan Hansen," "Aladdin," "Aint Too Proud," "Hamilton" and more have canceled Christmas-week performances due to rising COVID-19 infections caused by the omicron variant. The shows shared their regrets on social media:
— Hamilton (@HamiltonMusical) December 20, 2021
Performances of DEAR EVAN HANSEN from 12/20-12/26 have unfortunately been canceled out of an abundance of caution surrounding Covid-19, as the health, safety, and wellbeing of our cast, crew, and audience(s) remain our top priority. Performances are scheduled to resume 12/27. pic.twitter.com/5skoUdcqeJ

— Dear Evan Hansen (@DearEvanHansen) December 20, 2021
— Ain't Too Proud (@AintTooProud) December 21, 2021
"What you're seeing right now is the system actually working brilliantly because every show is testing non-stop," Playbill Vice President and COO Alex Birsh said. "Because of that, we're obviously seeing cancellations, but we're not seeing a whole cancellation of Broadway."
What it means:
Each show's commitment to communicate its COVID-19 announcements and protocols in design templates specific to the production demonstrates how consistent aesthetic design and branding choices can soften the blow of bad news. Birsh's words, meanwhile, illustrate how industry experts and executives can be deployed to reframe a negative announcement in a positive light by focusing on the wider implications of the decisions and offering perspective into the process leading up to the decision.
COMMENT
One Response to "Spider-Man draws audiences back to the movies, Gen Z leans into social justice on Instagram, and Broadway shuts down amid omicron surge"
Ronald N Levy

says:

Social justice is certainly deserved by people of limited means but if you are middle class you also deserve justice. So do America's large companies often attacked by politicians with the appeal: "they have plenty of money so let's take more of their money and use it to give more government benefits."

There's no free money so justice means justice for everyone. If politicians screw the poor, they have ways of getting even and some do. Screwing Amazon, Google, Facebook and other large companies would also be bad for our country because for every billion successful companies are deprived of, they must somehow make up for it by paying less to employees and stockholders, and charging more in prices ultimately paid by the public.

But aren't stockholders rich people who have more money than they know what to do with? No, trillions in stocks are held by retirement funds of workers who spent a lifetime for that money, insurance companies that have to charge us more if their investments pay less, millions of families who need money to some day retire, and other people who don't look like the rich bankers in the Monopoly game. Even the ultrarich don't burn the money but spend it on products that middle class workers make, and on factories and buildings that create millions of jobs.

Joining the PR 0aily Leadership Network is wise and almost necessary for those who hope to land a PR job with a top company because recruiters are prohibited by law from asking what you believe in. But if you're a member of the Leadership Network it's a sign that "this one is one of us, this one will be on our side."

What additional you can do is to donate even $25 a year to Business Roundtable or U.S. Chamber of Commerce—people who have no need at all for your money—because if you can mention the donation in a job interview, doubt ye that it can get you a measure of preference? Not a lot but just as a mile race is often won by inches, so is each job interview success.

Justice—people have died for it, people have lied for it, all of us deserve it, and the only way we are likely to get it is if we take care to create social justice for everyone, the needy and he rich who also need safety and fairness. Skin color shouldn't be a barrier to justice and neither should earning a lot of money as some of us in PR do or will!