How the movies are tempting consumers back to cinemas, channels for social justice messaging, and Lego's first LGBTQ-themed set
Also: Omaha Steaks encourages gatherings, Twitter relaunches verification program, and CNN regrets ethical lapse.
Hello, communicators:
With vaccination rates on the rise and Memorial Day right around the corner, brands are crafting messages centered on gatherings and human connection that consumers missed out on during the past year.
Omaha Steaks has launched a "Steakation" contest that will send one winner to a house in Omaha for Father's Day weekend that the brand has decked out with steak-themed décor and stocked with its signature products. Omaha Steaks owner Todd Simon will personally welcome the winner to the weekend getaway, which will also include a dinner prepared by the brand's culinary team, a grilling class and more.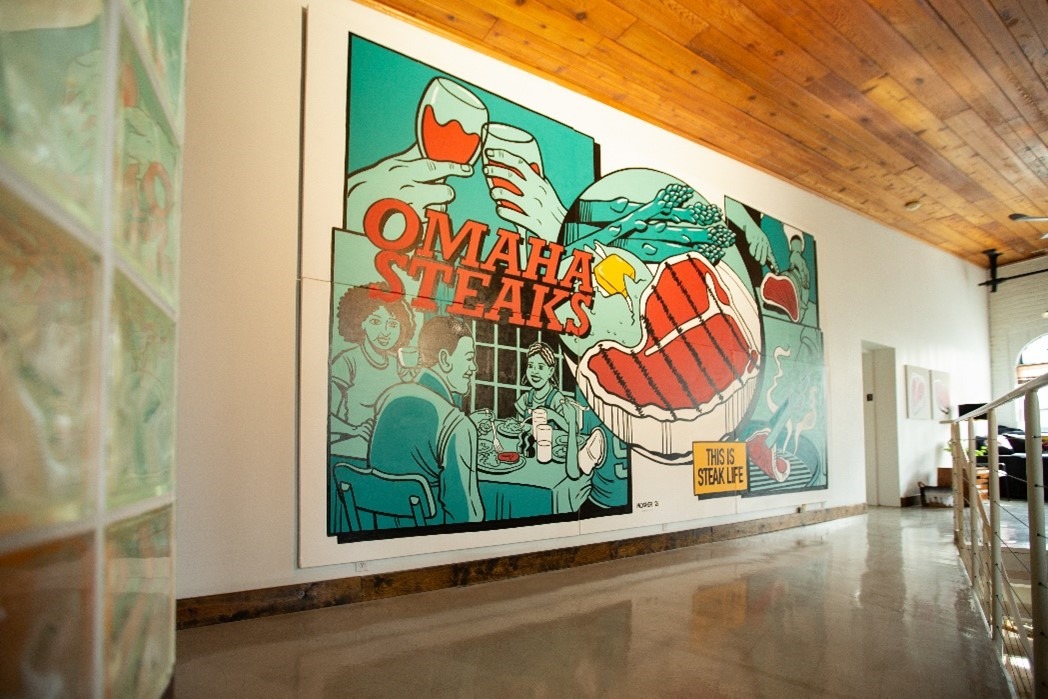 "Collectively we missed out on a lot of gatherings with family and friends last year," Simon said in the press release. "As Americans resume summer gatherings and get the itch to travel, we wanted to bring people together over a really fun and memorable experience."
In addition to capitalizing on summer holidays and updated guidance on communal gatherings, the announcement lets the Omaha meat purveyor steak its claim as one of the original gourmet food delivery brands by offering customers a solution for easy meal prep. It also reminds steakholders (last one, we promise) of the red meat's popularity amid a trend of culinary institutions focusing more on plant-based recipes and menus.
By announcing this contest before Memorial Day and celebrating the winner on Father's Day, the company also draws a narrative of engagement that it can sustain for several weeks to ensure the larger goals of steak awareness and promoting its delivery service is well done.
Movie industry enlists stars to promote a return to cinemas
Movie theater and studio executives have gathered for an industrywide showcase of summer films as part of a larger effort to encourage viewers to return to theaters after cineplexes closed their doors during the crippling COVID-19 outbreak. The showcase featured several movie stars, celebrities and other influencers who reminded audiences that seeing a movie on the big screen offers a more complete  experience than streaming.
"I'll see you in the theaters," the actor and director John Krasinski said in a video message before a new trailer for "A Quiet Place 2". "Marvel movies are made to be seen on the big screen," Kevin Feige, Marvel's chief executive, reminded audiences before showing footage of new films. And Ahmir Thompson, better known as Questlove, declared "Long live cinema" before a trailer for his forthcoming documentary "Summer of Soul."

"You need the big screen," Arnold Schwarzenegger told those assembled. "If you have the movie and you don't have the theaters, then you have nothing."

He added: "We have seen over this last year, the pandemic year, that people watched movies on a little iPhone and iPad. And you have to put the glasses on to see what's going on there. And they are missing the special effects and visual effects and all the great stuff that you usually see on the big screen."

And then he led a chant of "We are back! We are back!"
What it means:
As markets and businesses look to return to pre-pandemic operations, be sure to emphasize how stakeholder experiences with your brand or company's products will change for the better, too. Challenging your audience's recent behavioral trends over the past year that threaten your industry or company can be risky from the perspective of brand voice. You can avoid coming off as opportunistic (as epitomized by WeWork's CEO) by always putting stakeholder experience first (before company or industry health) and consider infusing a bit of humor in your messaging when appropriate.
---
MEASURED THOUGHTS
A new study by Porter Novelli reports that 59% of Americans surveyed say it's no longer acceptable for companies to be silent on social justice issues. Forty-nine percent say they assume companies that remain quiet on social justice issues don't care.
When it comes to where Americans look for companies to share their social justice messaging, social media remains the go-to destination (31%) followed closely by a company website and messaging that comes straight from leadership.
These statistics paint a clear picture of where your company can best share its values, but consider a combination of the three most popular channels. For instance, a visually engaging social post can contain a short link that redirects audiences to a longer piece of content on your company website that features your CEO sharing your organization's values.
Be intentional when sharing social justice messaging on social media by having discussions with internal stakeholders about whether a position is best expressed with original messaging, versus using your platform to amplify the voices and work of partner organizations that are more actively involved with the issues at hand.
---
CRISIS COMMUNICATIONS
CNN has acknowledged that anchor Chris Cuomo took part in calls advising his brother, New York governor Andrew Cuomo, on strategies to handle the sexual harassment allegations made against the politician. Critics say the behind-the-scenes conversation undercuts the journalistic integrity of Chris Cuomo and the network.
"Chris has not been involved in CNN's extensive coverage of the allegations against Governor Cuomo—on air or behind the scenes," the network said in a statement. "In part because, as he has said on his show, he could never be objective. But also because he often serves as a sounding board for his brother. However, it was inappropriate to engage in conversations that included members of the Governor's staff, which Chris acknowledges," the statement added. "He will not participate in such conversations going forward." The network said Cuomo will not be disciplined.

Chris Cuomo offered an on-air apology Thursday night, saying he recognized that he has "a unique responsibility" to balance his obligations as a journalist and a brother and that his conversations with the governor's staff created a problem for CNN.
Remember to directly address the root cause of any public critique when issuing a mea culpa, especially if the crisis highlights a larger question around trust or the integrity of your organization.
---
RAGAN'S 2021 BENCHMARK REPORT
Ragan has released its annual Communications Benchmark Report, an exclusive study from Ragan's Communications Leadership Council that analyzes the major trends in the profession over the last year.
During that time, comms pros have been called on to develop and distribute messages on new policies that affect internal and external stakeholders alike. Their role has become more essential as they helped keep their organizations focused and moving forward. They've seen their access to the C-suite increase throughout 2020, and they forged important new alliances with peers in other departments, including HR, finance and workplace wellness.
Culled from more than 750 respondents, the 32-page report is available in its entirety exclusively to members of the Communications Leadership Council.
Download your copy of the exclusive Benchmark Survey Executive Summary today and get a crucial competitive advantage that will fuel your success for 2021 and beyond.
---
SOCIAL BUZZ
Twitter has announced that it will relaunch its long dormant public verification program. Verified accounts earn a blue check mark, long regarded as a mark of status among corporate professionals and journalists alike.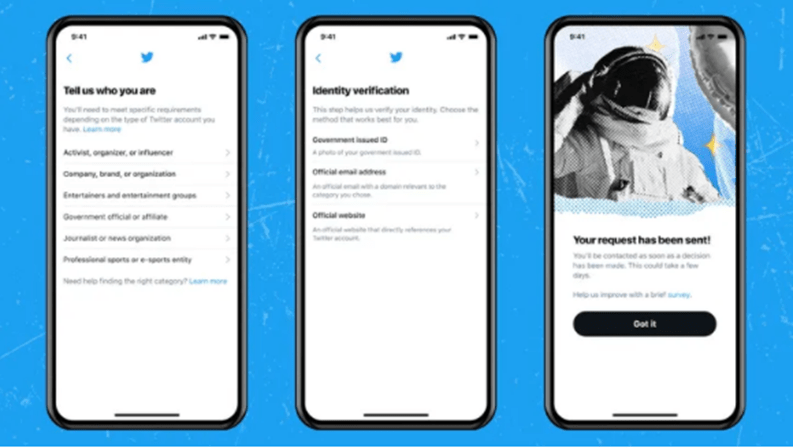 To make the grade for verification, users will have to meet Twitter's revamped verification criteria, which includes having an account of public interest that falls under one of six different types of categorizations as well as being "authentic, notable, and active."

Here are the six categories of accounts that can qualify for verification:

Government
Companies, brands and organizations
News organizations and journalists
Entertainment
Sports and gaming
Activists, organizers, and other influential individuals

You'll be able to apply for verification in the Account Settings tab at some point "over the next few weeks." Once you've applied, Twitter says you can expect a response "within a few days," but that timeline could open up to a few weeks depending on the volume of applications. All applications will be evaluated by humans, Twitter said in a briefing with journalists this week.
Twitter's relaunched verification program serves as a reminder that transparent messaging around new programs and operation procedures should not only include criteria for determining how those procedures are enforced but also a timeline detailing when they will be implemented and any available details around who will be making the decisions.
---
 COMMUNICATIONS WEEK
Ragan is delighted to add industry event and thought leadership brand Communications Week to our portfolio. You can read the full press release here.
"We are reimagining Communications Week as a year-round endeavor," says Ragan Communications CEO Diane Schwartz. "The rollout will begin next month with thought-provoking content on the future of communications on Commsweek.com, Ragan.com and PRDaily.com, culminating with a weeklong series in November that will feature conferences, networking events, workshops, webinars and more."
The flagship event for 2021 will take place Nov. 15-19. Stay tuned for updates on the many opportunities and offerings that will help communicators connect, learn and celebrate their achievements later this year.
Lego announces rainbow colored set ahead of Pride Month
Lego has revealed its first LGBTQ-themed set ahead of Pride celebrations in June. The 346-piece set features 11 figures, each assigned a different color of the rainbow. It is called "Everyone is Awesome," a nod to the popular "Everything is Awesome" theme song from "The Lego Movie."
CNN reports:
"I wanted to create a model that symbolizes inclusivity and celebrates everyone, no matter how they identify or who they love," the set's designer Matthew Ashton said in a statement Thursday.

Ashton said the set was also a celebration of the LGBTQ community within Lego and among the company's adult fans. "I am fortunate to be a part of a proud, supportive and passionate community of colleagues and fans," he said. "We share love for creativity and self-expression through Lego bricks and this set is a way to show my gratitude for all the love and inspiration that is constantly shared."
Ashton also celebrated his work on his Twitter profile:
❤️#lego Love to each and every one of you!

Let's all do our best to be awesome to each other❤️🌈❤️🌈❤️🌈❤️@LEGO_Group pic.twitter.com/A8RsIbYyPW

— Matthew Ashton (@matthew__ashton) May 20, 2021
Other brand advocates also celebrated the company's announcement:
As a keen LEGO engineer for about 30 years now, I can only endorse this beautiful rainbow set.

🌈🌈🌈🌈🌈🌈🌈🌈🌈🌈🌈🌈#LEGO pic.twitter.com/Yaopk1TZS2

— Terry Reintke (@TerryReintke) May 21, 2021
Playing my tiny #lego violin today for all the bigots and idiots upset by the unveiling of the amazing #everyoneisawesome Lego Pride set. 🖤🤎❤️🧡💛💚💙💜💙🤍💖 pic.twitter.com/pOttN5gkRX

— Willie Mackenzie 🌈🥦🦖🧩💚 (@williemackenzie) May 20, 2021
When asked if Lego was supporting LGBTQI+ organizations financially following the announcement, the company was quick to respond:
We have committed to support a number of organizations on an ongoing basis, including UK charity Diversity Role Models which helps children learn about empathy to ensure our future builders are accepting of everyone! 💖 Learn more at https://t.co/3RdX9R0WyW 😊

— LEGO (@LEGO_Group) May 20, 2021
As social media users looked to Ashton for answers to their many questions, he clarified that he could not answer questions on behalf of the company:
Hey lovely people, while I'm more than happy to chat 'general' #LEGO stuff on here, please remember this is my personal account & therefore I cannot answer on behalf of the LEGO Company. Please direct all product/brand related requests & concerns to @LEGO_Group .Love to you all:)

— Matthew Ashton (@matthew__ashton) May 21, 2021
Why it matters:
Lego's colorful new set and corresponding campaign serves as a reminder of what a brand authentically living its values can look like. Spotlight your employees who identify with the values you are sharing externally and encourage them to communicate your company's positions in their own words—but be careful to offer resources so they don't become a de facto spokesperson for your brand. Activate your fan base and brand advocates to push back on any negative sentiment whenever possible.
---
CONFERENCE ALERT
Communicators face a crossroads this year as they anticipate markets recovering and workplaces reopening. Their work crafting a flexible crisis plan and mindful messaging that ensures your brand or organization is ready to handle any future unforeseen situation smoothly will be essential.
Join us at Ragan's Crisis Communications Conference on June 10  to learn timely strategies to help you reimagine your approach to crisis communications, mobilize internal and external stakeholders to be your megaphone and foster goodwill—and make fresh plans for unforeseen obstacles that may arise.
Learn powerful insights and approaches from speakers at organizations including Carnival Cruise Line, KFC, IBM, Amtrak, Mastercard and more.
---
WHAT YOU SAID
Yesterday, we asked if you have restructured your brand newsroom over the past year to make your company's content more accessible. Over half of you said yes (54%), while 46% said no.
Have you restructured your brand newsroom over the past year to make your company's content more accessible, PR pros and communicators? #DailyScoop

— PR Daily (@PRDaily) May 20, 2021
Is there a question you'd like to see asked? Let us know by tagging #DailyScoop!
---
SOUNDING BOARD
How long of a break are you taking for Memorial Day, PR pros and communicators?
How long of a break are you taking for Memorial Day, PR pros and communicators? #DailyScoop

— PR Daily (@PRDaily) May 21, 2021
Let us know in the comments below. We'll share the results in Monday's roundup.
COMMENT
One Response to "How the movies are tempting consumers back to cinemas, channels for social justice messaging, and Lego's first LGBTQ-themed set"
Ronald Levy

says:

Perhaps the way to fill movie theaters is by offering not just movies but additional ways to get happiness.

People are hungry for help—ideas from experts on how to weigh less, earn more and feel more fulfilled.

Lawyers would be happy to offer lectures on O say can you sue. What are your rights, and how hard or easy is it to sue people who should damn well respect your rights and stop infringing or else pay you for the damage you're suffering.

All kinds of medical people—top doctors from top hospitals who have excellent advice on hearts and headaches so you feel better and live longer, chiropractors who could help millions more people if the masses had more massive knowledge of when and why to get their bones into chiropractic offices (and how to get insurance to pay), and psychological guidance professionals who can lecture on how not to miss out on happiness that good advice could help millions of people to have.

Bankers might love a chance to counsel prospective homebuyers about how to save on mortgages and closing costs. There's almost no end to the experts who can help people, the number of people who'd love the help, and the number of theater tickets PR can sell by helping advice needers and advice givers get together.

It could be more profitable than trying to sell people on going for movies that may not be better than the movies easily available at home for free. Wisdom may be to sell ye what's more saleable than what others are selling. A good way to better fill theater seats may be by better filling the public's needs.