Sports organizations respond to Jacob Blake shooting, Coca-Cola offering 4,000 voluntary job cuts, and Girl Scouts offers its members new looks
Also: 'The West Wing' reunites to urge voting, Giphy offers moving Zoom backgrounds, Gen Z consumers are shifting the PR and marketing landscape with values, and more.
Hello, communicators:
The cast of NBC's "The West Wing" is reuniting for a special episode aimed to promote voting in November's presidential elections.
For the first time in 17 years, the original cast of @TheWestWing_TV will come together to get out the vote. A West Wing Special to Benefit When We All Vote is coming to HBO Max this fall. pic.twitter.com/icO4R7afC7

— HBO Max (@hbomax) August 25, 2020
The one-off special will include new material by creator Aaron Sorkin and will air on streaming platform HBO Max ahead of the Nov. 3 elections to raise awareness of the nonprofit "When We All Vote" group co-chaired by former first lady Michelle Obama.
It's not the first time a former show's cast has come together to create a reunion episode during COVID-19.
Among others, NBC's "Parks and Recreation" aired a special in April 2020 that focused on social distancing messages. Proceeds from the show were donated to Feeding America's COVID-19 response. The cast of "Community" and its creator, Dan Harmon, also created a virtual table reaed and Q&A in May 2020, with proceeds also benefiting COVID-19 response.
Here are today's top stories: 
Sports leagues postpone games, practices after Jacob Blake shooting
After the Milwaukee Bucks decided not to take the court on Wednesday in a protest supporting the Black Lives Matter movement, the National Basketball League quickly announced that it was postponing playoff games. On Thursday, the league tweeted this statement:
The NBA issued the following statement pic.twitter.com/8xvdWFoq3C

— NBA (@NBA) August 27, 2020
Other sports organizations soon followed the NBA's lead. Major League Baseball postponed seven games set for Wednesday and Thursday after players and teams refused to play. Though eight games were played on Thursday, MLB tweeted the following:
Statement from Major League Baseball: pic.twitter.com/jyDdZJ7fN7

— MLB (@MLB) August 27, 2020
The National Hockey League announced it was delaying its Stanley Cup Playoff games scheduled for Thursday and Friday, with the league planning to resume Saturday. It released this statement:
This must be clear! This is not a league mandated action this has been solely driven by its PLAYERS and damn I'm proud to stand with them! ✊🏾 pic.twitter.com/hga4m6qWE6

— Matt Dumba (@matt_dumba) August 27, 2020
The Indianapolis Colts, Green Bay Packers, New York Jets, Chicago Bears, Tennessee Titans, Denver Broncos and Arizona Cardinals were among the teams to cancel or postpone practices Thursday. The Los Angeles Chargers canceled a scheduled scrimmage at SoFi Stadium. The Washington Football Team already had postponed a scrimmage scheduled for Thursday at FedEx Field. The Detroit Lions began the NFL's movement by canceling their practice Tuesday.
The NFL's Twitter feed, similar to other sports' organizations, is full of retweets from individual teams' statements on the protests and conversations they're having about social justice and racial equality.
Here's an example from the Los Angeles Chargers:
"This football team is committed to fighting for a championship and social justice."

Instead of today's scrimmage, we decided to do something different. pic.twitter.com/D5PJlGOLTg

— Los Angeles Chargers (@Chargers) August 27, 2020
Why it's important: As organizations struggle to respond to Black Lives Matter protests and address social justice issues, you should focus on thoughtful strategies that aim at meaningful efforts to effect change, such as community partnerships, amplifying diverse voices within your organization and setting achievable, yet challenging, hiring goals. What you shouldn't do is stay silent.
But across the [MLB], one theme became clear: Baseball shouldn't avoid potentially difficult conversations and decisions regarding social issues. Though the process may be imperfect, there was agreement that coaches, players and teams should speak their mind.
If you're not sure where to start, ask your employees. Doing so can help both your response and your organization's culture.
---
SOCIAL BUZZ
If you're looking for a new Zoom background, Giphy is offering a way to punch up your meeting. The platform launched a "Backdrop" tool that enables you to upload a picture or video file and add stickers, filters and more to create a customized background: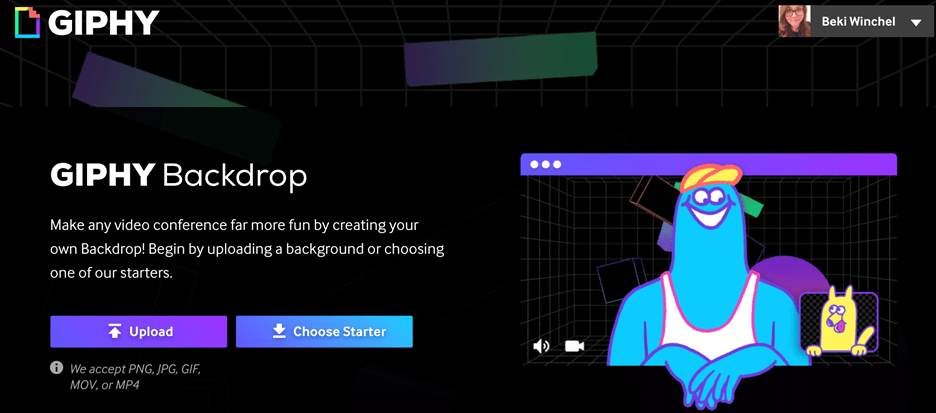 For example, you can use your work-from-home canine colleague:
You can also grab a number of pre-made moving backgrounds, including the classic meeting interruption GIF:
---
MEASURED THOUGHTS
Facebook recently released a report outlining "5 Global Shifts Shaping the Future Now," in which it revealed that 41% of the global population is under 25 years old—and they're changing the PR and marketing landscape with their focus on values.
Gen Z consumers are 1.21 times more likely than average to prioritize their environmental impact, and 54% of Gen Z consumers in Europe are more interested in social causes because of COVID-19. Many plan to continue the behaviors they've adopted during COVID-19, as well: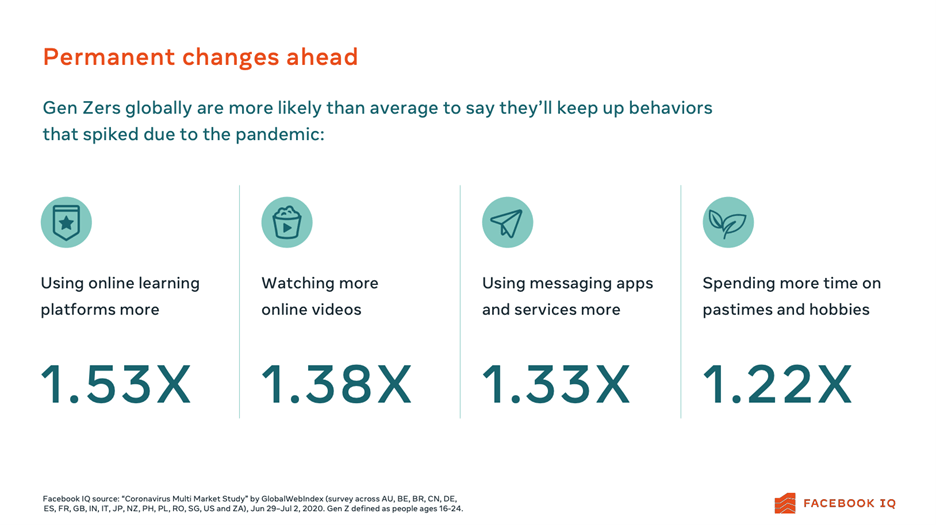 You can view the entire report here.
---
CRISIS LEADERSHIP BOARD
Looking for more insight on how to address the current global crisis and lead your organization into a strong recovery?
Join Ragan's Crisis Leadership Board to network and brainstorm with peers, get the latest intelligence and research and start to strategize for the future of your organization.
Learn more about this exclusive membership here. 
Coca-Cola offering voluntary layoffs to 4,000 employees
The beverage company's job cuts are part of a restructuring aimed to streamline efforts and meet changing consumer behaviors.
In a press release, The Coca-Cola Company's chairman and chief executive, James Quincey, said:
We have been on a multi-year journey to transform our organization. The changes in our operating model will shift our marketing to drive more growth and put execution closer to customers and consumers while prioritizing a portfolio of strong brands and a disciplined innovation framework. As we implement these changes, we're continuing to evolve our organization, which will include significant changes in the structure of our workforce.
The company is forecasting that its overall global severance program will cost the company $350 million to $550 million. Coke had roughly 86,200 employees worldwide as of Dec. 31, of which more than 10,000 were in the U.S.
Why it's important: As your organization adjusts its business model and continuity plans as the COVID-19 crisis continues and you adjust to long-term changes in consumer attitudes, make sure your employees are in the loop and you're continually checking in as well as keeping your communications transparent. Use listening tools and strategies to take the temperature of your workforce's response to changes as well.
---
DOWNLOAD OUR REPORT
Following the deaths of George Floyd, Ahmaud Arbery, Breonna Taylor and others, organizations were pushed more forcefully than ever before to take stands against systemic racism and move to support social justice initiatives. Which responses made an impact—and which responses fell flat?
Learn from 10 of the biggest brand messages in our special report, "Organizational responses to Black Lives Matter." The report offers communicators important takeaways to lead organizations and clients in the second half of 2020 and into the future.
---
TACTICALLY SPEAKING
The Girls Scouts of the USA partnered with the Fashion Institute of Technology to update its uniforms. Three students from FIT designed the set of separates that members can mix and match to express their individuality:
The pieces are also updated for technology.
A vest designed for the modern Girl Scout must have pockets, and those pockets must be large enough to fit the largest model of the iPhone.

"In all our fittings that was the No. 1 thing," said Wendy Lou, the deputy chief revenue officer of the Girl Scouts of the USA. "Can you fit the iPhone in there? Yes? Let's go."
In a press release, the Girl Scouts wrote:
For the first time in over two decades, the uniforms were redesigned to better reflect the young female changemakers of today and tomorrow. The two powerhouse organizations are embracing girls' desires to express their individuality through fashion by offering options available in the online Girl Scout Shop that can be worn while participating in Girl Scout activities or styled as everyday wear.
---
WHAT YOU SAID
We asked how you're reaching a sustainable work/life balance as you work from home, and 74% of you take midday breaks to create distance, while nearly 15% turn to yoga and meditation apps. Almost 8% shut off notifications—which, as we head into the weekend, is something to consider:
As you continue to work from home, what are you using to achieve a sustainable work/life balance?

Share your thoughts with us below and under #DailyScoop.

— PR Daily (@PRDaily) August 27, 2020
Is there a question you'd like us to ask in an upcoming poll? Let us know!
---
SOUNDING BOARD 
How do you let off stress, PR and communications pros?
How do you let off stress, PR and communications pros?

Share with us how you balance the pressure of a busy plate and multiple crises below and under #DailyScoop. We'll share on Monday.

— PR Daily (@PRDaily) August 28, 2020
Share how you balance the pressure of a busy plate and multiple crises belowand under the #DailyScoop hashtag—and have a safe and restful weekend.
COMMENT
One Response to "Sports organizations respond to Jacob Blake shooting, Coca-Cola offering 4,000 voluntary job cuts, and Girl Scouts offers its members new looks"
Ronald N. Levy

says:

A police union could have a volunteer PR firm make this case:

.1. Police violence is wrong when NOT necessary.

.2. Mob violence is ALWAYS wrong and NEVER necessary.

When some athletes kneel during our national anthem to protest violence BY police, should some athletes kneel to protest violence AGAINST police?

Should public groups protest throwing bricks that injure innocent police, or burning down stores of innocent store owners and workers and consumers, endangering with those fires the lives of our children?

Since our government supplies lawyers to people accused of crime even if guilty, should government do more for police who are innocent victims of crime and for families of officers killed deliberately in crimes and accidentlly in protests? Since it's self-evident or should be that all men are created equal, should men who are law enforcers be as free from unlawful violence as law violators?

We in PR who've learned to sometimes advocate for the unpopular, should we advocate more for police who risk their lives to protect our lives?

Is it more okay to yell "pig" or worse at cops on the street if one wouldn't yell that at civilians in a bar or on a bus?