Tesla denies discrimination allegations, travel brands fail to win over Black travelers and Unilever hints at Ben & Jerry's return to Israel
Also: OpenTable shares most romantic restaurants in America, Meredith shelves print editions of Entertainment Weekly and InStyle, and more.
Hello, communicators:
Restaurant reservation booking website OpenTable has unveiled its annual list of the 100 most romantic restaurants in America, analyzing over 12.4 million U.S. diner reviews and listing the winners in alphabetical order. The company revealed its methodology, explaining that the scores were tabulated using several data points including overall diner rating, user clout, total number of reviews and regional overall rating. Broken down by type of restaurant, steakhouses accounted for 37% of the list compared to 13% Italian restaurants, 12% seafood eateries and 11% contemporary American establishments.
OpenTable said in a press release that the list was a tool to help diners get away for a night of romance again and "fall back in love with restaurants, too" while also promoting its Valentine's Day experience hub.
"Our data suggests that Valentine's Day dining is rebounding this year, with reservations up 30% nationwide compared to last year," added Susan Lee, OpenTable's chief growth officer. "We're excited to see this momentum leading up to what has traditionally been one of the biggest dining days of the year for restaurants."
OpenTable's list demonstrates how a brand can tell a story using its accumulated user data, tying into the upcoming holiday to get headlines.
Here are today's other top stories:
Tesla responds to California discrimination suit
The state of California's Department of Fair Employment and Housing (DFEH) said that it will sue Tesla for discrimination after receiving hundreds of complaints from workers about racism at the automaker's factory in Fremont, California. The complaints allege that the factory is a racially segregated workplace where Black workers face pay disparities and a lack of promotions, are assigned more laborious job assignments and are bombarded with racial slurs.
Tesla responded with a blog post says DFEH's lawsuit is "misguided" and restates its commitment to workers, and links to a DE&I impact report from 2020.
Tesla strongly opposes all forms of discrimination and harassment and has a dedicated Employee Relations team that responds to and investigates all complaints. We also have a Diversity, Equity, and Inclusion team whose work is shown in this public report. Tesla has always disciplined and terminated employees who engage in misconduct, including those who use racial slurs or harass others in different ways. We recently rolled out an additional training program that reinforces Tesla's requirement that all employees must treat each other with respect and reminds employees about the numerous ways they can report concerns, including anonymously. Above all, Tesla continues to seek to provide a workplace that is safe, respectful, fair, and inclusive­—all of which are vital to achieving our mission.

Over the past five years, the DFEH has been asked on almost 50 occasions by individuals who believe they were discriminated against or harassed to investigate Tesla. On every single occasion, when the DFEH closed an investigation, it did not find misconduct against Tesla. It therefore strains credibility for the agency to now allege, after a three-year investigation, that systematic racial discrimination and harassment somehow existed at Tesla. A narrative spun by the DFEH and a handful of plaintiff firms to generate publicity is not factual proof.
Why it matters:
Tesla began engaging with employees about workplace racism this past October after a federal jury in San Francisco ruled that the electric car manufacturer had to pay nearly $137 million to a Black elevator operator who experienced racially-motivated abuse while working at a Tesla factory.
In this new post, the company's attempt to undermine the DFEH's credibility clashes with its other message of care and responsibility for Black employees facing racism in the workplace. While it can be tough to craft vulnerable messaging about pending litigation, PR teams whould partner with legal counsel to compose a statement that corrects the record while still acknowledging the validity of stakeholder concerns.
Tesla's tie in to its DE&I report from 2020 features several employees from diverse backgrounds sharing their experiences at the company, and includes metrics about the demographics of its workforce at the time. The report acknowledges work to be done to create an equal and fair work environment for all, and the report later shares some initiatives for making progress—but but nowhere are the numbers or the initiatives connected to tangible benchmark goals. This emphasizes how the data in DE&I reports is only as effective as the outcomes and action plans they underpin.
---
MEASURED THOUGHTS
A new poll from Morning Consult found that Black travelers have increased distrust of travel brands, with independent boutique hotels earning the trust of 60% Black travelers surveyed compared to 70% of all travelers. Chain hotels underperform boutique hotels by 9 percentage points. The report cites multiple examples when travel brands have failed to earn the trust of Black travelers in their messaging, calling to mind recent widespread criticism after Metro Houston installed a "commemorative seat" in honor of Rosa Parks.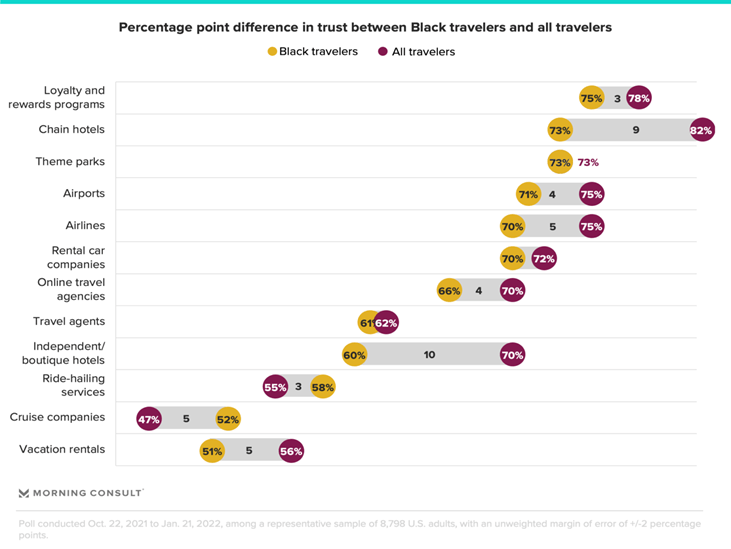 "While many travel brands share messages of solidarity and make sweeping promises during Black History Month, Black travelers are skeptical of underlying intentions and doubtful that brands are actually committed to change," Morning Consult writes. "To better serve Black travelers, the industry must focus on the larger, systemic issues at play—and do so year-round. To build universal trust, travel brands must prove their commitment to inclusivity."
Check out more from the report here.
---
TAKE OUR SURVEY
We want to know about your career as a social media professional.
How big is your team? Are you valued at your organization?
If you're interested in helping benchmark the career path potential of social media professionals and shedding light on how social media is internally managed, viewed and evaluated, take our survey. The 2022 Social Media Career survey is a follow-up to a 2020 report by the Institute for Public Relations, Ragan Communications and the University of Florida.
Whether you're in charge of company social media or involved in social media for a client, we welcome your participation.
Respondents will receive a full report on the findings, which will also be shared on PR Daily.   Responses will remain confidential.
---
TACTICALLY SPEAKING
Meredith Corp. media group announced in a staff memo that it will stop publishing print editions for Entertainment Weekly, InStyle, EatingWell, Health, Parents and People en Español, with April issues of each magazine serving as their final print editions. The decision will result in about 200 eliminated roles, which the company said represents less than 5% of its total staff.
The Wall Street Journal reports:
"We have said from the beginning, buying Meredith was about buying brands, not magazines or websites," [Dotdash Meredith CEO Neil] Vogel said in his note. "It is not news to anyone that there has been a pronounced shift in readership and advertising from print to digital, and as a result, for a few important brands, print is no longer serving the brand's core purpose."

"Naysayers will interpret this as another nail in print's coffin," Mr. Vogel said in his memo Wednesday. "They couldn't be more wrong."
By sharing this information in a staff note, Vogel informed those most affected by the restructure first.
---
Announcing the PR Daily Leadership Network
PR Daily is launching the PR Daily Leadership Network, a unique membership group from Ragan Communications offering peer-to-peer advisory and team training along with a unique slate of resources and events to help public relations professionals break through the noise, increase their visibility and forge meaningful connections.
The Network provides daily insights and coverage on a range of topics including media relations, social media, measurement, Diversity, Equity & Inclusion, branding, thought leadership and crisis communications.
"The fast pace of change coupled with the demand on public relations professionals to protect and sometimes defend their company's reputation make it imperative for leaders to tap into the wisdom of other communicators and continue to learn and grow," says Diane Schwartz, CEO of Ragan Communications. "The PR Daily Leadership Network provides the answers but also encourages members to question the status quo and push for positive change."
Visit leadership.prdaily.com to learn more.
Unilever teases new strategy for Ben & Jerry's in Israel
Unilever CEO Alan Jope explained the company's strategy for navigating the tenuous situation with its Ben & Jerry's brand after its founders decided to stop selling the ice cream in Israel-occupied West Bank. The decision caused an uproar, with many Israeli businesses vowing to never sell the brand's products again and some U.S. pension funds divesting from the company. Jope said that he expects a new arrangement for Ben & Jerry's in Israel by the end of the year.
"Our absolute focus right now is to figure out what the new arrangement will be for Ben & Jerry's," CEO Alan Jope said on a conference call with journalists after the company announced earnings. "On subjects where Unilever brands don't have the expertise or credibility, we think its best that they stay out of the debate."

"Ben & Jerry's is a great brand – most of the time they get it right – they have a great track record of campaigning on important issues that are relevant to their consumers," Jope added.
What it means:
While Jope's words are the most verbose he has been on the Ben & Jerry's debacle yet, he deliberately avoids criticizing Ben & Jerry's decision to stop West Bank sales and instead focuses on how much the brand's identity is embraced by its core consumers. This reminds investors and other stakeholders that Unilever's portfolio includes brands with diverse consumer segments and demonstrates that the company understands where their behaviors deviate.
Jope's statement about staying out of the political debate is wisdom to follow for communicators still struggling to figure out when their organization should and shouldn't take a stand on an issue. If your employees and leaders don't have the expertise to contribute meaningfully to a sensitive cultural conversation, acknowledging that fact can be more diplomatic and tactful than taking an uninformed position.
COMMENT