Pharmacy chains respond to opioid lawsuit, Americans take responsibility for data security, and Home Depot announces delivery partnership with Walmart
Also: Bank of America creates financing directory for women entrepreneurs, Tesla explains racism lawsuit to employees, William Shatner goes to space, and more.
Hello, communicators:
October is National Women's Small Business Month, and Bank of America is marking the occasion by launching the Bank of America Access to Capital Directory, a resource designed to educate women-owned businesses in the U.S on how to secure capital and identify potential sources of funding. Acting as a content and education hub for women entrepreneurs, the directory is a searchable database that lets users sort potential funding opportunities by type including seed, Series A or late-stage equity, as well as grants and debt capital, depending on the searcher's needs.
"While there is no guarantee that an applicant will receive the funding, their chances are improved when applying for the correct funding for the maturity and size of their business," the press release reads.
"In our extensive work with women entrepreneurs, we have learned that one of their biggest challenges is identifying sources of funding, particularly amid the pandemic," Anne Finucane, vice chairman at Bank of America, said in a statement.
Bank of America's Access to Capital Directory serves as an example of how the proprietary resources your company already has at its disposal can be repackaged to provide value to audiences and drive forward your larger brand purpose. When offering new resources to stakeholders, be sure to communicate how those resources will be made available and consider the design of the portal to ensure it is accessible to all.
Pharmacy chains respond to accusations in opioid abuse trial
Large pharmacy chains Walgreens, CVS, Walmart and others have responded to accusations that they fueled the U.S. opioid epidemic with lax protocols and procedures. Those accusations are at the heart of the first trial about opioid abuse to directly include the pharmacy chains, currently underway in Cleveland, Ohio.
NPR reports:
"[O]pioid prescriptions are written by doctors, not pharmacists," said CVS Health in a statement. "Our pharmacies fill legitimate prescriptions written by licensed doctors. CVS Health is very different from drug manufacturers and wholesalers and we will vigorously defend the company in these matters."

"Blaming pharmacists for not second-guessing the very doctors [the Drug Enforcement Administration] approved to prescribe opioids is a transparent attempt to shift blame from DEA's well-documented failures in keeping bad doctors from prescribing opioids in the first place," Walmart said in a statement last year after the US Justice Department filed a separate lawsuit against the company.
Walgreens spokesman Phil Caruso said the company's pharmacists used "state of the art systems" to help decide which opioid prescriptions were legitimate. "We never manufactured or marketed opioids, and never sold opioids to the pain clinics, internet pharmacies or the 'pill mills' that fueled the opioid crisis."
In his opening remarks, lead prosecuting attorney Mark Lanier read several statements from employees claiming that they believed the safeguards implemented by pharmacies to prevent suspicious prescriptions were insufficient.
"Walgreens is not verifying the legitimacy of suspicious orders, which could lead to the fulfilment of an illicit order," said one Walgreens memo cited by Lanier.

A separate communication from a CVS employee warned that the company's safeguards, designed to reduce prescription opioid abuse, might be inadequate. "I may have been naïve to believe we were doing everything we could to reduce the growth of this tragic problem in the U.S.," the CVS document cited by Lanier stated.

NPR asked CVS and Walgreens to comment on the documents. CVS hasn't responded. A spokesperson for Walgreens declined to comment.
In a statement to Reuters, however, Walgreens also said that it took "great pride in the judgment of our pharmacy professionals."
Why it matters:             
As businesses continue to face the consequences of the opioid crisis, pharmaceutical chains are shifting blame to doctors who wrote prescriptions while remaining vague about the verification steps and processes pharmacists took to ensure prescriptions they filled were legitimate. Brand blogs about how Walgreens and CVS are combatting the opioid epidemic demonstrate that these brands have the resources to outline the specifics of their protocols and procedures—steps which have not been taken.
The conflicting messaging between Walgreen's stated respect of its pharmacists and the employee memos being read in court, meanwhile, highlight how your workers on the ground can play an integral role in your crisis response. You can begin to identify a problem by listening to their feedback and communicating that feedback up the ladder to advocate for new protocols, procedures and scenario training.
---
MEASURED THOUGHTS
A recent study from Router Network found that 63% of respondents had been affected by a data breach. Among them, 60% had personal data leaked pertaining to their credit card information, while 45% had email data leaked. A majority (79%) also admitted they should be doing more to protect their data, while 66% believe that new data security protocols are making the process more complicated.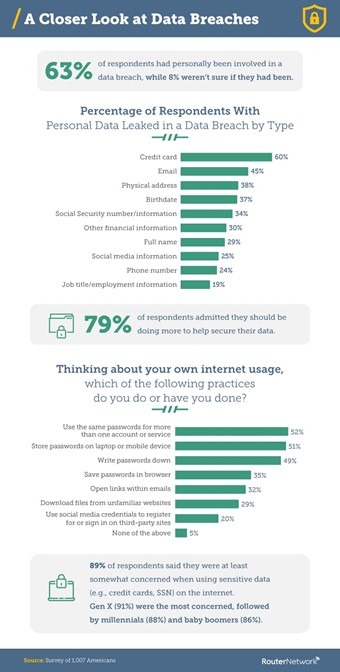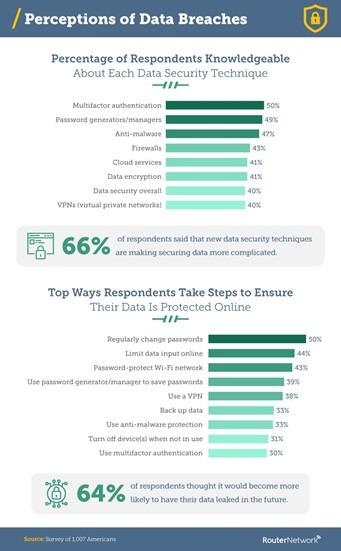 As October marks the celebration of National Cybersecurity Awareness month, the timing of this study suggests that far fewer people take the simple precautions to protect their data than perhaps expected. The fact that 66% of respondents said new data techniques make protecting their information more complicated highlights an opportunity for communicators to work with IT and security teams on language and messaging that demystifies the process and increases adoption of security best practices.
Check out the full study here.
---
CRISIS COMMUNICATIONS
Tesla sent a memo to employees after a federal jury in San Francisco ruled that the electric car manufacturer had to pay nearly $137 million to a Black elevator operator who experienced racial abuse while working at a Tesla factory. The plaintiff, Owen Diaz, said that workers at the factory drew swastikas and racial epithets in a bathroom stall and scribbled offensive caricatures of Black children around the factory. Diaz said that despite his multiple complaints, the company did little to address the behavior.
According to an employee memo shared by Tesla:
Mr. Diaz made written complaints to his non-Tesla supervisors. Those were well-documented in the nine months he worked at our factory. But he didn't make any complaints about the n-word until after he was not hired full-time by Tesla—and after he hired an attorney. Even though Mr. Diaz now complains about racial harassment at Fremont, at the time he said he was being harassed, he recommended to his son and daughter—while they were all living together in the same home—that they work at Tesla with him.

While we strongly believe that these facts don't justify the verdict reached by the jury in San Francisco, we do recognize that in 2015 and 2016 we were not perfect. We're still not perfect. But we have come a long way from 5 years ago. We continue to grow and improve in how we address employee concerns. Occasionally, we'll get it wrong, and when that happens we should be held accountable.

The Tesla of 2015 and 2016 (when Mr. Diaz worked in the Fremont factory) is not the same as the Tesla of today. Since then, Tesla has added an Employee Relations team, dedicated to investigating employee complaints. Tesla has added a Diversity, Equity & Inclusion team dedicated to ensuring that employees have the equal opportunity to excel at Tesla. And Tesla now has a comprehensive Employee Handbook (replacing the Anti-Handbook Handbook) where all of our HR policies, employee protections, and ways to report issues are published in one easy-to-find online document.
By attempting to minimize Diaz's case and cast doubt on his character while sharing its efforts to improve employee relations and DE&I practices in the same memo, Tesla's statement offers mixed messaging that undermines its stated commitments.
---
TACTICALLY SPEAKING
Actor William Shatner, best known for playing Captain Kirk in the original "Star Trek" series, has spoken about his plans to travel to space with Blue Origin alongside Audrey Powers, the company's vice president of mission and flight operations. At 90 years old, Shatner will be the oldest person to ever travel to space.
In an interview with NBC's "TODAY" show, the "Star Trek" actor revealed he was approached by Jeff Bezos' team to launch to the edge of space. "They called me," Shatner said. "I'm going to see the vastness of space and the extraordinary miracle of our Earth and how fragile it is compared to the forces at work in the universe—that's really what I'm looking for."

When asked how he would prepare, he jokingly said, "I had some apple pie last night."
While Shatner played up his cavalier personality ahead of the launch, Powers spoke to her qualifications.
According to Blue Origin's press release:
"I'm so proud and humbled to fly on behalf of Team Blue, and I'm excited to continue writing Blue's human spaceflight history," said Audrey Powers. "I was part of the amazing effort we assembled for New Shepard's Human Flight Certification Review, a years-long initiative completed in July 2021. As an engineer and lawyer with more than two decades of experience in the aerospace industry, I have great confidence in our New Shepard team and the vehicle we've developed."
Blue Origin's judgement around sending someone Shatner's age has been called into question by several journalists, and his answer about preparing for the launch with "apple pie" doesn't mitigate the skepticism. Nonetheless, Powers' statement on her qualifications and experience do much of the heavy lifting in easing concerns about this space flight. Their distinct statements also highlight how a celebrity influencer should sometimes be paired with a true industry or subject matter expert to give the campaign both style and substance.
---
TAKE OUR SURVEY
If you're looking for benchmark data to show your bosses the next time you ask for a raise, lend us a hand—and help yourself and your peers while you're at it. Participate in Ragan's Salary & Workplace Culture Survey, a comprehensive look at salaries, benefits, culture, bonuses and other aspects of the job in a fast-moving industry.
Both internal and external communicators are encouraged to participate.
By taking part, you will receive a $150 discount to a Ragan virtual conference of your choice and be entered to win one of five $50 gift cards. All who complete the survey will receive a full report on the findings. Responses are anonymous.
Walmart and Home Depot share goals of new delivery partnership
Home Depot announced that it is the first retailer to join Walmart's new white-label GoLocal delivery service, with both companies sharing their goals and ambitions for the partnership that will include them working together to expand same-day and next-day delivery options for Home Depot customers. Deliveries through the service will begin in the coming weeks, with plans to expand to additional markets across the country by the end of the year.
"This partnership brings us even closer to our goal of offering same-day or next-day delivery to 90 percent of the U.S. population," Stephanie Smith, Home Depot senior vice president of supply chain, said in a statement.

Products that qualify for scheduled delivery should "easily fit in a car" and will have that option enabled at online checkout, the companies said.

For larger projects, Home Depot said it's "building a comprehensive, innovative delivery network to provide customers with same-day or next-day delivery options no matter the product or project."
What it means:
As ecommerce becomes more ubiquitous and the USPS decreases its delivery times, this partnership arrives at an opportune time for Walmart to demonstrate proof of concept for its new service and for Home Depot to offset its post-pandemic in store shopping concerns.
It also highlights how launching a partnership can provide an opportunity to not only announce the shared goals of the partnership, but reinforce your organization's individual goals as well, with a focus on how they intersect to facilitate a win-win for both companies.
COMMENT
4 Responses to "Pharmacy chains respond to opioid lawsuit, Americans take responsibility for data security, and Home Depot announces delivery partnership with Walmart"
Ronald N Levy

says:

Each response teaches about PR effectiveness, especially three elements of the CVS and Walmart responses.

.1. START WITH WHAT IS TRUE BEYOND QUESTION, in this case that prescriptions are written by doctors not pharmacists.

.2. ACCUSE THE ACCUSER, in this case focusing on "DEA's well-documented failures." If an accused only denies guilt, the public can wonder "guilty or not guilty" but when you accuse the accuser, the public is left to wonder WHICH side is guilty if either.

.3. REPORT YOUR CENTRAL TRUTH, in this case "our pharmacies fill legitimate prescriptions written by licensed doctors." Omnicom leaders have emphasized that TRUTH, not slogans or gimmicks, should be at the core of successful PR defense, and Omnicom demonstrates its success by having BILLIONS in annual PR billings from PR-savvy accounts .

CVS won a fierce Human Resources contest when it succeeded in hiring a year or two ago one of the most brilliant health PR execs who ever lived. She formerly headed the huge 800-person health PR department at Edelman where one needed to be an allstar to get even an interview. Walmart has also won bidding contests for the world's top PR horseflesh.

Ronald N Levy

says:

Notice that each response teaches about PR effectiveness, especially three elements of the CVS and Walmart responses.

.1. START WITH WHAT IS TRUE BEYOND QUESTION, in this case that prescriptions are written by doctors not pharmacists.

.2. ACCUSE THE ACCUSER, in this case focusing on "DEA's well-documented failures." If an accused only denies guilt, the public can wonder "guilty or not guilty" but when you accuse the accuser, the public is left to wonder WHICH side is guilty if either.

.3. REPORT YOUR CENTRAL TRUTH, in this case "our pharmacies fill legitimate prescriptions written by licensed doctors." Omnicom leaders have emphasized that TRUTH, not slogans or gimmicks, should be at the core of successful PR defense, and Omnicom demonstrates its success by having BILLIONS in annual PR billings from PR-savvy accounts .

CVS won a fierce Human Resources contest when it succeeded in hiring a year or two ago one of the most brilliant health PR execs who ever lived. She formerly headed the huge 800-person health PR department at Edelman where one needed to be an allstar to get even an interview. Walmart has also won bidding contests for the world's top PR horseflesh.

Ronald N Levy

says:

In fairness to accounts that have used other PR firms, before Kym White headed health PR at Edelman she did so at Ogilvy. Smaller department but also magnificent in skills and sometimes breathtaking success like other Ogilvy departments.

Farley Manning (not two people, Farley was his first name) once had someone like that named Pat, not a manager but a home run hitter repeatedly. Before "work from home" was commonly done, she worked from a home and walked her big dog in the Hamptons. She was so exceptionally creative that there was sometimes discontent among Manning clients at not being able to get more of her hours.

Huge accounts may not readily accept being told "no" or "we can't" so for more hours from Pat, H&K's amazing Mankiewicz and Burson's Carl Levin, PR firms learned to say not "we can't right now" but "okay as soon as possible."

Ronald N Levy

says:

To be fair to accounts that have used other PR firms, before Kym White headed health PR at Edelman she did so at Ogilvy. Smaller department but also magnificent in skills and sometimes breathtaking success like other Ogilvy departments.

Farley Manning (not two people, Farley was his first name) once had someone like that named Pat, not a manager but a home run hitter repeatedly. Before "work from home" was commonly done, she worked from a home and walked her big dog in the Hamptons. She was so exceptionally creative that there was sometimes discontent among Manning clients at not being able to get more of her hours.

Huge accounts may not readily accept being told "no" or "we can't" so for more hours from Pat, H&K's amazing Mankiewicz and Burson's Carl Levin, PR firms learned to say not "we can't right now" but "okay as soon as possible."