The Met touts transparency over allegedly stolen artifacts, more CCOs say comms is a strategic business driver, and TikTok, YouTube and Snap speak to Congress
Also: OpenTable and Bumble release restaurant dating list, GM announces electric vehicle charging investment, Spanx flies employees around the world, and more.
Hello, communicators:
Restaurant reservation service OpenTable partnered with dating app Bumble to launch the "100 Best Restaurants for a Date in America for 2021" list, part of a larger integration on Bumble that shows dating matches the best restaurants near them that also includes local guides for diners on dates.
The partnership is supported by a recent Bumble survey that found 45% of people are feeling both hopeful and excited about the prospect of taking their virtual connection to the next level and pursuing relationship goals in person again.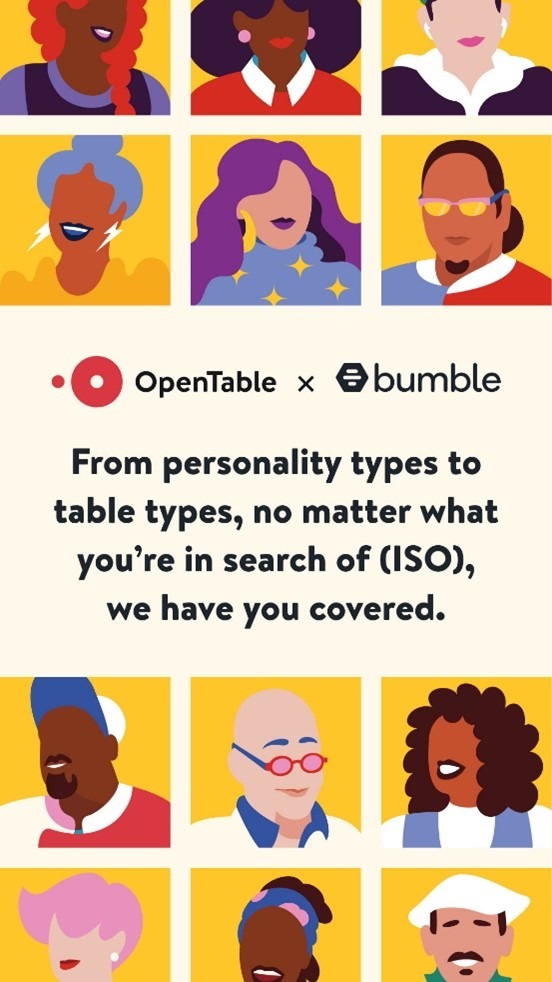 Courtesy of OpenTable and Bumble
"Dating looks different now, but one thing remains the same—the desire to find the perfect place for a date," OpenTable's Chief Growth Officer Susan Lee said in a press release. "OpenTable's new top 100 list, local date night guides and Bumble partnership make it easy for daters to narrow their options and find the perfect spot to share a meal."
"We know that many people are nervous about navigating this new world of dating after the past year and a half-upended norms for us all," added Julia Smith Caulfield, Bumble's head of brand partnerships. "At Bumble, we're always looking to support our community throughout every step of their dating journey, and we hope that this partnership with OpenTable helps daters find their ideal place to connect with new people."
The campaign is an example of using proprietary data to try and jump start the conversation around a desired consumer trend. By helping audiences see how others are considering the return to in-person activities, companies can help consumers feel like they are part of a movement, making the return to normal feel less risky.
Here are today's top stories:
The Metropolitan Museum of Art responds to allegations of stolen Cambodian artifacts
Earlier this month, The International Consortium of Investigative Journalists obtained the Pandora Papers, a trove of nearly 12 million financial records, that was then shared with several news organizations. Among the financial records was the accusation that The Metropolitan Museum of Art (Met) in New York City held 12 pieces of Cambodian art once owned or brokered by Douglas Latchford, who allegedly stole the items from their original owners.
After Met officials met with investigators from the U.S. attorney's office this past weekend to discuss the provenance of the items, the Met issued its first statement on the matter.
"Recently, in light of new information on some pieces in our collection, we reached out to the US Attorney's office—to volunteer that we are happy to cooperate with any inquiry," the Met said in a statement Sunday. "The Met also has a long and well documented history of responding to claims regarding works of art, restituting objects where appropriate, being transparent about the provenance of works in the collection, and supporting further research and scholarship by sharing all known ownership history."

Bradley Gordon, an attorney representing the Cambodian government, said that the Met has not contacted government officials there regarding the pieces.

"The amazing thing is that these museums say they're researching [the relics' origins] but they have not contacted us," Gordon said. "How can they say they're researching when they aren't calling the country of origin?"
Why it matters:
Without offering specific details, the Met's reference to its history of handling past questions of provenance raises more questions about its collections and curation practices. Its response serves as a reminder that a fresh scandal is an opportunity to educate audiences on your processes and protocols—or risk further scrutiny.
The institution's words on transparency, meanwhile, are contradicted by the fact that the Cambodian government claims to not have been contacted. This highlights the fact that words like "transparency" and "accountability" should only be included in your crisis messaging if you have already directly engaged all parties involved. Communicating directly with the alleged victim(s) in a crisis demonstrates that your organization is operating in good faith and following through on its commitments.
---
MEASURED THOUGHTS
In a new Edelman study, 46%  of CCOs surveyed said that they now report to their company's CEO, compared to 34% in 2014. Meanwhile, 77% said that perceptions of the role of comms as a strategic business driver favorably changed within their organization during 2020.
"Recognize that you're operating in an era of increased accountability for corporations, creating more demands but also the opportunity for communications to play a material role," the study's authors write. "Similar to the HR function a decade ago, the communications function has the opportunity to shift to a true business partner. Those that succeed will seize this opportunity. Ground your goals in a singular objective: driving a shift from cost center to value creator.
"The ball has rolled in your direction thanks to changing factors in the external environment, navigating COVID-19, social justice, geopolitical challenges, and stakeholder activism, among others. To solidify your role as value creator, you'll need tangible proof of your business impact. Design your team, investments, and communications strategy accordingly."
Check out the full study here.
---
TACTICALLY SPEAKING
Auto manufacturer General Motors (GM) announced that it will work with its dealership network to begin installing 40,000 electric vehicle chargers across the country.
"When you think about the hill that we have to climb for customers to access charging in all communities, not just the ones that have been early adopters, we need a lot," said Alex Keros, lead architect of EV infrastructure at GM.

"In the dealer communities, we envision that it would be a collaboration, mostly between the dealer and the community partners that we would be working with," he said. "But we also we recognize there's a lot of variables. So, we will work with the dealers and the community members to make sure, for example, if there's grants or other types of things, that we're trying to be as helpful as possible."
Coming one day after Hertz rental cars announced plans to purchase 100,000 Tesla vehicles, the language in GM's announcement communicates that the legacy automaker is invested in the future of electric vehicles with an action plan that emphasizes collaboration and sets the expectation that the company wants to improve infrastructure at the local level.
---
THE WORKPLACE
Spanx founder and CEO Sara Blakely celebrated the company's $1.2 billion deal with private equity firm Blackstone by giving all employees $10,000 and buying them two first-class plane tickets to anywhere in the world.
Blakely shared the announcement, superimposed with text outlining Spanx's values, on her Instagram:
View this post on Instagram
In the video, Blakely spun a globe, before revealing that she had bought each of her employees two first-class plane tickets to anywhere in the world.

She added: "If you go on a trip you might want to go out to a really nice dinner, you might want to go out to a really nice hotel, and so with everybody's two first-class tickets to anywhere in the world, you are each getting $10,000."

"I really want every employee to celebrate this moment in their own way and create a memory that will last them a lifetime! Cheers to 21 years of magic and many more to come," she wrote on Instagram.

Blakely also pointed out that although 50% of entrepreneurs are women, only 2.3% of venture capital funding goes to women. In her toast, she paid tribute to "the women that came before me, and all of the women in the world who have not had this opportunity."
Blakely's announcement, and subsequent decision to share it on Instagram, exemplifies how social media can help your employee communications double as thought leadership content to emphasize your company's values and tell its story.
Beyond that, her gift to employees frames the employee experience in a positive light. In a time when employees are resigning from their roles in record numbers, this move offers an example of radical gratitude for your workforce which other leaders can follow.
---
TAKE OUR SURVEY
If you're looking for benchmark data to show your bosses the next time you ask for a raise, lend us a hand—and help yourself and your peers while you're at it. Participate in Ragan's Salary & Workplace Culture Survey, a comprehensive look at salaries, benefits, culture, bonuses and other aspects of the job in a fast-moving industry.
Both internal and external communicators are encouraged to participate.
By taking part, you will receive a $150 discount to a Ragan virtual conference of your choice and be entered to win one of five $50 gift cards. All who complete the survey will receive a full report on the findings. Responses are anonymous.
Snap, YouTube and TikTok execs speak to Congress about protecting young users
Executives from TikTok, Snap and YouTube spoke at a hearing before Congress about how each platform harms its younger users. The hearing follows a month-long scandal for competitor Facebook that began when The Wall Street Journal published internal Facebook research showing data that demonstrated the company knew its Instagram platform could be toxic for teen girls.
The companies quickly tried to distance themselves from each other, while arguing they were already taking significant steps to protect child users.

[Snapchat vice president for global public policy Jennifer] Stout said that Snapchat was an "antidote to social media" and stressed the differences between Snapchat and Instagram. She said that her company's app focused on connecting people who already knew each other in real life, rather than feeding them a constant stream of content from strangers. And she said it focused on privacy, making images and messages delete by default. She also stressed that Snapchat moderates the public content it promotes more heavily than other social media companies.

…[TikTok head of public policy for the Americas Michael] Beckerman said that TikTok was different from other platforms that focus more on direct communication between users. "It's about uplifting, entertaining content," he said. "People love it." He said that policymakers should look at the systems that verify whether users were old enough to use a product, suggesting that legislation should include language on age verification "across apps."

[YouTube vice president for government affairs and public policy Leslie] Miller of YouTube refused to be pinned down in a series of exchanges with senators. When asked whether the companies would allow independent researchers access to algorithms, data sets and data privacy practices, Ms. Miller responded: "It would depend on the details, but we're always looking to partner with experts in these important fields."
What it means:
Among the statements shared, Snapchat's specifics about the privacy-forward nature of its design and the human/AI workflows of its content review process offer the strongest argument. TikTok's emphasis on its larger values don't cleanly tie into its suggestions for what legislation to regulate social media should include.
YouTube's more combative comments when pressed about the merits of independent researchers, meanwhile, cast doubt on the video company's belief in the objectivity of third-party data.
The social media industry has failed to come together around a unified argument for the future of the industry and regulation that could protect users. As it continues to present a fractured front to regulators, it will be difficult for the industry to control the direction of legislation that could be forthcoming for U.S. markets.
COMMENT