Twitter rallies to support HBO Max intern after email gaffe, smartphone is essential tool for low income Americans, and airlines seek government help on messaging
Also: Wingstop offers thighs amid chicken wing shortage, Target unveils sustainability program, and Subway catches criticism over tuna-less sandwich topping.
Hello, communicators:
While pandemic-related supply chain issues have affected many brands and industries, a widespread chicken wing shortage exacerbated by sever winter storms in the chicken-producing regions of Texas has forced fast food chain Wingstop to get creative with its messaging as it offers chicken thighs to customers for the first time.
Wingstop has launched Thighstop, a temporary online service that will deliver chicken thighs to customers at more than 1,400 locations nationwide. The thighs can be ordered in sauces for all Wingstop's 11 signature flavors.
"We think they'll appeal to guests because they're a different part of the chicken and therefore a new way to experience Wingstop flavor," CEO and chairman of Wingstop restaurants Charlie Morrison, told USA TODAY. "They eat like a wing, but with more meat."
Rapper Rick Ross, who owns several Wingstop franchises, lent his talents to the announcement:
Introducing The Biggest Thigh Boss, Rick Ross 🔥https://t.co/40ueocgvMv pic.twitter.com/1z0pHhtYiR

— Wingstop 🍗 (@wingstop) June 21, 2021
Wingstop, meanwhile, has leaned on its dedicated online fanbase to support the move. In one instance, a customer clapped back at the Hooters brand Twitter account for mocking Wingstop's decision to sell thighs. Wingstop stepped up, amping up the Twitter spat and responding in the brand's typically saucy voice:
beef? squashed this before they could even attempt to lay an egg…

— Wingstop 🍗 (@wingstop) June 22, 2021
Thighstop succeeds at turning what could have become a devastating loss for a brand with a core product in low supply into a well-received PR effort. Take note that developing a strong brand voice, along with building strategic with influencers and brand ambassadors, creates a backstop of brand loyalty and goodwill that can be relied upon in a crisis hits.
HBO Max transparency leads to viral support for chagrined intern
HBO Max has outed the culprit of a recent test email that went out to thousands of subscribers: an intern who made a rather public error.  In the same post that identified the intern, HBO Max also said they were helping the young employee learn from their mistake:
We mistakenly sent out an empty test email to a portion of our HBO Max mailing list this evening. We apologize for the inconvenience, and as the jokes pile in, yes, it was the intern. No, really. And we're helping them through it. ❤️

— HBOMaxHelp (@HBOMaxHelp) June 18, 2021
HBO Max's admission only further endeared the intern to online audiences as hundreds of social media users shared responses beginning with "Dear Intern" about their own past embarrassing moments at work:
Dear intern,

I once globally took down Spotify. It almost happened twice. My team was awesome about it and I'm still here. You managed to find something broken in the way integration tests are done. It's a good thing and will help improve things. Good luck <3.

— Daenney (@daenney) June 18, 2021
Dear Intern,

It's an email. At least you didn't erase the entire Community Access TV station's chyron graphics archive on accident.

Signed,
A Broadcast Engineer who once erased all the chyron graphics at a Community Access TV Station by accident when he was an intern.

— Mark "Noodles" Kewman (@mkewman) June 18, 2021
Some highlighted the graciousness of HBO Max, earning the streaming service kudos for how it addressed the mistake and setting an example for what positive support looks like in the workplace:
Dear Intern,
I once didn't recognize then-VP George HW Bush and almost didn't let him into a meeting…in the Cabinet Room. Of The White House. Where he worked. 🤷🏼‍♀️
He was actually as gracious as HBO Max Help appears to be being…you'll be fine.

— ͏Postcards4USA (@postcards4USA) June 18, 2021
Dear intern,

I woke up to that email this morning and immediately thought, "oof – been there buddy."

We've all broken production! Besides, as a great boss once told me, if you never make mistakes you're not really trying. It's gonna be ok! pic.twitter.com/TSAunSFXu4

— Jaylyn (@jaylynstays) June 18, 2021
Dear Intern,

Every rule and every policy/procedure has a story like this behind it.

Good job being part of the discovery of a new vulnerability. You'll be part of the solution to prevent this from happening again!

(Let us know about your next finding! 😛)

— Tinker Secor (@TinkerSec) June 18, 2021
Monica Lewinsky, who experienced one of the most embarrassing moments in intern history, also lent her support:
dear intern:

it gets better.

♥️

ps. don't wear a beret for awhile, k?

— Monica Lewinsky (she/her) (@MonicaLewinsky) June 18, 2021
Why it matters:
HBO Max's response to its intern's blunder serves as a reminder that external stakeholders will positively engage with a brand that is willing to be transparent about its blunders. As more companies are under the microscope for how they treat their workforce in a post-pandemic landscape, the streaming network's response also emphasizes the idea that advocating for employee growth and well-being is no longer solely an internal exercise. Remember that putting a human face on your company's operations by spotlighting your workers can sometimes mean celebrating learning and growth opportunities alongside the wins.
---
MEASURED THOUGHTS
A new study by Pew Research has found that American adults earning less than $30k are substantially less likely to have a desktop or laptop computer (59%) or home broadband connections (57%) than those making more than $30k, while 76% of lower income adults have a smartphone.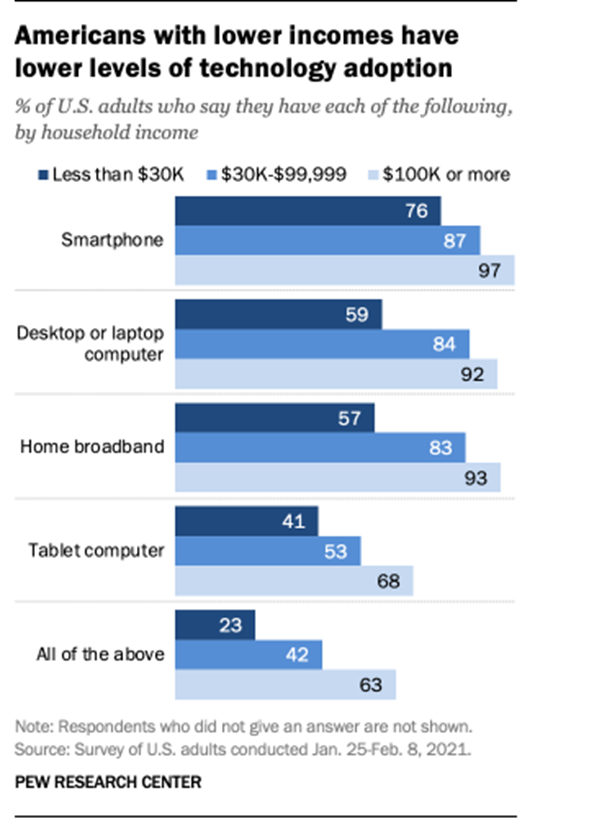 These numbers highlight the need for communicators to ensure their messaging is optimized for mobile delivery channels to ensure it performs as well on mobile devices as it does on a desktop. This will require making sure that all content hubs, landing pages and various touch points throughout your stakeholder experience are available and accessible to everyone, regardless of how they find it.
Check out the full study here.
---
TACTICALLY SPEAKING
Target has unveiled "Target Forward," a sustainability program that it claims will positively impact both people and the planet. Through the initiative, Target plans to design and elevate sustainable brands, eliminate waste through innovation and accelerate its push for equity.
"We want our guests to turn to Target first when they think about sustainability," senior vice president of corporate responsibility at Target and president of the Target Foundation Amanda Nusz said in a press release. "We know that the only way to make that possible is by putting both people and the planet at the center of our efforts, as we co-create with our guests, our partners and the communities we serve."
Target Forward has identified several benchmark goals and strategic partnerships:
In 2019, Target set science-based targets for emissions reductions across scopes 1, 2 and 3 – becoming a leader in U.S. retail – and Target also committed to join the "Business Ambition for 1.5°C," ensuring that its emissions will contribute to no more than 1.5 degree warming.
Target has projects and partnerships in place that when complete, will result in purchasing nearly 50% of its electricity from renewable sources, well on its way to 100% by 2030.
Circular design principles can be seen in Target's owned brands such as Universal Thread and Everspring, and Target accelerated its commitments to sustainable packaging in 2018 when it became a signatory to the New Plastics Economy Global Commitment.
In 2020, Target invested $1 billion more in the health, safety and wel-lbeing of its team members, including the move to an industry-leading starting wage of $15 in the U.S.
Target's Racial Equity Action and Change (REACH) committee was established in 2020 and accelerates the retailer's work to create racial equity for Black team members, guests and communities.
Target's sustainability program succeeds at not only offering ambitious benchmark goals and a timeline for achieving them but also identifying the partnerships that will hold Target accountable toward hitting those benchmarks. This initiative serves as a reminder that the scope of your CSR and sustainability initiatives can widen dramatically when they are constructed with strategic partners in mind.
---
RAGAN'S 2021 BENCHMARK REPORT
Ragan has released its annual Communications Benchmark Report, an exclusive study from Ragan's Communications Leadership Council that analyzes the major trends in the profession over the last year.
During that time, comms pros have been called on to develop and distribute messages on new policies that affect internal and external stakeholders alike. Their role has become more essential as they helped keep their organizations focused and moving forward. They've seen their access to the C-suite increase throughout 2020, and they forged important new alliances with peers in other departments, including HR, finance and workplace wellness.
Culled from more than 750 respondents, the 32-page report is available in its entirety exclusively to members of the Communications Leadership Council.
Download your copy of the exclusive Benchmark Survey Executive Summary today and get a crucial competitive advantage that will fuel your success for 2021 and beyond.
---
SOCIAL BUZZ
The New York Times has published an investigation into Subway's tuna sandwiches to determine if the meat contained any actual tuna.
Finally, after more than a month of waiting, the lab results arrived.

"No amplifiable tuna DNA was present in the sample and so we obtained no amplification products from the DNA," the email read. "Therefore, we cannot identify the species."

The spokesman from the lab offered a bit of analysis. "There's two conclusions," he said. "One, it's so heavily processed that whatever we could pull out, we couldn't make an identification. Or we got some and there's just nothing there that's tuna." (Subway declined to comment on the lab results.)
 Though Subway declined to respond officially, Twitter users slammed the sandwich chain for for its fishy behavior:
Subway twitter account manager after everyone talks about the tuna be like: pic.twitter.com/SKiLVw6efZ

— Spike's account (@tomtothebrawl) June 23, 2021
How long before scientists find out y'all don't even sell cookies?

— William Everett Molock (@MolockEverett) June 23, 2021
The jokes, shock and confusion spread past Subway's brand account, too, as news of The New York Times investigation went viral:
if Subway tuna is fake then what have i been eating? pic.twitter.com/SVkokzZqcL

— ً (@_akaCJ) June 23, 2021
Subway execs after finessing y'all on them ✌🏽TUNA✌🏽 subs pic.twitter.com/21Ya7ZvV4v

— DVRRICK (@DadeSouf) June 23, 2021
Others pointed out that Subway bread is not even legally considered bread in Ireland due to its high sugar content:
Aside from having fake tuna and a pedo spokesman, reminder that the sugar content in Subway's rolls is so high, it legally cannot be classified as bread in Ireland.

This is after they stopped using yoga mat chemicals in their rolls in 2014 https://t.co/Jq2ALGMMBc pic.twitter.com/MQuFWkUbMB

— Gravantus (@Gravantus) June 23, 2021
Bread without bread, tuna without tuna… #subway is an existential master. pic.twitter.com/QK7bMSgcMC

— Christine Layton (@layton_author) June 23, 2021
Take note that when a media relations crisis hits with echoes of a similar issue at the heart of a past crisis, a reputational pattern is established that can be hard to undo. Vet past holding statements related to similar issues with your legal team to have assets ready to deploy as soon as needed, with a focus on language, words and phrases that legal can clear for future holding statements.
---
COMMUNICATIONS WEEK
Ragan is delighted to add industry event and thought leadership brand Communications Week to our portfolio. You can read the full press release here.
"We are reimagining Communications Week as a year-round endeavor," says Ragan Communications CEO Diane Schwartz. "The rollout will begin next month with thought-provoking content on the future of communications on Commsweek.com, Ragan.com and PRDaily.com, culminating with a weeklong series in November that will feature conferences, networking events, workshops, webinars and more."
The flagship event for 2021 will take place Nov. 15-19. Stay tuned for updates on the many opportunities and offerings that will help communicators connect, learn and celebrate their achievements later this year.
Airlines request help from Justice Department, FAA to curb disruptive passenger behavior
Several U.S. airlines, along with unions for pilots and flight attendants, have sent letters to the Justice Department and Federal Aviation Association (FAA) asking for the government's help with messaging to enforce federal law and aviation safety amid record numbers of unruly passengers.
"The federal government should send a strong and consistent message through criminal enforcement that compliance with federal law and upholding aviation safety are of paramount importance," the letter said, noting that the law calls for up to 20 years imprisonment for passengers who intimidate or interfere with crew members.

Trade group Airlines for America sent a separate letter to the Federal Aviation Administration acknowledging that the "vast majority of passengers" comply with the rules but "unfortunately, we continue to see onboard behavior deteriorating into heinous acts, including assaults, threats and intimidation of crewmembers that directly interfere with the performance of crewmember duties and jeopardize the safety and security of everyone onboard the aircraft."

Airlines have reported about 3,000 cases of disruptive passengers since Jan. 1, according to a spokesman for the Federal Aviation Administration, which began tracking it this year. About 2,300 of those incidents involved passengers who refused to obey the federal requirement to wear a face mask.
What it means:
Always reach out to regulatory and partner organizations privately with any frustrations on a disconnect on messaging before airing your grievances externally and be proactive in suggesting how you would like them to step up their communications. While external communications can be a valuable tool for pressuring partners to do their part, be sure to anchor your asks in data and statistics that highlight the urgency or your request.
---
SOUNDING BOARD
Have you ever publicly called out a partner organization for failing to support your company in its messaging, PR pros and communicators?
Have you ever publicly called out a partner organization for failing to support your company in its messaging, PR pros and communicators? #DailyScoop

— PR Daily (@PRDaily) June 23, 2021
Is there a question you'd like to see asked? Let us know by tagging your suggestions with #DailyScoop!
COMMENT