United Airlines celebrates employee vaccination numbers, how viral content can hurt your brand, and Blizzard Activision settles EEOC lawsuit
Also: Starbucks highlights sustainability for National Coffee Day, TikTok unveils new ad tools, Warner Music and Twitch announce partnership, and more.
Hello, communicators:
Today is National Coffee Day, and Starbucks is celebrating the occasion by offering free coffee at participating locations while reminding customers that 2021 is also Starbucks' 50th anniversary. "Starbucks is marking the milestone anniversary with customers to share how grateful the company is to be part of their communities and daily lives," the company wrote in a blog post.
After explaining how customers can claim their free coffee by bringing in a clean, reusable cup, the post shifts focus to Starbucks' sustainability goals, which include "to achieve carbon neutral green coffee and conserve water usage in green coffee processing by 50 percent by 2030."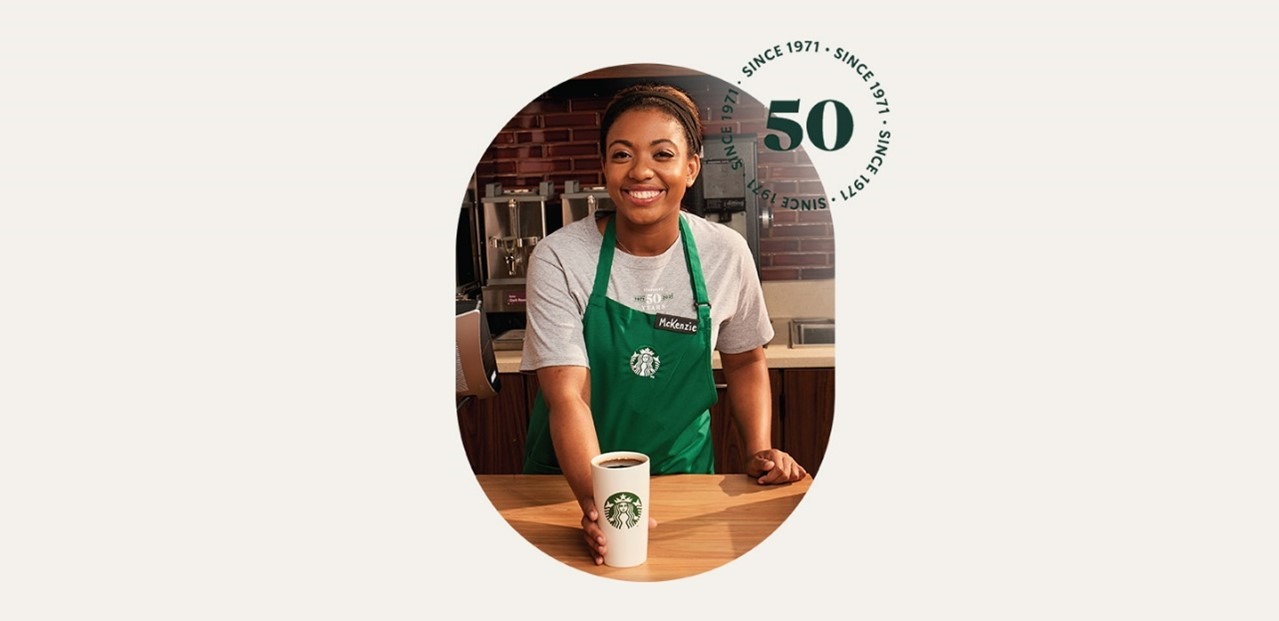 The post ends with a mention of International Coffee Day by sharing various promotions in its markets around the world.
With the effort, Starbucks offers an example of how to tell a compelling narrative that weaves several company campaigns together at once. First, Starbucks acknowledges the national holiday before connecting it to the company's own anniversary milestone. Then it offers customers an enticing promotion and uses the recycling cup caveat behind that promotion as an opportunity to dive deeper into sustainability benchmarks. After promoting its larger ESG commitments, Starbucks goes back to the celebration, bringing awareness to an international holiday and demonstrating the extent of its global reach.
Here are today's top stories:
United Airlines spotlights employee compliance amid unvaccinated departures
United Airlines made headlines as one of the first businesses to require a vaccine mandate for its employees and the only airline to do so.
On Tuesday, one day after the deadline for United employees to get vaccinated or face termination, the company said in a memo to employees that nearly all its U.S.-based employees have been vaccinated with less than 3% of its workforce applying for health or religious exemptions and just 1% refusing to comply with the mandate.  The company also said that it had begun the termination process for its 594 employees who refused vaccination and did not apply for an exemption, stressing that it was a difficult decision but the right one to make.
"This is a historic achievement for our airline and our employees as well as for the customers and communities we serve," chief executive Scott Kirby and President Brett Hart wrote in a memo to employees. "Our rationale for requiring the vaccine for all United's U.S.-based employees was simple—to keep our people safe—and the truth is this: everyone is safer when everyone is vaccinated, and vaccine requirements work."
Why it matters:       
The expiration of United Airline's grace period for employees to get vaccinated has become something of a Rorschach test for media outlets, as different political affiliations have driven a focus on either the 594 terminated employees or United Airlines' high percentage of employee compliance. For the company's messaging, the numbers offer a clear success story while its memo about the decision consistently puts employees first, both by expressing empathy for those who did not comply and rooting its rationale for the mandate in employee health and safety.
---
MEASURED THOUGHTS
A new study by Magna and The Channel Factory found that not all viral brand content is necessarily good for the brand in question and that misaligned content generated an 8% decrease in purchase intent, a 9% decrease in brand respect and a 6% decrease in brand trust.
"The content we tested that people felt most excited about—they felt was most entertaining and truly above the other types of content as a guilty pleasure—had the most negative effect on brands," Kara Manatt, senior vice president of intelligence solutions at MAGNA told Digiday. "It's a most interesting dichotomy. There are so many brands that want to be next to trending content, but it just goes to show brands need to keep a close eye on what exactly that content is."
---
TACTICALLY SPEAKING
Warner Music Group is partnering with live streaming platform Twitch to allow Warner artists to create their own channels for music programming on the platform. This is the first time that Twitch has partnered with a major record label.
According to a joint press release:
Oana Ruxandra, Chief Digital Officer and EVP, Business Development, WMG said: "It's clear that Twitch is an indispensable space for all types of creators to connect with their fan communities. Our partnership creates an on-ramp for artists to come onto the service with strong support from Twitch, opening up an entirely new source of incremental revenue. Between the artist-specific channels and the premium shows we're planning to launch, music lovers will get a refreshing new view into the world of music and the lives of their favorite artists."

Tracy Chan, VP, Head of Music, Twitch added: "Twitch has always been – and will continue to be – creator first. For fans, artists and all creators, this is a great step forward. The myriad opportunities for fans and artists to forge meaningful, direct and valued relationships on Twitch continue to expand every day. Working together, we can create new paradigms and opportunities for artists and the Twitch community, all grounded in the passion of fans. We appreciate the progressive approach of our colleagues at Warner Music and look forward to a productive partnership."
Several Twitter users questioned what this deal meant for independent Twitch creators who are not signed to Warner, and how the partnership would affect their ability to earn revenue from the platform:
"Additionally, Twitch has created a new process that participating music rights holders, including WMG, can opt into to report certain uses of their music, to address when creators inadvertently or incidentally use music in their streams." … Oh, okay https://t.co/h8Vr8nkfbR

— Joel 🧃 (@JungleJuiceJoel) September 27, 2021
That's pretty big. Warner Music Group signed a Partnership with Twitch. Wonder what the fine print says about WMG DMCA striking Creators and / or get the right of monetizing revenue from their channels.
https://t.co/WM9Do0TjyM

— Sua (@Suafps) September 28, 2021
While Twitch stresses the relationship-building value of its platform as a conduit for fan connection, the company made a mistake by assuming its creators would not read the fine print of the partnership agreement. To that end, Twitch can best follow through with its "creator first" commitments by providing details to its active base of independent creators around what new changes to music copyright use on the platform mean for them.
---
SOCIAL BUZZ
It's been a busy week for TikTok as the company reported that a record 1 billion monthly users on its platform. One day later, the company also unveiled new initiatives designed to help advertisers earn more revenue on the platform.
Today, we're introducing our growing suite of creative solutions that enable advertisers to embrace creativity on our platform and also to help them connect and collaborate with our diverse ecosystem of creators.
TikTok Creator Marketplace: This self-serve portal makes it easy for brands to find a diverse variety of creators that best aligns with their interests.

TikTok Creator Marketplace API: This API enables access to our first-party marketplace data for creator marketing experts including Captiv8, Influential, and Whalar to provide brands with white-glove services to help manage the entire end-to-end process of creator marketing on TikTok.

Open Application Campaigns: Brands can post campaign briefs to creators across TikTok Creator Marketplace so that they can self-apply and participate.

Branded Content Toggle: This tool allows creators to mark videos and disclose commercial content without disrupting their creative flow.

Customized Instant Page: Brands can create landing pages that load in seconds – 11x faster than standard mobile pages – to let users dive deeper into a brand's message by watching videos or swiping through different content
The new features also include a suite of measurement tools that provide insights on reach and frequency, ad viewability, brand safety and more.
The new tools will also give ad executives a better idea of how many people are likely to see their ads, allowing them to better gauge how far their budgets will go on TikTok, said Jiayi Cao, who heads TikTok's product strategy. "It's an old technology on a new medium, and it'll be interesting for the traditional agencies of the world to embrace," he said.

"We don't want to interrupt the experience," [Blake Chandlee, TikTok's president of global business solutions] said. "We want users to look at an ad and go, 'That was amazing,' not, 'I watched that because it was in my feed.'"
While TikTok positions its new ad and measurement tools as being in the best interest of advertisers, it also deftly positions the changes as part of the user experience by highlighting how the new features can make an ad feel more organic in user feeds, leading to more engagement.
---
TAKE OUR SURVEY
If you're looking for benchmark data to show your bosses the next time you ask for a raise, lend us a hand—and help yourself and your peers while you're at it. Participate in Ragan's Salary & Workplace Culture Survey, a comprehensive look at salaries, benefits, culture, bonuses and other aspects of the job in a fast-moving industry.
Both internal and external communicators are encouraged to participate.
By taking part, you will receive a $150 discount to a Ragan virtual conference of your choice and be entered to win one of five $50 gift cards. All who complete the survey will receive a full report on the findings. Responses are anonymous.
Activision Blizzard emphasizes "constructive engagement" and specifics following lawsuit settlement
Activision Blizzard has gone deeper into specifics around leadership's commitments to reforming workplace culture after the software company settled a lawsuit with the U.S. Equal Employment Opportunity Commission (EEOC) for $18 million "to settle claims and to further strengthen policies and programs to prevent harassment and discrimination in the company's workplace."
According to the press release:
Any amounts not used for claimants will be divided between charities that advance women in the video game industry or promote awareness around harassment and gender equality issues as well as company diversity, equity, and inclusion initiatives, as approved by the EEOC. The agreement is subject to court approval. The company also announced an initiative to develop software tools and training programs to improve workplace policies and practices for employers across the technology industry.

Commenting on the agreement, Activision Blizzard CEO Bobby Kotick said: "There is no place anywhere at our company for discrimination, harassment, or unequal treatment of any kind, and I am grateful to the employees who bravely shared their experiences. I am sorry that anyone had to experience inappropriate conduct, and I remain unwavering in my commitment to make Activision Blizzard one of the world's most inclusive, respected, and respectful workplaces. We will continue to be vigilant in our commitment to the elimination of harassment and discrimination in the workplace. We thank the EEOC for its constructive engagement as we work to fulfill our commitments to eradicate inappropriate conduct in the workplace."
What it means:
Building on last week's post from Kotick that announced new hiring changes and internal employee engagement processes at Activision Blizzard, this press release marks the company's most specific commitments yet. Emphasizing total compliance with regulators and the conditions of the settlement, the statement also demonstrates how money can be used to create action (unclaimed settlement money going to issue-specific charities) and how true oversight can offer accountability in a crisis (outlining the ongoing commitment to share its training programs, policies and frameworks).
Activision Blizzard's cooperation with government regulators also demonstrates the powerful message that a brand can send when it allows a third-party in to hold it accountable, acknowledging its bind spots and committing to change.
COMMENT