Lego unveils recycled bricks, Brands place more emphasis on measurement than agency counterparts, and USPS defends plan for slower mail service
Also: W Hotel launches Pride book club, Honda announces electric SUV, and SiriusXM responds to DE&I report card.
Hello, communicators:
This past month has seen a litany of creative campaigns rethink what it means to create purpose-driven campaigns during Pride Month as brands increasingly move away from rainbow-branded merchandise to focus on creating spaces that foster conversation and provide resources to LGBTQ+ communities.
Now, W Hotels has launched a summer book club in partnership with news and commentary media platform them. that spotlights LGBTQ+ authors and audiences. The book club will run through August, with each monthly selection announced on Instagram, and W Hotel guests across North America can request a copy of each selection during their stay.
"Whether through original music, digital art or dancing in the streets at parades around the world, W Hotels has honored Pride with artists of countless mediums over the years," Carly Van Sickle, senior director, global brand marketing, W Hotels Worldwide, said in a press release. "This year—in light of smaller gatherings—we wanted to celebrate Pride with anyone, anywhere, who would like to connect through the written word. Together with the incredible team at them., we are excited to support three talented authors with our LGBTQ+ guests and fans."
W Hotels' partnership with them. serves as a reminder that engaging the LGBTQ community should continue long after Pride month has come to an end.
Lego unveils recycled bricks in push for sustainability education
The Lego Group has created a prototype brick using PET plastic from recycled bottles that it claims as the first Lego pieces made from recycled materials that meets the company's strict quality and safety requirements after experimenting with 250 variations of Legos using PET pieces. The company used the announcement as a chance to reframe its biggest sustainability challenge as an opportunity.
According to its press release:
Vice President of Environmental Responsibility at the LEGO Group, Tim Brooks said: "We know kids care about the environment and want us to make our products more sustainable. Even though it will be a while before they will be able to play with bricks made from recycled plastic, we want to let kids know we're working on it and bring them along on the journey with us. Experimentation and failing is an important part of learning and innovation. Just as kids build, unbuild and rebuild with LEGO bricks at home, we're doing the same in our lab."
Lego has also shared an infographic that simply explains their process: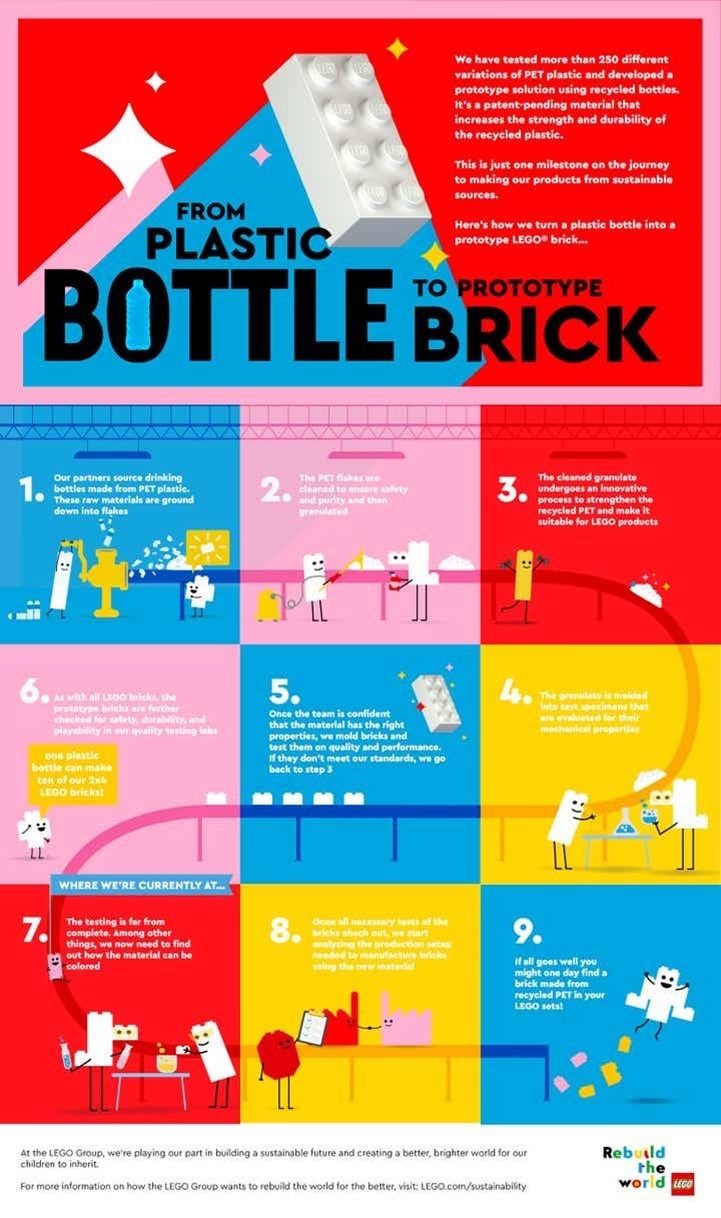 What it means:
As more companies grapple with sustainability challenges ranging from measurement to communicating renewable energy, Lego's educational push demonstrates how you can communicate your efforts even when you don't know all the answers yet. By focusing on its key demographic of children, Lego also earns goodwill that offsets a lack of demonstrable metrics around the impact of the recycled Lego pieces. Lego's inclusion of an infographic also serves as a reminder that your sustainability communications and accompanying assets should not be directed solely at shareholders and investors, but instead conceived and presented in a brand-consistent style that will be easy for your audience to understand.
---
MEASURED THOUGHTS
A new study by Muck Rack has found that 64% PR pros from brands and nonprofits consider measurement and reporting as a core focus of their work, compared to 52% of PR pros at agencies.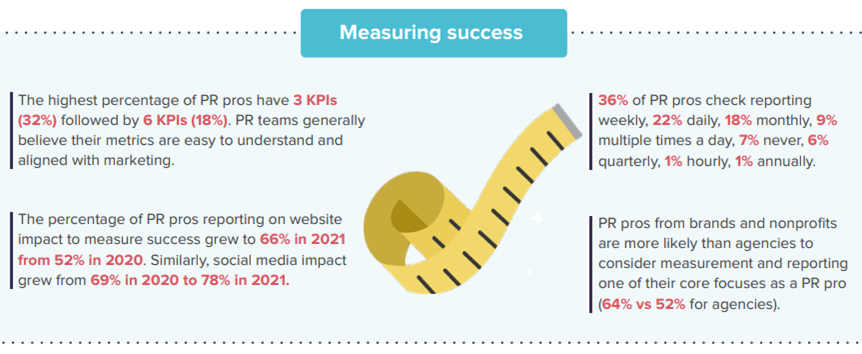 These findings show that metrics and measurable results remain largely untapped skills that agency communicators can offer clients and partners in order to add value to the relationship.
Check out the full study here.
---
TACTICALLY SPEAKING
Honda has unveiled its first electric SUV in the U.S. will be called "Prologue," framing the new model as in introduction to its upcoming line of electric vehicles and the company's stated goals to completely electrify its lineup by 2040.
"With the Prologue, our goal is to provide a highly competitive product with the functionality to meet the diverse needs of our customers," [Honda of America sales chief Dave] Gardner said. "In short, our zero emission focus has begun."

Gardner acknowledged that Honda has a lot of catching up to do with electric vehicles, both to its competitors as well as with the numerous regulations that have been put in place to curb the sale of gas-powered vehicles.

"While we haven't been perceived as leaders in recent years, we're not neophytes in the electrified space," he said, citing the hybrid Honda Insight, as well as the defunct EV Plus and the discontinued Clarity, as examples of the foundation on which Honda plans to build.
Take note that acknowledging your past shortcomings when crafting a new product announcement offers a chance to communicate how your brand has innovated over time and acknowledge the progress that competitors in your space have made toward fulfilling shared, industry-wide goals.
---
RAGAN'S DISNEY CHARACTER CONTEST  
Which Disney character best resembles your work life? Are you like Moana, who chooses not to blindly follow tradition and instead live independently? Maybe you're more like Belle, whose voracious appetite for reading is overshadowed by other people's assumptions about her? Or Raya, trying to save the world alone before realizing she needs the help of others?
Ragan has announced a reader contest to find out who your Disney double is (yes, Star Wars and Marvel characters count). One winner will be selected to win a free night at Walt Disney World's Swan & Dolphin Resort during our upcoming Social Media Conference for PR, Marketing and Communications Professionals Sept. 9-10.
E-mail us at submissions@ragan.com with your name, title, Disney character, and photo of yourself (optional) by July 12.
The winner will be announced the week of July 19 on PR Daily, where we will run all the entries we receive. We could all use a little levity in our day, so share away!
---
CRISIS COMMUNICATIONS
The Black Music Action Coalition has issued a race "report card" that measures whether the music industry has followed through on its diversity commitments over the past year. The report focuses most on the three major record companies Sony, Universal and Warner Music, none of which received an "A" grade. The majority of the 18 companies named in the report have declined to comment on the report.
"Our data is only as good as the record industry's willingness to cooperate in providing information," Binta Niambi Brown, the coalition's co-chairman, said in a statement.

In response, Nicole Hughey, the head of diversity and inclusion at SiriusXM, said the company has given money to organizations and pursued specific campaigns against racism in the audio business. "We support BMAC's mission, but were disappointed and surprised by the Unsatisfactory rating given to Pandora in their recent report card, given our strong passion and commitment to fighting racism and promoting racial equality," Ms. Hughey said in a statement. "There is always more work to be done, within our company and across the music industry," she added, "and we will continue that work tirelessly."
While industry data can function as a great equalizer and create a foundation for difficult conversations to begin, ignoring industry data has an inverse effect that audiences and stakeholders no longer accept from brands.
Be constructive when pushing back against such reports by showing up with receipts, including proprietary data and initiatives that challenges the conclusions, while emphasizing your commitment to keep the work going and continue having difficult conversations.
---
COMMUNICATIONS WEEK
Ragan is delighted to add industry event and thought leadership brand Communications Week to our portfolio. You can read the full press release here.
"We are reimagining Communications Week as a year-round endeavor," says Ragan Communications CEO Diane Schwartz. "The rollout will begin next month with thought-provoking content on the future of communications on Commsweek.com, Ragan.com and PRDaily.com, culminating with a weeklong series in November that will feature conferences, networking events, workshops, webinars and more."
The flagship event for 2021 will take place Nov. 15-19. Stay tuned for updates on the many opportunities and offerings that will help communicators connect, learn and celebrate their achievements later this year.
USPS defends plan for slower mail service
The United States Postal Service (USPS) has unveiled details of its strategic restructuring plan, which includes the biggest slowdown of mail delivery time in over a generation including significant reduction in airmail service along with geographic limits on how far mail can travel in one day.
[T]he Postal Service has not hit its current mail service standards—two days for mail sent within 279 miles, three days for mail sent further, with a timely delivery rate of 96 percent—for close to a decade. In fact, the agency has not surpassed 90 percent since [it] instituted cost-cutting measures last summer.

Agency spokesman David Partenheimer wrote in an emailed statement that the Postal Service amended the report because it needed additional time to assess the effects of the pandemic on transportation capacity and employee availability. "The Postal Service has studied customer preferences, and found that reliability is a top driver of customer satisfaction," Partenheimer wrote. "Consequently, we are confident that the public will benefit from our effort to introduce greater predictability."

"This allows, from our perspective, for the customers to plan, to have predictability," Robert Cintron, the Postal Service's vice president of logistics, said in an interview. "They're going to know what they're going to get. There's that one to two days for the longest [delivery] distances that we have to achieve, and we have to achieve those today. Whether we're traversing 300 or 3,000 miles, it's the same service standard. And that's really the part that we see that's not sustainable."
Why it Matters:
Lowering your performance benchmarks just to be able to say you can meet your goals seldom sits well with internal or external stakeholders. Take note that positioning your external stakeholders as the rationale for corporate restructuring is only effective if your customers and audiences truly stand to benefit from the change. If not, using them as a prop will further backfire and encourage them to take their business elsewhere.
---
SOUNDING BOARD
Are you planning to extend the efforts and messaging of your Pride campaigns beyond June, PR pros and communicators?
Are you planning to extend the efforts and messaging of your Pride campaigns beyond June, PR pros and communicators? #DailyScoop

— PR Daily (@PRDaily) June 28, 2021
Is there a question you'd like to see asked? Let us know by tagging your suggestions with #DailyScoop!
COMMENT