Vaccine passport privacy concerns loom large for comms, authorities and nonprofits provide resources on Twitter after Nashville flood, and CDC director goes off script
Also: Facebook offers advice for brands on combatting anti-Asian rhetoric, Jeff Bezos orders Amazon social accounts to attack, Journalists share their most trusted sources, and more.
Hello, Communicators:
Centers for Disease Control and Prevention Director Dr. Rochelle Walensky deviated from her planned remarks at a White House briefing yesterday, commenting candidly on the recent uptick in COVID-19 infections, hospitalizations and deaths as the number of cases surpassed the 30.2 million mark.
"I'm going to pause here; I'm going to lose the script, and I'm going to reflect on the recurring feeling I have of impending doom," Walensky said, according to Rolling Stone. "We have so much to look forward to, so much promise and potential of where we are and so much reason for hope. But right now, I'm scared."
Communicators should take note that there will be times when a leader or spokesperson's convictions and closeness to a statement merits going off script and speaking candidly to stakeholders.
Leadership should be encouraged to show vulnerability when speaking on issues that matter to them personally, as opening up can foster a closeness with stakeholders that resonates beyond the shelf life of the soundbite.
Communicators will need to answer privacy concerns around vaccine passport data
As countries like Japan, China and Denmark will soon introduce vaccine passport programs for their citizens, the White House held off on requiring American citizens to provide proof of vaccination for travel, work or attending events.
"This is going to hit all parts of society, and so naturally, the government is involved," Andy Slavitt, acting director for the Centers for Medicare and Medicaid Services, said during a White House COVID-19 briefing Monday. "But unlike other parts of the world, the government here is not viewing its role as the place to create a passport, nor a place to hold the data of—of citizens. We view this as something that the private sector is doing and will do. What's important to us, and we're leading an interagency process right now to go through these details, are that some important criteria be met with these credentials."

On Friday, New York became the first state to roll out a vaccine passport app in the form of IBM's Excelsior Pass, which was tested at a Brooklyn Nets basketball game at the Barclays Center and a New York Rangers hockey game at Madison Square Garden.
Chief among the privacy fears is the question of whether location or medical data will be collected and stored and who will have access to that information. The companies behind these apps have said they will not store data, but the perception could nonetheless dissuade some Americans from embracing the apps.
Why It Matters:
It will likely fall on communicators, and your organization's legal advisors, to compose messaging on how you are implementing any future vaccine passport solution. This will require you to start crafting resources for stakeholders immediately that explain privacy policies and assuage concerns around how medical data is collected.
These resources should be educational and answer larger concerns, like why the Health Insurance Portability and Accountability Act (HIPAA) contains provisions around the sharing of medical data during national emergencies.
---
TAKE OUR SURVEY
We are running a short survey to find out how we can better serve readers like you. Your feedback will help us plan new editorial initiatives, direct our resources for industry research and analysis, and let us know what parts of the site are most valuable. Your answers will be held confidential.
Please take this 3-minute survey by Thursday, April 8. As a thank you, you will receive a $150 voucher to apply to a Ragan/PR Daily event and you'll be entered to win one of five $25 gift cards from Amazon.
Take the survey here.
We look forward to learning more about the PR community and how PR Daily can best serve your needs, interests and career growth. Thank you in advance for your time and feedback.
---
SOCIAL BUZZ
Facebook hosted a panel conversation last week in partnership the Asian-American Advertising Federation that discussed how brands can use their resources and platforms to counter the recent deluge of anti-Asian hate speech.
The main point throughout all of these tips relates to having empathy, and ensuring that a breadth of perspectives are considered within your brand decision making.

These are important tips, addressing a crucially important issue – because as the events of the last year have shown us, there are still significant societal divides that need to be overcome in order to create a truly inclusive and collaborative community.
As the other tips shared highlight, having empathy for a marginalized or underserved community starts with acknowledging your blind spots as a brand. Consulting experts who have a different lived experience than your decision makers, ensuring your leadership reflects the diversity of the audiences you serve and being mindful about where your money is being spent are all examples of that empathy in action.
---
CRISIS LEADERSHIP NETWORK
Looking for more insight on how to address the current global crisis and lead your organization into a strong recovery?
Join Ragan's Crisis Leadership Network to connect and brainstorm with peers, get the latest intelligence and research and start to strategize for the future of your organization.
Learn more about this exclusive membership here.
---
CRISIS COMMUNICATIONS
Amazon's official Twitter account directly rebuffed negative tweets from Senators Elizabeth Warren, Bernie Sanders and others last week, and the snarky Twitter messages have turned some heads online.
It turns out that Amazon leaders were following a broad mandate from the very top of the company: Fight back.

Recode has learned that Amazon CEO Jeff Bezos expressed dissatisfaction in recent weeks that company officials weren't more aggressive in how they pushed back against criticisms of the company that he and other leaders deem inaccurate or misleading. What followed was a series of snarky and aggressive tweets that ended up fueling their own media cycles.

The timing was likely not coincidental. Bezos and other Amazon leaders are on edge as the company is facing the largest union election in its history at its Bessemer, Alabama, warehouse.
Communicators should take note that whenever leadership gives guidance on how your company should manage a crisis, that guidance should first go through a review process, be it a board, committee or chain of command, before it is acted upon and carried out.
---
MEASURED THOUGHTS
In its 2021 State of Journalism study, PR tech platform Muck Rack asked journalists about who they consider to be credible sources for reporting. A majority  of respondents (86%) cited subject matter experts, while 74% considered CEOs credible sources and significantly more journalists considered company PR pros credible (55%) than agency PR pros (34%).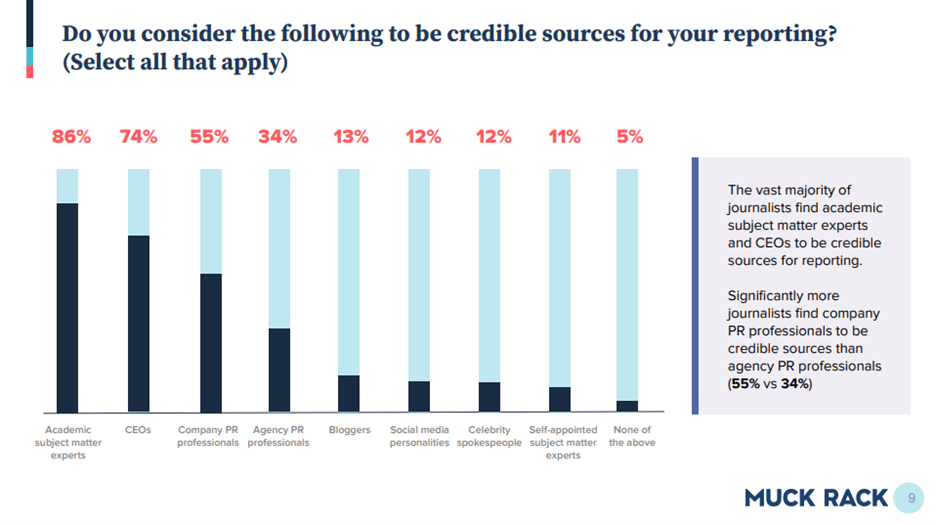 Remember these results when pitching journalists, as providing exclusive sources and access increases the likelihood of a journalist considering the story credible in the first place. Find experts in the field who can support the story you pitch, and partner with your CEO to prepare them for any potential interviews with top-tier outlets.
Nashville authorities and nonprofits provide resources on Twitter during flood
A severe flash flood hit Nashville on Sunday, leaving multiple people dead and causing extensive damage across Tennessee. In response to the sudden weather disaster, Nashville Mayor John Cooper declared a state of emergency on Twitter:
Today, I signed an executive order declaring a local state of emergency due to flooding in Nashville, as we seek state and federal resources to assist Davidson County.

— Mayor John Cooper (@JohnCooper4Nash) March 28, 2021
Twitter users were impressed with Nashville's emergency alert system, which included an automated phone call to warn residents of the flood:
The city of Nashville just called my phone to tell me about the Flash Flood Warning. pic.twitter.com/4j8zxf856a

— Justin McFarland (@ThisJustinTv) March 28, 2021
The National Weather Service in Nashville whipped up an easily legible graphic that warned residents in the danger zone with clearly-stated safety information and advice:
Flash Flood Emergency including Nashville TN, Franklin TN, Brentwood TN until 4:30 AM CDT pic.twitter.com/7hxlc0qPZ6

— NWS Nashville (@NWSNashville) March 28, 2021
The NWS' other messaging also conveyed the severity of the flooding:
⚠️ FLASH FLOOD EMERGENCY ⚠️ Numerous water rescues continue across southern #Nashville with reports of people clinging to trees. This is a life-threatening situation – do not travel tonight!

— NWS Nashville (@NWSNashville) March 28, 2021
Local nonprofits did their part by offering their resources to residents affected by the flooding:
Team Rubicon is monitoring the flash flood that has affected residents of Nashville and we are standing by ready to support. #BuiltToServe pic.twitter.com/n8O2NdEvzW

— Team Rubicon (@TeamRubicon) March 29, 2021
For Nashville Flash Flood assistance, call crisis helpline at 615-244-7444, or visit https://t.co/otxYbp3bx9 to register for help. Language translation assistance available where needed. pic.twitter.com/5YLfdR681T

— Second Harvest Food Bank of Middle Tennessee (@2HarvestMidTN) March 29, 2021
Why It Matters:
When communicating a crisis or emergency to your audiences on social media, make sure that all crucial information is clearly obtainable by creating graphics or images that make your resources easy to read by those under duress. Consider the accessibility needs of all stakeholders, too, which may mean providing resources in multiple languages or reaching out to stakeholders directly.
---
CONFERENCE ALERT
As the news cycle continues to rapidly shift and communicators grapple to create strategies that overcome content exhaustion and misinformation, it's crucial to embrace new best practices grounded in measurement, data and insights that can both build engagement and boost brand awareness.
Learn how to build stronger relationships with journalists to tell your story, and measure the results at Ragan's Media Relations & Measurement Virtual Conference on Wednesday, April 7.
Attendees will discover new and smart opportunities to overcome crisis challenges, pitch stories that reporters crave, better understand and deliver to target audiences through analytics and insights, enhance media relations efforts through the PESO model and brand journalism, prove the ROI of your efforts, and more.
Learn powerful insights and secrets from speakers at organizations including NAACP, PepsiCo, Goodwill, Pfizer, Hilton and Britannica Group.
---
SOUNDING BOARD
Now that many big companies have announced a slow but steady reopening of offices, where do you hope to be working over the spring and summer, PR pros and communicators?
Now that many big companies have announced office reopening dates, where do you expect to be working over the summer months, PR pros and communicators?

Let us know under #DailyScoop and we'll share the results in tomorrow's roundup.

— PR Daily (@PRDaily) March 30, 2021
Let us know under the hashtag #DailyScoop. We'll share the results in tomorrow's roundup.
COMMENT