Walgreens cuts 4,000 UK jobs at Boots, Starbucks requires masks, and Tinder tests video chat feature
Also: AP Styleguide tweets guidance on gender neutral terms, 47% of professionals will move because of WFH opportunities, Quibi trial fails to convert most viewers, and more.
Hello, communicators:
The AP Stylebook recently tweeted that some nouns, while not gender-neutral, are used as the generic form within AP style:
A true gender-neutral noun often presents itself easily: chair or chairperson, firefighter, workforce.
In other cases, a noun may technically not be gender-neutral but instead be a masculine noun that assumes the generic case under English language convention: actor, host. pic.twitter.com/BKQ4ZFF5TO

— APStylebook (@APStylebook) July 8, 2020
Does your internal style guide match this rule? Share how your style guide addresses gender-neutral words under the hashtag #DailyScoop.
Here are today's top stories:
Walgreeens to cut 4,000 jobs in the UK
Walgreens Boots Alliance recently announced the layoffs for its U.K.-based retail chain, Boots.
Footfall, a measure of how many people visit a shopping center, in Boots U.K. stores fell by 85% in April as shoppers were advised to only leave home for essential goods, leaving its beauty and fragrance counters practically empty.

It said it would cut 7% of its workforce as part of a restructuring which will also include closing 48 Boots opticians.

"We recognize that today's proposals will be very difficult for the remarkable people who make up the heart of our business, and we will do everything in our power to provide the fullest support during this time," said Boots managing director Sebastian James.
The news comes alongside another U.K. retail chain, John Lewis, announcing the closing of eight stores, which could cut up to 1,300 jobs.
Why it's important: Both John Lewis and Walgreens Boots Alliance have been focusing on e-commerce strategies as COVID-19 lockdowns continue—a move that many organizations worldwide and across industries have been taking. Consider how you can digitize your offerings or complement your products and services through e-commerce trends. The shifting consumer behaviors will remain even after COVID-19 is no longer a threat.
---
TACTICALLY SPEAKING
Quibi, a new short-form video platform that debuted in April, amassed 910,000 users during the first three days of its launch, according to Sensor Tower data. However, The Verge reported that "about 72,000 stuck around after the three-month free trial, indicating the app had about an 8 percent conversion rate."
Quibi has spoken out about the report—and perhaps rightfully so, as these numbers only represent conversions of those signed up for the free trial within the first three days of Quibi's launch.
Sensor Tower also estimates only 4.5 million have downloaded Quibi in total. The discrepancy between that figure and Quibi's official one suggests Sensor Tower could also be far off in its estimates of how many users Quibi converted in its first three days. In a statement given to The Verge, a Quibi spokesperson said, "the number of paid subscribers is incorrect by an order of magnitude. To date, over 5.6 million people have downloaded the Quibi app. Our conversion from download to trial is above mobile app benchmarks, and we are seeing excellent conversion to paid subscribers — both among our 90-day free trial sign-ups from April, as well as our 14-day free trial sign-ups from May and June."
However, Disney+ has amassed more than 50 million subscribers, so Quibi has a long way to go to compete with other streaming services. The report also shows that offering free trials isn't a magic bullet, especially as consumers are bombarded with content as they stay at home during COVID-19.
---
MEASURED THOUGHTS
Fishbowl recently conducted a work-from-home survey through its app and found that 47% of professionals across industries have either already moved (6%) or are considering moving (41%) to a cheaper city because of the increased freedoms afforded them through remote working.
The numbers differ depending on the industry, with technology and advertising leading the way at 51%: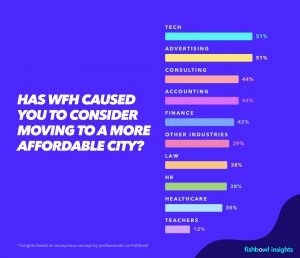 You can view the entire survey here.
---
CRISIS LEADERSHIP BOARD
Looking for more insight on how to address the current global crisis and lead your organization into a strong recovery?
Join Ragan's Crisis Leadership Board to network and brainstorm with peers, get the latest intelligence, and research and start to strategize for the future of your organization.
Learn more about this exclusive membership here.
Starbucks announces mask requirement
Consumers visiting the coffee chain will have to wear face coverings, starting July 15.
Starbucks wrote in a news release:
At select locations where a local government mandate is not in place, customers that may not be wearing a facial covering will have various options to order their Starbucks, including ordering at the drive-thru, curbside pickup through the Starbucks app or placing an order for delivery through Starbucks Delivers.
Along with its announcement, Starbucks created an overview of its policies, procedures and initiatives (including donations) throughout COVID-19: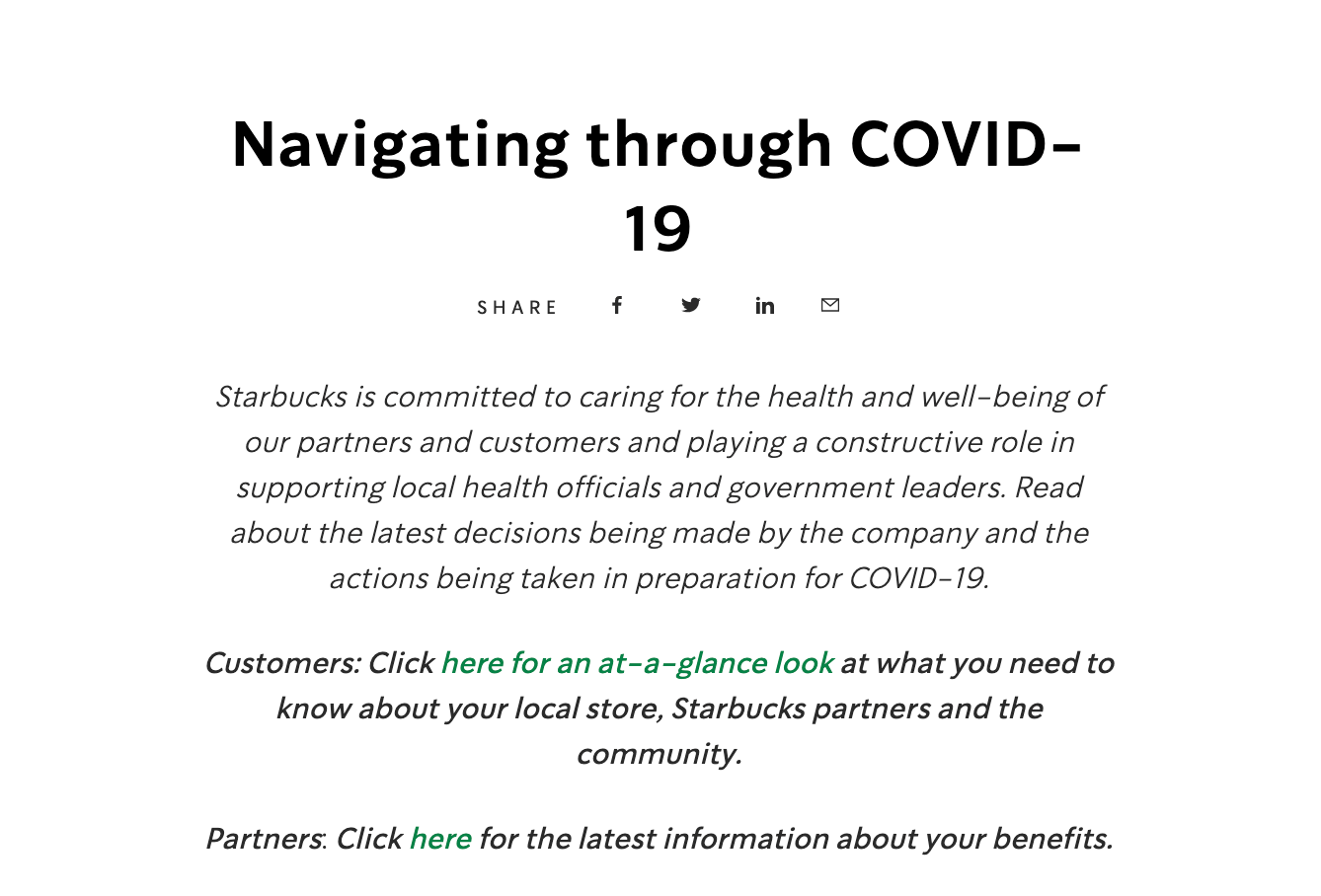 Why it's important: It's important to keep both employees and consumers updated throughout COVID-19, especially as re-opening plans, policies and procedures shift. Consider gathering information into one place, so you can easily share within future statements and press releases as well as within social media posts and emails.
---
TAKE OUR SURVEY
Ragan has partnered with PoliteMail to ask how COVID-19 has affected your role as a communicator, including what channels you're using more than ever before and what your organization's employees are asking.
When you have a moment today, please fill out this three-minute survey on the state of communications. Thank you! https://t.co/i3bgKR7DcF

— Ragan.com (@RaganComms) June 26, 2020
As a thank you, you'll receive a copy of the results, The State of Communication Summer 2020.
---
SOCIAL BUZZ
Tinder is testing a video chat feature called "Face to Face."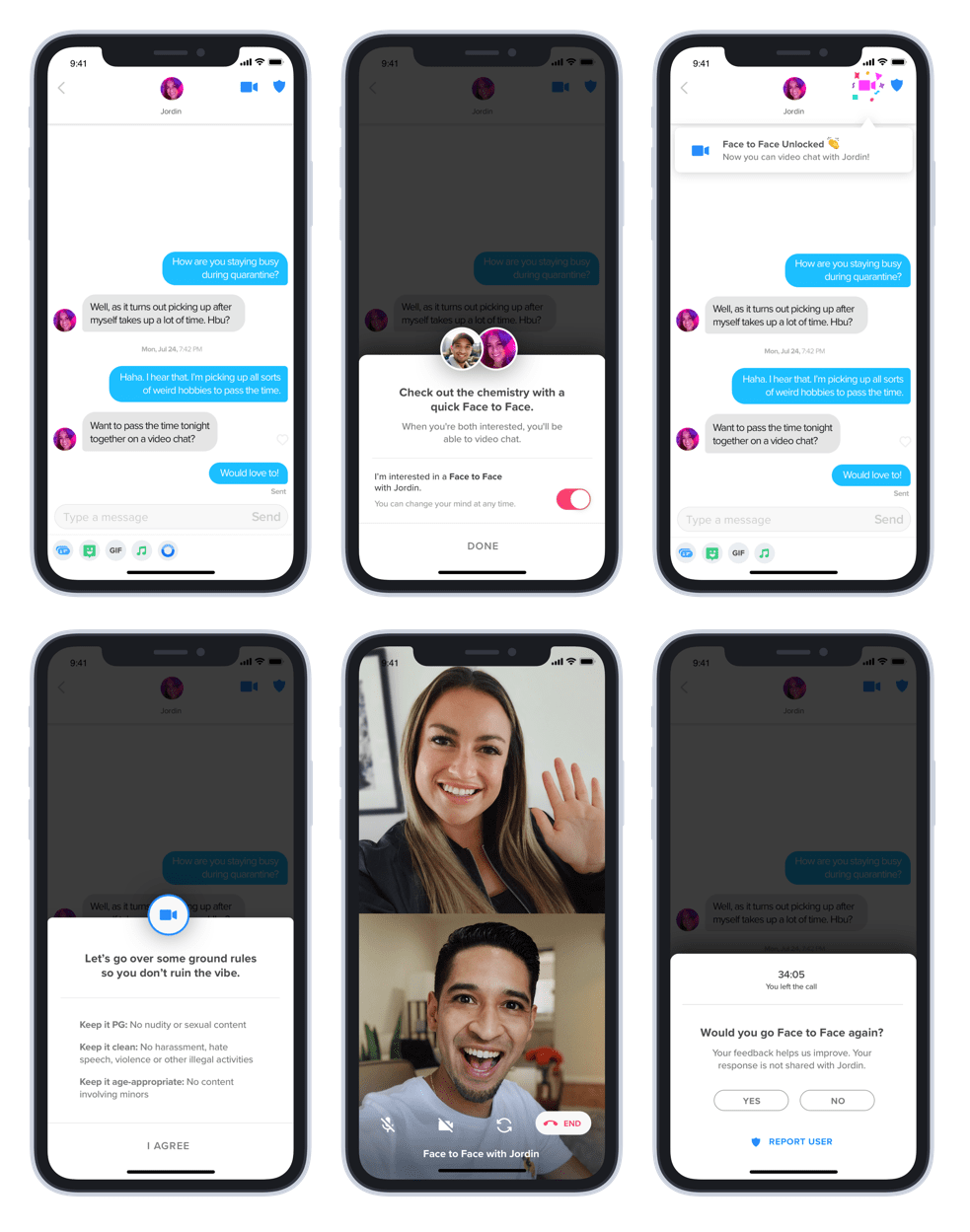 [It] doesn't require people to exchange private phone numbers and is rolling out as a test in 13 countries, including in the US in Virginia, Illinois, Georgia, and Colorado, as well as in Australia, Brazil, and France. Not all members in these states and countries will have access, just a select group. The team is hoping to see how well the video calls work from a technical standpoint, like how the servers handle them, before rolling the feature out more widely, says Bernadette Morgan, senior product manager on Tinder's trust and safety team.
Tinder wrote in a press release:
We recently surveyed our members in the US, and half of them have had video dates with a match off Tinder in the past month. Not only that, but 40% of Gen Z members wanted to continue using video as a way to decide whether to meet IRL in the future—even once their favorite date spot is open again.

It's clear that video is here to stay, and we're excited to see what else we learn during this test. Stay tuned for updates on the feature over the coming weeks, as we continue evolving it while bringing it to more Tinder members around the world.
If you're not embracing video content and efforts more than ever before, now is the time to do so.
---
WHAT YOU SAID
We asked if you enjoy working from home, and more than 61% of you are fans of remote working, with 29% of you saying you're OK working remotely until re-opening plans are established.
Less than 10% of you say you can't wait to go back to the office, so expect a blend of working from home and office time to be more common in the future.
Are you a fan of working from home, or can you not wait to go back to the office?

Weigh in with how remote working effects your PR efforts under #DailyScoop, and we'll share in tomorrow's roundup.

— PR Daily (@PRDaily) July 9, 2020
---
SOUNDING BOARD 
As you work from home, do you perform your tasks or answer emails on the weekends?
Do you work on the weekends as you WFH?

Share with us your thoughts and strategies on setting boundaries between work and recreation below and under #DailyScoop. We'll share on Monday.

— PR Daily (@PRDaily) July 10, 2020
Weigh in below and share your thoughts under the hashtag #DailyScoop. We'll share on Monday. In the meantime, have a happy and safe weekend.
COMMENT