Wells Fargo criticized for diversity comments, Ralph Lauren to cut 15% of its workforce, and Bumble Bee Seafoods responds to Trump
Also: Reese's gets salty with product launch, Microsoft introduces features for employee wellbeing, 78% of consumers buy from organizations that put employees first, and more.
Hello, communicators:
The Hershey Company recently embraced the pervading pessimism of 2020 with a new candy: Reese's Big Cups with pretzels. The brand's campaign is decidedly (and humorously) salty.
"Let's face it, we're all feeling a little bit salty this year," said Ian Norton, Reese's senior director of the brand. "In true Reese's fashion, we channeled our feelings into sweet and salty deliciousness with new Reese's Big Cups with Pretzels."
Here's an example of Reese's campaign messages:
You'd be salty too if you were stuffed with pretzels. pic.twitter.com/bCfK56wOCH

— SALTY REESE'S (@reeses) September 22, 2020
Oh it's great being candy in a pandemic. All the pant-less people clamoring to put their unwashed hands all over you.

— SALTY REESE'S (@reeses) September 18, 2020
Whelp, it's Monday. Perfect.

— SALTY REESE'S (@reeses) September 21, 2020
Is it just me or does anyone else feel like they've been living out a recurring nightmare where they've been trapped in a cupboard next to a can of lima beans for months?

— SALTY REESE'S (@reeses) September 21, 2020
Spent the day sneering every time I heard "the new normal" instead of "the new Reese's." Feeling pretty good about my time management skills.

— SALTY REESE'S (@reeses) September 21, 2020
You haven't hung out with your friends since March? You're lucky. My only friend is nougat.

— SALTY REESE'S (@reeses) September 22, 2020
What do you think of the ploy? Share your thoughts with us under the #DailyScoop hashtag.
Here are today's top stories: 
Wells Fargo chief faces backlash over diversity comments
Charles Scharf, the bank's chief executive, received blowback after saying during a Zoom meeting that Wells Fargo's difficulties reaching diversity goals were due to a lack of qualified minority talent.
[Scharf] also made the assertion in a company-wide memo June 18 that announced diversity initiatives as nationwide protests broke out following the death of George Floyd, an unarmed African-American man, in police custody.

"While it might sound like an excuse, the unfortunate reality is that there is a very limited pool of black talent to recruit from," Scharf said in the memo, seen by Reuters.
Twitter users were quick to call out the executive's remarks and encourage consumers to close their accounts. Others, including Rep. Alexaandria Ocasio-Cortez, reminded followers that talent isn't hard to find:
Perhaps it's the CEO of Wells Fargo who lacks the talent to recruit Black workers. https://t.co/CI7CRriU3i

— Alexandria Ocasio-Cortez (@AOC) September 23, 2020
Reuters continued:
"There is an amazing amount of Black talent out there," said Ken Bacon, a former mortgage industry executive on the boards of Comcast Corp, Ally Financial Inc. and Welltower Inc. "If people say they can't find the talent, they either aren't looking hard enough or don't want to find it."
Why it's important: Wells Fargo has remained silent outside of a statement given to Reuters that Scharf "is committed to deep and systemic change to increase diversity and has held several forums where there has been candid conversation and unfiltered feedback." Forbes also pointed out that the bank's senior leadership team is 41% female and 6% Black, with 21% of its team racially or ethnically diverse. Wells Fargo's pledges feel less sincere when its head won't take responsibility for diversity, equity and inclusion efforts, however.
Communicators, take note: Your outstanding campaigns can be quickly sullied with comments such as these, which show a lack of understanding and accountability.
---
TACTICALLY SPEAKING
Bumble Bee Seafoods is trending on social media after President Donald Trump claimed that protesters used the company's cans of tuna as projectiles aimed at law enforcement. Calling out the brand by name is probably due to Bumble Bee's criticism of Trump's tarrifs. In 2018, the company called them "devastating."
Writer and reporter Jon Tayler described how the brand's social media manager must have felt following the comments:
The poor bastard running the Bumble Bee Twitter account staring at this tweet and wondering what on earth they're supposed to do right now https://t.co/86WEdIQoJa

— Jon Tayler, Smiling Politely (@JATayler) September 23, 2020
However, the manager tweeted a simple, yet effective, message:
Eat em. Don't throw em.

— Bumble Bee Seafoods (@BumbleBeeFoods) September 23, 2020
Add the response to the list of social media best practices, particularly when faced with an unforeseen crisis. You can also check out these insights to prepare for a "Trump crisis."
---
MEASURED THOUGHTS
A report by Weber Shandwick, United Minds and KRC Research revealed that roughly two-thirds of employees (66%) think their organizations have prioritized their safety, and 78% say their organizations don't tolerate discrimination in the workplace.
However, that number decreases when asking Black employees, with only 64% saying their organizations don't tolerate discrimination. Also, organizations that consistently communicate their stances and measures taken to safeguard workers inspire more confidence and pride among employees: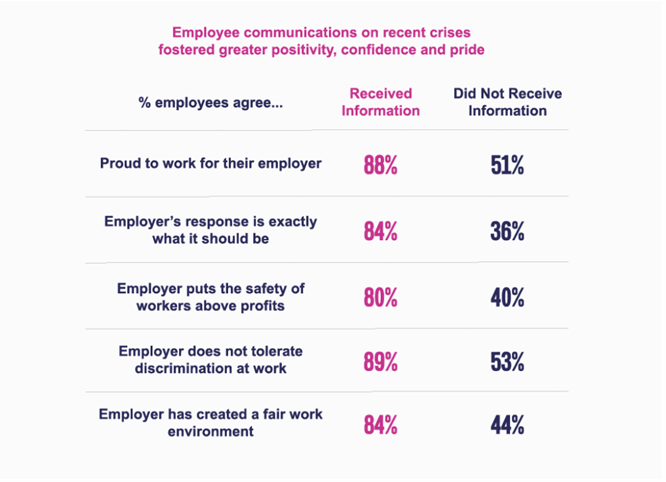 Image courtesy of Weber Shandwick.
How you treat your employees will affect how consumers interact with your organization as well. Weber Shandwick reported that 83% of consumers expect employers to create diverse workplaces and not tolerate discrimination, among other imperatives: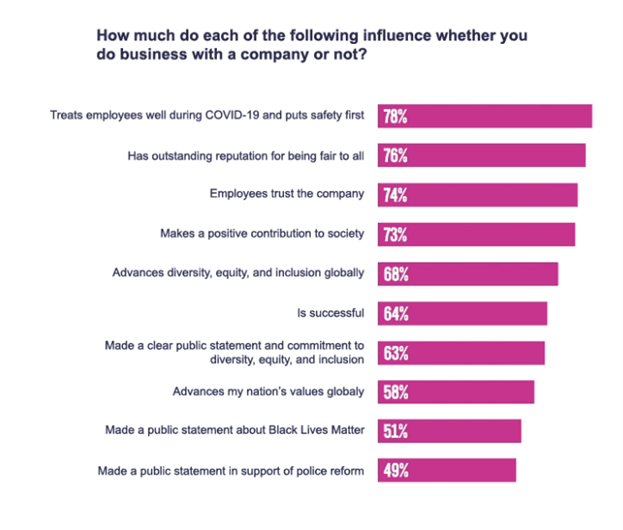 Image courtesy of Weber Shandwick.
You can read more findings from the report here.
---
CRISIS LEADERSHIP NETWORK
Looking for more insight on how to address the current global crisis and lead your organization into a strong recovery?
Join Ragan's Crisis Leadership Network to network and brainstorm with peers, get the latest intelligence and research and start to strategize for the future of your organization.
Learn more about this exclusive membership here. 
Ralph Lauren to cut 15% of its workforce
The luxury fashion brand's layoffs could affect more than 3,700 employees by the end of the year. Ralph Lauren aims to save $180 million to $200 million through the job cuts, and following the announcement, its shares were up 1.6%.
[Ralph Lauren's] e-commerce sales have surged. Ralph Lauren said it would invest in digital platforms to support e-commerce operations, expand product personalization and add new features like augmented reality.

It will also move some human resource and planning systems to online cloud platforms, and streamline reporting lines.

"The changes happening in the world around us have accelerated the shifts we saw pre-COVID, and we are fast-tracking some of our plans to match them," Chief Executive Officer Patrice Louvet said.
Why it's important: If you haven't already altered your business model for digital-first consumer behaviors, you might want to reconsider. These changes, though accelerated during COVID-19, will remain in place in the future as people change the way they shop and interact with organizations.
---
DOWNLOAD OUR REPORT
Though 70% of communicators are not looking beyond 2020 in terms of strategic planning, they also don't expect our current state of crisis to ease up by the end of the year. Operating in a constant state of crisis and rapidly responding to events throughout the world are top challenges for communicators, our recent report, Ragan Survey of Internal Communicators, revealed.
The survey sheds light on top challenges, with insights including top issues, what the "return to the office" looks like, which departments internal communicators will collaborate with the most and more.
To learn more about how to rise to the challenges facing organizations across industries, join us at Ragan's Internal Communications & Employee Experience Virtual Conference on Oct. 14. You'll learn from internal and employee communications experts from National DCP, Deloitte, Charles Schwab, American Psychological Association and more.
---
TACTICALLY SPEAKING
On Tuesday, Microsoft announced additional features within its Teams platform aiming to help employee wellbeing and curb burnout.
Our research shows that one-third of remote workers say the lack of separation between work and life is negatively impacting their well-being.

Here's where #MicrosoftTeams and a virtual commute can help: https://t.co/Tmi0CGJhRx via @Inc #MSIgnite

— Microsoft (@Microsoft) September 22, 2020
The features include a scheduled "virtual commute" time with prompts and services such as its partner, Headspace, which offer up guided meditation during the time employees formerly spent traveling into the office:
The efforts showcase the importance of thinking of corporate wellness in tailored ways that fit with your employees' lifestyles and behaviors, especially as many workforces remain at least partially remote.
---
EDITOR'S PICKS
Staying hydrated can help both your mind and body function better. Mayo Clinic's water intake guide suggests nearly 12 to 16 cups per day, and you can achieve that goal with a good bottle at your side or on your desk.
Try these on for size:
---
WHAT YOU SAID  
We asked for GIFs that best explain to others what you do:
Communicators, how do you explain to others what you do all day?

Describe your career and responsibilities using a GIF, and we'll feature the best in tomorrow's #DailyScoop.

— PR Daily (@PRDaily) September 22, 2020
Many of you shared the constant state of crisis that's dominating communications efforts:
Staying one step ahead of the next health crises … one tweet at a time. 😅 pic.twitter.com/SYWuAvximg

— CJ (@candidoxbandido) September 22, 2020
Timeliness is key – whether it's pitching, planning or crafting messages, we've got it under control. 😎 pic.twitter.com/8StfaytsmN

— Buchanan PR (@BuchananPR) September 22, 2020
Others shared GIFs that highlighted PR pros' prowess when it comes to organizations' images, including media training and storytelling efforts:
— Kate (@thekatestewart) September 23, 2020
Several of you shared the pains of multitasking and the long list of tasks you have on your plates:
— Betsy Keller (@BetsyKellerPR) September 23, 2020
We especially enjoy the take from Harry Boyle, communications advisor for Metro Trains, which showcases the importance of PR:
With comms vs without comms pic.twitter.com/7oM1mQTfOF

— Harry Boyle (@_HarryBoyle_) September 23, 2020
Is there a question you'd like us to ask in an upcoming poll? Let us know!
---
SOUNDING BOARD
The AP Stylebook rule remains the same for the Oxford comma: Don't use it unless it's a complex phrase and/or required for clarity. Where do you stand on the debate?
The AP Stylebook rule remains the same for the Oxford comma: Don't use it unless it's a complex phrase and/or required for clarity. Where do you stand on the debate?

Share your thoughts with us below and we'll share in tomorrow's #DailyScoop.

— PR Daily (@PRDaily) September 23, 2020
Share your thoughts with us below and under the hashtag #DailyScoop.
Editor's note: Ragan Communications may earn a commission through our affiliate partnerships when purchasing items in our content.
COMMENT