Airlines reveal partnership on Afghanistan evacuation efforts, Facebook releases transparency report, and GM explains second electric car recall
Also: Beyoncé and JAY-Z join Tiffany diversity campaign, digging into diversity numbers for the PR industry, and weather services share hurricane messaging.
Hello, communicators:
Luxury jewelry retailer Tiffany & Co. has launched "About Love," a new campaign featuring Beyoncé and Jay-Z , the result of what the brand says is a close collaboration with the celebrity couple. The campaign also features the Tiffany Diamond and is paired with to artist Michel Basquiat's "Equals Pi," which has been part of a private collection since 1982 and never appeared in public.
"Ushering in a new brand identity, this campaign embodies the beauty of love through time and all its diverse facets, forging a new vision of love today," reads the press release.
As a part of campaign, Tiffany & Co. has pledged $2 million to scholarships for historically Black colleges and universities (HBCUs) but said additional details are forthcoming.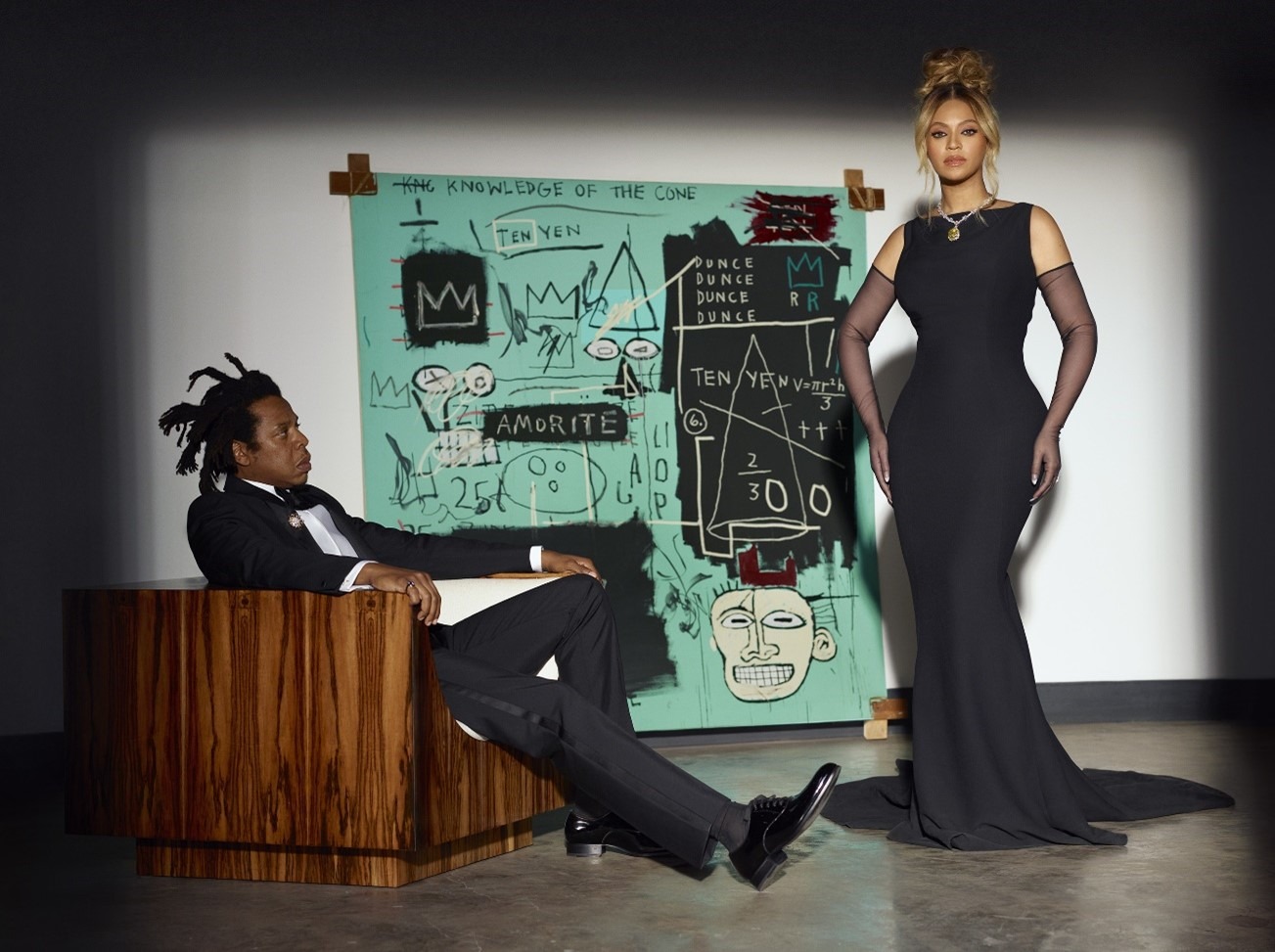 Photo courtesy of Tiffany & Co.
"Beyoncé and JAY-Z are the epitome of the modern love story, Tiffany executive vice president of product and communications Alexandre Arnault said in the press release. "As a brand that has always stood for love, strength and self-expression, we could not think of a more iconic couple that better represents Tiffany's values. We are honored to have the Carters as a part of the Tiffany family."
Tiffany & Co.'s campaign provides an example of how a luxury brand can engage diverse communities without pandering to cultural stereotypes or racist tropes. By including a work by Basquiat, himself a celebrated contemporary Black artist, the campaign also creates a historical narrative of Black artistic excellence that is underscored by Tiffany's philanthropic commitment to HBCUs (even if the announcement of that donation lacked specifics).
Here are today's top stories:
United Airlines touts its efforts to support evacuation efforts in Afghanistan
The Pentagon has ordered six commercial airlines to provide jets to help evacuate Americans and allies from Afghanistan, including American Airlines, Delta Airlines, Atlas Airlines, Omni Air, Hawaiian Airlines and United Airlines.
United CEO Scott Kirby showed his support for the initiative on Instagram, tying United's cooperation back to its brand values:
View this post on Instagram
American Airlines took the opportunity to express empathy for those stuck in Afghanistan and put its employees first.
The Wall Street Journal reports:
"The images from Afghanistan are heartbreaking. The airline is proud and grateful of our pilots and flight attendants, who will be operating these trips to be a part of this lifesaving effort," the airline said in a statement.
Why it matters:
United Airlines' statement highlights the several different ways that a national crisis can provide an opportunity for your brand or organization to step up and demonstrate its values. By providing history on the Civil Reserve Air Fleet and explaining the airline's commitments to that long dormant project, United echoes its larger values and mission. By ending with a message of thanks to employees and flight crew, United connects the human faces who work for the airline to the needs of those who the rescue operation is intended to help.
---
MEASURED THOUGHTS
A new report from the Diversity Action Alliance [DAA] has found that 21% of communications roles across all organizations have diverse representation.

Courtesy of the Diversity Action Alliance
The report "shows how companies must still make big changes to bring substantive diversity to leadership and executive roles in the PR industry," writes Ted Kitterman in PR Daily, whose parent company Ragan Communications is a member of the DAA. "PR pros and leaders will have to keep their eyes on future editions of the DAA's benchmark report to see if progress is being made—or to understand if the industry is falling short of making a tangible impact."
Check out the full report here.
---
SOCIAL BUZZ
Facebook has released a transparency report about the most-viewed posts on the social network during first quarter of 2021. The report was initially shelved because it showed a story spreading COVID-19 misinformation was the most-viewed link on Facebook.
"We considered making the report public earlier," said Andy Stone, a Facebook spokesman, "but since we knew the attention it would garner, exactly as we saw this week, there were fixes to the system we wanted to make."
Stone defended Facebook's decision in a Twitter thread suggesting that it's still difficult to define what misinformation really is:
We've been getting criticism for holding an internal report until it was more favorable for us and then releasing it. Getting criticism isn't unfair. But it's worth taking a closer look — and making note of some of the components of the story.

— Andy Stone (@andymstone) August 21, 2021
Coming weeks after Facebook defended its decision to fold its Crowdtangle insights tool into its ethics division, this new report highlights how little authority the most popular social network in the world still has to define what misinformation and disinformation mean on its platform.
It also serves as a reminder that you can't rely on large platforms to fact check bad information about your brand or industry when it begins to circulate. Be sure that your crisis communications strategy involves having facts and research ready to respond to bad info should the need arise.
---
THE WORKPLACE
Remote, in-person, or a mix of the two, office culture is under constant strain in these uncertain times.
As many companies shift their office reopening strategies to accommodate the ever-changing needs and concerns of a post-pandemic workforce, it's on communicators to ensure employees remain engaged in corporate culture.
Tune in on Aug. 25 for our webinar, "Communicating Your Return-to-Workplace Plan to a Distributed Workforce." Top takeaways from the afternoon will include:
How to communicate your timeline for returning to the office
Strategies for listening and addressing various employee hesitations around family care, health concerns and more
Vaccine messaging essentials, such as privacy, safety and religious affiliation
And more
Plus, panelists will tackle the "Great Resignation" with potent tips and tools to retain your best workers and help employees feel like they belong.
---
CRISIS COMMUNICATIONS
When Tropical Storm Henri made landfall on Rhode Island Sunday afternoon, weather services and forecasters alike kicked into high gear with emergency communications that continued into Monday morning:
https://twitter.com/NHC_Atlantic/status/1429462903501905921
https://twitter.com/NWSBoston/status/1429418428863959046
https://twitter.com/NWSNewYorkNY/status/1429765779252080640
Once again, weather services provide a masterclass in crisis messaging on social media by making the time stamp clear to see in the social copy and highlighting key messages in an organized way with a color scheme that is intended to be easy to read quickly.
---
TAKE OUR SURVEY
If you're looking for benchmark data to take to your bosses the next time you ask for a raise or search for a new job, lend us a hand—and help yourself and your peers while you're at it. Participate in Ragan's Salary & Workplace Culture Survey, a comprehensive look at salaries, benefits, culture, bonuses and other aspects of the job in a fast-moving industry.
Both internal and external communicators are encouraged to participate.
By taking part, you will receive a $150 discount to a Ragan virtual conference of your choice and be entered to win one of five $50 gift cards. All who complete the survey will receive a full report on the findings. Responses are anonymous. Enter by Sept. 17.
Take the Ragan Salary & Workplace Culture Survey now.
General Motors explains recall of electric vehicles
General Motors [GM] has expanded its recall of Chevy Bolt electric cars to include all vehicles after discovering a battery problem that can cause the Bolt to catch fire. The automaker said that it will replace batteries in all vehicles, but warned owners to limit charging the cars to 90% and parking them outside until the battery is replaced.
According to its press release:
"Our focus on safety and doing the right thing for our customers guides every decision we make at GM," said Doug Parks, GM executive vice president, Global Product Development, Purchasing and Supply Chain. "As leaders in the transition to an all-electric future, we know that building and maintaining trust is critical. GM customers can be confident in our commitment to taking the steps to ensure the safety of these vehicles."
Spokesman Dan Flores says engineers are still working around the clock on how to find the battery defect and what the repairs will be. He said GM doesn't know how long it will take to develop the fix. The number of Bolts with the defect is likely to be small, Flores said.

"We understand that the previous recall and this recall significantly inconvenience our customers," Flores said. "We appreciate their patience and we understand their frustration."
What it means:
Coming weeks after President Biden shared a joint statement with GM and Ford from the White House lawn about the future of electric vehicles, this second Bolt recall threatens to undermine the automaker's attempt to solidify its position as an industry leader. Parks' statement artfully positions the recall as a preventative, quality-control measure that was enacted with an abundance of caution. All the other elements of a crisis response are present between Flores' and Parks' statements, too, but they are not organized in one place as Flores' acknowledgement of customer frustrations should have also been in the press release.
COMMENT
One Response to "Airlines reveal partnership on Afghanistan evacuation efforts, Facebook releases transparency report, and GM explains second electric car recall"
Ronald N Levy

says:

Facebook's spokespeople are as good as they come (isn't "a transparency report" an original term and excellent?) Health PR accounts and (sad to say) tobacco companies have had spokespeople at that high a level.

But neither speaking nor a well-named statement may be enough to get Facebook the massive public support it needs to (a) continue serving the public as fully (and with no charge) as in the past, and (b) continue making the numbers it has been producing.

The New York Times reported July 28th that Facebook quarterly "revenue rose 56 percent to $29 billion" and "profits rose 101 percent to $10.4 billion." That's for just three months! But the Wall Street Journal reported August 20 that FTC is alleging in a lawsuit that Facebook's "enormous profits" are evidence of a "monopoly position." To the wall with our most profitable companies?

FTC's suit could cost Facebook billions a year in profit, year after year, plus tens of billions in sales and perhaps over $100 billion in market value, which is shares outstanding times price per share, lately over $997 billion. Billions and billions in lost value!

Amazon, Alphabet (Google), Apple, Microsoft, Walmart and other companies could also each lose scores of billions to some government regulators who feel almost a blood lust about large companies.

WHAT LAWYERS THINK is that legal arguments, facts and legal precedents that each side can present, will decide which side wins and how many billions Facebook will lose.

WHAT PR EXPERTS THINK is that public opinion may be decisive in creating the final "number of billions lost" number because what the courts do, congress and the president can modify or reverse.

WHAT WILL BE EXCITING TO WATCH is whether Facebook and the other
companies—having gotten huge by rendering public service more huge than other companies render—will rely almost entirely on lawyers and much less on spokespeople and "transparency reports." OR will Facebook and the other endangered species protect their aspirations and earnings by doing public service projects that make 100 million or 200 million Americans hope and pray for the success of these companies?

My favorite idea is to back research for a cancer cure or at least a cancer vaccine from Stanford, Johns Hopkins or Memorial Sloan Kettering Cancer Center. There are other ideas the public would love.

SO WHICH IS THE PUBLIC LIKELY TO LOVE MORE—the angry charges of politicians that "these rich bastards are monopolies dangerous to the public," or the proud report of top companies that "we're spending a BILLION dollars to fund health research aimed at saving tens of millions of lives, perhaps including YOUR life."

To those in PR the likely answer seems obvious since today one in every five of us is likely to die of cancer (half the time in extreme pain despite pain-relievers). But most lawyers may think that the safety of large companies depends on laws and evidence, not popularity.

Will non-PR people like Zuckerberg and other corporate leaders peg their futures to law and ALSO PR? We'll see because a big medical research project could cost a billion or more. "That," corporate leaders from years ago may point out, "is a lot of money."