Olivia Rodrigo promotes vaccines at White House, diverse boards see more revenue growth, and Facebook defends CrowdTangle restructuring
Also: Triller launches contest to hire resident DJ, Norwegian Cruise Line sues Florida, and Coca-Cola tweaks Coke Zero formula.
Hello, communicators:
Social media app Triller has launched a campaign to search for its first-ever resident DJ. The selected candidate will earn a $1 million annual salary and perform at all Triller live events and programming, design music programs for brand partnerships and Triller verticals, represent the brand at global media appearances and more. Prospective candidates are asked to enter by sharing their best 5-minute sets on Triller using the #TrilleDJ hashtag.
"This is a brand new, once-in-a-lifetime position that will represent Triller across everything we do, from our live events to brand partnerships and everything in between," Triller executive chairman Bobby Sarnevesht said in a press release. "We're looking for a performer at heart, someone with a big personality, incredible personal flair, and technical skills to match; someone who not only has his, her or their finger on the pulse of music and culture, but who is also creating it."
Triller's contest to find a new DJ is the latest example of a gamified job posting, echoing other such PR stunts like Hasbro's contest to find a Nerf Chief TikTok Officer back in April. Tapping into your brand affinity by turning a job search into a contest can make a positive impact far beyond promotion, as it provides an opportunity to democratize the job search process for a coveted role and communicate the process with transparency.
Here are today's top stories:
Olivia Rodrigo partners with White House to convince young people to get vaccinated
Pop singer Olivia Rodrigo visited the White House yesterday to lend her voice to the chorus on the importance of getting vaccinated. The White House formally announced the appearance by Rodrigo, who currently has the number one album in the country, via a cute, albeit hokey outreach strategy from President Biden's Instagram account that included a seemingly casual call for help from a "young person" that Rodrigo answered:
View this post on Instagram
.@Olivia_Rodrigo statement on importance of youth vaccination: "It's important to have conversations with friends and family members encouraging all communities to get vaccinated." pic.twitter.com/anXxJKnRZP

— CSPAN (@cspan) July 14, 2021
"I am beyond honored and humbled to be here today to help spread the message about the importance of youth vaccination," Rodrigo said in a press conference. "I'm in awe of the work President Biden and Dr. Fauci have done and was happy to help lend my support to this important initiative."

Rodrigo continued, "It's important to have conversations with friends and family members, encouraging all communities to get vaccinated and actually get to a vaccination site, which you can do more easily than ever before given how many sites we have and how easy it is to find them at vaccines.gov."
White House Deputy Press Secretary Karine Jean-Pierre showed she knew the lyrics to Rodrigo's hit song "Drivers License" with a tweet promoting Rodrigo's appearance:
Thank you @Olivia_Rodrigo for traversing red lights and stops signs to see us today!

And, thank you for helping the Biden-Harris Administration (@WhiteHouse) continue to push to get more young people vaccinated. pic.twitter.com/5EZ7PHbhUg

— Karine Jean-Pierre (@KJP46) July 14, 2021
Meanwhile, a sea of Washington wonks, journalists and White House correspondents had a lot of fun covering the appearance:
Thrilled to have Olivia Rodrigo as the new White House Press Secretary pic.twitter.com/nVsZRL851e

— Santiago Mayer (@santiagomayer_) July 14, 2021
Prepping for today's White House news and seeing Olivia Rodrigo eating ice cream in a corvette wearing dark sunglasses and it all makes sense now.

— Mike Memoli (@mikememoli) July 14, 2021
so olivia rodrigo complains about her ex boyfriend and gets to go to the white house but when i do it it's "inappropriate" and "unrelated to the funeral service"? okay https://t.co/eKzkGqQdwW

— Jordan Lancaster (@jordylancaster) July 14, 2021
It wasn't just political outlets covering Rodrigo's appearance, either:
Olivia Rodrigo wore vintage Chanel for her visit to the White House today https://t.co/h43UKfBUo0 pic.twitter.com/yx9FfdazP8

— Vogue Runway (@VogueRunway) July 14, 2021
Olivia Rodrigo looks stunning at the White House to meet with President Biden and Dr. Fauci for promotion of the vaccine among young people. pic.twitter.com/vgPtm1HXXv

— Pop Base (@PopBase) July 14, 2021
The Real Story Behind Olivia Rodrigo's White House Meeting With President Biden https://t.co/ifOQK8xx3c

— E! News (@enews) July 14, 2021
What it means:
Moving past the awkward language of intergenerational outreach ("young people," "the youth" etc.), the wide breadth of verticals that covered Rodrigo's White House visit highlight the merits of partnering with an influencer who already captures your target demographics but also has followers in spaces that your traditional messaging does not reach.
The White House's attempts to communicate using Rodrigo's channels and vernacular, meanwhile, serve as a reminder that the benefits of an influencer partnership risk being undermined when the messaging is not communicated by the influencer themselves using their unique voice and style.
---
MEASURED THOUGHTS
A report by BoardReady has found that businesses with at least 30% of seats filled by non-white executives saw a bigger jump in revenue growth over the past year, while board members whose ages spanned over 30 years saw an improvement in revenue growth compared to the year prior. BoardReady warned that the data might be skewed because not many companies have enough non-white leadership on their boards to meet the threshold for a reasonable sample size.
"There isn't enough data yet to show causation, but there's strong correlation," BoardReady founder Deanna Oppenheimer told Axios.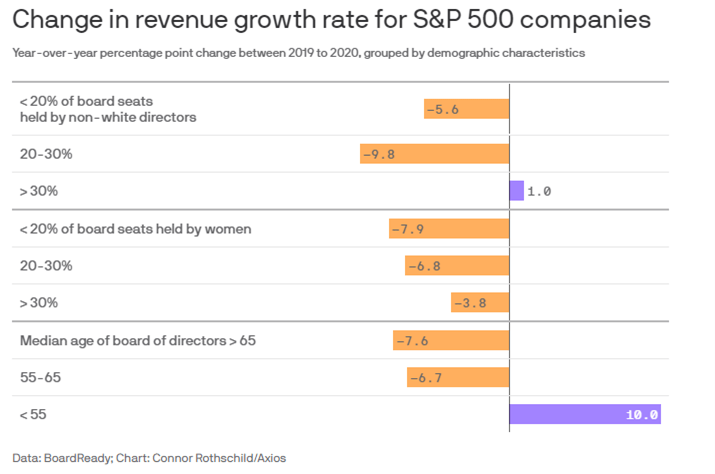 BoardReady's explanation of what its findings do and don't say highlights how the tactic of explaining the flaws in your methodology can actually support the conclusions that you feel comfortable making and how your numbers fit into a larger trend.
"[This research] adds to a ballooning body of research that shows that generally better business comes alongside boardrooms that are less old, male and white," reports Axios. "The numbers are improving, though still dismal. For instance, women made up 28% of all S&P 500 corporate board members last year, per a recent study by Spencer Stuart. That's up from 16% in 2010."
Check out the full report here.
---
SOCIAL BUZZ
Coca-Cola has announced that it will be tweaking the formula for its sugar-free option, Coca-Cola Zero sugar, giving the drink a new look and taste this month:
New can. New formula. Introducing the new and improved Coke Zero Sugar. Now more delicious. #BestCokeEver pic.twitter.com/wq4z01WF7s

— Coca-Cola (@CocaCola) July 13, 2021
"The improved recipe brings its taste even closer to that of the iconic Coca-Cola original taste," James Quincey, Coca-Cola's CEO, said during an April earnings call about the then upcoming Coca-Cola Zero Sugar, which took two years to develop.

Likewise, the reworked packaging—now all red with black font—is less busy and meant to more closely resemble Coca-Cola's iconic logo to "extend the global equity," Rafa Prandini, Coca-Cola's marketing lead for North America, told Adweek.
Twitter users had some thoughts:
Why are you changing my favorite drink?? 😭😭 I like it precisely because it's not as sweet as regular Coke!

— Mike Minotti (@Tolkoto) July 14, 2021
Why mess with Coke Zero? Diet Coke is the one that sucks. https://t.co/Bt2oAVgr6Q

— Alan Collins (@acollins876) July 13, 2021
Wait NO. Coke zero is my coffee. Don't touch it. Every time I hear something about a new formula, or worse, last summer when I was told it was going away…leave my perfect caffeinated beverage alone!!!!

— Tara H (@Tara_Hutch) July 13, 2021
Have no fear — Emily Ratajkowski loves it. pic.twitter.com/c9lQizY2eE

— Adam Barnhardt (@adambarnhardt) July 14, 2021
The backlash from Coke Zero fans to this formula tweak underlines the importance of conducting consumer outreach to understand the potential impact of new campaigns or product changes beforehand. In this case, the maxim "if it ain't broke, don't fix it" applies.
Meanwhile, mentions of past failed brand refreshes (like New Coke) highlight the fact that your brand should always explain the intention behind its controversial decisions to general audiences (outside of paywalled industry publications) to convince stakeholders that it isn't repeating the sins of the past.
---
TAKE OUR SURVEY
The Institute for Public Relations, Ragan Communications, and the University of Florida are conducting a follow-up survey to their 2020 report, "The Career Path of a Social Media Professional."
This year's survey investigates and illuminates the career path potential of social media professionals, shedding light on how social media is being managed, viewed and evaluated within organizations. Here are some highlights from our 2020 report.
We invite you to take this survey whether you're in charge of social media for your company or are involved in some aspect of social media for a client. The survey should take approximately 15-20 minutes to complete, and all responses will remain confidential.
As thanks for taking the survey, you'll get an opportunity to enter a drawing for three $50 gift cards and will receive a copy of the full report, which promises to be chock-full of valuable data for benchmarking and budgeting purposes. The report will be presented on Sept. 9, 2021 at Ragan's Social Media Conference in Orlando, Florida and published through IPR and PR Daily.
---
TACTICALLY SPEAKING
Norwegian Cruise Line [NCLH] has sued the state of Florida over the state's ban on vaccine passports, claiming that the company cannot safely resume sailing without ensuring that both passengers and crew are vaccinated.
"The upshot places NCLH in an impossible dilemma as it prepares to set sail from Florida," the complaint, filed in U.S. District Court in Miami, said. "NCLH will find itself either on the wrong side of health and safety and the operative federal legal framework, or else on the wrong side of Florida law."

Norwegian asks the court to invalidate the prohibition, the company said in a statement, and to grant a preliminary injunction that will let its cruises sail with the vaccine requirement in place. "We believe Florida's prohibition is on the wrong side of federal law, public health, science and is not in the best interest of the welfare of our guests, crew, and the communities we visit, therefore, we have reluctantly turned to the courts for relief," the statement said.

The company added: "It gives us no pleasure to be pursuing this lawsuit, which was our last resort."
NCLH's response, both in the formal claim and its accompanying statement, emphasize how putting a problematic partner on public notice can reinforce your organization's values and commitments to both internal and external stakeholders alike. By echoing past statements that threatened to remove operations in Florida, the cruise line also scores points for staying consistent in the narrative of its messaging.
---
RAGAN'S 2021 BENCHMARK REPORT
Ragan has released its annual Communications Benchmark Report, an exclusive study from Ragan's Communications Leadership Council that analyzes the major trends in the profession over the last year.
During that time, comms pros have been called on to develop and distribute messages on new policies that affect internal and external stakeholders alike. Their role has become more essential as they helped keep their organizations focused and moving forward. They've seen their access to the C-suite increase throughout 2020, and they forged important new alliances with peers in other departments, including HR, finance and workplace wellness.
Culled from more than 750 respondents, the 32-page report is available in its entirety exclusively to members of the Communications Leadership Council.
Download your copy of the exclusive Benchmark Survey Executive Summary today and get a crucial competitive advantage that will fuel your success for 2021 and beyond.
Facebook stresses transparency amid CrowdTangle controversy
A new report in The New York Times details how Facebook's proprietary social monitoring platform, CrowdTangle, was broken up and folded into Facebook's integrity team, which works to rid Facebook of misinformation and hate speech. CrowdTangle's team suspected that the restructuring occurred because journalists and researchers used the tool to discover that fringe right-wing commentators were getting more engagement on their Facebook pages than mainstream news outlets, claiming that Facebook's focus on maintaining its reputational image often gets in the way of the actual work that needs to be done to clean up the social network.
"CrowdTangle is part of a growing suite of transparency resources we've made available for people, including academics and journalists," said Joe Osborne, a Facebook spokesman. "With CrowdTangle moving into our integrity team, we're developing a more comprehensive strategy for how we build on some of these transparency efforts moving forward."

"One of the main reasons that I left Facebook is that the most senior leadership in the company does not want to invest in understanding the impact of its core products," [former Facebook vice president in charge of partnerships strategy Brian] Boland said, in his first interview since departing. "And it doesn't want to make the data available for others to do the hard work and hold them accountable."

"People were enthusiastic about the transparency CrowdTangle provided until it became a problem and created press cycles Facebook didn't like," he said. "Then, the tone at the executive level changed."
Journalists on Twitter stressed the significance of this report and what it said about Facebook leadership's commitments to true transparency:
You may not understand why this @kevinroose piece is a big deal.

Think of every big story about disinfo you've read in the last few years. Most all relied on CrowdTangle in some way. Now it seems like Facebook wants to cut off that transparency. https://t.co/tFNkH1bM5H

— Brandy Zadrozny (@BrandyZadrozny) July 14, 2021
Most chaotic thing I've read about FB in long time. Journalists have been told over & over that Crowdtangle data is misleading because doesn't show reach. To read that reach metrics may have showed same patterns internally feels problematic, via @NYTimes https://t.co/zwQPjfL4Sh

— Sara Fischer (@sarafischer) July 14, 2021
Incredible @kevinroose story about how Facebook sidelined and gutted CrowdTangle after he consistently used it to show how conservative outrage-bait got more engagement than other pages https://t.co/GAYXpSGdNv pic.twitter.com/xPDwpvVyFw

— Casey Newton (@CaseyNewton) July 14, 2021
Why it matters:
The ongoing drama over CrowdTangle's application and function in Facebook's larger communications strategies serves as a reminder that, while data can be a powerful tool for identifying business opportunities and having difficult conversations, it is only effective when findings are honestly shared and acted upon. When communicating the results of your measurement efforts to leadership, be careful to not only cherry pick the flattering metrics and leave the concerning ones in your dashboard, lest a pressing opportunity for strategic reform and change be ignored. Instead, package a holistic snapshot of your results, warts and all, that frames bad news as opportunities for improvement without minimizing their significance.
---
SOUNDING BOARD
What's your approach to communicating metrics about your organization that aren't flattering or positive, PR pros and communicators?
What's your approach to communicating metrics about your organization that aren't flattering or positive, PR pros and communicators? #DailyScoop

— PR Daily (@PRDaily) July 15, 2021
Is there a question you'd like to see asked? Let us know using the hashtag #DailyScoop!
COMMENT
One Response to "Olivia Rodrigo promotes vaccines at White House, diverse boards see more revenue growth, and Facebook defends CrowdTangle restructuring"
Ronald N Levy

says:

It's time for Facebook to appoint a Facebook Medical Professors Panel to evaluate—and post on Facebook—pro and anti information about Covid and other public health concerns.

Tell WHO has made health claims, WHAT they say is true, and WHY the
professors—nine of them like nine Supreme Court Justices—agree or disagree.

Compensation: Facebook can easily donate $1 million a month to each professor's university.

Duties: One day a month, the professors consider written position papers. One day a month, each professor make a written evaluation of each presentation, sometimes disagreeing with each others as Supreme Court justices do.

Free: Facebook subscribers can be emailed promptly each professor's verdict.

Benefits: The public benefits from getting the opinion of experts, not just advocates or attackers of a viewpoint. Facebook gets the benefit of obviously presenting truth, opposing opinions. The universities get the benefit of another million a month