Amazon and Twitter cut off QAnon, Signal app responds to investor confusion and Ben & Jerry's debuts ice cream for dogs
Also: Coca-Cola UK offers cans bearing New Year's resolutions, Netflix apologizes for 'Bloody Sunday' tweet, YouTube highlights Black content creators, and more.
Editor's note: This article is a re-run as part of our countdown of top stories from the past year.
Hello, communicators:
After backlash, Netflix removed a recent tweet shared by the official Twitter account for the streaming service's series "Chilling Adventures of Sabrina," issuing a mea culpa to outraged fans.
The tweet featured behind-the-scenes photos of the cast, most of them covered in blood, with the caption "Sunday bloody Sunday." When fans pointed out the connection to the 1972 attacks in Derry, Northern Ireland in which 13 people were killed and 15 were injured, the tweet was deleted and Netflix issued an apology.

"Our tweet was unacceptable and has since been removed. We are very sorry for the hurt and distress it caused," a spokesperson told Deadline.
Here are today's top stories:
Amazon and Twitter cut off QAnon
 Following Amazon Web Services' move to stop hosting social media app Parler, Amazon said on Monday that it was removing from its marketplace many third-party products related to QAnon—the far-right conspiracy theory that had a role in the recent U.S. Capitol riots.
Amazon said the removals are due to products breaking its policies that prohibit inappropriate or offensive offerings, telling journalists it could take a while to find and remove the marketplace entries.
About 60 percent of the products sold on Amazon are offered by third-party merchants, who list items on the site and often use the company's advertising and delivery services. Flags, shirts, hats and other merchandise, as well as self-published books promoting QAnon, still showed up on a search on Monday afternoon, many with favorable customer reviews and indications that they were shipped to customers from Amazon's warehouses. Amazon said removing items could take several days.
Twitter also announced that it has suspended more than 70,000 accounts related to QAnon:
We're keeping you informed of all the steps we're taking to protect the public conversation. We've summarized our recent enforcement actions and what you can expect from us moving forward. https://t.co/TCfrQMo6lJ

— Twitter Safety (@TwitterSafety) January 12, 2021
We've been clear that we will take strong enforcement action on behavior that has the potential to lead to offline harm. Given the violent events in Washington, DC, and increased risk of harm, we began permanently suspending thousands of accounts that were primarily dedicated to sharing QAnon content on Friday afternoon.
Why it's important: The recent moves highlight the importance of sticking to a stance once your brand has publicly taken one. As organizations across industries distance themselves from President Donald Trump and groups involved with the U.S. Capitol attacks, communicators should take the lead on ensuring that all actions and statements released fit both your organization's values, as well as its brand voice.
---
SOCIAL BUZZ
YouTube debuted its #YouTubeBlack Voices Class of 2021, which the social media platform said is the first in a "multi-year effort to uplift and grow Black creators":
Introducing… the #YouTubeBlack Voices Class of 2021! 🎉 This is a multi-year effort to uplift and grow Black creators who exemplify the boundless creativity of #YouTubeBlack. Say hello! 👋🏿👋🏽👋🏻👋🏾👋🏼 → https://t.co/kkJDY84jO1 pic.twitter.com/MtBYyZU8oF

— YouTube (@YouTube) January 12, 2021
In the video's description, YouTube includes the handles for 36 Black content creators making YouTube videos about gaming, parenting, beauty, comedy, activism and personal training.
It's another example of a brand using its platform to amplify voices within the Black community, and your organization would do well to consider a similar effort. For example, you can feature Black artists within your community, city or state on your brand's Twitter or Instagram feed, or partner with organizations such as Color of Change or the NAACP Legal Defense and Education Fund to create a free livestream or webinar.
---
MEASURED THOUGHTS
In its "Agency Pricing and Packaging Report," Sprout Social reported that 50% of agencies surveyed describe themselves as full-service, while 25% focus on digital marketing strategies and 10% highlight their social-first strategies.
However, 60% of agencies have adjusted business goals because of COVID-19, and with 47% reporting net revenue loss and 47% shifting target client demographics in response, many are looking for ways they can solidify their importance with the most requested and needed client offerings.
Measuring and showing ROI remains a pain point for 55% of agencies, with the same amount reporting that growing the business is a common obstacle. These can directly affect common pain points with pricing and pitching: Sprout Social reported that 63% of agencies struggle with client budgets and 51% say client expectations are a hurdle to overcome: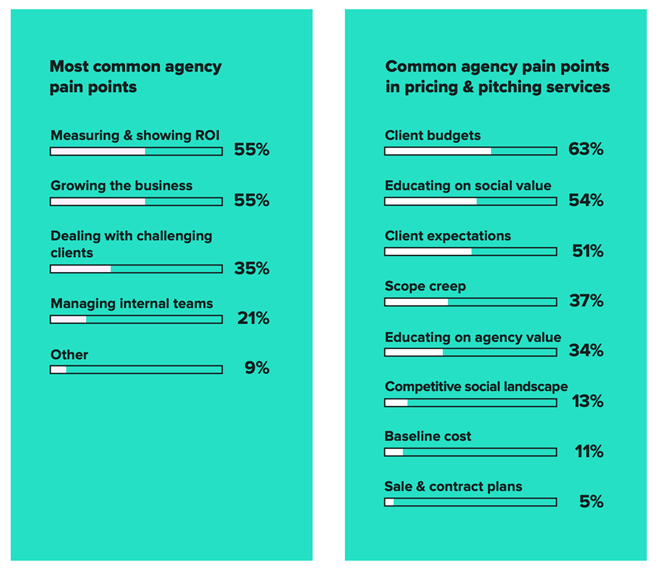 Image courtesy of Sprout Social.
 The more you can establish your thought leadership within your clients' industries as well as within communications, the better chance you have on boasting authority and streamlining client education. In a similar manner, the better you can measure your success and prove your worth with data and analytics, the better shot you have at grabbing bigger pieces of organizations' budgets and growing your own business.
 You can read the entire report here.
---
TACTICALLY SPEAKING
 Ben & Jerry's launched a new line of ice cream—for dogs:
🐶 NEW! 🐶 Introducing Doggie Desserts — it's Ben & Jerry's for dogs! Bow WOW your pooch with 2 pup-friendly flavors. Learn more: https://t.co/sclZEFTVnZ pic.twitter.com/5Rn9KzRHXf

— Ben & Jerry's (@benandjerrys) January 11, 2021
The line kicks off with two flavors named after its employees' pets: Pontch's Mix, which is peanut butter with a pretzel swirl, and Rosie's Batch, a mix of pumpkin and mini cookies.

The treats are made of ingredients already used in the company's ice creams, but with a sunflower butter base instead of dairy to be gentler on dogs' stomachs. They will sell individually as 4-ounce mini cups or in four-packs for a suggested price of $2.99 and $4.99.

The company will also carry pet accessories on its website, such as an ice cream cone plush toy and Ben & Jerry's swag for dogs, including a tie-dye leash.
Ben & Jerry's promoted the product launch with a Q&A-style blog post titled, "8 questions about dogs, ice cream and doggie desserts: Answered." The move is especially sweet considering the rise in pet adoptions during COVID-19 and many consumers' increased focus on their dogs as many continue to work from home.
---
CRISIS LEADERSHIP NETWORK
Looking for more insight on how to address the current global crisis and lead your organization into a strong recovery?
Join Ragan's Crisis Leadership Network to connect and brainstorm with peers, get the latest intelligence and research and start to strategize for the future of your organization.
Learn more about this exclusive membership here.
Signal app responds to stock market fervor
 Privacy-focused messaging apps Signal and Telegram are seeing huge growth after Tesla's founder and chief executive, Elon Musk, urged his Twitter followers to use Signal. Musk's tweet was in response to Facebook changing WhatsApp's privacy policy, enabling the social media network to gather user data.
CNBC reported that 7.5 million downloads of Signal occurred through Apple's App Store and Google Play on Jan. 6-10, while Telegram saw 5.6 million installations. However, confused investors have been taking to health care organization Signal Advance, flooding the company's website with traffic and sending shares skyrocketing.
Signal, the messaging platform, isn't a publicly traded company, but that didn't stop the unrelated Signal Advance from continuing its rise, surging 5,643% and pushing its market value to $3.164 billion from a mundane $55 million as of last Wednesday.
On Monday, the Signal app tweeted clarification with screenshots:
Update: Although the growth rates may look similar, this stock symbol still has absolutely nothing to do with us.

We're an independent 501c3 nonprofit, but you can donate here to invest in your privacy:https://t.co/iLLStll3Mi pic.twitter.com/06pJkrWHoo

— Signal (@signalapp) January 11, 2021
Why it matters: Though "creating brand awareness" can be scoffed at when used as a communicators' sole campaign goal, it's a crucial part of organizations' success with increasing both traffic and sales. Brand awareness efforts can also bolster organizations' reputations and help shield brands from crisis fallout, but the goal should be the byproduct of other business initiatives.
---
TACTICALLY SPEAKING
The Coca-Cola Company's United Kingdom team is offering consumers an opportunity to print their New Year's resolutions on cans of Coke, Diet Coke and Coke Zero:
What's your promise for 2021?
Make a resolution and order your very own personalised Open To Better Coke can: https://t.co/QbbVWNYTf5 pic.twitter.com/630wrfg5Q3

— Coca-Cola GB (@CocaCola_GB) January 12, 2021
Consumers can visit the U.K. store and personalize one of seven commitment templates, including, "I will never take [fill in the blank] for granted" and, "I promise to [fill in the blank] just for you":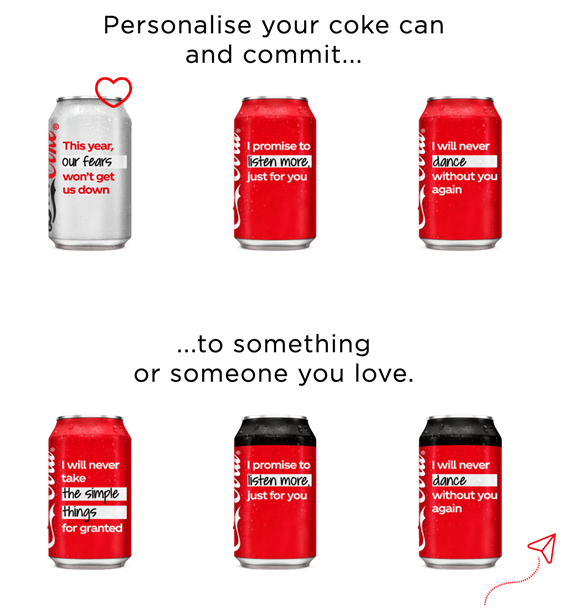 Image courtesy of Coca-Cola U.K.
---
TAKE OUR SURVEY
The start of a new year brings more opportunities for communicators across roles, organizations and industries to develop effective strategies and efforts that can strengthen their brands amid continuing crises, including the COVID-19 pandemic.
Ragan's Communications Leadereship Council has created The 2021 Communications Benchmark Survey, and wants to know your challenges, successes and needs as you navigate the rapidly shifting communications landscape and respond to unprecedented crises as well as new opportunities.
Please share your insights with us. As a thank you for your time and insights, you'll receive an Executive Summary of the report, packed with proprietary research that can help you better shape communications strategies in 2021. You'll also be entered to win one of five $100 Visa gift cards.
---
WHAT YOU SAID
We asked how you're transforming media relations strategies for the new year, and 63% of you are embracing storytelling and brand journalism efforts, while almost 16% are taking advantage of social media strategies and opportunities, and 13% are partnering with influencers. Less than 8% of you said you're pitching as usual.
How are you transforming your media relations strategy for the first half of 2021?

Weigh in below with your goals and efforts, and we'll share in tomorrow's #DailyScoop.

— PR Daily (@PRDaily) January 11, 2021
Is there a question you'd like us to ask in an upcoming poll? Let us know below or under the #DailyScoop hashtag on Twitter!
---
SOUNDING BOARD
What challenge are you focusing on this year, communicators?
What challenge are you focusing on this year, communicators?

Weigh in below and let us know how you're planning to overcome hurdles, and we'll share in tomorrow's #DailyScop.

— PR Daily (@PRDaily) January 12, 2021
Please weigh in below and share your insights on Twitter, and we'll share in tomorrow's #DailyScoop.
Editor's note: Ragan Communications may earn a commission through our affiliate partnerships when purchasing items in our content.
COMMENT