Ben & Jerry's debuts podcast about racism, Uber to require passengers to take 'mask selfies,' and Twitter adds context to trends
Also: Alaska Airlines waves change fees, the Joe Biden presidential campaign turns to Animal Crossing, 70% of consumers feel social media encourages brand transparency, and more.
Hello, communicators:
Alaska Airlines is the most recent company to permanently eliminate its change fees:
Change fees? We sent them packing! ✈️ As part of Next-Level Care, we're making sure your peace of mind is always top of mind, which is why changes fly free. Fare differences may apply. Learn more: https://t.co/4NG5SRI3Xe pic.twitter.com/Na1wXQARsk

— Alaska Airlines (@AlaskaAir) September 1, 2020
Change fees will no longer be applied to Main and First Class fares "everywhere Alaska flies," as part of the company's "Next-Level Care" program.
Alaska Airlines also shared a video with its president, Ben Minicucci, explaining the company's efforts:
Here are today's top stories:
Ben & Jerry's launches podcast about racism  
The ice cream brand announced a new podcast titled, "Who We Are: A Chronicle of Racism in America," which it's producing in partnership with Vox Media and the documentary of the same name. The New York Times contributor, best-selling author and podcaster Carvell Wallace will host, and ACLU's deputy legal director, Jeffery Robinson, is the show's executive producer and legal authority.
New podcast! We're bringing you a podcast chronicling our shared history of racism in America in partnership w/ @Who_We_Are_19 and @voxmedia. To listen to host @carvellwallace and expert @jeff_robinson56 of the @ACLU, check out the trailer & subscribe now: https://t.co/cdXlKSeZS1 pic.twitter.com/eUmfoNHPe7

— Ben & Jerry's (@benandjerrys) September 1, 2020
"Each week, we'll explore how racism has shaped every facet of our lives and who we might become if we finally address this country's racist history," Wallace says in the podcast's trailer.
Why it's important: As you seek for ways to be involved with social justice issues, go beyond statements about the importance of diversity and inclusion. You don't have to launch a podcast that examines the history of racism within the United States, but you could offer volunteering and donation opportunities to your employees or other active investments in addressing the chronic issue.
---
SOCIAL BUZZ  
Twitter is adding additional context to trending topics:
No more having to scroll through Tweets to find out why something's trending.

Starting today, some trends on Android and iOS will show a Tweet that gives context right away. More on Trend improvements: https://t.co/qiGeL9Kg31 pic.twitter.com/Y9nilckl8B

— Twitter Support (@TwitterSupport) September 1, 2020
In a company blog post, Twitter's product manager Frank Oppong and the company's product trust partner Liz Lee wrote:
Trends show what everyone is talking about right now. But too often, we look at one word or phrase trending on Twitter and ask, "why is this trending?" That question was actually Tweeted over half a million times over the last year! It should be easier to understand what's being said immediately. Throughout Twitter, we've been working to bring people more context on what's happening with labels on Tweets and accounts as well as curated pages (aka Moments) and related articles on trends. To help with this, we're adding pinned Tweets and descriptions on trends to help explain why something is trending.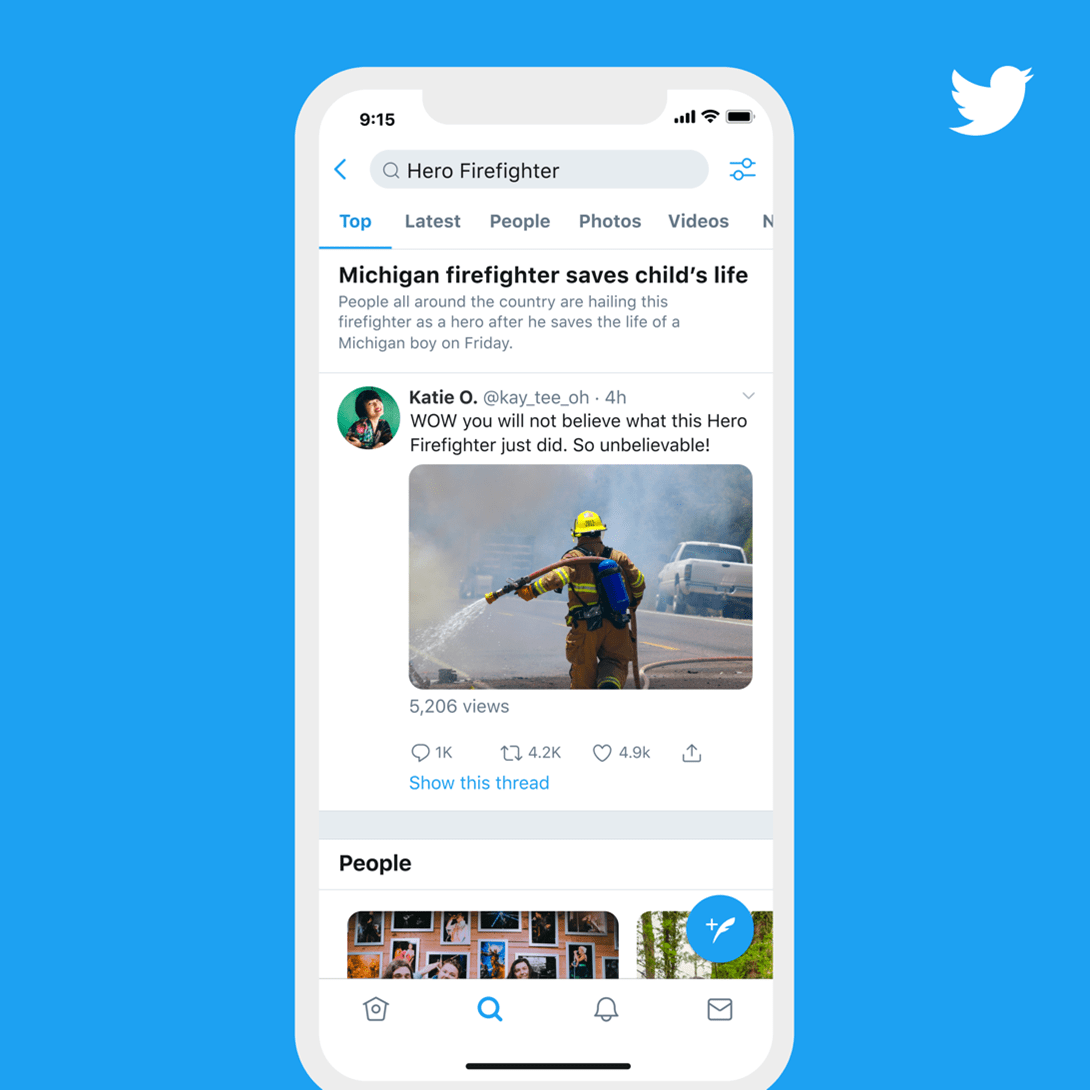 Though critics still point to trending topics being used to spread hateful messages or misinformation, the move to provide additional context might help social media users identify potential fake news as well as help brand managers more quickly identify and understand breaking news and trends.
---
MEASURED THOUGHTS
In Sprout Social's XII Edition of its Index, all about consumer "call-out culture," it reported that 46% of consumers have used social media to call brands to the mat for messaging or business/marketing moves. More than half (55%) of those consumers get a solution or response from the brand in question.
Sprout Social reported a plethora of ways that consumers think social media is making organizations more accountable, with 80% reporting that social media uncovers unfair treatment, 70% saying it encourages transparency and 75% reporting it gives power to consumers: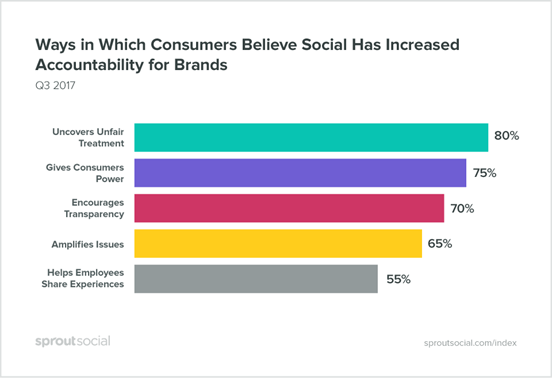 Image courtesy of Sprout Social.
You can read the whole report here.
---
CRISIS LEADERSHIP NETWORK
Looking for more insight on how to address the current global crisis and lead your organization into a strong recovery?
Join Ragan's Crisis Leadership Network to network and brainstorm with peers, get the latest intelligence and research and start to strategize for the future of your organization.
Learn more about this exclusive membership here.
Facebook to block Australian users from sharing news  
The ride-hailing app will start to ask passengers in the U.S. and Canada to verify that they're wearing a mask starting at the end of September:
We're also doubling down on our commitment to provide drivers with critical safety supplies.

— Uber (@Uber) September 1, 2020
In a news release, Uber wrote:
Earlier this year, we built innovative technology designed to verify that drivers on Uber and delivery people on Uber Eats are wearing a mask. Before starting to drive passengers or deliver food, they are asked to take a selfie showing their mouth and nose are covered. To date, more than 3.5 million drivers and delivery people have completed more than 100 million mask verifications.
Uber continued:
We firmly believe that accountability is a two-way street. That's why we're expanding the same technology to riders, too. If a driver reports to us that a rider wasn't wearing a mask, the rider will be required to take a selfie with their face covered before they're able to take another trip with Uber. With the addition of this new feature, one driver's feedback can help ensure the safety of Uber for the next driver.
The initiative—which Uber has required of its drivers, delivery contractors and riders since May—is also summed up in a new video:
Why it's important: Along with business continuity plans and crisis messaging, consider ways to help enforce your COVID-19 policies in streamlined ways. This doesn't have to take the creation of a new tool or app, but rather, can be accomplished with clear-to-understand signage throughout your physical locations and announcements in a variety of content formats on your website and across social media platforms.
---
DOWNLOAD OUR REPORT
Following the deaths of George Floyd, Ahmaud Arbery, Breonna Taylor and others, organizations were pushed more forcefully than ever before to take stands against systemic racism and move to support social justice initiatives. Which responses made an impact—and which responses fell flat?
Learn from 10 of the biggest brand messages in our special report, "Organizational responses to Black Lives Matter." The report offers communicators important takeaways to lead organizations and clients in the second half of 2020 and into the future.
---
TACTICALLY SPEAKING
The team managing 2020 presidential candidate Joe Biden is turning to virtual efforts to reach more voters—most recently creating virtual campaign signs for Animal Crossing players.
The campaign said it had made four signs available on the platform on Tuesday, the day autumn started in the Nintendo Switch game. One sign bears the Biden-Harris logo; others say "Team Joe" and "Joe," with the "E" rendered in Pride colors. The fourth carries a stylized image of Mr. Biden's signature aviator sunglasses.

This is not the first time a political campaign tried to capitalize on a popular video game. But it may be the first effort to involve this much wood-chopping, bug-catching and buying of kitchen appliances from raccoons.
In May, The Guardian reported that 11 million people were on the Nintendo-owned platform, and user numbers have grown since then.
As efforts during election season heat up, watch for additional efforts to reach voter groups, especially younger voters on digital platforms.
---
WHAT YOU SAID
We asked how you find visuals for your content, and almost 37% of you rely on stock photo websites, while nearly 27% have an in-house designer or photographer and 23% use an image creation tool such as Canva. About 13% turn to Creative Commons licenses, so don't forget to check out Google's Image Search changes.
Where do you source images for your content?

Share with us how you navigate good visual content without violating copyright below, and we'll share in tomorrow's #DailyScoop.

— PR Daily (@PRDaily) September 1, 2020
Is there a question you'd like us to ask in an upcoming poll? Let us know!
---
SOUNDING BOARD
Do you listen to music as you work on communications efforts, PR pros?
Do you listen to music as you work on communications efforts, PR pros?

Share with us how you add flavor and motivation to your WFH day below. We'll share in tomorrow's #DailyScoop.

— PR Daily (@PRDaily) September 2, 2020
Share how you get motivated below and under the #DailyScoop hashtag.
COMMENT
One Response to "Ben & Jerry's debuts podcast about racism, Uber to require passengers to take 'mask selfies,' and Twitter adds context to trends"
Ronald N. Levy

says:

This excellent PR Daily report captures the crucially important PR reality: "You don't have to launch a podcast that examines the history of racism. . .but you could offer volunteering and donation opportunities."

We can see the reality of this difference—not talk that SOUNDS good but action that DOES good—by judging which of these five PR announcements would be likely to win a company the most acclaim from Black Americans.

.1. "We're going to honor an American hero, Dr. Martin Luther King, plus six other Black leaders!"

.2. "We're going to hire many more minority members and women especially Blacks!"

.3. "We're going to urge more cities and states to do what New York Mayor Bill de Blasio has announced doing, take away $1 billion from police funding and spend it on youth programs that benefit minorities!"

.4. "Education is crucial so we're going to double our annual contribution to HBCU, Historically Black Colleges and Universities!"

.5. "Cancer kills one in every four Americans, and myeloma kills over twice as many Blacks per thousand as whites so we're backing research at America's Memorial Sloan Kettering Cancer Center to wipe out both myeloma and another bad killer of Blacks, lymphoma!"

For PR leaders inclined to favor #5, over 20 clinical trials of potential cures are already in progress at Memorial Sloan Kettering Cancer Center, and other clinical trials are planned at other cancer centers. Massive worldwide media coverage and public gratitude may go to companies for not just final success but for the many intermediate breakthroughs that may come several times a year.

At the announcement meeting when a company decides to back medical research, this is what happens when guided by one of our great PR firms with a strong Health PR department.

.1. THE PROBLEM. A doctor heading the research team explains how many people get the disease, how many die from it, and how the disease affects our bodies.

.2. THE RESEARCH GOAL. The doctor introduces one of the research team leaders who explains what the team is hoping to accomplish and how.

.3. PROGRESS. Another team leader presents numbers and charts with rising curves showing progress to date, plus dotted lines showing the extent of hoped-for future progress—not only a cure but more widespread KNOWLEDGE, thanks to the media, of what people can do
to protect their health and to catch illness early when it may be easier to arrest or cure.

.4. MEDIA COVERAGE. The top leader comes back to make estimates of when we'll have the next major progress briefing on research successes, and thanks the donor company for it's "generous support that may save thousands of lives." Media are told were to line up for their post-briefing tour of Memorial Sloan Kettering or wherever. Some doctors are wary that a corporate donor may expect some kind of endorsement but PR firms with strong health PR departments counsel clients that it's enough to be thanked by a world-famous doctor "for support that may help save thousands of lives."

.5. CEO SPEAKS. A high officer of the donor company rises to thank the doctors for their dedication, expresses delight at the honors, awards and titles they've earned, and perhaps tells how the public can help.

.6. RETAIL HEALTH INFO. A doctor who may be from the cancer center but not the research team gives the "retail" health information—how people can recognize symptoms early so as to get treated promptly and perhaps get rid of the disease at an early stage using treatments the center is already using successfully. The media and public love such good news especially if from a world-famous clinician like Drs. Younes or Zelenetz. It's like expert coronavirus news from Drs. Fauci or Birx.

PR FIRM FORESIGHT. A growing number of PR firms, recognizing that Black lives really do matter enormously and it's not just a slogan, will guide clients into projects that not only win goodwill among millions of minority Americans but all Americans, helping win the client worldwide gratitude for protecting life.

Few companies are so deeply appreciated by the public as are companies that protect us. Great PR firms are great for different reasons. Some are exceptionally skilled at "how we're protecting your life" communication that wins a client this worldwide love that's available.