Blizzard CEO takes pay cut until DE&I goals are met, awareness tops goals for podcasters, and Facebook goes 'meta'
Also: Zillow introduces virtual haunted house tour, oil execs testify before congress, and more.
Hello, communicators:
Online home buying platform Zillow launched a virtual, interactive Halloween-themed experience that lets uses tour a haunted house at 667 Dead End Drive. The virtual activities include a scavenger hunt for clues about the demise of its fictional former owner, Edith Thistle. This builds on Zillow's past spooky campaigns that have included creepy real estate listings and advice for homeowners looking to sell their own haunted houses.
"This terrifying tour comes with a 3D Home interactive floor plan that helps users better understand the mansion's layout—and discover where all the ghouls could be hiding. It's based on the same next-generation Zillow technology that helps home shoppers seamlessly navigate a home online," the press release reads. "The floor plan serves as a digital guide, integrating the 3D Home tour and still photos to provide a more accurate sense of a home's flow and space. "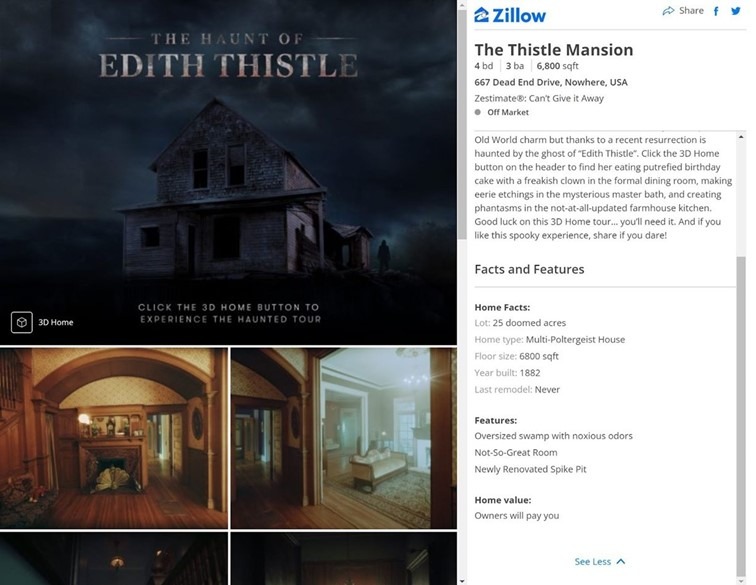 This campaign illustrates how your campaigns, and the copy that describes them, can lean into a holiday or season to create awareness around your brand's existing products and features.
Here are today's top stories:
Activision Blizzard's CEO makes anti-harassment push
Bobby Kotick updated employees on the company's commitments to reform workplace culture following a lawsuit that alleged multiple instances of sexual harassment and discrimination at the company. This latest update, which follows a previous letter to employees, offers the company's most significant commitments to reform yet. Those include a zero-tolerance harassment policy, increasing the number of women and non-binary employees at the company by 50%, and a massive pay cut for Kotik who will only earn $62,500 per year in total compensation until the board of directors determines that the company has met its diversity, equity, and inclusion goals.
According to the letter from Kotick, which reads in part:
I want to ensure that every available resource is being used in the service of becoming the industry leader in workplace excellence. Accordingly, I have asked our Board of Directors to reduce my total compensation until the Board has determined that we have achieved the transformational gender-related goals and other commitments described above. Specifically, I have asked the Board to reduce my pay to the lowest amount California law will allow for people earning a salary, which this year is $62,500. To be clear, this is a reduction in my overall compensation, not just my salary. I am asking not to receive any bonuses or be granted any equity during this time.

There's a tendency when companies face challenging moments to lose sight of what makes them special, what makes them great. You are a truly special group of people who – through passion, conviction, drive, and determination – keep accomplishing extraordinary things. While the critical work ahead won't be easy, I am confident our collective commitment to workplace excellence will be achieved.
Why it matters:
Kotick's announcement demonstrates the effectiveness of change communications coming straight from the top, especially specifics.
This announcement builds on similar policies by Nike and Chipotle to provide executive compensation if, and only if, a company meets its DE&I and sustainability goals. As brands struggle to demonstrate the authenticity of their purpose work, communicating how the success of your highest-earning employees is connected to your values and commitments remains a steadfast way to show audiences that leadership takes the work seriously.
---
MEASURED THOUGHTS
In a recent Muck Rack study, 42% of podcasters surveyed said that awareness and education were their top goals for podcasting, while 28% said they do it for the enjoyment and passion. Just 22% got into podcasting because of the revenue potential.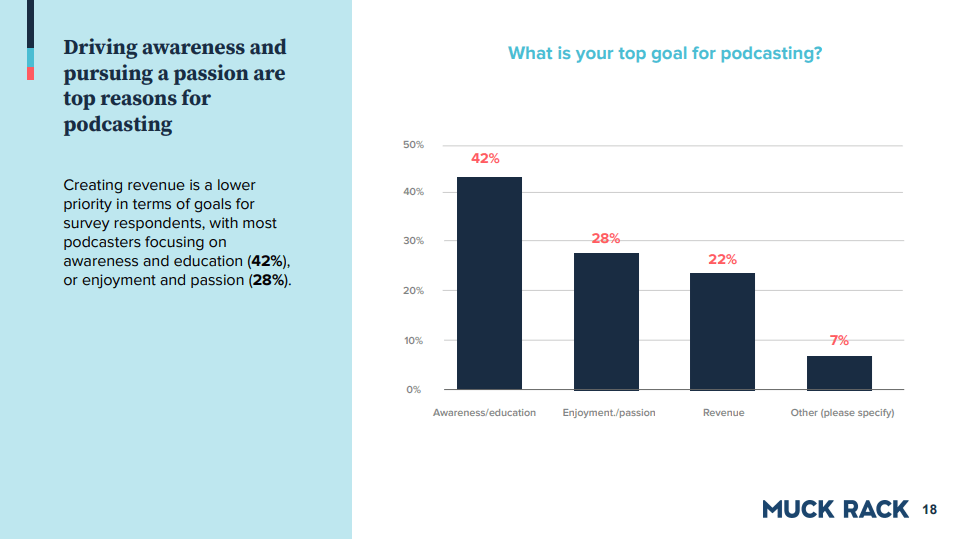 These numbers suggest that podcasts serve a function higher up in the conversion funnel than some might realize. Consider the number of resources you invest in your brand podcast and set your expectations for returns accordingly. Repurposing conversations from town halls, live audio conversations and other virtual events remains a low-cost way to create podcasts that still provide value to your audiences.
Check out the full report here.
---
CRISIS COMMUNICATIONS
Oil executives from Exxon Mobil, Chevron, BP and Shell testified before Congress about accusations that they have spread misinformation about fossil fuels over the years to downplay their role in climate change.
"The undeniable reality is that oil and gas remains a part of the energy equation," Michael K. Wirth, chief executive officer of Chevron, told the panel.

"Exxon Mobil has long recognized that climate change is real and poses serious risks, but there are no easy answers," said Darren Woods, the Exxon chief executive. "Oil and gas will continue to be necessary for the foreseeable future. We currently do not have the adequate alternative energy sources."

David Lawler, chief executive officer of BP, said his company's goal of reaching net-zero by 2050 "doesn't mean BP is getting out of the oil and gas business."

In a statement released ahead of the hearing, Exxon said that its statements about climate science have been "truthful, fact-based, transparent and consistent with the broader mainstream scientific community at the time" and "evolved" as the science did.
 Climate change researcher Naomi Oreskes challenged Exxon's position on Twitter:
https://twitter.com/NaomiOreskes/status/1453465702254403592
The executives' statements about the lack of a viable sustainable alternative to fossil fuels demonstrate the importance of having expert sources on your side. Be wary of releasing a statement that can be easily challenged by data unless you have compelling data of your own to support your claims. It's ultimately a "show, don't tell" situation—instead of telling stakeholders how your position has evolved over time, show them how.
---
TAKE OUR SURVEY
If you're looking for benchmark data to show your bosses the next time you ask for a raise, lend us a hand—and help yourself and your peers while you're at it. Participate in Ragan's Salary & Workplace Culture Survey, a comprehensive look at salaries, benefits, culture, bonuses and other aspects of the job in a fast-moving industry.
Both internal and external communicators are encouraged to participate.
By taking part, you will receive a $150 discount to a Ragan virtual conference of your choice and be entered to win one of five $50 gift cards. All who complete the survey will receive a full report on the findings. Responses are anonymous.
Mark Zuckerberg goes 'meta' with Facebook rebrand
Following much speculation, CEO Mark Zuckerberg officially announced that the parent company formerly known as Facebook would change its name to Meta, solidifying the company's commitment to building a digital metaverse that unifies all of the company's products, including its social media app (which will still be called Facebook), Occulus, Portal and more into a unified account system. Using virtual and augmented reality, Meta seeks to function as an integrated space for social interactions and gaming, digital workplace and more:
In an interview with The Verge, Zuckerberg acknowledged that the concept of a virtual landscape known as a "metaverse" isn't new (Roblox and Epic Games have been dabbling with their own metaverse platforms for years) but claimed Facebook could make the concept mainstream:
"I think we're basically moving from being Facebook first as a company to being metaverse first," he told me this week over the phone.

…"I think that there was just a lot of confusion and awkwardness about having the company brand be also the brand of one of the social media apps," he said. "I think it's helpful for people to have a relationship with a company that is different from the relationship with any specific one of the products, that can kind of supersede all of that."

According to Zuckerberg, the current cycle of bad news "had nothing to bear on this. Even though I think some people might want to make that connection, I think that's sort of a ridiculous thing. If anything, I think that this is not the environment that you would want to introduce a new brand in."
Despite Zuckerberg's insistence that the "Meta" rebrand was not timed to paper over any of Facebook's latest PR woes, Twitter users were unconvinced:
Facebook trying to witness protection itself out of its old BS by trying to cutely upsell 'we're gonna make the Matrix/Ready Player One digiverse a reality' all while CONVENIENTLY FORGETTING that the tech conglomerations were not the good guys in either is… truly wild.

— Zelda Williams (@zeldawilliams) October 28, 2021
Changing Facebook's name to Meta reminds me of the property developer in Poltergeist who just removed the tombstones on the ancient burial grounds, but didn't remove the bodies.

— Mr. Newberger (@jeremynewberger) October 29, 2021
If Facebook can rebrand as Meta without asking me, then I get to rebrand myself as Birthday Reminders, no questions asked. Happy Birthday @AndyRichter.

— Ryan Reynolds (@VancityReynolds) October 29, 2021
BIG NEWS lol jk still Twitter

— Twitter (@Twitter) October 28, 2021
Why it matters:
Facebook's massive rebrand emphasizes the importance of timing your company announcements with mindfulness and consideration for your larger story. As evidenced here, announcing big changes in the midst of a scandal can make those changes seem reactionary, not intentional.
While present in its announcement, Meta's inclusion of privacy protocols and practices is buried under flashier takeaways and creates an impression that larger privacy criticisms being lobbed at the company formerly known as Facebook are not being taken seriously. This serves as a reminder to not bury the lede. Communicate up front how any new restructures or announcements that follow a scandal will address larger, infrastructural and operational criticisms.
COMMENT
One Response to "Blizzard CEO takes pay cut until DE&I goals are met, awareness tops goals for podcasters, and Facebook goes 'meta'"
Ronald N Levy

says:

Exxon's situation is increasingly common. Critics may yell "those bastards" when blaming oil companies for causing climate change by supplying us with fuel, blaming supermarkets for causing heart attacks by supplying us with fattening foods, blaming Facebook for causing suicides by supplying teenagers with information they'd almost rather not know about their weight, and blaming police for causing so many prisoners to be in jail at taxpayer expense.

A COMMON PR BLUNDER when a company is accused is to try arguing "we're not to blame" but this often doesn't work well because almost everyone who is accused denies blame. Also can you prove it? Like if you're accused of "improper touching" when no witnesses were there, can you prove you didn't?

A BETTER PR ANSWER is to show that just the OPPOSITE is true as often can be actually seen. Supermarkets increasingly offer low-calorie foods and websites with low-calorie cooking tips so the public can see right there online that the supermarket is trying to help people to be thinner. Our justice system is paroling more prisoners although in some cases too soon. Facebook actually has tens of thousands of employees working at Facebook expense to protect the public.

Exxon gave $135 million to Stanford University to try finding ways to turn seaweed and algae into low-polluting fuel. Exxon spent big bucks with Porsche to try finding fuel made from hydrogen and recaptured carbon dioxide. Another huge sum went from Exxon to Clemson University scientists to try turning inedible corn husks and other ag waste into non-polluting fuel.

Other companies may avert criticism by helping find a CANCER VACCINE at Memorial Sloan Kettering Cancer Center. It keeps getting closer, MSKCC already has FDA approval for a limited use cancer vaccine and it is hoping to find one that will save lives among the one in every five of us who as of today are likely to die of cancer. MSKCC's Dr. Andrew Zelenetz is world famous and his articles can be Googled on "pubmed". Can you imagine the acclaim for a company that helps find a vaccine against cancer?

PR reality is that a company known for doing good is less likely to be faulted as evil, or attacked for the normal human failings that all company executives may have. If your company is known for trying to reduce pollution or trying to save us from cancer, Washington political leaders are more likely to attack some less beneficial and more vulnerable company.

SERVING THE PUBLIC INTEREST may be a whole lot more protective than just figuring "what can be done" or referring to corporate critics as "those bastards."