Brands drop The Richards Group for racist remarks, Zoom launches events marketplace, and Wells Fargo fires 100 employees for abusing COVID-19 aid
Also: Dunkin' goes spicy with menu item and partnership, Hormel offers 'Breathable Bacon' mask, videos are marketers' most popular content format, and more.
Editor's note: This article is a re-run as part of our countdown of top stories from the past year.
Hello, communicators:       
You can add spice to your morning routine with Dunkin's first-ever spicy doughnut:
🔥 A donut… but make it SPICY!🔥 Introducing the Spicy Ghost Pepper Donut ft. strawberry flavored icing with cayenne & ghost pepper for a sweet heat treat at Dunkin'. 👻 🌶️ Grab one & show your spicy side. 🔥🍩 pic.twitter.com/dYgBp7eCMj

— Dunkin' (@dunkindonuts) October 14, 2020
To promote its new offering, Dunkin' partnered with Sean Evans, host of First We Feast's show, "Hot Ones":
The Sultan of Spice lays down the real deal on the Spicy Ghost Pepper donut. 🔥 https://t.co/6URLSQM3tj

— Dunkin' (@dunkindonuts) October 15, 2020
How are you looking to spice things up with your offerings? Share with us under the #DailyScoop hashtag.
Here are today's top stories:
 Organizations drop The Richards Group for racist remarks
Motel 6, Cracker Barrel, Home Depot and Keurig Dr Pepper have severed ties with the Texas-based advertising agency The Richards Group, following racist remarks its founder made during a meeting.
During a Zoom gathering of more than three dozen Richards Group employees on Thursday, a creative team working on the Motel 6 account presented an idea for an ad to Stan Richards, who founded the Richards Group in 1976. Mr. Richards responded to the idea by saying, "It's too Black," according to a person at the meeting, who said the ad would have featured Black, white and Hispanic guests. Mr. Richards, who is white, added that the ad might offend or alienate Motel 6's "white supremacist constituents," the person said.

A Richards Group spokeswoman confirmed that Mr. Richards, 87, had made the "too Black" remark, but said in an email that he was trying to convey that the proposed ad "was not multiculturally inclusive enough."
The Richards Group's principal and creative director, Glenn Dady, issued the following statement on the agency's website:
In the over four decades I have had the privilege of working at The Richards Group, the agency has never been party to nor tolerated racism in any form. We exist to endear brands to all people. Our brand has been tarnished. Like all businesses and organizations, we have a lot of work to do to further societal change. As the person now responsible for all the operations of The Richards Group going forward, I commit to doing everything in my power to stay focused on that goal.

We understand and regret the pain and concerns of all those who were deeply troubled by the words our founder spoke. He can't take them back. We can only ask for forgiveness and promise to learn and be better. We ask our many friends for understanding and prayers as we move forward.
Motel 6 said it was "outraged" by the remarks in a statement announcing it was severing ties with the group. Soon after, Home Depot, Cracker Barrel and Keurig Dr Pepper followed suit. The University of Texas is currently weighing its response, as its advertising and PR school carries Richards' name, AdAge reported. Orkin announced it was "evaluating [its] relationship" with the agency, and the Salvation Army said it was "deeply concerned," but felt the agency's apology was encouraging. Additional clients including Hobby Lobby, Advance Auto Parts, H-E-B and more have not yet commented.
Why it's important: Set aside the obvious lesson of not making racist remarks, and evaluate The Richards Group's statements. In the first, the group said its founder was attempting to say the add was not "multiculturally inclusive enough"—a message that should never be conveyed using offensive and racist language—which was followed by Dady's apology and proclamation that the agency "has never been party to nor tolerated racism in any form," despite the incident which required the apology.
The first paragraph of the apology also announces that its "brand has been tarnished," saving the second paragraph for the remorse of the "pains and concerns" caused by the remarks. The lesson that "it's not about you" is a crucial one to learn when making a mea culpa. Don't start off with the cost to your own image and bottom line before issuing an apology.
---
TACTICALLY SPEAKING
Hormel's Black Label Bacon brand is hoping to encourage consumers to wear protective facial coverings by giving away "Breathable Bacon" masks, "featuring the latest in pork-scented technology with two-ply multi-fiber cloth to keep the delicious smell of bacon always wrapped around your nose and mouth," according to a press release.
If you thought eating bacon was great, wait until you smell this. Introducing BLACK LABEL™ Breathable Bacon. Enter for your chance to whiff at https://t.co/KbkvrTdnPL pic.twitter.com/hJpnEBDwES

— BLACK LABEL BACON (@BlackLabelBacon) October 14, 2020
You can enter to win one of the limited-edition packages through Oct. 28 at www.BreathableBacon.com. Hormel will also donate one meal to Feeding America for each entry, up to 10,000 meals, and is also encouraging people to post the declicious masks on social media platforms under the #BreathableBacon hashtag.
---
MEASURED THOUGHTS
Hubspot reported in its 2020 "Not Another State of Marketing Report" that video is the No. 1 content format, overtaking blogs, interviews, whitepapers and more: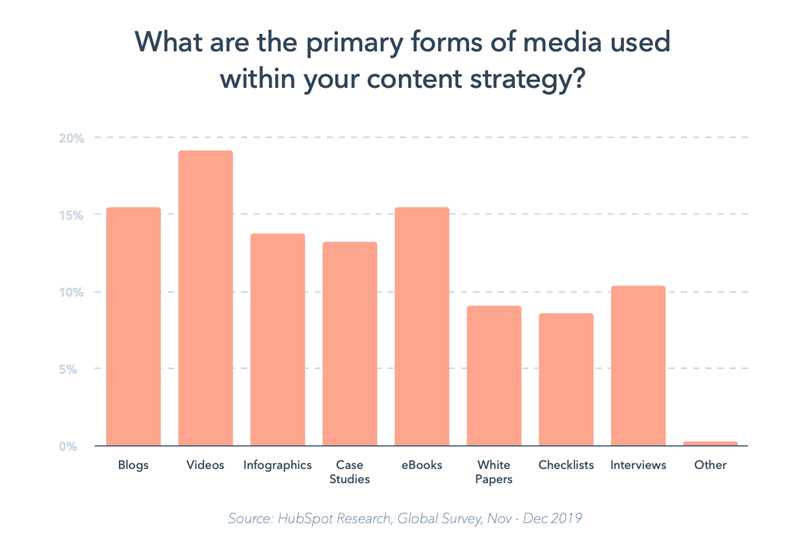 Even though video is the top content format, most brand managers are crafting them for Facebook, followed by their organization's website. Instagram comes in third: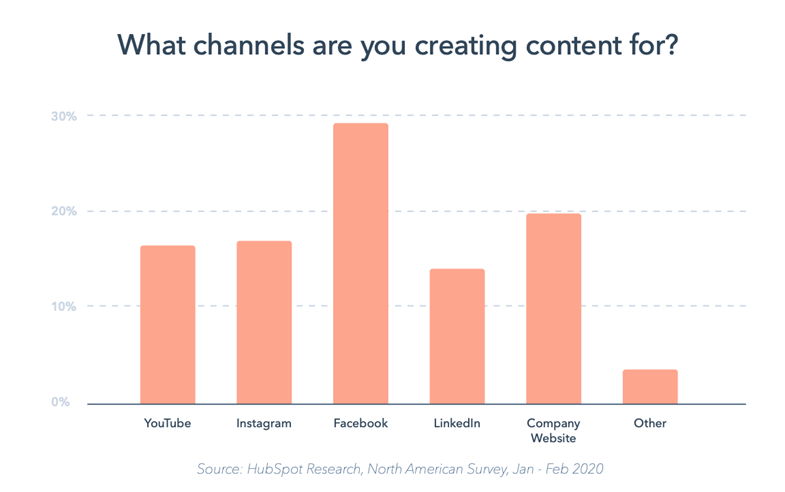 You can read the entire report here.
---
CRISIS LEADERSHIP NETWORK
Looking for more insight on how to address the current global crisis and lead your organization into a strong recovery?
Join Ragan's Crisis Leadership Network to network and brainstorm with peers, get the latest intelligence and research and start to strategize for the future of your organization.
Learn more about this exclusive membership here.
Zoom launches events marketplace
The video-conferencing platform announced a new service, called "OnZoom," that enables paid users to both host and sell virtual events.
Introducing OnZoom – Zoom's new immersive experience and event marketplace. 🎉 Head to https://t.co/2kHeVe4lw1 to explore all that it has to offer! pic.twitter.com/eTYW7YrQCD

— Zoom (@zoom_us) October 14, 2020
As an attendee, you'll find a space where you can discover new workshops, classes and other events to attend. You'll be able to take part in them directly through Zoom and pay for them using a credit card or PayPal account. You also have the option to gift OnZoom tickets to your friends and family members.

The company told NBC News it won't take a cut of ticket sales during the beta, which it expects to at least continue through to the end of 2020.
 Why it's important: Virtual events are here to stay. Many organizations are continuing to transform their scheduled in-person events to digital offerings or cancel them due to COVID-19, but expect a future where digital offerings are served up alongside live events. Start considering now how you can plan for a long-term digital content strategy.
---
DOWNLOAD OUR REPORT
More than half (57%) of social media managers say they plan to leave their current position within two years, according to a new survey from the Institute for Public Relations, Ragan Communications and the University of Florida. Though these managers are ambitious, the career path to social media leadership roles remains unclear.
The report sheds light on social media pros' career trajectory as well as the challenging lack of resources and employee burnout that's on the rise. Check out the findings here.
To learn more about how to prepare for the future of social media and more, join us at Ragan's Future of Communications Conference, Nov. 10-11.  You'll learn from PR, social media, marketing and internal communications experts about the top trends and what's on the horizon for the industry.
---
CRISIS COMMUNICATIONS
 Wells Fargo fired more than 100 of its employees for abusing U.S. federal aid during the COVID-19 crisis.
The firm determined that the staffers defrauded the Small Business Administration "by making false representations in applying for coronavirus relief funds for themselves," according to an internal memo reviewed by Bloomberg. The review focused on employees who tapped the Economic Injury Disaster Loan program, a key part of the government's effort to prop up businesses during the pandemic.

"We have terminated the employment of those individuals and will cooperate fully with law enforcement," David Galloreese, Wells Fargo's head of human resources, said in the memo. "These wrongful actions were personal actions, and do not involve our customers."
The move underlines how quickly your employees' and leaders' actions can affect your organization's brand image and reputation.
---
EDITOR'S PICKS
As we continue to meet virtually and tune into conferences and training sessions online, "Zoom fatigue" is on the rise. Along with integrating both physical exercises (such as stretches) and interactive activities that cater to short attention spans, hone your video prowess by presenting a clear picture, crisp sound and more.
Consider these items for your next presentation:
---
SOUNDING BOARD
Are you preparing for Black Friday sales and content, or are you shifting your strategies this year?
Are you preparing for Black Friday sales and content, or are you shifting your strategies this year?

Share your thoughts under the #DailyScoop hashtag, and we'll share in tomorrow's roundup.

— PR Daily (@PRDaily) October 15, 2020
Share your thoughts below and under the #DailyScoop hashtag on Twitter. Is there a question you'd like us to ask in an upcoming poll? Let us know!
Editor's note: Ragan Communications may earn a commission through our affiliate partnerships when purchasing items in our content.
(Main image via)
COMMENT
One Response to "Brands drop The Richards Group for racist remarks, Zoom launches events marketplace, and Wells Fargo fires 100 employees for abusing COVID-19 aid"
Ronald N. Levy

says:

If Stan Richards had said the commercial was too white, it could have been an okay comment but still probably not an okay commercial.

Definitely not okay is the agency's failure to have a Black executive—or a Black exec of a PR firm–present immediately the TRUTH: "Alcoholism is terrible disease. Stan Richards is going on 88 years old, has enrolled in Alcoholics Anonymous and will try with God's help to beat this disease. Stan has left the agency which will have an entirely new name and a new committee of top executives to promote multiculturalism.

"Our new Multicultural Promotion Committee of agency and client people will manage a "fight for fairness" to all Americans. At least 50% of our coming year's profit will be donated to multicultural causes."

Many clients would not want to walk away from a fight for fairness, nor want to reduce profits that will go to multicultural causes. With PR skill the future can be even better than the past. The classic response when an executive screws up is the truth: "it was him, not us, he's gone and we're vigorously taking corrective action to make things better than before."