Brands make Earth Day pledge to measure emissions, social media content falls short on accessibility, and NBC condemns anti-BLM email
Also: Tesla issues a public apology in China, California theme parks require proof of vaccination, W.W. Norton pulls book promotion amid sexual harassment claims against author, and more.
Hello, communicators:
Tesla has issued a public apology in China over the way that it handles consumer complaints after a Tesla customer at the Shanghai Auto Expo led a widely publicized protest over faulty brakes on her family's Model-3 sedan that she alleged caused a crash, putting her parents in the hospital.
"We apologize for failing to resolve the problem of the car owner in time," Tesla said in a statement on  China's Weibo social media platform. "We will try our best to learn the lessons of this experience."
The apology marks a changing communication strategy for Tesla, which made waves by dismantling its PR office in the United States.
"In its apology, Tesla pledged to establish a unit that would focus on delivering customer satisfaction," reports The Wall Street Journal. "Tesla said it obeys decisions of government departments, respects consumers, and actively cooperates with all investigations. Its statement didn't directly address the allegations of faulty brakes or other quality shortcomings."
Communicators, take note to always address the specific criticisms lobbed at your company in a crisis response and remember that a vocal detractor will not go away simply because you ignore them. Also remember that, though the standards of communication your brand sets in various markets may differ, your stakeholders remain globally connected.
Stay consistent in your customer messaging approaches to maintain a consistent reputation across the world.
Brands make Earth Day pledge to measure emissions
More than 100 companies, including Colgate-Palmolive, Heineken, PepsiCo and Visa, have signed The Climate Pledge, an initiative co-founded by Amazon and Global Optimism that requires signatories to commit to measure and report greenhouse gas emissions on a regular basis, implement decarbonization strategies as recommended by The Paris Agreement, neutralize existing emissions with a goal to eliminate them by 2040, and more.
All signatories are taking science-based, high-impact actions to tackle climate change by innovating in supply chain efficiency, sustainable transportation, circular economy, clean energy solutions, and more.

Many organizations are also meaningfully involving customers in their journey to net-zero with initiatives focused on innovative packaging and sustainable product design and development while delivering solutions to empower customers to reduce their own emissions with educational campaigns and sustainable shopping experiences.
Meanwhile, some brands have launched Earth Day campaigns that mobilize stakeholders to take action by empowering them with measurement tools:
We're giving away our Carbon Footprint tools to the entire fashion industry. To help spread the good news, we sent an email to the world's biggest brands. We also published it in a few newspapers, just in case they missed it. Learn more at https://t.co/77bZGRhbdx. pic.twitter.com/p0Tblh4SEx

— Allbirds (@Allbirds) April 19, 2021
Looking for a carbon footprint tracker? We're rolling out CO2 emissions tracking in the Klarna app in the coming days, together with @Doconomy. Make sense of your shopping carbon footprint instantly. Learn more about our #GiveOne initiative at https://t.co/TZ48c7RubM. #Ålandindex pic.twitter.com/8j1975Vo60

— Klarna (@Klarna) April 20, 2021
Why it matters:
Remember to craft messaging that highlights your values and purpose-driven work with benchmark goals and hard numbers to narrow the gap between words and action. Share target metrics with all stakeholders, and empower them to measure themselves, ensuring that everyone associated with your company is informed of the impact that their efforts have toward contributing to larger company and industry goals.
---
MEASURED THOUGHTS
A new study by Current Global found that people with disabilities struggle with social media content, regardless of their disability type. The results serve as a reminder that accessibility remains a crucial, but often overlooked component of many company's DEI strategies.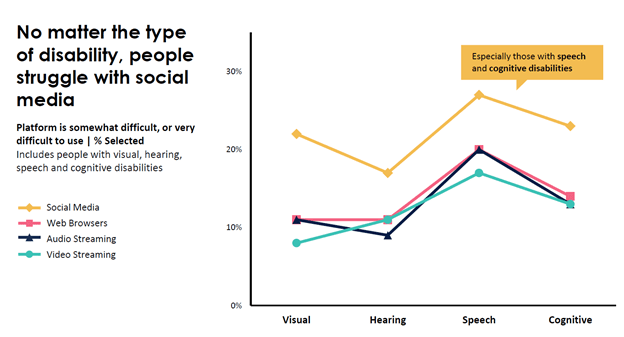 Communicators, take note to ensure that your content delivery channels are accessible to stakeholders with disabilities of all types including visual and auditory impairments. Provide both audio recordings and transcripts of your content whenever possible, and consult online accessibility compliance tools to ensure that your brand is making itself accessible to all users as part of your DE&I commitments.
---
TACTICALLY SPEAKING
California theme parks will require out-of-state visitors to share proof of COVID-19 vaccination to gain entry.
A new notice published on the state of California's Blueprint for a Safer Economy industry reopening rules says that, "fully vaccinated persons from out of state may visit or attend activities or events that are restricted to in-state visitors." California has been restricting theme park attendance to state residents ever since allowing the industry to reopen within the state on April 1. This new guidance would allow out-of-state visitors to enter California's theme parks, too – provided they can show proof of vaccination.

So far, SeaWorld San Diego appears to be the first California theme park to update its published rules to allow for out-of-state visitors. Initial announcements on SeaWorld's website and social media had also provided an option for non-vaccinated out-of-state visitors to provide a negative Covid test to be admitted to the park, but SeaWorld has now removed that option, as it did not appear to be permitted by the state.
Remember that you will be responsible for communicating state and local guidelines to stakeholders as soon as they change. Position any inconvenient or unfortunate messaging as rules dictated by government partners to set expectations for stakeholder compliance and self-regulate while minimizing any negative feedback.
---
CRISIS COMMUNICATIONS
Publisher W.W. Norton has stopped shipping and promoting author Blake Bailey's bestselling biography of Philip Roth after Bailey was accused of sexual harassment.
Norton, which initially printed 50,000 copies of the title, has stopped a 10,000-copy second printing that was scheduled to arrive in early May. It has also halted advertising and media outreach, and events that Norton arranged to promote the book are being canceled. The pullback from the publisher came just days after Mr. Bailey's literary agency, The Story Factory, said it had dropped him as a client.

"We took this allegation very seriously. We were aware that the allegation was also sent to two people at Mr. Bailey's former employer and to a reporter at The New York Times, a news organization that was well equipped to look into it," a Norton spokeswoman said. "We did take steps, including asking Mr. Bailey about the allegations, which he categorically denied, and we were mindful of the sender's request for a guarantee of anonymity."
Communicators, take note to respond to any accusations of sexual harassment by offering details about the steps taken to address the accusations while respecting the privacy of the alleged victims who come forward.
---
CRISIS LEADERSHIP NETWORK
Looking for more insight on how to address the current global crisis and lead your organization into a strong recovery?
Join Ragan's Crisis Leadership Network to connect and brainstorm with peers, get the latest intelligence and research and start to strategize for the future of your organization.
Learn more about this exclusive membership here.
NBC condemns HFPA email that decries Black Lives Matter as 'hate movement'  
The Hollywood Foreign Press Association has expelled former president Phil Berk from its membership ranks after Berk sent an email to members that called Black Lives Matter a "racist hate movement."
The HFPA, already mired in controversy amid revelations during its most recent Golden Globes cycle that it hasn't had a Black member in 20 years, on Monday night distanced itself from the email Berk sent.

"Since its inception, the HFPA has dedicated itself to bridging cultural connections and creating further understanding of different backgrounds through film and TV," it said. "The views expressed in the article circulated by Mr. Berk are those of the author of the article and do not—in any way shape or form–reflect the views and values of the HFPA. The HFPA condemns all forms of racism, discrimination and hate speech and finds such language and content unacceptable."
NBC, which broadcasts the HFPA's annual Golden Globes awards, responded to the email by urging HFPA to take further reform.
"NBC strongly condemns Phil Berk's actions and is calling for his immediate expulsion," the network's statement read. "While we continue to await the details of HFPA's upcoming plan for reform, swift action on this front is an essential element for NBC to move forward with the HFPA and the Golden Globes."
Why it matters:
Remember to construct safeguards within your communications channels that prevent rogue stakeholders or leaders from sending out problematic messaging before you have a chance to review it. Hold your partners that are mired in patterns of ongoing controversy accountable in your public messaging by requesting that they identify the steps they will be taking to address the issues on a systemic level.
---
CONFERENCE ALERT
Communicators are in a unique position to collaborate with other DE&I leaders to foster unity, build a stronger internal and external brand reputation, maximize innovation and improve the bottom line. The days of brands comfortably remaining silent are gone as employees and customers are demanding impactful change.
Join us at Ragan's Diversity, Equity and Inclusion conference on May 19, 2021 and glean timely strategies to educate, engage and uplift your employees and customers in the wake of unparalleled uncertainty, political upheaval and a new mandate for social change.
Learn powerful insights and approaches from speakers at organizations including Ben & Jerry's, Reebok, Warner Music Group, E.W. Scripps, NielsenIQ, Facebook and more.
---
WHAT YOU SAID
On Tuesday, we asked if your brand or organization was planning to adjust its messaging strategy this week in anticipation of a verdict in the Derek Chauvin trial. Almost half of you (48%) said that you planned no change to your messaging approach, while 32% planned to pause unrelated outreach. Meanwhile, 12% of you planned to release a statement while 8% of you both paused unrelated outreach and released a statement.
How is your brand or organization adjusting its messaging strategy this week in anticipation of a verdict in the Derek Chauvin trial? #DailyScoop

— PR Daily (@PRDaily) April 20, 2021
Is there a question you'd like to see asked? Let us know with the hashtag #DailyScoop!
---
SOUNDING BOARD
Has your company made any values-based spending commitments this week around social justice or environmental sustainability, PR pros and communicators?
Has your company made any values-based spending commitments this week around social justice or environmental sustainability, PR pros and communicators? #DailyScoop

— PR Daily (@PRDaily) April 23, 2021
Let us know what purpose spending your company has committed to this week with the hashtag #DailyScoop. We will share the results in Monday's roundup.
COMMENT
One Response to "Brands make Earth Day pledge to measure emissions, social media content falls short on accessibility, and NBC condemns anti-BLM email"
Ronald Levy

says:

Tesla going without PR is like an individual going without health insurance. One can feel brave and seemingly save money, but if an accuser warns that a Tesla driver can get electrocuted in an accident, failure to make a PROMPT and convincing statement to the media could easily cost Tesla stockholders over a billion in Tesla share value.

PR isn't just for emergencies because positive PR can be like an informational vaccination. Once the public knows that electric vehicles are SAFER than gasoline-powered vehicles in three ways, the public is more immune to a "danger" accusation because people already know better.

Also having a powerful PR team, especially if it includes a top PR firm known for "defend fiercely and then counterattack fiercely" when a client is accused, makes activists inclined to go raise hell against a company less likely to mount a "true and sue" response.

The success of Tesla or another company's PR can be measured not only by what is said about the company in media and online but also in a barber shop or beauty salon if a customer says a company "is run by real bastards who don't give a damn about the public." It can be a result of PR communications if someone says: "Actually, did you know those people are protecting our lives by
backing research on such-and-such?"

Because the public judges a company not as an abstraction but by "how do they affect US," PR is increasingly getting companies to do a big continuing project "so we are loved."

"What's love got to do with it" sang Tina Turner. The answer with PR–in sales, earnings and share value–can be "a LOT."