CDC offers chart on relaxed mask guidance, influencer marketing budgets increase in 2021, and 'Insider' journalist union pushes for measurement reform
Also: Ragan announces acquisition of Communications Week, Epicurious stops promoting beef recipes over environmental concerns, TikTok opens transparency education center, and more.
Editor's note: This article is a re-run as part of our countdown of top stories from the past year.
Hello, communicators:
The CDC has announced relaxed mask guidelines for fully vaccinated people that say vaccinated people can travel outside without a mask if they are not in large groups. To provide a context-specific breakdown, The CDC has also released a chart that pairs common activities with color-coded recommendations based on risk factors relative to a person's vaccination status and whether the activity is indoors or outdoors: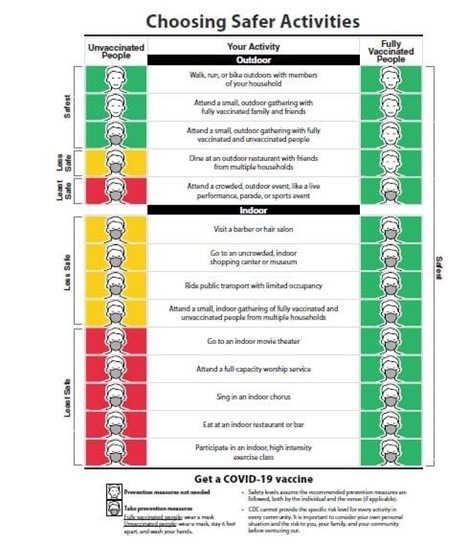 Communicators, take note that infographics and charts remain an efficient and effective way to share crucial guidance with stakeholders who may be less likely to read a lengthy blog post or press release.
Epicurious stops publishing beef recipes to promote sustainability
Digital food magazine Epicurious says that it will no longer publish recipes featuring beef in an effort to promote more environmentally-friendly, sustainable cooking practices. In addition to eliminating beef recipes, the publication will cease mentioning beef in articles, newsletters, on its homepage and Instagram feed.
Epicurious wrote in a blog post:
We know that some people might assume that this decision signals some sort of vendetta against cows—or the people who eat them. But this decision was not made because we hate hamburgers (we don't!). Instead, our shift is solely about sustainability, about not giving airtime to one of the world's worst climate offenders. We think of this decision as not anti-beef but rather pro-planet.

The traffic and engagement numbers on these stories don't lie: When given an alternative to beef, American cooks get hungry.

Why announce our decision now? While beef consumption in the U.S. is significantly down from where it was 30 years ago, it has been slowly creeping up in the past few years. The conversation about sustainable cooking clearly needs to be louder; this policy is our contribution to that conversation.
Why it matters:
Communicators, remember to position any company values or mission-based messaging around the "why" behind your decision, and get out in front of potential blowback by anticipating and addressing likely criticisms from the outset. Support your thought leadership content with larger data points about your industry to demonstrate your intended impact.
---
MEASURED THOUGHTS
A new study by Linquia found that 71% of enterprise marketers surveyed expect their influencer marketing budgets to increase in 2021, a large jump from 2020 when only 57% said that they planned to increase their budget.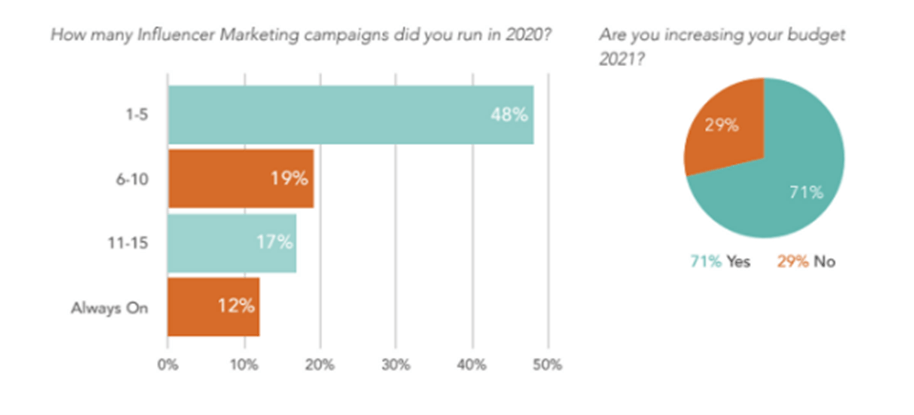 Communicators, take note that each emerging social media platform brings new monetization opportunities for its brands and power users. Research where your audiences are most active, partner with your marketing and finance teams to allocate a budget for working with the influences in your industry who are most active. Construct influencer agreements with marketing that reflect your optimal posting cadences and needs.
---
SOCIAL BUZZ
TikTok has announced plans to open a center in Europe where the company will inform outside experts on its approaches to content moderation, as well as platform security and user privacy.
The European Transparency and Accountability Centre (TAC) follows the opening of a U.S. center last year — and is similarly being billed as part of its "commitment to transparency".

Soon after announcing its U.S. TAC, TikTok also created a content advisory council in the market—and went on to replicate the advisory body structure in Europe this March, with a different mix of experts.

It's now fully replicating the U.S. approach with a dedicated European TAC.

To-date, TikTok said more than 70 experts and policymakers have taken part in a virtual U.S. tour, where they've been able to learn operational details and pose questions about its safety and security practices.
Remember that promoting transparency and oversight into your company and industry ahead of government regulation or mandates will earn your brand a positive reputation compared with other industry players. Enact programs that provide open channels of communication with outside experts who can provide feedback and suggestions that are not influenced by your internal goals and aspirations, then demonstrate an understanding of that feedback in your messaging.
---
TACTICALLY SPEAKING
Broadcasting company E.W. Scripps has announced plans to launch an advocacy campaign that will educate consumers on how a digital antenna can supplement streaming video options.
As consumers shift away from traditional pay TV and toward subscription streaming services, the digital antenna will emerge as a necessary component of people's viewing habits, [EW Scripps Chief Executive Officer Adam] Symson said in an interview.

While he declined to say if his plan would involve giving away antennas for free or at a discounted price to consumers, Symson said he has "a large group of people" at EW Scripps working on ideas to educate Americans on how an antenna can supplement subscription streaming video.

Americans will need to find other, free ways to supplement streaming services as they max out on monthly subscription charges, Symson said. Broadcast stations, which offer local news, sports, soap operas, game show staples like "Wheel of Fortune" and "Jeopardy," and prime time content from their national networks, will continue to air must-have content in American homes — even after streaming services replace linear TV as the dominant form of viewing, he said.
Communicators, take note that educational awareness campaigns are a smart way to establish your company as thought leader by addressing industry struggles that are perhaps unfamiliar to a broader public audience.
---
COMMUNICATIONS WEEK
Ragan is delighted to add industry event and thought leadership brand Communications Week to our portfolio. You can read the full press release here.
"We are reimagining Communications Week as a year-round endeavor," says Ragan Communications CEO Diane Schwartz. "The rollout will begin next month with thought-provoking content on the future of communications on Commsweek.com, Ragan.com and PRDaily.com, culminating with a weeklong series in November that will feature conferences, networking events, workshops, webinars and more."
The flagship event for 2021 will take place Nov. 15-19. Stay tuned for updates on the many opportunities and offerings that will help communicators connect, learn and celebrate their achievements later this year.
'Insider' journalist union speaks out against content performance metrics
A union of U.S.-based journalists in the Insider newsroom have announced their intention to reform the key metrics that the publication uses internally to measure the success of reported content.  Every Insider reporter is expected to earn a specific amount of page views, unique visitors or subscriptions each month, creating a system that the union has called increasingly problematic as the publisher's business model shifts the focus to subscriptions.
"As we've grown as a newsroom and the breadth and depth of our reporting, sometimes that clashes with a rigid metric system," said Rebecca Ungarino, a senior finance reporter and an organizing committee member of the Insider Union.

Ungarino said the union is not "strategizing with the ethos of 'We're going to just get rid of metrics,'" but is focusing on creating more flexibility in the system to help relieve worker stress and confusion. She added that this was a significant draw that helped convince 83% of the eligible Insider newsroom (more than 300 staffers) to sign their NewsGuild of New York union membership cards, at the time of publication.

Insider has had its metrics system in place since it was founded as Silicon Alley Insider in 2007. "We measure the performance of our journalists quantitatively, and we always will," said Nicholas Carlson, editor-in-chief of Insider, who joined the company in 2008.

Carlson clarified that these goals are not quotas, meaning that if a reporter does not meet them, it does not necessarily lead to direct termination.
Why it matters:
Communicators, remember to keep open feedback loop between your HR or people team and employees to make sure that the employee performance metrics your company uses are contributing to an internal sense of growth and well-being. Listen and watch for trends in the metrics over time to determine their viability, and adjust your methodology as needed. Treat each shift in an external business model as an opportunity to adjust your KPIs and periodically communicate those changes to employees.
---
CONFERENCE ALERT
Communicators are in a unique position to collaborate with other DE&I leaders to foster unity, build a stronger internal and external brand reputation, maximize innovation and improve the bottom line. The days of brands comfortably remaining silent are gone as employees and customers are demanding impactful change.
Join us at Ragan's Diversity, Equity and Inclusion conference on May 19, 2021 and glean timely strategies to educate, engage and uplift your employees and customers in the wake of unparalleled uncertainty, political upheaval and a new mandate for social justice change.
Learn powerful insights and approaches from speakers at organizations including Ben & Jerry's, Reebok, Warner Music Group, E.W. Scripps, NielsenIQ, Facebook and more.
---
WHAT YOU SAID
Yesterday, we asked if you have partnered with your HR team to craft messaging about employee vaccinations. Half of you said you are not, while 39% said you are both writing the messaging and editing it and 11% of you are just editing.
Are you working with HR to craft any language or communications around employee vaccinations, PR pros and communicators? #DailyScoop

— PR Daily (@PRDaily) April 27, 2021
Is there a question you'd like to see asked? Let us know with the hashtag #DailyScoop!
---
SOUNDING BOARD
Time for a mid-week check in, PR pros and communicators. How are you getting on with your weekly to-do list?
Time for a mid-week check in, PR pros and communicators. How are you getting on with your weekly to-do list? #DailyScoop

— PR Daily (@PRDaily) April 28, 2021
Let us know below how you're feeling at the top of this week and be sure to hashtag #DailyScoop. We will share the results in tomorrow's roundup.
COMMENT
One Response to "CDC offers chart on relaxed mask guidance, influencer marketing budgets increase in 2021, and 'Insider' journalist union pushes for measurement reform"
Ronald Levy

says:

Notice that like many activists, anti beef eaters ignore "the perils of the alternative," the dangers that if we eat less beef to reduce air pollution from flatulent cattle, we INCREASE land and water pollution because less meat means more food crops that require (a) more herbicides to kill weeds, (b) more pesticides to kill insects that eat land crops, and (c) more clean water–often water that the public has paid to purify–sprayed on the land for crops.

Also less beef would mean (a) less nutrition because beef is a marvelous source of protein that children and adults need, (b) less income for ranchers and millions of us who make our livings partly from what ranchers buy, and (c) reduced value of the dollar because exports of beef are good for America's trade balance hence the value of our money.

There is commonly an egotistical assumption by activists that they know better than we the people do about how we should live, what we should eat and why we should run our lives the way activists do rather than the way most of us do now. On the good side, every time we see activists telling how we should live, we are reminded how we can often defend our companies and industries by telling what activists often don't tell: the perils of the alternatives they are proposing.

Activists smugly try to tell us why what they want is better than what we're doing, claimed "advantages" of their ideas but not what's bad for us if we do what activists want. They claim to be telling "the truth" but often it's not "the WHOLE truth." Our ranchers, restaurants and food stores are helping us by supplying us with nutritious beef, not hurting us, and Epicurious is helping PR people with this example of trying to tell us how to live without telling us the perils of the proposed alternative.