Cherokee Nation asks Jeep to drop name, Facebook restores news content in Australia, and 71% of execs worry disinformation will be weaponized
Also: Kroger responds to third-party data breach, Spotify launches in more than 80 new markets, Twitch highlights Black content creators and streamers, and more.
Hello, communicators:
Spotify is launching in more than 80 new markets, including Tonga, Uganda, Antigua and Barbuda, Fiji, Papua New Guinea, Tanzania and more:
We launch in 80+ new markets over the next few days. See you soon Bangladesh, Pakistan and Nigeria 👀 #SpotifyStreamOn pic.twitter.com/Wqv3IFdicz

— Spotify (@Spotify) February 22, 2021
In a blog post, Spotify called the expansion "part of [its] ongoing commitment to building a truly borderless audio ecosystem." The streaming service will also add 36 languages as it seeks to reach more than 1 billion new audience members around the world.
Here are today's top stories:
Cherokee Nation's top leader asks Jeep to stop using its name
The principal chief of the Native American tribe has asked the automaker to stop using the Cherokee name—which Jeep has stamped on its vehicles for more than 45 years. 
"I'm sure this comes from a place that is well-intended, but it does not honor us by having our name plastered on the side of a car," Chuck Hoskin, Jr., principal chief of the Cherokee Nation, told Car and Driver in a written statement responding to our request for comment on the issue. "The best way to honor us is to learn about our sovereign government, our role in this country, our history, culture, and language and have meaningful dialogue with federally recognized tribes on cultural appropriateness."

… "I think we're in a day and age in this country where it's time for both corporations and team sports to retire the use of Native American names, images and mascots from their products, team jerseys and sports in general," Chief Hoskin said in his statement.
Detroit Free Press also reported Hoskin's statement, which continues:
"Our proud name should not be a corporate marketing tool," Hoskin said. "Our name dates back to before recorded history. It's against all odds that we are even here. Our name is invaluable to us as part of our identity. … In 2021, it seems wholly inappropriate for a corporation to continue to make a profit off our identity."
Jeep offered Car and Driver the following response:
Our vehicle names have been carefully chosen and nurtured over the years to honor and celebrate Native American people for their nobility, prowess, and pride. We are, more than ever, committed to a respectful and open dialogue with Cherokee Nation Principal Chief Chuck Hoskin, Jr.
Why it's important: In June 2020, Hoskin told The Wall Street Journal that the Cherokee Nation "hope[s] the movement away from using tribes' names and despictions of selling products without our consent, continues. We much prefer a cooperative effort than an adversarial one." However, roughly eight months later, Jeep has continued to use the moniker and extend it to new vehicle models.
The situation highlights the necessity for organizations to consider the implications of their branding and marketing choices, and prepare in advance for potential reckonings. Jeep's brand might not be an offensive slur, as was the former moniker for the National Football League's Washington Football Team, but using the Cherokee name to sell products—especially against the wishes of the tribe—stands at odds with Jeep's statement that it chose the brand to "honor and celebrate" the Native American people.
---
SOCIAL BUZZ
Twitch's recent tweet highlighted Black streamers and content creators, sharing their content and experiences for Black History Month:
Streaming's not just about entertainment.

It's also about those who you inspire along the way.

Meet some of the faces of Twitch's Black History Month stream team: https://t.co/mm6evxgf27 pic.twitter.com/LmbzzxZvN6

— Twitch (@Twitch) February 23, 2021
However, you can—and should—continue to amplify BIPOC voices beyond February.
Take, for example, American Airlines highlighting a story from its employee Angela Johnson:
#AAteam member Angela Johnson is life's cheerleader. Her mission is to help and encourage others to be the best version of themselves. She does that through her many roles as mother, grandmother, leader at American and pastor at the church she started in Chicago. Read more here!

— americanair (@AmericanAir) February 23, 2021
There are no mentions of Black History Month, because the effort is one of highlighting employee experiences and supporting the airline's storytelling efforts—across backgrounds and experiences. You can do the same within your organization and community by listening, then spreading the stories you find.
---
CRISIS LEADERSHIP NETWORK
Looking for more insight on how to address the current global crisis and lead your organization into a strong recovery?
Join Ragan's Crisis Leadership Network to connect and brainstorm with peers, get the latest intelligence and research and start to strategize for the future of your organization.
Learn more about this exclusive membership here.
---
MEASURED THOUGHTS
Edelman announced the launch of a new product called "Disinformation Shield," designed to help organizations "monitor for disinformation, including on the dark web, and combat it with transparency and fact-based communications campaigns."
The team—comprised of corporate reputation and crisis communications pros, along with predictive intelligence experts, behavioral scientists and psychometric analysts, reported that 67% of global executives fear that new technologies will make it impossible for consumers to know if what they're reading or listening to in the news media is real.
Here's a snapshot of how Disinformation Shield works, which includes threat monitoring, a dark web audit and several communications strategies to target key stakeholders: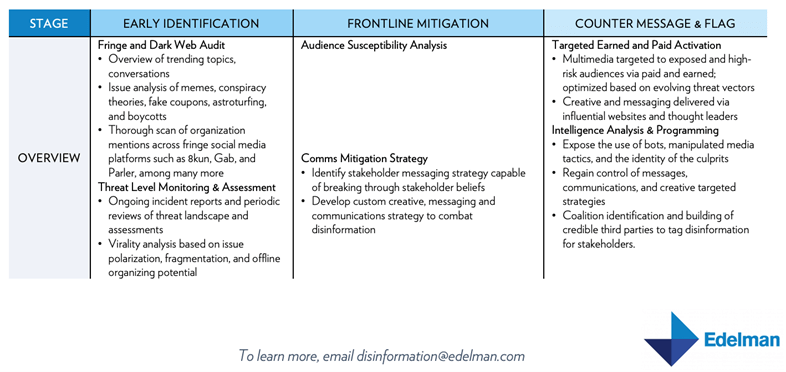 Jim O'Leary, Edelman's global corporate practice chair, said in a press release:
The 2021 Edelman Trust Barometer has revealed an epidemic of disinformation, with more than two out of three executives at large global companies worrying about the weaponization of false information. In some instances, we've already seen this 'infodemic' adversely affected a company's share price, destroy a brand's loyal customer base, and even threaten the safety of some executives and their families.
Facebook to restore news in Australia
After a nearly week-long standoff, the social media network announced that it reached an agreement with Australia's government over new legislation that requires digital platforms to pay for news content shared on their services.
William Easton, managing director for Facebook Australia and New Zealand, wrote in an updated news release:
We have consistently supported a framework that would encourage innovation and collaboration between online platforms and publishers. After further discussions, we are satisfied that the Australian government has agreed to a number of changes and guarantees that address our core concerns about allowing commercial deals that recognize the value our platform provides to publishers relative to the value we receive from them. As a result of these changes, we can now work to further our investment in public interest journalism and restore news on Facebook for Australians in the coming days.
Facebook's blockade meant that, since last Wednesday, news has vanished from the platform in Australia. Brand pages for outlets like CNET or The New York Times went completely blank, while users were restricted from posting news content. The feeds of Australia's 11 million users have been completely bereft of news. It was a scattershot approach for Facebook, with multiple non-news pages, like the Bureau of Meteorolgy and South Australia Health, also having their pages wiped clean.

Under the proposed bill, Facebook and Google would be made to negotiate with local publishers over payment for the news content that surfaces on Facebook's feed and Google's search results. If no agreement could be reached in 90 days, government-appointed arbitrators would hand down a binding compensation agreement. Publishers would also need to be given advanced notice of changes to algorithms that would affect how their content is ordered and prioritized.
Though Facebook and Google continue to strike out against Australia's law, Microsoft took a different approach.
Microsoft recently published a press release calling for Europe to adopt an "Australiian-style arbitration mechanism … to ensure tech gatekeepers remunerate press publishers fairly for use of content."
In its press release, Casper Klynge, Microsoft's vice president, said:
Access to fresh, broad and deep press coverage is critical to the success of our democracies. Our commitment to preserving and promoting journalism isn't new. In October 2020, we launched a new initiative to invest in and support local media and, through Microsoft News, we have been sharing a large portion of revenue with press publishers. This initiative is a logical next step.
Why it matters: The Australian law and recent negotiations are changing the outlooks for digital news and content landscapes, so communicators should watch for further developments as news media outlets struggle to survive in the digital age—and social media platforms and search engines strike a balance between content compensation and revenue goals. It's also a reminder for brand managers to not rely on social media platforms and profiles as your only channel for your content. Make sure you're also publishing content on owned channels, including your website and newsroom—and driving traffic back to either (or both).
---
DOWNLOAD EXCLUSIVE RESEARCH
Where communications fits in an organization is a crucial element of positioning communicators to champion important campaigns, protect reputation and branding, drive key messages and influence top-level strategies.
Are your PR and internal communications teams in sync, or do you place communications and marketing together? How does your organization view its communications function—and are you working on breaking down silos for collaborated, concentrated efforts?
Take a look at how several communicators fit within their organizational workflows with our exclusive case study.
Especially as organizations adjust to remote, dispersed and hybrid workplaces during COVID-19 and prepare for the future of work, considering where your communications team sits within your organization's flow charts can affect leadership efforts and help you successfully execute campaigns and inititiaves.
---
CRISIS COMMUNICATIONS
Kroger is investigating a recent security breach which exposed some of its pharmacy consumers' data. Hackers compromised a third-party, a "file-transfer product called FTA, developed by Accellion, a company based in California," reported the Washington Examiner.
In a press release, Kroger wrote:
The incident was isolated to Accellion's services and did not affect the Kroger Family of Companies' IT systems or any grocery store systems or data. No credit or debit card information or customer account passwords were affected by this incident. After being informed of the incident's effect on January 23, 2021, Kroger discontinued the use of Accellion's services, reported the incident to federal law enforcement, and initiated its own forensic investigation to review the potential scope and impact of the incident.At this time, based on the information provided by Accellion and its own investigation, Kroger believes that less than 1% of its customers, specifically customers of Kroger Health and Money Services, have been impacted. In addition, current and certain former associates will be notified that certain HR records have been impacted.
The company has kept its statement to its newsroom, while on Twitter, it shared its response to the blackouts in Texas:
Texas, we are here for you!

Our supply chain, store and pharmacy teams are working tirelessly to keep our stores open and stocked for our communities. We're also donating water to cities across Texas and expediting our supply chain to deliver truckloads of water to our stores. pic.twitter.com/FXpeOK0pIy

— Kroger News (@KrogerNews) February 20, 2021
Kroger's response can serve as a reminder to prepare for security breaches and other cybersecurity crises ahead of time. It can also highlight that a savvy crisis response doesn't need to be posted far and wide, if it only affects a small portion of your consumers. By reaching out to affected consumers with information and free credit monitoring, along with its press release, Kroger can control the narrative and keep it from dominating headlines.
---
WHAT YOU SAID
We asked if you've joined Clubhouse, and roughly 8% of you are on and loving it—while nearly 37% of you have joined, but feel lukewarm about the content and conversations shared. Almost 47% of you haven't downloaded the app, and don't intend to—while about 8% are waiting for it to come out in Google's Play Store:
Have you joined the Clubhouse app yet, PR and communications pros?

Weigh in below and we'll share insights in tomorrow's #DailyScoop.

— PR Daily (@PRDaily) February 22, 2021
If you're looking for ways Clubhouse can help you amplify your insights and your brand, take a tip from HubSpot's upcoming chat about marketing secrets:
Got a marketing secret you're dying to share?@kippbodnar and @searchbrat have a few, and they're telling everyone on Clubhouse!
Join in on the conversation tomorrow, February 23rd, to find out what they are.https://t.co/Vyu4sFsFHQ

— HubSpot (@HubSpot) February 22, 2021
Is there question you'd like to see asked? Please let us know under the #DailyScoop hashtag!
---
SOUNDING BOARD
Do you use digital backgrounds in your Zoom, Microsoft Teams and other virtual meetings?
Do you use a virtual background in Zoom, Teams meetings and more?

Weigh in below and we'll share the results in tomorrow's #DailyScoop!

— PR Daily (@PRDaily) February 23, 2021
Weigh in below or on Twitter, under the hashtag #DailyScoop, and we'll share your insights in tomorrow's roundup.
COMMENT
One Response to "Cherokee Nation asks Jeep to drop name, Facebook restores news content in Australia, and 71% of execs worry disinformation will be weaponized"
Ronald N. Levy

says:

In this classic situation a senior corporate executive may say "this is just a shakedown so screw them."

But a savvy PR leader may suggest: "Maybe first let's see if we can make our use of the name profitable for THEM so they'll gladly cooperate in making our use of the name more profitable for US."

In truth even a small amount of money and national recognition from a joint promotion with Jeep may be more attractive to the Native Americans than no tie-in and no extra money. Also true is that it can be attention-getting and sales-building to do a promotion on Three Big Reasons why Cherokee People Love Cherokee Jeeps." Plus "Use Your Jeep to See These Great Native American Sights!"

Sometimes better than "flight or fight" is doing PR so a company stays in place and enjoys higher profits. Native Americans knew about wampum even before the Jeep guy was born so better for everyone than "we are committed to a respectful dialog with. . ." may be "we're delighted to work closely with these Native Americans because look how what made them great also makes these vehicles great."

If anyone at the agency suggests playing with the term "Indian giver," scalp him.