CVS to close 900 stores, CEOs share concern about hybrid remote work, and Ford's semiconductor partnership aims to solve bottleneck
Also: Plumbing service Roto-Rooter shares a cautionary message for Thanksgiving, Meta offers advertisers control over placement, and more.
Hello, communicators:
Seasonal messaging campaigns can take many creative forms around Thanksgiving, from Butterball launching a TikTok series supplementing its annual turkey hotline to Tums announcing a partnership with comedian Ronny Chieng that offers heartburn relief tips on Twitter.
Not to be outdone, plumbing and drain cleaning services provider Roto-Rooter launched a campaign to raise awareness around a 50% increase in plumbing requests on the Friday after Thanksgiving. "Plumbers Expecting a Big Brown Friday After Thanksgiving Feasts," the headline of its press release reads.
Roto-Rooter calls the day after Thanksgiving "Brown Friday," not "Black Friday," due to the volume of sewage and wastewater that its teams deal with. "Extra guests mean more flushes, showers, dishwashing and laundry, all of which greatly increases the chance of a plumbing or drain failure," Roto-Rooter spokesman Paul Abrams said in the press release, which also includes tips for avoiding plumbing and drain trouble over Thanksgiving weekend and a YouTube video:
While Roto-Rooter's plumbing tips offer value resources to its customers, the scatological imagery of "Brown Friday" is perhaps a bit out of place among other holiday messages. It's a reminder that internal language and terminology might not hold the same meaning for external audiences.
Here are today's top stories:
CVS Health announces it will close 900 stores
CVS Health, the corporation that owns CVS Pharmacy, says it will close 900 stores over the next three years. The company said that the decision was reached after evaluating population changes and customer buying patterns.
CVS also claims it is committed to offer impacted employees roles in other locations or new opportunities in the company when the changes begin in spring of 2022.
According to its press release:

"Our retail stores are fundamental to our strategy and who we are as a company," said [president and CEO of CVS Health Karen S.] Lynch. "We remain focused on the competitive advantage provided by our presence in thousands of communities across the country, which complements our rapidly expanding digital presence."
What it means:
As brands continue to downsize their brick-and-mortar footprint amid the rise of e-commerce, accelerated  by the COVID-19 pandemic, CVS' messaging offers a textbook example of sharing the news.
The closing of locations, framed as "reducing store density in certain locations," is only mentioned in the release after an explanation of how the brand will restructure its retail business. This softens the blow, sharing progress and solutions first to underscore a deeper commitment to workers and customers.
---
MEASURED THOUGHTS
New data from a monthly report conducted by The Worldcom Public Relations Group found that many CEOs lost confidence they can solve the challenges around hybrid and flexible work, with the biggest decrease coming from September to October (1.72%).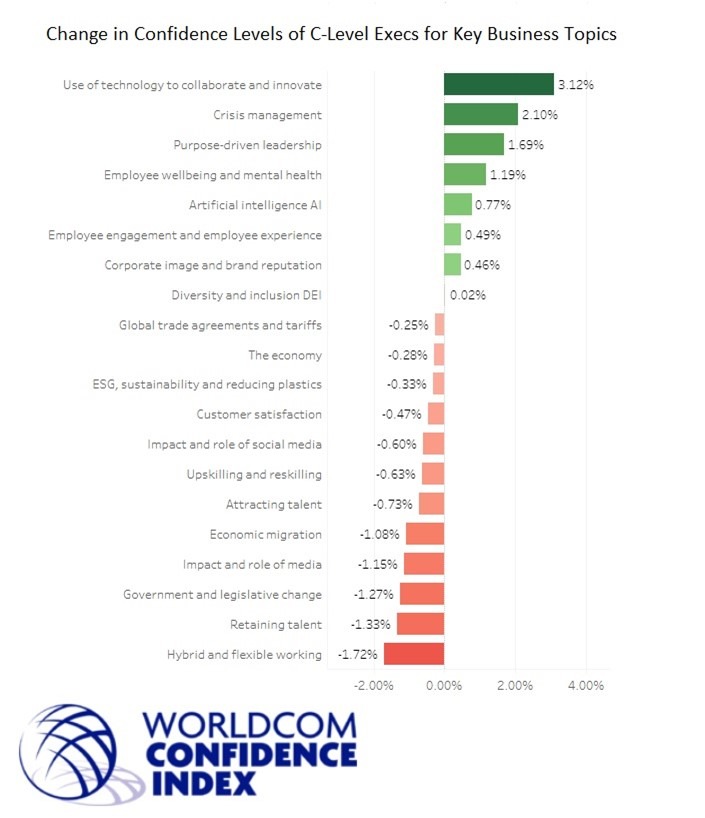 Courtesy of Worldcom Public Relations Group
"When you add in a fall in confidence for attracting talent, upskilling and reskilling, and retaining talent, it's clear that employees are currently the biggest concern for business leaders," the report's authors wrote.
---
Announcing the PR Daily Leadership Network
PR Daily is launching the PR Daily Leadership Network, a unique membership group from Ragan Communications offering peer-to-peer advisory and team training along with a unique slate of resources and events to help public relations professionals break through the noise, increase their visibility and forge meaningful connections.
The Network provides daily insights and coverage on a range of topics including media relations, social media, measurement, Diversity, Equity & Inclusion, branding, thought leadership and crisis communications.
"The fast pace of change coupled with the demand on public relations professionals to protect and sometimes defend their company's reputation make it imperative for leaders to tap into the wisdom of other communicators and continue to learn and grow," says Diane Schwartz, CEO of Ragan Communications. "The PR Daily Leadership Network provides the answers but also encourages members to question the status quo and push for positive change."
Visit leadership.prdaily.com to learn more.
---
SOCIAL BUZZ
Meta, the company formerly known as Facebook, announced it will give advertisers control over where their ads are displayed on the Facebook app and Instagram. Meta also said that it plans to work with independent ad tech companies to verify that the ads are appearing next to appropriate content.
Facebook's latest official update to the program provided new insights into how it intends to reduce brands' exposure to content they may find objectionable. "From our conversations with the industry, we know that this solution may not solve the needs of every advertiser and that some advertisers are looking for content-level granularity," Meta said in a blog post about the brand safety controls.

"We're excited to be able to give advertisers more choice in the News Feed brand suitability controls available to them," said Samantha Stetson, Meta's VP Client Council and industry trade relations, in the announcement, adding, "especially as we start to develop and test a content-based control next year. It will take time but it's the right work to do."
Meta's newsfeed controls for advertisers are part of a wider effort to clean up its advertising practices that also included the removal of thousands of ad targeting topics. While many advertisers expressed frustration at that last change, this change is poised to benefit them directly, while also addressing specific criticisms from Facebook whistleblower Frances Haugen. It demonstrates the company's newfound commitments to go through all of its controversial practices one-by-one and agree on specific solutions that make all of its stakeholders happy.
Ford partners with semiconductor manufacturer to fix microchip shortage
Ford Motor Company announced a collaboration with semiconductor chip manufacturer GlobalFoundries (GF) that the companies say will boost chip supplies to help the U.S. automotive industry combat supply chain issues. In addition to creating further semiconductor supply for Ford's current vehicles, GF and Ford say they are committed to further research for semiconductor solutions in the industry along with "in-vehicle networking for an automated, connected, and electrified future."
According to a joint press release:
"It's critical that we create new ways of working with suppliers to give Ford – and America – greater independence in delivering the technologies and features our customers will most value in the future," said Jim Farley, Ford president and CEO. "This agreement is just the beginning, and a key part of our plan to vertically integrate key technologies and capabilities that will differentiate Ford far into the future."
Why it matters:
The partnership is another example of how big challenges must be faced with collaboration both inside and outside of our organization.
The press release—replete with industry jargon about vertical integration—doesn't quite help the average reader understand how the new deal will change the supply chain issues that have plagued the auto industry. It's a reminder that external audiences are not steeped in the minutiae of you business, and as more mergers and acquisitions are completed to try and solve supply chain issues, messages should focus on the benefits for customers and communities: jobs, investment, and new products.
COMMENT
One Response to "CVS to close 900 stores, CEOs share concern about hybrid remote work, and Ford's semiconductor partnership aims to solve bottleneck"
Ronald N Levy

says:

Damn shame about CVS because they have or had the greatest Health PR exec our world has ever produced. She formerly ran the 800-person health PR department of Edelman, probably with a title like President of a division (which enables a PR firm to have two presidents or several).

At one time or another she had pieces of nearly all the major pharma companies, and those that couldn't have her because of a conflict surely gave more than a fleeting thought to how they could get around the conflict. So it could have been fascinating to see whether for CVS she could fashion some sort of association that would give CVS—in stores and in Washington—a victory over archrival Walgreens.

People like her in health, technology, finance and especially Washington PR not only sit at the table and near the head, but may practically own part of the table as a reward for taking the job. But the fastest-ever race may not have been run, and the greatest-ever PR executives may still be taking PR Daily courses on how to survive PR crises successfully, and better when possible, how to avoid them.

Like great law firms, top PR firms can make many times more money when the client is in a fight for survival but counselors try to avoid those fights sometimes with firm "thou shalt not" orders.

Damn shame though. Like WPP's departure of The Great One from the top a few years ago, what Kym White does for CVS could have been fun to watch.